Due to the evolution of internet technology, there are various changes we have experienced. One of the biggest advantages is visual content sharing became very easy.
There are various mediums available over the internet where you can share long-form or short videos. Among other mediums – YouTube appeared as the legendary medium. People have their channels on YouTube and share their content to connect with a large base of audiences.
Behind the popularity of videos, there is the crucial role of technology. How? The answer is video editing software.
If you are a YouTuber, then you know the benefits of video editing. But if you are a beginner and searching for the best video editing software for a YouTuber in 2023.
A surprising fact related to video editing is that not only YouTubers but also brands are focusing on video content sharing to promote and advertise their products. Gen-Z is not only using YouTube for entertainment but also for deciding on purchasing their desired stuff. If you are also thinking in that way, then being a YouTuber, these software products will help you the best.

There is a massive craze among users about short videos due to the millions of videos being posted on YouTube. There is no need to say that there is an equal contribution of video editing software for YouTubers in it.

In one of the reports published on Think with Google, it is mentioned that till January 2022, on average, viewers have watched 700 million hours of YouTube content on their Smart TV.
If you want to become a YouTuber and want people to watch your content, you need to think about it in an interesting way. There are two things you require one is created, and another is video editing software development.
This blog intends to share valuable information about video editing software for YouTubers in 2023. So, let's start with key stats that will help you to make an in-depth understanding of video editing software.

Key Stats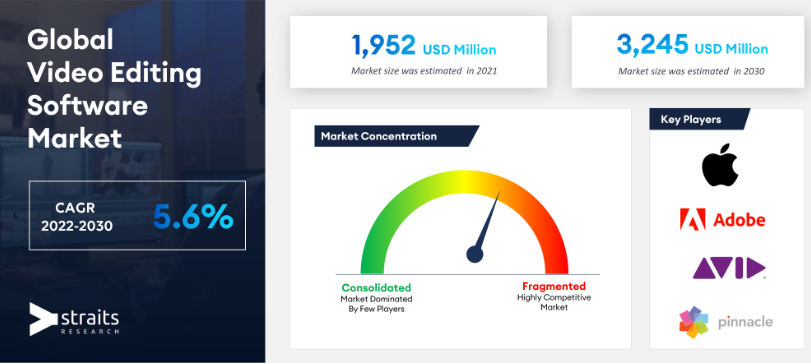 In 2018, the global video editing market was projected to reach 779.8 million USD, and it is projected to grow by $932.7 million by 2025.
The digital video software market was $5.15 billion in 2020 and is estimated to reach $7.6 billion by 2024.
With a CAGR(2023-2027) of 3.20% creative software market volume will be USD 10.32 billion by 2027 compared to 2023 ($9.10 billion).
In UAE, the creative software segment is projected to reach $20.34 million in 2023, and that will be $22.15 million by 2027.
The reason behind the growth of the video editing software market is an evolution in technology and video-sharing platforms such as YouTube, Vimeo, TikTok, and others.
What Is Video Editing Software?
From the definition point of view, video editing software allows users to edit the video post-production. Still, what can video editing software do if you have questions?
Then it is like this software empowers the video editors to edit, modify, apply effects, and more to a video file for a specific purpose. Using video editing software for YouTubers, you can add PPTs, graphics, animation, and audio files to your videos. You can also remove or cut undesired sections from your video to make it precise and interesting.
Suppose you want to make an educational video and want it to upload online, then you can choose any of the best video editing software available for YouTube. With this software, you can choose to make it short or long form. Moreover, suppose you want a unique photo & video editing app or software. In that case, you can also take the help of mobile app development services from some genuine & trusted company.
In addition to the definition or basic information about video editing software, you would also love to know about the categories of video editing software. The next section of this blog is about it, where you will learn about the category.
The Categories Of Video Editing Software?
Although all video editing software looks and functions the same, there is a difference in their category. So, let's have a look at it.
The linear video editing method is the oldest one, where filmmakers apply their editing techniques on celluloid films containing long-form videos. They used to cut and join the film.

Non-linear video editing is the newest method where video creators use software to cut, join, modify, and apply effects to the videos they have made for the audience.
Layer Based Vs Node Based
The layer-based and node-based video editing has a close relationship with non-linear video editing, but both are different. Their workflow is different, and the best part is for node-based editing software, you only need to learn layer-based editing software.
Now, if your question is- What do most YouTubers use to edit their videos for free?
Then the upcoming section of this blog is specially written for you, where you will have to go through the information regarding the best video editing software for YouTube beginners.
List Of The Best Video Editing Software In 2023
Here are some of the best video editing software for YouTubers in 2023. So, let's kickstart the list.
Hitfilm Free is such a fantastic video editing software. It is available for PC and Mac users. The best about it is its intuitive interface and easy functioning that supports beginners in editing their videos. It is the best for basic video editing, but if you need more features, then you need to purchase its premium version.
Another best video editing software for YouTube is Power Director 365, which is perfect for professionals and beginners. It offers advanced features like multi-cam editing, motion tracking, animation, and more. It will be a good reference if you are looking to develop software like it. An experienced video editing software development company can assist you with that.
If you are an apple user looking for video editing software to help you create and edit videos for youtube, then iMovie is for you. This software is available on Apple App Store. It is much easier to use iMovie for video editing by beginners. It allows you to apply the effects whatever you want, which makes it one of the best choices for YouTubers.
It is one of the video editing software that has a special place in the mind & hearts of video creators and YouTubers. And it offers all type of options for video editing, but the only limitation is free version produce watermarked video. It is the ideal software for all kinds of desktop devices.
If you do not want to install software on your system and want to access it via only a browser, then Kapwing is for you. Its unique feature is the Smart Cut tool that automatically cuts silences from videos you want to upload onto YouTube. It works super best when you need to add subtitles to the videos.
The OpenShot is open-source and available for all. It means you do not need to pay for the use. The best part is it takes less space for installation and offers options that a beginner YouTuber can use for video editing. It also offers advanced features such as color adjustment tools, background remover, keyframe animations, and more than 400 preset effects.
One of the best video editing software for YouTube is Magix movie studio. Split screen, speed adjustment tools, image stabilization, and more are some of its key features. In addition, there are more than 900 effects, transitions, and tiles to choose from. Your search for video editing for simple edits ends here.
Shotcut has its own fanbase and is available for Windows, Linux, and Mac devices. You can cut and edit videos up to the desired length or as per your need. Moreover, filters and effects empower creators to edit the videos. You can also work on the streaming formats such as HTTP, RTSP, UDP, or more.
If you are searching for customizable and professional software, Lightwork is the software you can use. It offers multiple video editing features, including 100+ special effects. With the help of Lightworks, you can create videos of 4k quality and formats such as SD and HD.
Movavi is also the best video editing software for Youtuber as it allows them to take creativity high as much as possible. You can create stunning videos by applying multiple effects and transitions. Still, if you want to customize the videos, you can do it easily before uploading them on YouTube.
There is multiple video editing software available over the internet that you can choose for your work. The above-listed software is some of the best editing software. If you are looking for top 10 ideas to start a business in UAE, then developing video editing software is one of the best.

How To Develop Video Editing Software?
For developing video editing software, it would be best to follow some useful steps that will lead you to turn your app idea into a reality.
There are multiple apps or video editing software available, so there is tough competition. To make your own fanbase, you need to design and develop a unique idea.
if you do not know about your target audience, then it means you do not know anything. The whole game revolves around who your audience is. So, decide about your target audience based on the criteria such as age, location, interests, and income level.
Features & Functionalities
The features decide the fate of any software or app. What you can do is take a reference of the top video editing apps and make a shortlist of features.
Hire Dedicated Developers
It is one of the crucial steps toward transforming your video editing app or software idea into reality. The experts can help you to develop your idea in the best possible way; that's why it is always beneficial to hire dedicated developers having experience in custom Android app development or software development.
While developing video software, one thing to keep in mind is that the design and functionality of the software must be like so anyone can use it without any difficulty.
The next crucial step is to test the software to provide a bug-free experience to the users. Test the software under real-time conditions. Any little bug can create a disaster, so keep that thing in your mind.
Once the software is developed, think about its monetization and promotion. From earning point of view, you can choose any of the following models:
i. In-app advertising
ii. Freemium Model
iii. Subscription Model
iv. Paymium,
And for promotion, you can apply a variety of SEO techniques.

How Much Does It Cost To Develop Video Editing Software?
The users also ask over the internet how much it costs to develop video editing software. The cost depends on the version of the software.
If you want to develop an MVP video editing software, it may cost you around $25000-$35000. But if you need advanced software, then it may cost you more than $45,000 and can go up to $70,000 based on your requirements. The mentioned cost is based on a rough estimate. For the perfect cost, it would be best to consult with an on-demand app development services provider.
The Final Thoughts
When it comes to creating videos for YouTube, then a question always arises-
What is the easiest video editing software for YouTube?
Due to the presence of multiple video editing software, it is always confusing which one to use. By considering the issue, I have created this blog to share info about the best video editing software.
Consider this blog as a great reference for it. Still, if you need something more unique, then the better idea is to develop your own software with the help of mobile app developers. Now, it's over to you to make a final decision.