In today's fast-paced world, video chat app like Azar has gained immense popularity. The entire dating app industry is overflowing with the most popular video chat app like Omegle, Azar, Tinder, and more. This had led to competition with around 15 million active users especially, teenagers. Also, due to the pandemic, the demand for video chat app development has increased as it became difficult for people to step out of their homes and meet new people. This is where the majority of the people started using apps like Azar and Omegle for video chat and virtual dating.
This indicates that developing an Azar or Omegle like app will be a great choice nowadays. As it is a profitable niche, many business owners plan to develop such an application. So, if you are also planning to develop an app like Azar, this blog is useful to you. It sheds light on the cost and features of video chat app development.
Latest Market Statistics of Dating App Development
As per research, this year, the dating app development market size reached around $4.2 billion and is expected to reach around $8.6 billion in the coming few years. As a result, more companies are looking forward to developing Azar and Omegle video chat apps and searching for the top mobile app development company. An individual can apply advanced filters to check multiple profiles through such applications. Such amazing features of video chat apps increase the demand and positively impact the market stats.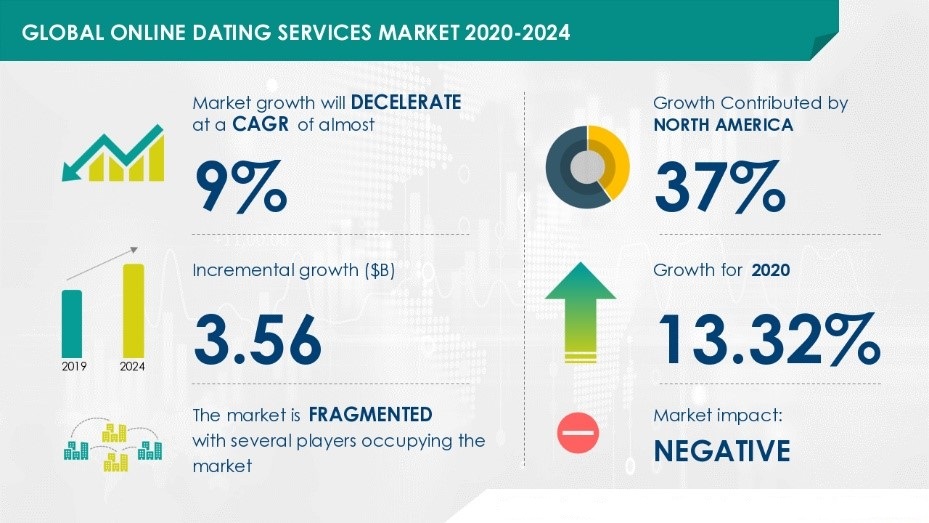 As per Statista, the global online dating industry's worth will be around $4,744 million by 2025, with a CAGR of 7.13%.
The experts have predicted that video chat usage will increase and reach up to 480 billion by 2025.
While comparing the stats globally, it has been found that the major revenue has come from the US and by the end of 2022, the global revenue will reach around $4 million.
From the facts mentioned above, it is understood that the online video chat and dating industry has witnessed immense growth and popularity in the past few years. This means that stepping into this line will greatly benefit businesses and is beneficial for the future.
But, all this can only be possible when you have the right app in hand. For that, include the following features in your video chat app.
Major Features to Include While Developing A Video Chat App Like Azar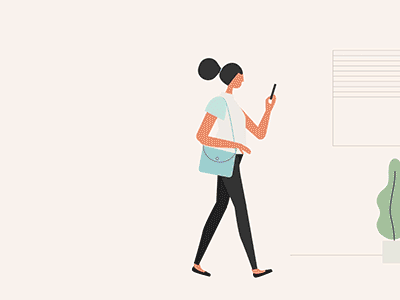 The following is the list of the most demanded dating app development features that one must include while making an app for the desired success and popularity.
1. User Profile
This enables the user to create an account on the video chat app and enter personal details like email, phone number, and more. As the profile introduces the user to their potential matches, it is crucial to keep this section attractive. Also, include some wide customization options such as the profile should cover all the essential data.
2. AI-Based Chatbots
Including AI-based chatbots into Omegle like app will make your app unique from the rest and enable the users to break the ice, especially the introverted ones. Incorporating this feature will enable suggestions to the user for starting a conversation or replying to a message.
3. Geolocation
This feature makes it easier for the user to find their perfect match or chat with someone nearby to their locality. None of us wants to develop a connection miles away. Right? So, including this feature allows the user to pick regions and provide in-app suggestions of their preferred locations.

4. Profile Performance Checker
A user profile is a foremost thing that one checks before hitting a "Friend Request" button. Isn't it? However, not everyone is a pro in developing an attractive user profile especially, first-time users. In such a situation, this feature will help them. As per the expert mobile app developers UAE, enabling a profile performance checker option helps users create an attractive profile that others have been looking for.
5. Set Preferences
This is one of the crucial features that allow users to set gender preferences with whom they want to connect. Also, this will enable that the user and outsider to have something in common and help them get connected.
6. Push Notifications
Almost every mobile app has a push notification feature to keep users stuck to their application. So, you should also include push notifications while developing an app like Omegle. Using some innovating, encouraging, and useful messages will engage your potential customers within your application and ultimately bring in better traffic.
On-Demand Service Apps – Meaning, Types, Features, and Things to Consider
7. Profile Recommendation
Generally, people use the search option or apply filters to find their soulmate, friend, or anyone they want to chat with. However, enabling AI can take this scenario to the next level. Include profile recommendation as this will enable the users to get automatic suggestions or profile recommendations just like the Azar video chat app do.
8. Block Option
This option enables the user to block a particular profile due to different reasons. Once a user blocks a profile, a person cannot communicate with one another or view each other's status.
9. Online Status
This feature indicates that the user is currently active. On the other hand, "Last Seen" indicates the last time when the user was active.
10. Social Media Integration
Users can also integrate their social media profiles for higher app engagement, the same as the Azar video chat app. But, make sure that your application guarantees privacy and data security.
11. Help & Support Module
In case of any query or in-app support, a user always needs a helping hand. This feature functions the same. You can also integrate AI into your application for automated responses for basic user queries and concerns.
12. Logout
This feature enables the user to easily log out of the application whenever he/she wants to.
These are some common features that every video chat app should have. So, don't forget to incorporate these features while developing an app like Azar. To go for an advanced version, refer to the following additional features.
Additional Features of A Video Chat App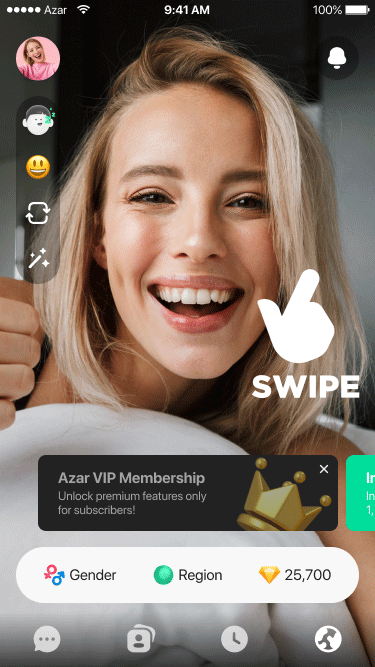 The following are the advanced features that you can include to make your video chat app unique and upgraded from the rest.
Screen Sharing
This is a crucial and advanced feature of a video chat app like Omegle. It helps the users to share their screens with one another while on a call.
Virtual Noise Cancellation
The virtual noise cancellation feature plays a vital role in ensuring zero background disturbance. By incorporating into your app's advanced settings, you can make your application more efficient and reliable.
Custom Emojis & Stickers
To make your app interactive like an Omegle video chat app, you can incorporate custom emojis and stickers' options to grab the user's attention. This will make it fun for the users to send stickers and emojis while chatting or video calling.
Advanced Filter Option
Enabling this feature will help users search for people based on their age, gender, and location at once. This advanced filter option will help the users to find their perfect match in just a snap of their fingers. Also, using the searched filters, users can either like or dislike the profile.
Image Sharing
This feature is the same as that of messaging apps that we use nowadays. People love to share images to make the conversation more interactive or develop a strong bonding. So, don't forget to incorporate this feature into your video chat app development.
Admin Settings
Like any other app, your application will require an admin panel where a particular person can manage the whole application process. Through this feature, the app's owner can access the admin panel and accept & close support tickets, fix issues, resolve disputes, observe analytics, and more.
Facial Recognition to Find Lookalikes

To make your dating app unique, you can incorporate this feature by integrating AI's facial recognition technology. This feature will help users upload photos of any public figure or celebrity, and the app will display lookalike results. What could be more amazing for the users than finding their perfect match?
Multi-Lingual Support
This enables the users to utilize your application with the help of Google Translate. Including this feature will help you target users worldwide as they will be able to find their soulmates from any corner of the world. Users can simply choose English to find a random mate and switch to different language options as per their preference.
To develop a feature-rich and successful video chat app development, try incorporating these above-mentioned features while developing an app. For the best results, make sure to hire dedicated and skilled mobile app developers. Also, discussing the cost of developing a dating app prior to handing over the project is important to avoid glitches.
How Much Does It Cost to Develop A Dating App Like Azar?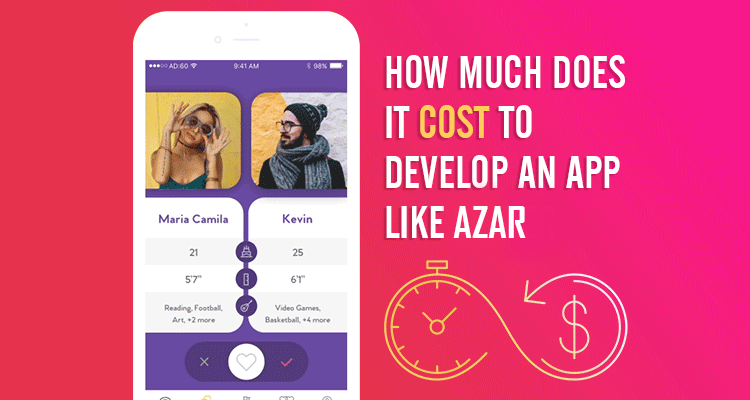 The cost of an application, be it a dating app or any other, depends on the feature and development strategy, so it is quite challenging to commit the exact cost of developing a video chat app like Azar. However, the average cost for an app with basic functionalities lies around $15,000 – $30,000 and can raise up to $70,000 for an app with advanced features and functionalities.
In addition, some major factors determine the cost of an application, such as –
You need not pay bucks for a basic version of a dating app. But, if you need a unique app that needs the support of a complex programming language, the cost will increase. The more complex the application is, the higher will be the cost.
On average, a basic app development process might take up to 3-4 months as it does not include any additional features. But, if you are planning to develop an advanced version of a video chat app, it will take more time depending on your project's requirements. So, this will also affect the cost factor.
Development Tools Utilized
Another most important factor is the development tools utilized for app development. As tools and technologies play a crucial role in determining an app's success, so choose wisely. Different tools have different costing, so this factor also marks an impact on your application's costing.
In order to offer a better online video chatting and virtual dating experience to your potential customers, you can incorporate some advanced features and functionalities. This will attract more app users to your application, ultimately bringing in better business profit.
Hiring Model


Finally, the developer's hiring model is the last yet vital factor determining your application costing. Generally, there are three basic hiring models followed.
Part-Time – To hire a developer on a part-time basis, you will have to pay a minimum amount of 4 hours that will be around $250.
Full-Time – When you hire a developer for a full day, the cost will vary depending on the type of project.
Hourly – While hiring a developer on an hourly basis, you will have to pay up to $60 – $250 per hour, depending on the project's requirements.
This is all about the cost of developing a video chat app like Azar, Omegle, and more. We hope the above-mentioned costing factors are clear to you, and now you will be able to plan accordingly. 
Planning for Video App Development? We Can Help!
The online video chatting and virtual dating industry is growing every passing day. To be a part of this ever-increasing competition, come up with a unique app idea and avail services from a leading mobile app development company.

At Dev Technosys UAE, we have skilled and experienced mobile app developers in UAE and other places. To date, we have delivered 950+ successful app development projects within the deadlines. Our main motto is to keep the customer happy and to ensure the same; we deliver the best business solutions.
Schedule a call with our team today and get an amazing business app right away!