Digital payment is not a new technology for people. Most people are using it for their regular payments. The fintech sector is rapidly evolving, and online payments are becoming much easier due to the introduction of multiple innovative apps.
One interesting fact is that different mobile payment apps are popular in different areas or locations. The best example is an app like Pay it in Dubai. 
Almost all fintech are in the quest to make payment systems easier and safer than we are using concurrently. The e-wallet app development is progressing dynamically, where new ways have been introduced, such as QR code scanning, touchless payment, and more. 
Specifically, let's talk about UAE or Dubai. An app like Payit is one of the legendary apps available for payment and is counted as the most convenient payment method. Including the ordinary payment services, it also offers GovWallet. The GovWallet is optimized for government transactions, and citizens can also access their official documentation, such as property information, licenses, and more. 
The intention of this blog is to share some interesting information about the Payit app. However, the sole purpose of writing this blog is to share information about step by step to develop an e-wallet app like Payit. So, let's start exploring the blog.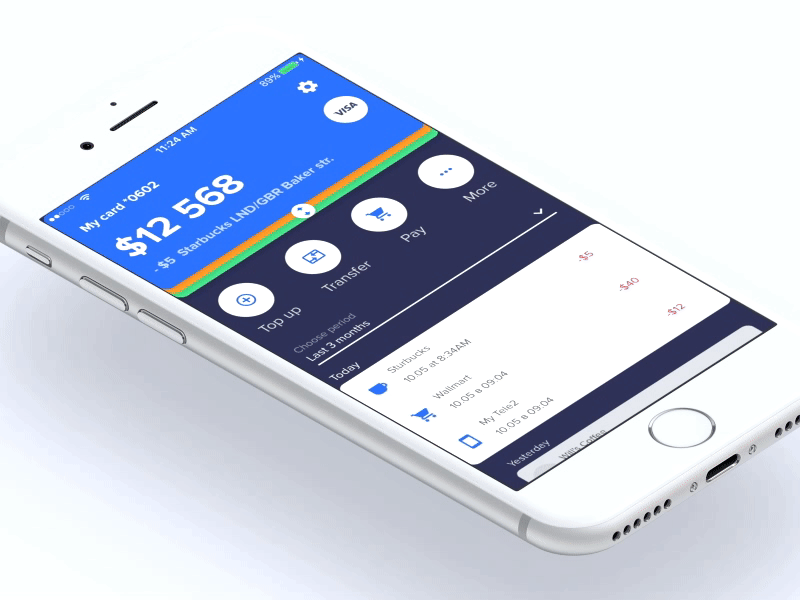 Payit is a fully featured ewallet backed by FAB, aka. First Abu Dhabi Bank. It offers multiple ways to manage digital cash on the go. The app is suitable for money transfers, purchases, paying bills, taxes, registration fees, licenses, and more. Users can use it for individual purposes and also for payments related to government services-based payments. 
It also works like suppose you are going on an outing with friends; then, with a single tap, you can split the bills and enjoy your day. It saves users time and money. It is a perfect option, from local bank services to international money transfer. 
Payit provides options like:
#1. Instant Payments
Users can manage the payment with a single click.
#2. Autopay
It allows users to set up an automatic payment from their official bank account.
#3. Managed Pay
Users can manage their bills in a seamless way.
#4. Scheduled Pay
For upcoming bills, it is very easy to schedule the payment. 
All first-time users ask a common question, and that is – "How to download and use Payit app? "
So, the answer is like this:
Download the app and select the bank whose card you are using.

The next step is to scan the emirates ID from the front and rear.

Take your selfie(the image must be of high quality)

Enter your phone number and e-mail id for validation.

Create a secure password.

Activate ewallet by selecting your bank
The Payit wallet is the best fit for all expectations that you need in an ewallet. Additionally, if you want to start a business with fintech, then digital wallet app development is one of the beneficial ideas. You can provide all types of payment services as an app like Payit, which are:
Turnpike fees, toll fees, toll tags

Water, trash, and other facilities

Business permits, professional licenses, and license renew

Real estate and personal taxes

Vehicle registration and license fee
Now let's talk about the upcoming section of this blog, which is about key stats of digital payments and the Payit app. In that section, you will go through some important stats, so, let's proceed toward it. 
Key Stats- Digital Payments 
In UAE, the digital payment segment is expected to reach US$28.74bn in 2023, and worldwide, it will be US$9.47tn.

In 2027, the total transaction value is projected to reach US$39.13bn with an annual growth rate of 8.02%.

One of the reports published by Visa mentioned that by 2024, more than 50% of consumers would prefer 100% cashless payment.

In UAE, more than 58% of users use ewallets for bill payment, and near around 55% of users use them for buying groceries. 
These key stats are enough to prove that making a  mobile wallet app is the right idea for a business. You only need to take care of the features of your ewallet app like Payit. The next section of this blog is about the features that you can implement while developing an ewallet app like Payit.
Features You Need To Consider While Developing An Ewallet App Like Payit
Creating an eWallet app like Payit can be a daunting task. With so many features to consider, it cannot be easy to know where to start. From secure payment processing to customer loyalty programs, numerous aspects exist to consider when developing an app like Payit. Here we'll review essential features you need to consider when developing an eWallet app like Payit for your business. By understanding the key components of an eWallet app, you can ensure your app meets customer expectations and drives customer engagement.
1. User signup & login
For any digital wallet app development, user signup/login is the most critical element. It is the first step of user engagement and security. It should be straightforward and intuitive, so users can quickly and easily create an account. To ensure that only authorized users can use the app, the developers should consider implementing two-factor authentication as an additional layer of security. It will ensure that only legitimate users can access the app and perform transactions.
2. Profile Information 
One of the most important features you should consider while developing an ewallet mobile app like Payit is the ability to add and edit profile information. This feature allows users to create their own digital wallet by entering their name, email address, and phone number.

For this feature, you will need to work with an experienced Android or iOS app development company that can help you develop a secure, robust platform for user registration and authentication.
3. Add Or Remove Cards
Usually, ewallets works in association with debit and credit cards. So, the users must be able to add or remove cards whenever they needed. It is essential for users of an ewallet mobile app to be able to manage the cards within the app. This allows users to make secure transactions, manage their money, and pay bills. Having the ability to add and remove cards from the app easily is a key feature of any successful ewallet mobile app. 
4. Transaction history
Having an in-depth transaction history is essential for any ewallet mobile app development. Users should be able to view their entire transaction history and all of the information associated with it. This would include the date, time, merchant, item purchased, and the transaction amount. Looking back on past transactions is a great way to track expenses and can help users keep their financial accounts organized.
5. Money transfer
Developing an ewallet app requires incorporating money transfer capabilities that make it easy for users to transfer funds to another user or account. Money transfers should be secure and offer users a variety of payment options, such as ACH payments, debit cards, and credit cards.
6. Bill payment
This feature will provide users with a convenient way to pay for utilities and other services. You can also add additional features like automatic bill payment reminders and notifications. Additionally, these apps may even offer discounts and rewards when users pay their bills through the app. Hire ewallet app developers to ensure that this feature is developed securely and with robust features that make it easy and intuitive to use.
7. QR Code Scanning
QR code scanning is an essential feature to include in an eWallet app like Payit. It allows users to quickly and easily transfer money and make payments. With a QR code scanner, users can scan and pay with just one click. This makes transactions faster and more secure.
8. Push Notifications
Push notifications have become an essential part of an ewallet mobile app development. They provide the user with timely and personalized updates about their transactions, bill payments, account balance, and more. It can be delivered through Android and iOS platforms and is generally used by businesses to engage users. Push notifications can also increase customer loyalty and encourage repeat transactions.
9. Security
When it comes to ewallet mobile app development, security should be your top priority. After all, user data and financial transactions must remain secure from hackers and cybercriminals. To ensure your ewallet app is safe and secure, you should consider several security features when developing the app. 
Now, it is all about features of ewallet app like Payit. The next section is dedicated to the steps that you can follow to develop the app.

The Process To Develop An Ewallet App Like Payit
Developing an ewallet app like Payit requires a well-thought-out process. From understanding the target audience to creating the user interface, several steps need to be taken to ensure that the app is successful. For the best results, it is best to hire dedicated developers. So, let's start with the steps.
The first step is to choose the platform suppose you want to make an app like Payit for Android users; then you can take the assistance of an Android app development company.
Features are much important for an ewallet app development. So, choose carefully. The above section of this blog is all about the features that you can refer.
Design Your User Interface
The end user does not bother about what coding you have done for developing the ewallet mobile app. They will interact with UI so design it in a way that the end users must find interesting.
The end user does not bother about what coding you have done for developing the ewallet mobile app. They will interact with UI so design it in the way that the end users must find it interesting.
Connect to Payment Processors
When it comes to building an eWallet app, one of the most important elements is the ability to process payments. This requires connecting to third-party payment processors, such as Stripe, PayPal, or Apple Pay.
Security should be a top priority when building an ewallet app. After all, you'll be handling sensitive user data and financial transactions, so it's essential to make sure your app is secure.
Once you have completed the development of your ewallet app, it is time to put it through rigorous testing. You should test all features and functions to make sure they work properly. Look for any bugs or issues that need to be addressed before launch. 
Monitor Usage and Feedback
For creating the best user experience and engagement via an ewallet app like Payit, it is necessary to maintain it. So, keep a constant eye on app usage and feedback from the end users. It will help you with app maintenance.


The Final Thoughts
Developing an ewallet app like Payit requires a lot of planning and execution. Understanding the app's features and functionalities is essential before you start developing it. This article will provide a step-by-step guide on how to develop an ewallet app like Payit, from ideation to launch.
It is important to clearly understand the target audience, their needs, and preferences, so that you can create an app that meets their requirements. After that, you need to decide on the features and functionalities that your ewallet app should have. You also need to think about payment gateways, security measures, user experience design, and other technical aspects of the development process. Finally, you should test your ewallet app thoroughly before launching it in the market.