The technological revolution is marking a huge impact on the era of mobile app development. From a basic calculator to complex gaming, smartphones have become the game-changer in today's competitive era while covering maximum industries. The healthcare industry is greatly influenced by healthcare mobile app development innovation. The introduction of healthcare mobile apps has made the job of healthcare professionals hassle-free while benefitting healthcare businesses.
Today, healthcare applications have become an integral part of the industry, and as a result, more healthcare professionals are planning to develop healthcare apps for patients. There are multiple reasons behind investing in healthcare app development for business, and this blog talks about the same. So, let's discuss!
What Is Healthcare Mobile App Development?
Healthcare apps keep track of healthcare and wellness that help professionals and patients connect virtually. While using healthcare applications, patients can keep track of their health while connecting with healthcare professionals. On the other hand, doctors can assist the patients & offer them the best treatment through a healthcare app. There are multiple reasons and benefits of healthcare apps for patients & professionals. So, let's take a look at them one by one.
Different Types of Healthcare Apps for Doctors & Patients
Nowadays, there are multiple types of healthcare applications available. So, to help you decide on the best type of app before stepping into healthcare mobile app development, here is the data in tabular format.
| | |
| --- | --- |
| Type Of Healthcare App | App's Description |
| Appointment Scheduling App | This app help patients book an appointment online while improving their satisfaction. |
| Diet & Nutrition App | This type of app help patients who want to live a healthy life while keeping their health on track. |
| Doctor On-demand App | This app help patients to easily get healthcare professional assistance on-demand and get better treatment. |
| Personal Health Recording App | This app allows patients to access their medical records without even calling or attending medical facilities. |
| Women's Health App | This app's mission is to help women resolve personal issues such as pregnancy, breastfeeding, and other personal problems. |
| Fitness App | This app target people of all ages who wants to stay fit. Also, users can collaborate with virtual trainers with such apps. |
As highlighted below, every healthcare application comes with its own set of benefits. The following perks clearly indicate why investing in healthcare app development can be wise for businesses.
Advantages of Healthcare Application Development for Patients & Physicians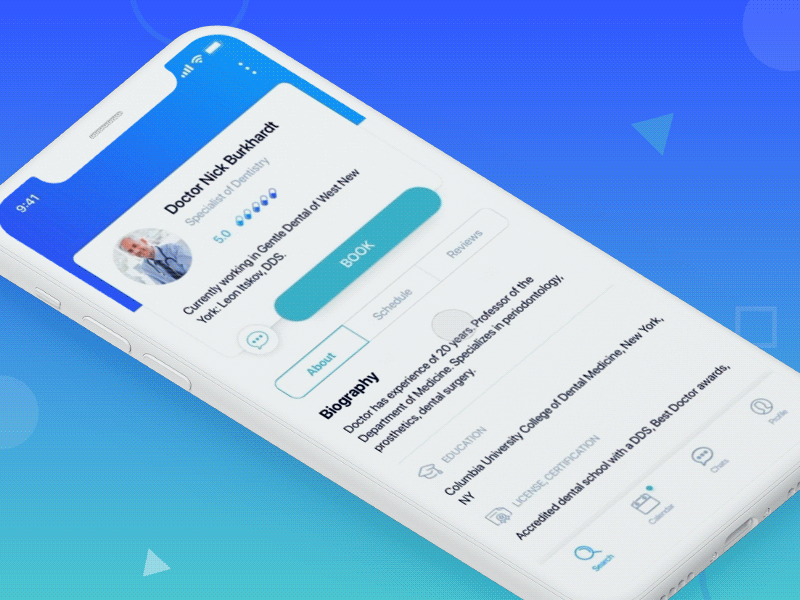 In this technically advanced world, a mobile app is a great asset to streamline the healthcare work process while helping patients keep their health in check. Not only this but there are other reasons too why businesses should invest in healthcare industry applications, as discussed below.
1. Hassle-Free Appointment
Previously, patients had to wait in a long queue to get their appointment at the clinic, but not anymore. The pandemic crisis has impacted every sector, especially healthcare, where hundreds of new healthcare applications are developed. Such mobile applications are helping patients experience hassle-free appointments while seeking healthcare expert assistance from the comfort of their homes.
The same applies to healthcare professionals as they do not have a long queue outside their clinic and can easily provide the best assistance to their patients online.
Read More: How To Develop a Vaccination Tracker Healthcare Mobile App?
2. Accurate Patient Diagnosis
Sometimes, it becomes challenging for healthcare professionals to keep track of all the patients' data offline. But, healthcare applications have resolved this problem to a great extent. Now, professionals can easily keep track of patient medical check-ups and get accurate patient diagnosis reports online. All this streamlines the healthcare work process and minimizes the chances of errors that proves fatal for the patients.
Also, healthcare professionals can use sensors to accurately measure the patients' health parameters. This further leads to better healthcare development services and increased work efficiency. Also, professionals can get real-time access to medical treatment.

3. Quick Communication
Whether the patients have to book an appointment quickly or want to know about the professional's experience or anything, they can use a healthcare app. An app allows the patients to take medical assistance from a reliable healthcare professional without visiting the clinic. What could be better than getting medical treatment while sitting at home? This is one of the major benefits of healthcare apps for patients.
While talking about the professionals, the healthcare app allows the doctors to easily communicate with the patients, know their concerns, and offer the best suitable treatment in just a snap of fingers.
4. Cost-Effective Healthcare Assistance
High expenses for medical treatment and bills are some of the serious concerns for middle-class patients. Due to budget constraints, they fail to avail healthcare assistance from reputed healthcare clinics. But not anymore. Healthcare software development has made it easier for patients to experience a better service under their budget.
As patients do not have to travel to the clinic, pay the fees, etc., the cost automatically reduces. So, this is how the introduction of healthcare apps for patients has made the process cost-effective or budget-friendly.
5. Improved Work Efficiency & Output
Healthcare applications are flooded with centralized data that allow healthcare professionals to analyze patients' medical history and offer them the best treatment. This is how patients can treat multiple patients at a time. As a result, medical app development improves services and help healthcare business earn huge profit and success within less time.
What could be better than earning a better business profit while sitting at home? We guess nothing. So, what are you waiting for? Get one of the best healthcare apps for doctors and be ready to increase your online appointments 2x times faster. Also, remember that you can only experience a better healthcare business profit when your healthcare app is properly developed.
Also Read : Why Choose UAE for On-demand App Development in the World?
Major Factors to Consider Before Healthcare App Development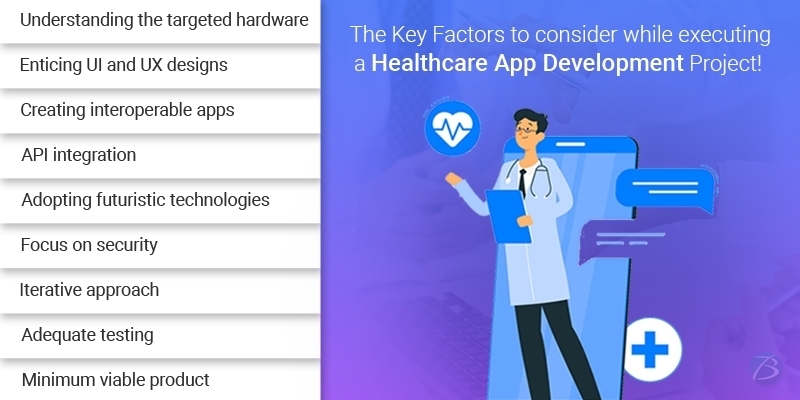 Different factors leave a different impact on the success of a healthcare app. So, keep the following sectors into consideration when you plan for healthcare app development. Let's take a glance one by one.
1. Discover the Aim of Your Healthcare App
Before you develop a healthcare app, the first thing to consider is identifying the major aim behind developing an application. Businesses need to understand the major areas of healthcare services to develop an app. This will ensure that healthcare professionals invest in the healthcare industry the right way. Also, it will help them develop a perfect healthcare app adhering to their business needs and demands.
2. Come Up with A Simple Yet Interactive Design
Besides healthcare mobile app development, appealing UX/UI is one of the great assets to grab users' attention. For instance, if you develop an app with a complex design, the app will fail to grab the user's attention and do not get the desired profit you've aimed for. Instead, keeping your healthcare application simple yet appealing will definitely gran patient's attention while increasing business profit.
Read More : How to Build A Meditation App Like Calm Or Headspace?
3. Take Care of Your App's Security
Today's world is full of Cyberattacks. Agree or not? So, to save your application from any threats and keep your healthcare app secure, make sure to integrate the best app security features. It will not only make your app secure but also helps to win the trust of the patients, which results in increased healthcare business profit.
If you do not have a desired experience for the same, hire the best healthcare app development company professionals who possess years of experience in the same. The experts will take care of it while you focus on treating the patients.
4. Conduct Proper App Testing
None of the mobile applications is developed error-free, so test your healthcare app properly before launching it on the App Store or Google Play Store. You never know the major consequences of a newly developed application addressing bugs and errors. So, do not leave any scope for error and conduct proper testing to create a 100% error-free healthcare app.
5. Decide the Budget Before App Development
Most businesses fall short of budget in between the healthcare software development process. They do not decide on the budget before app development. So, avoid this, and make sure to decide on healthcare app development cost or budget and then hire the developers accordingly.
So, these are some crucial factors that businesses should always consider before developing a healthcare app. Even the professionals suggest the same.
How Much Does Healthcare Mobile App Development Cost?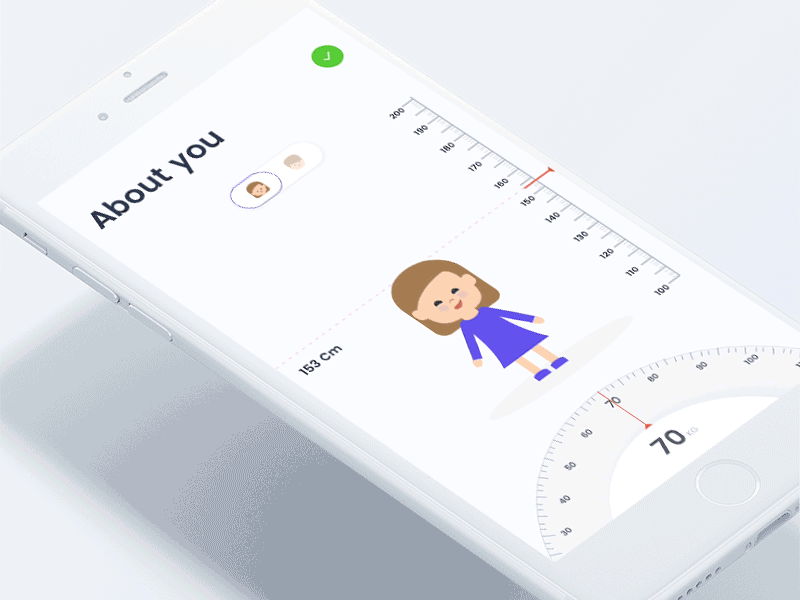 As highlighted below, the healthcare mobile app development cost depends on multiple factors, including features, functionalities, and the estimated time.
| | | |
| --- | --- | --- |
| Function | Estimated Time | App Development Cost |
| App Development | 1500 | $55, 000 |
| Quality Assurance | 150 | $6000 |
| Project Management | 180 | $10,000 |
| Total | 1830 | $71,000 |
This is just a healthcare software development cost estimation based on the time. There are other cost factors too that you will come to know while getting in touch with the healthcare app developers.

Conclusion
With the ever-rising popularity of digitization, the healthcare industry is facing a massive transformation. Now that you are well-versed with the reasons and benefits to invest in healthcare mobile app development, it is time to begin the mobile app development process. So, it is time to hire dedicated healthcare app developers, share your project requirements, and get a well-developed app in hand.
Ensure to avail healthcare software development assistance from a reliable organization with a team of professionals. After that, you can remain ensured of getting a well-developed healthcare app in hand.