In this fast-changing and busy world, every human has a tone of stress for multiple reasons, further affecting their mental stress. To help people overcome their stress and live a happy & healthy life, meditation app like Calm act as a savior. With around $100 million annual revenue, this application rules people's minds and earns a profit at lightning speed.
Due to the ever-rising demand for meditation app development, more businesses are thinking of developing such an application to start a new business. As a result, they keep on wondering, 'How to develop a meditation app like headspace?' So, to assist new businesses, entrepreneurs, and even existing businesses with meditation app development, this blog highlights a step-by-step process.
Meditation App Market Statistics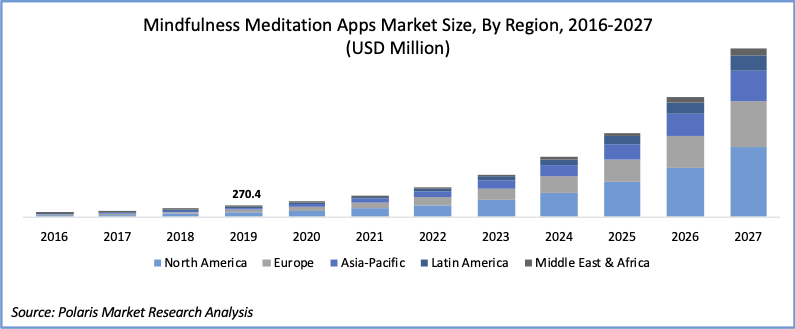 As per Statista, the meditation market in the US is estimated to reach around 1.2 billion by the end of 2022, which is quite a big number. Also, the national centre for integrative health reports that 8% of adults, i.e., around 18 million people use a meditation app to get relived from mental health. By 2020, around the top ten meditation apps like Balance generated around 200 million US dollars, and the demand is expected to increase 2x more by 2024.
Overall, the meditation app market research and statistics show that this industry possesses a lot of potential to uplift the market. So, if you are planning to create a meditation app, now is the right time to do it.
How to Develop A Meditation App Like Calm?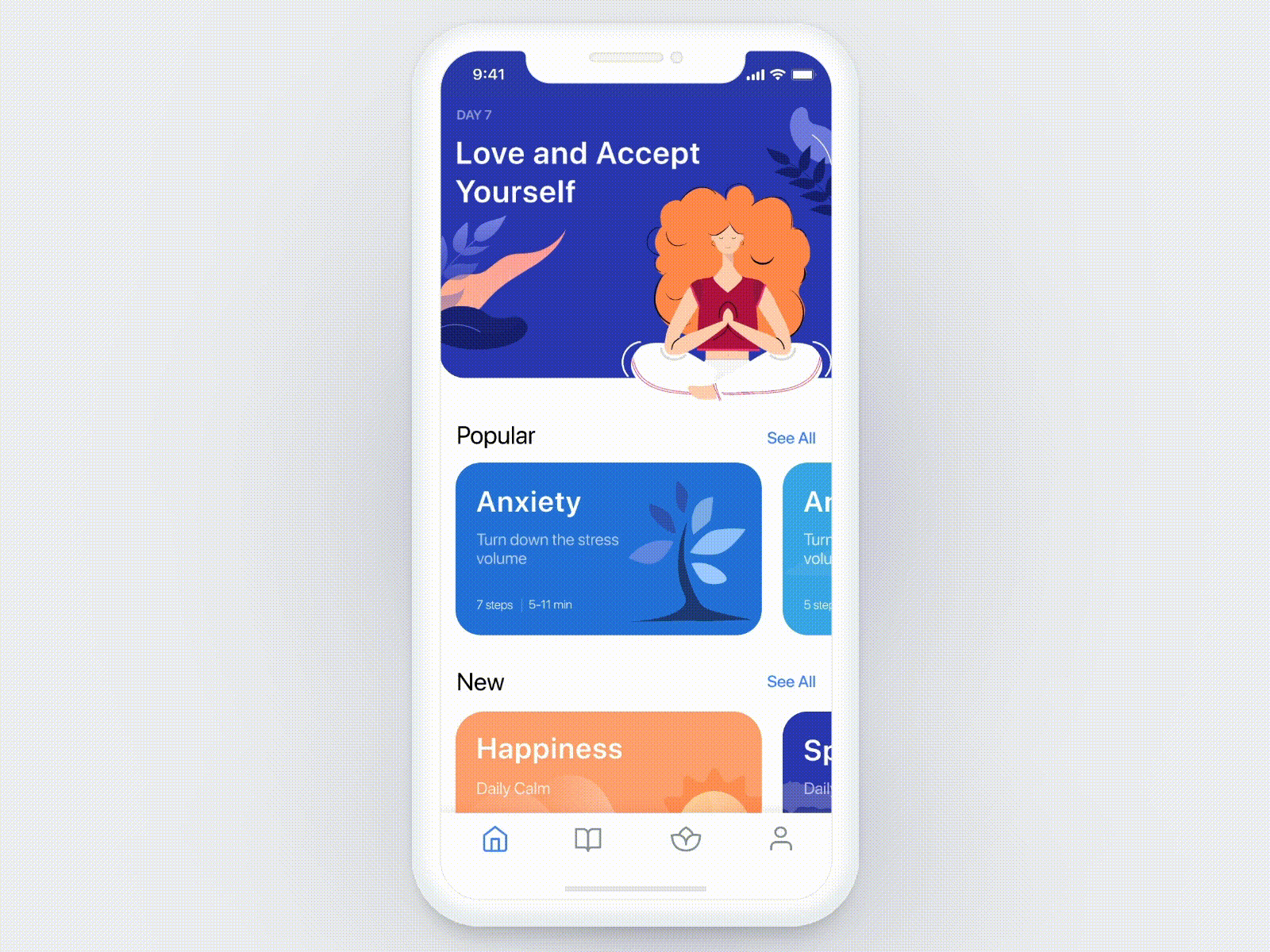 To develop a successful meditation app like calm, implement the following steps one by one and see how your meditation app will reach the heights of success.
 Think Of An Amazing Business Idea
To create a meditation app successfully, think of a brilliant application idea that blows away users' minds. As the best meditation app list is unlimited, think of something that makes your app unique from the rest. So first, choose the type of meditation app you want to create, such as – a music app, walking meditation app, yoga app, women health tracking app, and more.
Once your idea is finalized, you can move to the next step of meditation app development.
Conduct Extensive Research
After finalizing the application, next, understand your competitors and potential audience. Researching about marketing leaders will help you know about their application features, success rate, pros, cons, and more. Along with this, knowing your targeted audience's needs and preferences will help you during mobile app development.
Also Read : Why Choose UAE for On-demand App Development in the World?
Select A Suitable Development Platform
Different applications are suitable for different platforms. But as per research, meditation app like Calm and more are compatible with both Android & iOS platforms. However, if you have a limited budget, it is advisable to choose one platform for now, and then you can add more platforms in the future adhering to your budget.
If you are confused, it is better to consider the mobile app development company professionals, who will suggest the meditation app development solution.
Finalize Appealing UX/UI
To grab the users' attention at first glance, you need to develop an appealing UX/UI. Also, focus on offering a solution that helps people combat stress and anxiety hassle-free. Sometimes, users leave the meditation application because of poor UX & UI and complicated interface.
So, to avoid this, it is advisable to come up with an appealing and user-friendly UX/UI. This will increase your meditation app engagement, and in turn, bring the desired business profit within less time.

Develop & Test Your App Carefully
Now, it is high time to start mediation app development. This is one of the crucial steps that define the success of your app, like headspace & Calm, so be careful during the development process. You can even hire dedicated developers to create an application and ask them to test the application at every step of development. Launching an error-free application increases the chances of the application's success.
After following this 5-step process, you can launch your meditation application and measure its engagement with time. For better results, avail services from a well-known meditation app development company where experienced developers work and craft a unique app for you.
Along with focusing on development, incorporate the right features into your meditation, as they are one of the major factors in making your application unique from the rest.
Read More: 10 Successful Ideas for On-demand App Development
Essential Features Of Meditation App Like Calm & Headspace

To beat competitors in the meditation app market, first, focus on incorporating basic features and then move to the advanced ones. 
While developing a meditation app like Calm & headspace, include a user registration feature. It enables the new users to sign in to your meditation app, hence offering them access to your application. Also, all of their personal details, email, phone number, and more will be saved here.
A meditation app like headspace offers new users an introductory tutorial or lessons. This feature will help them get well-versed with the basics of meditation and other exercises while highlighting the guidelines.
Tutorials are mandatory to help people become aware of the application and the purpose of using it, so you cannot skip including this feature during meditation mobile app development.
There will be hundreds of meditation sessions, so to keep all of them sorted, introduce a meditation library feature. Just categorize the sessions and offer users the best suitable session suggestion as per their needs. To make it more generalized, include every information about the session like how much time will take, what the session is all about, etc.
Like any other mobile app, meditation applications should also have push notifications feature to keep the users engaged with the application. The users will automatically visit the meditation sessions with the help of timely reminders and push notifications. This will automatically promote your meditation app and helps increase user engagement with time.
Read More : 20 Trending On-demand Mobile App Development Solutions That Rule In 2022
As mentioned above, there will be multiple types of meditation sessions available on the application, so it will become quite confusing for the users to find. In that case, a sorted search filter option will be helpful. It will divide the session category-wise and, in turn, sort the searching process. This will uplift your application over competitors, and as a result, more users will access your meditation app.
Keeping the customers satisfied and happy with the services plays a huge role in the application's success. In that case, in-app chat and support assistance acts as a savior. Here, users can ask their queries and resolve their concerns while using a meditation app. This helps customers and boosts your meditation app development engagement with time, further resulting in increased revenue.

This advanced feature can make your meditation app stand out from the thousands of mobile applications available. So, add a live streaming feature into your app and increase its worth 2x times. You can also authorize your application with broadcast-quality live streams and keep the users engaged, just like an app like Calm.
These are some essential and must-have features of meditation app development that make it successful and popular in today's time. While including all the features mentioned above, you can also develop an app like Balance and get ready to experience business success & profit. Also, keep a check on the meditation app development cost for a seamless development process.
How Much Does It Cost to Develop A Meditation App Like Calm?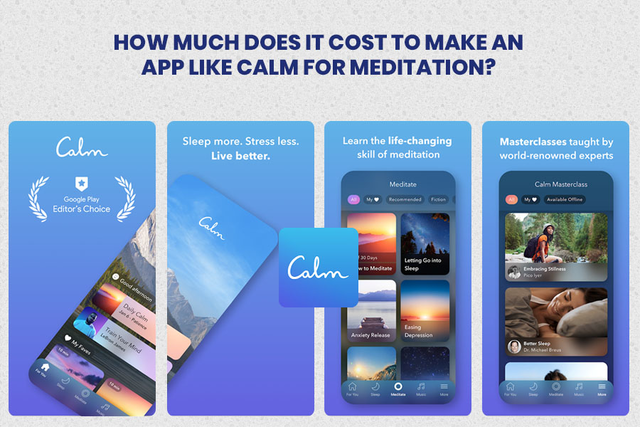 There isn't any defined cost for any mobile app development processes as multiple factors fluctuate the cost to develop a meditation app. Still, to help you get a rough estimate, here we have mentioned some common factors that affect the cost, such as –
Features & Specifications – The more features & specifications you include in your application, the process will add more cost to meditation app development.
Size – With more features comes the huge size of an app. So, your application's size will completely depend on everything you incorporate while developing a meditation app.
Complexity – When you try to incorporate so many things at once, it will make the application complex and increase the meditation app development cost. So first, define your budget and then plan the features to include.
Tech Stack – The types of tools, programming languages, and other tech stacks utilized in your mobile app development process impact the cost greatly. So, if you plan to develop an app like Calm, first research the types of tech stack used and then finalize the technologies as per your budget.
Development Team – Finally, the last factor, i.e., the developers you hire for meditation app development, also fluctuates the cost to develop an application.
Final Words!
Currently, the market is flooded with mobile applications, and apps like Calm & Headspace are ruling the market. So, to make your application successful and stand out in the crow, pay immense attention to everything mentioned above, including the steps to develop a meditation app, features, and cost.
Keeping these things in mind and adhering to them will definitely result in successful meditation app development. For better assistance, you can hire dedicated developers or consult the meditation app development company professionals for the same. The experts will assist you throughout the mobile app development process.