We all know that the food industry is evergreen worldwide. The never-ending craving for food among people is taking this food industry to a new level. It gives a significant boost to various on-demand food delivery apps that exist in the market. Along with every country worldwide, UAE also has a scalable user base for on-demand food delivery apps.
Based on some reports, it has been seen that the restaurant business in Dubai is increasing by 15% every year. And it's still increasing today. Usually, after a long tiring day, everyone wants to be couped up in their bed so that they can fulfill their food appetite with delicious foods and dishes from their favourite restaurant.
Here, food delivery apps like Talabat fulfill their needs by delivering those users' favorite dishes to their doorstep.
Due to the recent Coronavirus outbreak, these ready-made food delivery apps are providing extreme convenience to their users. In addition, apps like Talabat allow users to try unique food from newly opened cafes and restaurants.
Usually, this type of food delivery application provides delivery services 24* 7 so that they can fulfill the user's needs at any time. Whatever may be the reason, from evening snacks for parties to midnight cravings, apps like Talabat deliver food to any corner of the city efficiently.
So, if you also have a unique idea for opening an on-demand food delivery business, then executing that idea through a dynamic and responsive application can ensure success in the market. For that, you just have to hire the best food delivery app development company professionals, as they can develop the application according to your business's requirements and priorities.
Continue reading the blog to learn more about food delivery apps like Talabat.
What is Talabat?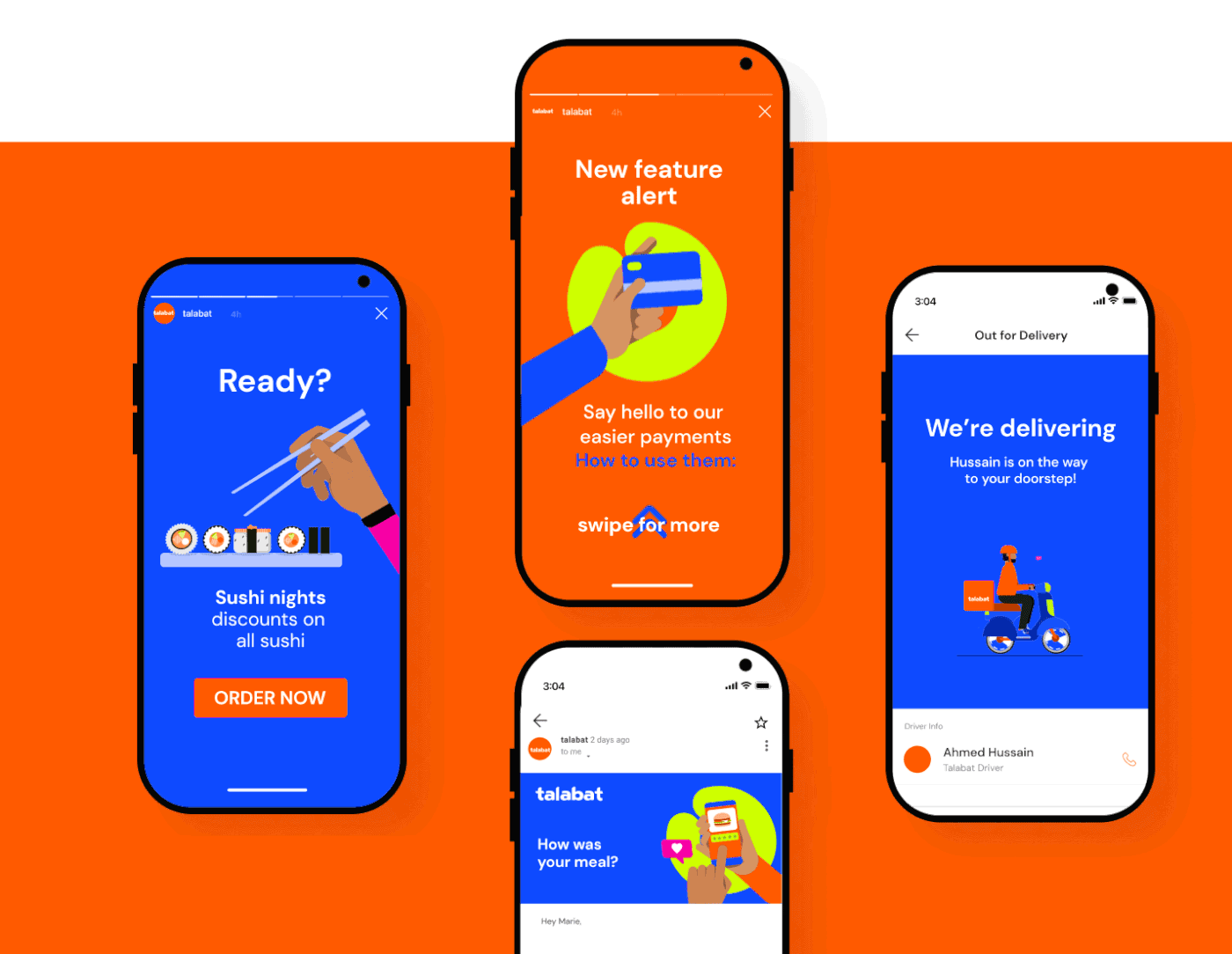 Talabat is one of the famous food and grocery delivery applications functional in the UAE. This Qatar-based company was founded in 2004 by a group of entrepreneurs. For many years, this app has conquered the whole food delivery market by providing excellent services to its users.
The app allows users to browse all the restaurants near their location, including the street food shops, and order their favorite dishes from those restaurants at a lower cost. In addition, this food delivery app in Dubai also allows users to pay for the food through various payment options.
It increases user convenience as well as customer satisfaction simultaneously. Moreover, the application is available on almost all the major platforms, i.e., Android, iOS, etc.
| | |
| --- | --- |
| Launch Year | 2004 |
| HQ | Kuwait |
| People | Tomaso Rodriguez,(CEO) Khaled Alotaibi, and Abdulaziz Al Loughani (Founders) |
| Area Served | Kuwait, Saudi Arabia, Bahrain, United Arab Emirates, Oman, Qatar, Jordan, Egypt, Iraq |
| Parent Company | Delivery Hero AG |
| Industry | Online food ordering, Food delivery |

How to Create a Food Delivery App Like Talabat in UAE?
App like Talabat has gained immense popularity in today's time, and hence, more business owners are planning to create a food delivery like Talabat. But, being unaware of the app development process, businesses keep searching for it. So, here we've highlighted the step-by-step process to develop a food delivery app in UAE.
#Step 1 – Create A Food Delivery App Plan
First, get a well-developed food delivery app development plan in hand. Make sure the plan isn't only focused on key resources and value propositions, but also on the cost structure, channels, revenue streams, and more. Once you have a clear about why to develop a food delivery app, and how to achieve success through a food delivery app, you will be able to make a perfect plan accordingly.
#Step 2 – Develop A Functional User-Interface
Before developing a database for your food delivery app, work on the user interface as well. If you have a professional team for the same, well and good, and if not, hire food delivery app developers who can create a user-friendly design with an eye-catching interface. It will increase your app's worth while attracting users' towards it.
#Step 3 – Decide the App Features
Features are one of the crucial components of any business application as they can either make or break your food delivery app success. So, take enough time to decide on the features your food ordering app will contain. Try to insert something out-of-the-box that catches the users' attention at first glance.
This could only be possible when you plan in advance. Also, you can take the assistance of a leading food delivery app development company in UAE as they can help you create a unique application containing amazing features and functionalities.
Read More: Steps to Develop a Restaurant Finder App
#Step 4 – Choose Tech Stacks & Development Platform
Picking the tech stack for business applications also holds great importance as they contribute to apps performance and longevity. Along with this, deciding on the app development platform is a must decide whether you will be developing a food delivery app for Android, iOS, or both. In case you lack technical expertise, it is better to hire dedicated developers who can create a food delivery app for you while including the best tech stack and development platform.
Step 5 – Start Food Delivery App Development
Finally, begin the process of food delivery app development while using all the data gathered. The development time and efforts will decide the food ordering app development cost in the future, so be careful.
This is a step-by-step process that you will have you follow while developing a food delivery app. Also, we have highlighted the best features to include while creating an app like Talabat.
What Are The Basic Features of a Food Delivery App Like Talabat?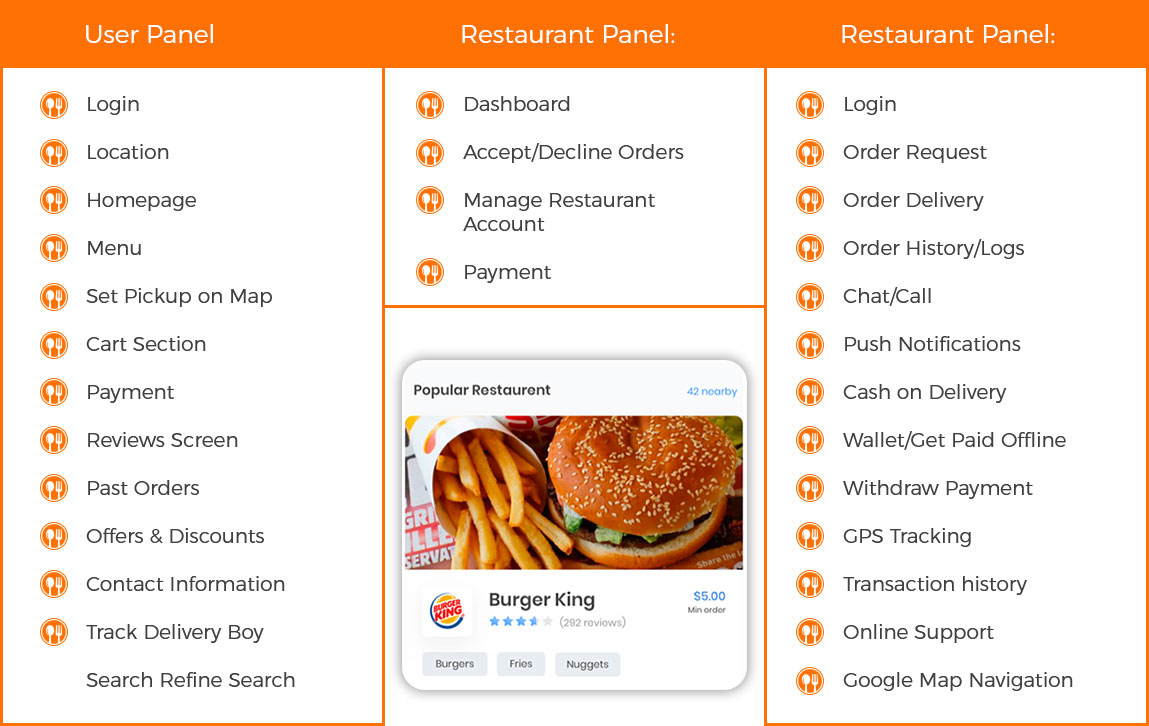 Food delivery app like Talabat contains ample features that are further divided into two major divisions, i.e. user panel and the service provider panel. Here are some basic features your on-demand food delivery app should have.
User Panel Features
Before using an online food delivery application, you have to create your profile in the application. Usually, it requires an email ID, password, phone number, and password combo. But nowadays, you can log in to the app with your social media handles like Facebook, Instagram, and Twitter. It increases efficiency by reducing the time and effort of the users.
The home page is the front face of the applications, which shows all the restaurants, various available offers, etc. Plus, it also contains all the information and tabs to use other features and functionalities of the software. Therefore, whenever any app is marketed, the homepage of the app is basically promoted for two reasons:
The front page of the application woos the customer with rich content and a high range of availability.
The front page does not demand login or registration; hence easily accessible for showing navigation and a smooth interface.
Quality of the app is a primary task, which can be maintained by hiring the best mobile app development company among the options. A little effort can leverage the feature-packed entry page.
This feature helps the users pinpoint the delivery location and the address where the food will be delivered. Giving the exact address can help users get their food delivered to their doorsteps.

This feature acts like a virtual cart where you can save all your favorite dishes before confirming the order.
The previous order option provides all the information on past delivered orders so that the users can reorder the dishes or obtain assistance in th6+e care if they face any issues.
It is one of the important features of every food delivery app like Talabat. It helps the users track their food and the delivery boy effectively.
The search bar is also a mandatory feature for food delivery applications. It helps users find their favorite restaurant without going through the long list of available restaurants.
After the login, you will find the location bar. This feature helps you to pick up the correct location for your locality. So that the app can show the available restaurant and how much time it can take to deliver your order.
This feature helps any online food app like Talabat to attract more users. Customers can use this feature to browse all the offers and discounts that are going on in their favorite restaurants. And order their favorite dishes at a lower cost.
A proper payment gateway will provide the user's plethora of payment options, including Debit, Credit cards, internet banking, UPI, etc. If you offer more payment options to your users, you can expect user scalability for your app.
Read More: Complete Guide To Start A Food Delivery Business In Dubai
Service Provider Panel
The dashboard of food delivery apps contains all information about ongoing and completed orders. Plus, as a restaurant manager, you will be analyzed which dishes are preferable to the customers along with transaction reports.
All the aspects of the business, from order requests to completion of delivery, which need proper management, are linked with this feature.  
Order Request Accept or Reject Option
This feature helps the restaurant to accept or decline any requested orders based on the availability of the dishes.
With the help of this feature, restaurants can browse their previously completed order. And provide support if any customer is facing any issue with their food.
GPS tracking is one of the most important features of food delivery apps like Talabat. It shares the delivery executive's exact location after the food was dispatched from the restaurant.
Better assistance is an important part of the customer's satisfaction. The more the customers are satisfied with your service more they will recommend your app to others. That is why this feature helps users get quick support during any issue through in-app chat or call features.
No single feature can be considered important, and hiring the best restaurant mobile app development services can promulgate a better version of your app. In addition, it helps to provide a better service to your users and increase the brand value of your organization in the market.
What is The Cost Required to Develop a Food Delivery App like Talabat?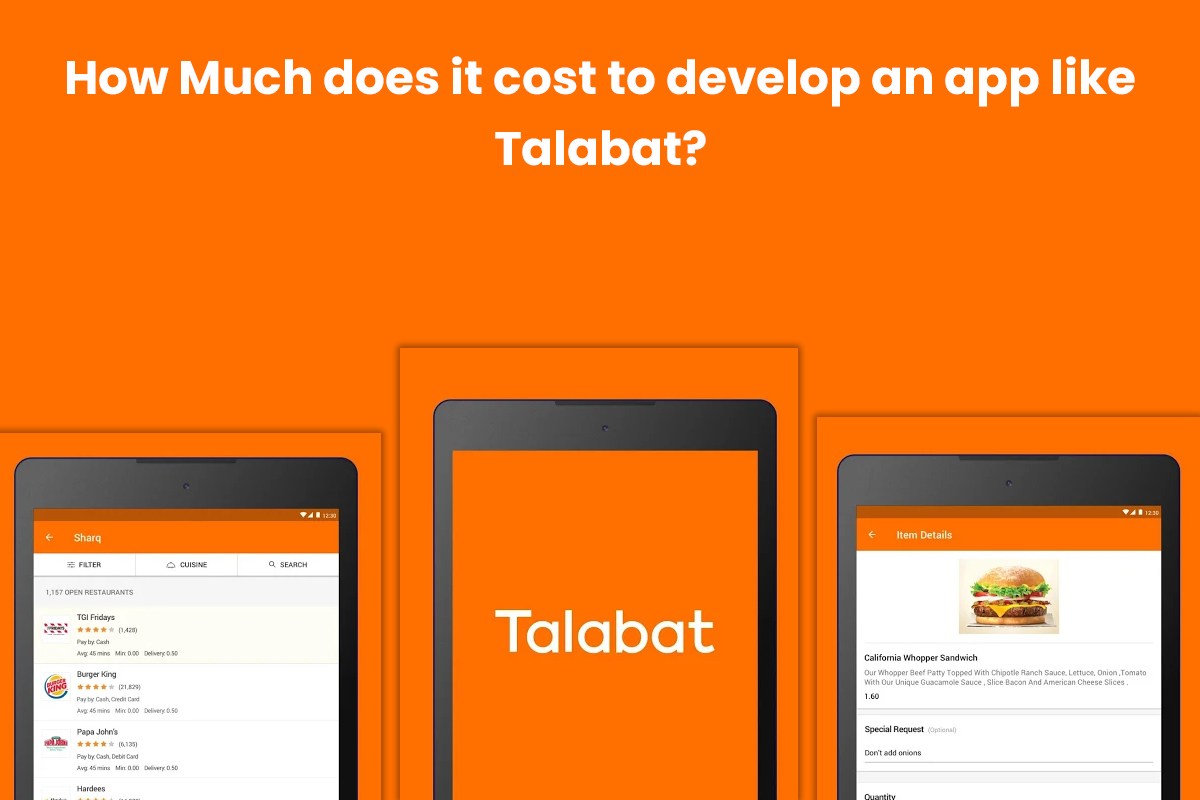 The cost required to develop a food delivery app like Talabat depends on the features and the food delivery mobile app developers hired for it. Usually, developing an MVP of a food delivery app can cost you from $15,000 to $30,000. But if you want a more complex application with advanced functionalities, it can cost you more than $50,000. Here are some of the factors which affect cost development.
The total development cost can be more if you hire developers from countries like the USA and Europe. It is because the hourly rate of developers varies from $100 to $250. But it can reduce the cost by outsourcing the development works to countries like India, where the developers' hourly rates vary from $40 to $70.
Instead of hiring different developers for different platforms, you can use various cross-platform frameworks.
Implement all the basic and necessary features according to the requirements of your organization.
This is all about the cost to develop a food & grocery delivery app like Talabat. The more complex the application is, the higher will be the cost. So, businesses can try monetization strategies to generate more profit and revenue from the business application.
Read More: Top 6 Challenges Faced by Food Delivery Business Apps and its Proven Solutions
Business & Revenue Model for Food Delivery App Like Talabat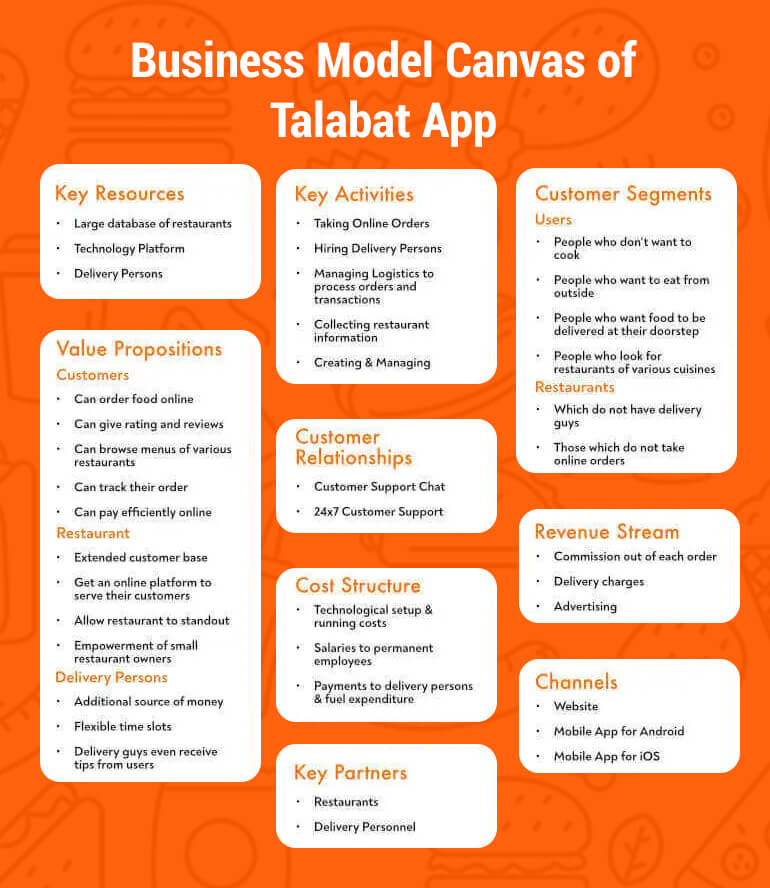 The business model of food delivery apps like Talabat is mainly focused on the satisfaction of the customers. These kinds of apps fulfill the gap between a foodie and a restaurant. The better the relationship between the customers and the restaurant, the higher the benefit. A perfect on-demand app solution ensures a better quality of the relationship.
Food delivery apps like Talabat usually work on websites and smartphones. So that the users can order their favorite food through their convenient devices. Moreover, while using these apps, you will access all your favorite food places, including street food shops. So yes, with food delivery apps like Talabat, you can order street food from your favorite local street food shop.
As an owner of food delivery apps, implementing this business trend will help you provide more options to the users. In addition, you will also be able to provide better assistance to your users with any issue they face.
On the other hand, the revenue model of the Talabat food delivery app is distributed on different avenues. After the launch of this food delivery app, it became one of the largest food delivery apps in the UAE. Here are some of the major avenues through which delivery apps like Talabat usually earn profit.
Read More : How to Build a Food Delivery App Like Postmates?
The food delivery applications generally charge 15 to 25% commission on every order bill users have placed. Now the commission percentage depends on various aspects, such as frequency of the order, location of the restaurant, popularity among the other restaurant of that locality, etc. That is why the objective of these applications is to add more and more exclusive restaurants to their list.
On the other hand, restaurants develop such applications to get better exposure for their business.

The two major ways to earn revenue for on-demand food delivery apps like Talabat are banner ads and priority listings. All the ads posted on the website pages and in the physical location are placed based on location. It helps businesses attract more users to their food delivery apps. Strategic advertising campaigns can attract a huge customer base in less time.
Most restaurants provide no minimum order value through food delivery apps like Talabat. So, businesses can implement delivery charges for every order your use place in their favorite restaurants.
The value of the delivery charge varies based on the distance of the users from the restaurant. Moreover, it can also depend on time and climatic conditions during the order delivery.
Hiring dedicated developers can help you implement an efficient business and revenue model for your food delivery application. It also helps to provide better service to the users and helps them earn better revenue from the market.
Conclusion
The food delivery industry is one of the evergreen industries of the market. Suppose you have a unique idea for a food delivery app like Talabat. Then executing that idea by hiring the best app development company in Dubai can ensure your success. You just have to be clear about your organization's requirements and priorities. Also, try to avail food delivery app development services from a well-known organization.
FAQ's
How much does it cost to create an app like Talabat?
A basic food delivery app like Talabat will cost around $20,000 to $30,000. But, the cost will vary depending on the project requirements. So first, drop your food delivery app development requirements at [email protected]. Then, our team will analyze it and will let you know the exact food delivery app cost estimation.
How to develop a food delivery app like Talabat?
To develop a successful food delivery app like Talabat, you need to go through the basic development process, such as –
Project analysis and planning
Choosing the app features
Pick the right tech stack
Finalizing appealing app design
Deciding on the development platform
Starting food delivery app development
Conducting in-depth app testing
Launching food delivery app
Why create a food delivery app like Talabat in UAE?
Expanding your business to a large audience becomes tedious, especially for small businesses. So, when you develop a food delivery app like Talabat in UAE, you will get good business exposure and increased sales and profit. So, don't think; instead, get your app developed by dedicated food delivery app developers.
How does the Talabat app work?
Talabat food delivery app works on a dual partnership basis, focusing on offering benefits to customers and restaurants. Rest, the working process of the Talabat food delivery app is similar to that of the other business applications.