Mobile apps have actually become an essential and integral part of people's lives. From booking a taxi to shopping, making a doctor's appointment, or entertainment, mobile apps are now used for almost every necessary thing.
In this long list of usage, online food delivery has emerged as a booming sector where various startups have launched their food delivery apps.
Mobile app development services are also getting into fulfilling the demand of customers for better food delivery apps. However, when it comes down to developing a successful food delivery app, it can certainly be quite challenging.
Such a type of app requires performance at both customers' and restaurant owners' end. Also, it should seamlessly operate the delivery process in a smooth fashion. There are certainly a plethora of factors which are needed to be kept in mind in food delivery app development. We are explaining here, how to create a food delivery app?, What are must-have features in a food delivery app, and the development cost in detail. Have a look and enjoy the article.
Current Market Statistics of Online Food Delivery Business

As per Statista, the revenue of the online food delivery segment was around $151,526 million in 2021 and is expected to show a growth rate of 9%, which will be around $182,327 million by 2024. Among all online food delivery market revenue, the 'Platform-to-consumer' food delivery segment showcases the largest volume. These values clearly signify the ever-rising importance of on-demand app development services in current times. The increased revenue is one of the major reasons why businesses should invest in food delivery mobile app development.
Revenue in the Online Food Delivery segment is projected to reach US$339,257m in 2023.
Revenue is expected to show an annual growth rate (CAGR 2023-2026) of 8.29%, resulting in a projected market volume of US$466,472m by 2026.
The market's largest segment is Platform-to-Consumer Delivery with a projected market volume of US$215,955m in 2023.
In global comparison, most revenue will be generated in China (US$158,137m in 2023).
The average revenue per user (ARPU) in the Online Food Delivery segment is projected to amount to US$175.81 in 2023.
In the Online Food Delivery segment, the number of users is expected to amount to 2,655.9m users by 2026.
User penetration in the Online Food Delivery segment will be at 25.3% in 2023.
Source: Statista
Now that you are well-versed with the reasons, let's dive into the step-by-step process of developing a food delivery app.
What Is A Food Delivery App?
A food delivery app is a type of mobile app that allows foodies to order delicious food online from the comfort of their homes. With everything becoming accessible online, the food delivery app development business is gaining immense popularity, and more businesses are stepping into it. Overall, a food delivery app enables users to search for nearby restaurants and experience eating delicious dishes in just a few taps.
What is the Need for Food Delivery App Development?
As we all know, today's world is technically advanced, and people are so busy with their lives that they do not get enough time to go outside to eat something delicious. But, as food is essential, the food delivery industry is booming every passing day. This has raised the demand for food delivery apps and has opened up opportunities for entrepreneurs and new business owners to step into this industry.
What Features Should A Food Delivery App Have?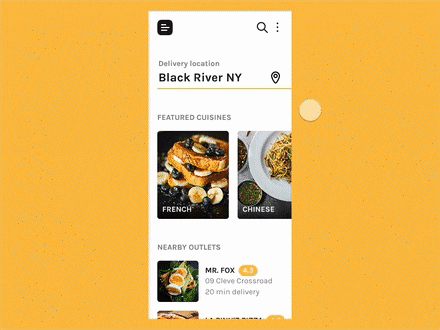 1. Meals' and Restaurants' Detailed Descriptions- It is important to offer the customers with clear and compact information about all the dishes and their entire composition along with the restaurant's information.
2. Placement of Order- This particular process needs to be simple and quick. The food delivery app needs to offer an option to specify the entire content of the meal, particularly. Many people have different types of food preferences, and that should be taken care of. So, the app should offer them the functionality to customize the dish.
3. Custom Search Tool- It is a vital part of any type of food ordering app. There should be an entire list of search categories along with the options to customize that make the entire ordering process a comfortable affair for the customers.
4. Geolocation- The food delivery app development should include developing a location tracker or in-built Geolocation feature for both the customers as well as the delivery staff. It assists the customers to find the restaurants nearby, and it also makes it quite clear for the delivery staff to deliver the order.
>>>Read More: Start A Food Delivery Business In Dubai<<<
5. Location Tracker- Each customer wishes to control the entire delivery process. Hence, it is pertinent to offer this option. Also, location information is quite useful for the restaurants too as it assists them to analyze the preparation process.
6. Different Payment Methods- People have various preferences when it comes down to payment. Hence, the food delivery app must have different options like online payment options, along with cash, payment wallet, etc.
7. Reviews- People need to be able to write a review about the dishes or the restaurants they have tried. It assists the other users to know the quality of the food of any given restaurant. It also helps the restaurants to find their faults. You can also find weak points within your services too through this section.

8. Notifications- It is another key aspect of a food delivery app. You should notify your customers about their order's status, the payment received, etc. You can also send them messages about discounts and even remind them of meals to order when they are busy.
9. Social Media Integration- People always like to share their different experiences with each other. Hence, when it comes down to the on-demand app development of any app like the food delivery app, a mobile app development company should provide this ability. Social media integration in the food delivery app can make it more popular and also even widen the target audience and potential customers.
Read More: On-Demand Food Ordering and Delivering App Key Features
10. Referral and Reward programs- Customers should be provided with incentives like discounts, loyalty systems, and coupons that will bring more customers to the business. Customers should get added advantage when they refer your app to their friends.
11. Analytics- The customers should be provided with the ability to check all of the previous orders. The reorder option can be quite convenient for the user. Simultaneously, restaurants need to have access to the entire order history as it is crucial data for analytics. You can hire dedicated developers to build an analytics section of the app.
How to Create a Food Delivery App?
As we know that there are thousands of food delivery apps available in the market, outshining competitors will require huge efforts. For that, you need to remain ensured of incorporating the right key features into food delivery app development.
Want to know the features of the food delivery app? Let's get started.

Step 1 – Choose A Food Delivery Business Model
Different food delivery businesses have different services. Yes, you read it right! So, the first step is to choose the business model for your app. Different models' food delivery app development costs will vary, so deciding this will also impact your budget. Generally, there are four different types of business models available that are –
Food Order & Delivery Model
Food Order Only Model
Meal Kit Delivery Model
Cloud Restaurant Model
Step 2 – Stay Updated on Food Delivery App Trends
Besides choosing the right food delivery business model, staying updated on the industry's latest trends is necessary. As things are changing every passing day, it becomes the need of an hour to become aware of those changes. For that, you can start research about your competitors, integrate social media functionalities, and the latest technologies into your food delivery app development process.
Staying a step ahead of the competitors will give you an upper hand in the food market and ultimately benefit your business in the long term.
Step 3 – Research Your Target Audience
You can only make your food delivery app successful if you know your target audience's preferences, needs, and demands. It can only be possible after conducting extensive research for your target market. As per the mobile app development company experts, you can use demographic criteria for clarifying the following things –
Potential customer problems
Social characteristics
Application's worth
Preferred platforms
Audience preferences
Step 4 – Choose Appropriate Food Delivery App Features
Features are the heart of an application and can either make or break your food app's success. An application is divided into three panels, i.e., customer panel, delivery agent panel, and admin panel. Let's take a quick insight into the features of all the panels.
>>>Read More: Challenges Faced by Food Delivery Business Apps and its Proven Solutions<<<
Customer Panel
The customer accesses this panel, so its navigation design should be easy and appealing. The features included in this panel are –
User registration
Search food
Profile management
Search nearby restaurants
Add food to cart
Place an order
Make a payment
Track food
Review order history
Reviews, ratings, and feedback
Push notifications
In-app chat
Delivery Agent Panel
This panel is managed by the courier or delivery agent to ensure seamless food delivery to the customers. Features included in this panel are –
Food agent registration
Profile management
Manage orders
Food pickup
Real-time location tracking
Food status update
Delivery history
Total earnings
In-app chat & call
Admin Panel
Finally, the last panel is managed by the administrator of a food delivery app. An admin has access to both customer and delivery agent panels. So, the admin panel has almost all the features included in the rest of the two panels. Other features are –
Registration
Profile management
Assigning order
Order management
Content management
Payment status
Food statistics & analytics
Real-time tracking
Chat & support
Step 5 – Select the Right Tech Stack
Depending on the food delivery app business model, you will require different technologies. So, after finalizing the business model, start researching the best-suited tech stacks of on-demand food delivery apps. If you lack the expertise, it is better to consult the on-demand app developers as they have the desired expertise and skills to craft successful applications.
So, this is the complete process of a successful food delivery app development in today's time and beyond. Implementing the steps mentioned above will definitely help you develop an app that results in increased food orders and ROI.
Models of Food Delivery App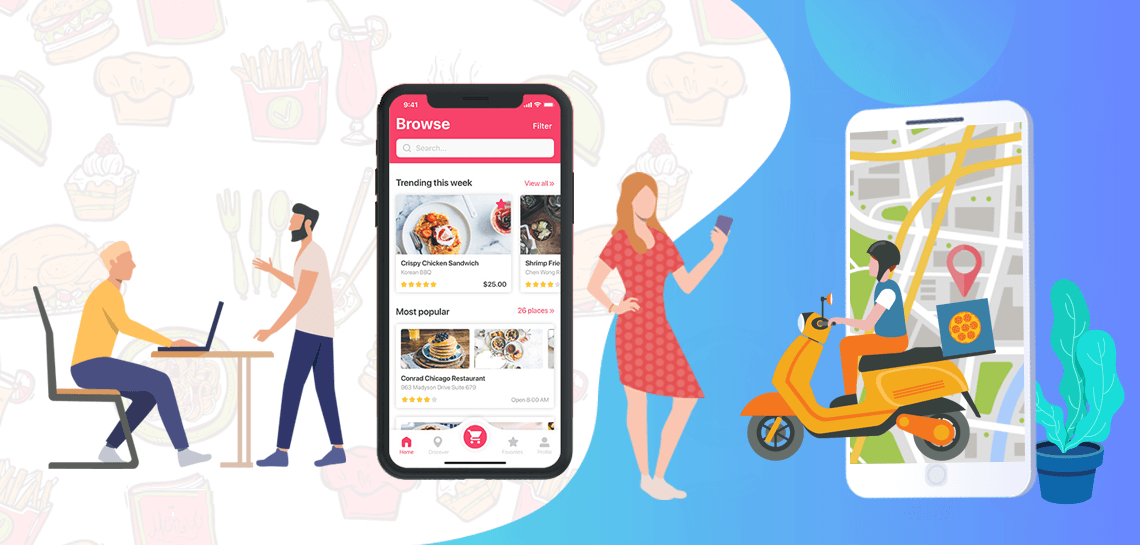 In order to get started with the development of food delivery apps, a development company should know the types of food delivery app. At present, there are two popular and basic models.
1. Aggregator model (2-party platform)
This type of mobile app provides a platform that connects customers with restaurants. The app accepts the orders from the customers and passes them to the respective restaurants. However, in this case, the app doesn't actually control the entire delivery process. The delivery process is the responsibility of the restaurant. Due to this reason, only big restaurants that have their own delivery systems can use this type of app.
2. Logistic support model (3-party platform)
Along with the above-mentioned features in the 2-Party model, this particular model also provides the necessary support to the delivery system. It includes a third-party delivery person who picks up the completed orders from the restaurants and then delivers them to the respective customers. Hence, such type of model has a larger market potential. It can also cover smaller restaurants that don't have delivery services of their own. Swiggy, Uber Eats, etc. are the leading 3-Party Model-based food ordering apps that are more convenient to the customers as well as restaurants and they are slowly occupying the entire market.

Now, it's time to make an exhaustive list of all the features of the app. By making this list, you get an overview of what type of development efforts will be needed, and if needed, you can hire dedicated developers to develop additional features. So, when you start developing a food delivery app, you should keep in mind that the app should offer a smooth and seamless experience to all of its users, the customers, restaurants, and the delivery man. You have different options for that.
Read More : Steps to Develop a Restaurant Finder App
You can create one app which has three different and separate logins. It will provide access to a different type of interface to each customer, restaurant manager, and delivery man.
Another solution is to create three different apps. Each of them will be fulfilling the requirements of given specific user categories.
You can even duplicate the functionality of the restaurant app development in a web format. It will be much more convenient to easily configure products, listings, etc. with the assistance of a separate admin panel that is available through any browser.
Irrespective of whichever tactics you select for the business, you need to keep in mind that it should definitely be functional for every stakeholder. However, every step of development adds to the food delivery app development cost, as highlighted below.
How Much Does It Cost to Develop A Food Delivery App?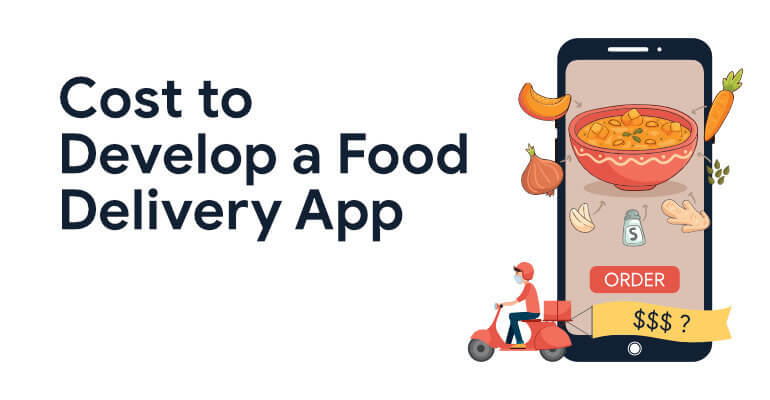 On average, a food delivery app with basic features and functionalities costs around $30000 to $40000 and can extend depending on the application's requirements and complexity. The major food delivery app development cost depends on some factors that are –
Now, let's look at the cost of food delivery app development. There are key factors that determine the cost of development.
The first is the extent of functionality. Food delivery apps with limited features will certainly be cheaper. But as the number of features increases, the cost increases.
Now comes the platform of the mobile app. Whether you wish to develop an iOS or Android app, the cost will depend on it.
Designing the food delivery app has its own associated cost. Complex and detailed design ideas lead to higher costs.
However, we can certainly make a rough guess or general assumption on the price. We take a food delivery app that has three distinct interfaces.
An attractive app design is a must to grab the users' attention at first glance. So, you can play with your food delivery app design depending upon your budget. If you have a low budget, go for a basic design; otherwise, you can spend enough amount on food delivery app design.
The type of development approaches you to opt for will greatly influence your application cost. For instance, hiring dedicated developers for full-time will completely vary from the cost to hiring part-time developers or freelancers. So, the development approach plays a major role in defining your food delivery app development cost.
Besides design and development, the size of your application also affects the cost of mobile app development. The more features you will include in your application, the more complex it will be and the bigger its size will be. So yes, the application's size can also be one of the major factors of the rise in food delivery app development costs.
A different application is suitable for different platforms. But, if you are planning to target a large audience, you need to be available on multiple platforms, which is definitely another cost addition factor. Regarding the platform selection factor, you can consult the food delivery app development company professionals to help you with the same.
Finally, the last factor affecting the cost of app development is the project's complexity itself. The more complex the project is, the more time it will take, and the higher will be the cost. So, food businesses with a low budget are advised to keep the application simple.

Conclusion
With the growing importance of mobile apps in people's lives, mobile app development companies have to keep up with recent trends. We have seen mobile apps being used for shopping, entertainment, financial transactions, booking taxi, etc.
In the same way, people are now using food delivery apps to order their favorite dishes from restaurants of their choice. Hence, a mobile app development company needs to know all the necessary aspects of food delivery application development which has been explained in detail in this article.
There is no denying that the consumers will prefer to avail themselves of the services or buy products that offer more convenience and comfort. Therefore, be it food delivery app development or any other, make sure to keep your app user-friendly and appealing.
For that, we hope the points mentioned above will be of great help to you. So, now that you know 'How to create a food delivery app in 2022?' and 'How much does it cost to develop a food delivery app?' it is time to get started.
Whatever business model you choose, be clear with your project requirements, and avail of on-demand app development services from a reputed organization where skilled professionals work. After that, you are all set to develop an app that brings in more sales and profit.