Mobile apps have actually become an essential and integral part of people's lives. From booking a taxi to shopping, making a doctor's appointment or entertainment, mobile apps are now used for almost every necessary thing.
In this long list of usage, online food delivery has emerged as a booming sector where various startups have launched their food delivery apps.
Mobile app development services are also getting into fulfilling the demand of customers for better food delivery apps. However, when it comes down to developing a successful food delivery app, it can certainly be quite challenging.
Such type of app requires performance at both customers' and restaurant owners' end. Also, it should seamlessly operate the delivery process in a smooth fashion. There are certainly a plethora of factors which are needed to be kept in mind in food delivery app development.
So, let's look at the various distinct aspects of this that mobile app development companies should keep in mind in 2019.
Models of Food Delivery App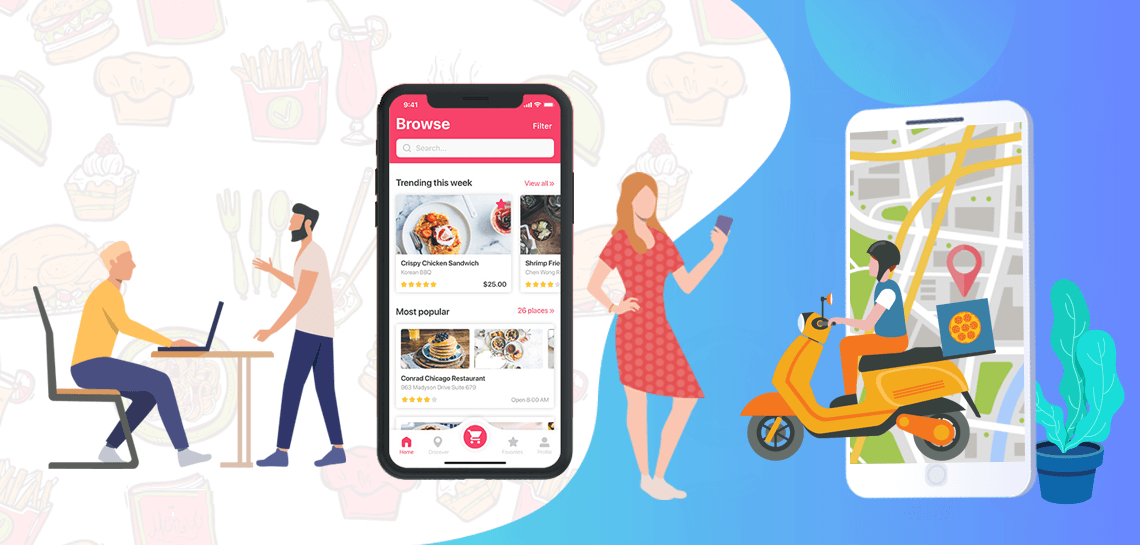 In order to get started with the development of food delivery apps, a development company should know the types of food delivery app. At present, there are two popular and basic models.
1. Aggregator model (2-party platform)
This type of mobile app provides a platform that connects customers with restaurants. The app accepts the orders from the customers and passes them to the respective restaurants. However, in this case, the app doesn't actually control the entire delivery process. The delivery process is the responsibility of the restaurant. Due to this reason, only big restaurants that have their own delivery systems can use this type of app.
2. Logistic support model (3-party platform)
Along with the above-mentioned features that in the 2-Party model, this particular model also provides the necessary support to the delivery system. It includes a third-party delivery person who picks up the completed orders from the restaurants and then delivers them to the respective customers. Hence, such type of model has larger market potential. It can also cover smaller restaurants which don't have delivery services of their own. Swiggy, Uber Eats, etc. are the leading 3-Party Model-based food ordering apps that are more convenient to the customers as well as restaurants and they are slowly occupying the entire market.

Now, its time to make an exhaustive list of all the features of the app. By making this list, you get an overview of what type of development efforts will be needed, and if needed, you can hire dedicated developers to develop additional features. So, when you start developing a food delivery app, you should keep it in mind that the app should offer a smooth and seamless experience to all of its users, the customers, restaurants and the delivery man. You have different options for that.
You can create one app which has three different and separate logins. It will provide access to a different type of interface to each customer, restaurant manager, and delivery man.
Another solution is to create three different apps. Each of them will be fulfilling the requirements of given specific user categories.
You can even duplicate the functionality of the restaurant app in a web format. It will be much more convenient to easily configure products, listings, etc. with the assistance of a separate admin panel that is available through any browser.
Irrespective of whichever tactics you select for the business, you need to keep in mind that it should definitely be functional for every stakeholder.
Features of Food Delivery App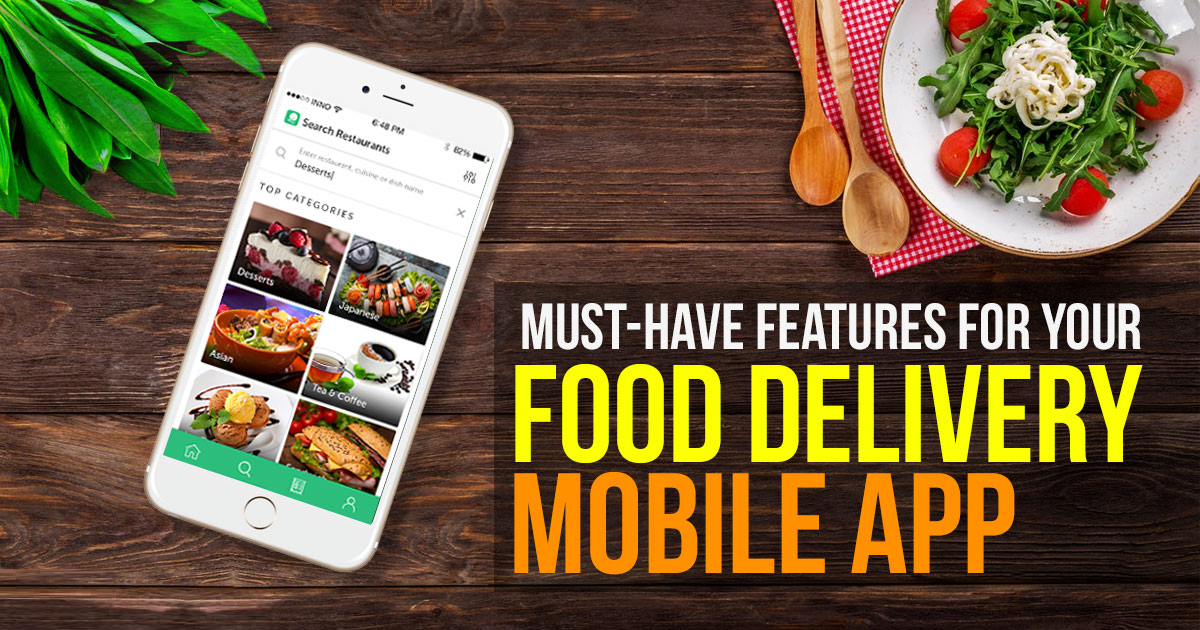 1. Meals' and Restaurants' Detailed Descriptions- It is important to offer the customers with clear and compact information about all the dishes and their entire composition along with the restaurant's information.
2. Placement of Order- This particular process needs to be simple and quick. The food delivery app needs to offer an option to specify the entire content of the meal, particularly. Many people have different types of food preferences, and that should be taken care of. So, the app should offer them with the functionality to customize the dish.
3. Custom Search Tool- It is a vital part of any type of food ordering app. There should be an entire list of search categories along with the options to customize that makes the entire ordering process a comfortable affair for the customers.
4. Geolocation- The food delivery app development should include developing a location tracker or in-built Geolocation feature for both the customers as well as the delivery staff. It assists the customers to find the restaurants nearby, and it also makes it quite clearly for the delivery staff to deliver the order.
5. Location Tracker- Each customer wishes to control the entire delivery process. Hence, it is pertinent to offer this option. Also, location information is quite useful for the restaurants too as it assists them to analyze the preparation process.
6. Different Payment Methods- People have various preferences when it comes down to payment. Hence, the food delivery app must have different options like online payment options, along with cash, payment wallet, etc.
7. Reviews- People need to be able to write a review about the dishes or the restaurants they have tried. It assists the other users to know the quality of the food of any given restaurant. It also helps the restaurants to find their faults. You can also find weak points within your services too through this section.
8. Notifications- It is another key aspect of a food delivery app. You should notify your customers about their order's status, and the payment received, etc. You can also send them messages about discounts and even remind them of meals to order when they are busy.
9. Social Media Integration- People always like to share their different experiences with each other. Hence, when it comes down to on demand app development of any app like the food delivery app, a mobile app development company should provide this ability. Social media integration in the food delivery app can make it more popular and also even widen the target audience and potential customers.
10. Referral and Reward programs- Customers should be provided with incentives like discounts, loyalty systems, and coupons that will bring more customers to the business. Customers should get added advantage when they refer your app to their friends.
11. Analytics- The customers should be provided with the ability to check all of the previous orders. The reorder option can be quite convenient for the user. Simultaneously, restaurants need to have access to the entire order history as it is crucial data for analytics. You can hire dedicated developers to build an analytics section of the app.
Development Cost of Food Delivery App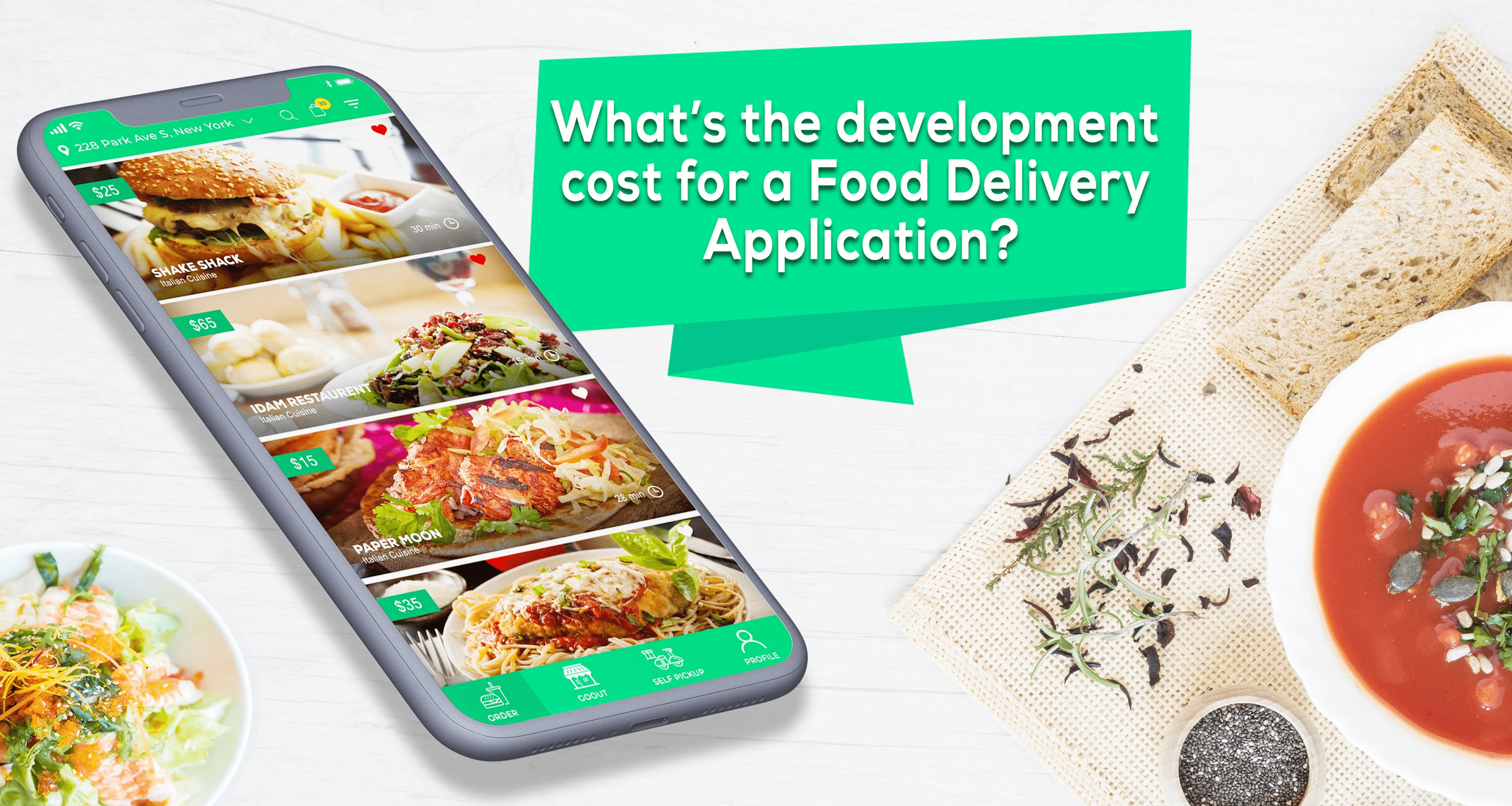 Now, let's look at the cost of food delivery app development. There are key factors that determine the cost of development.
First, is the extent of functionality. Food delivery apps with limited features will certainly be cheaper. But as the number of features increases, the cost increases.
Now comes the platform of the mobile app. Whether you wish to develop an iOS or Android app, the cost will depend on it.
Designing of the food delivery app has its own associated cost. Complex and detailed design ideas lead to higher cost.
However, we can certainly make a rough guess or general assumption on the price. We take a food delivery app that has three distinct interfaces.

The app's customer part is a bit complicated. It will take nearly 500 hours to develop.
The app's restaurant part is relatively simpler in design. So, it requires 400 hours to develop.
The app's courier part generally have fewer features. Hence, 200 hours will be sufficient enough for development.
The backend, as well as the admin panel, can be developed in 300 hours.
As a result, it takes 1400 hours of development work.
Most of the mobile app development services charge $20 to $25 per hour. Hence, the development of a food delivery app can range from $28,000- $35,000.
Conclusion
With the growing importance of mobile apps in people's lives, mobile app development companies have to keep up with recent trends. We have seen mobile apps being used for shopping, entertainment, financial transactions, booking taxi, etc. In the same way, people are now using food delivery apps to order their favorite dishes from restaurants of their choice. Hence, a mobile app development company needs to know all the necessary aspects of food delivery application development which has been explained in detail in this article. We have mentioned the type of food delivery apps that can be developed along with the features that need to be inculcated as well as the estimated development cost.