Energy requirements are increasing day by day due to the high rise in the global population, especially in Asian countries. So, there is a need for a source that can continuously cater to the demand for energy. What are your views about solar energy?
It is the best source of energy and will continue for millions of years. There is no need to tell or write that it is a natural source of energy. The only drawback is climatic conditions, but the advantage is it works everywhere. You can even carry solar rechargeable batteries while trekking or hiking to high places or during the desert safari. You can also install solar panels at your home for energy requirements. It can free you from hefty electricity bills.
You will be happy to know that now you can monitor your solar panels via your smartphone with the help of specialized mobile apps. The whole credit goes to the solar panel monitoring app development.
Solar panel monitoring apps are becoming increasingly popular as more people invest in solar energy. These apps help users monitor their solar panels, track energy usage and performance, and ensure they get the most out of their investment.
UAE is the best place for solar energy as climatic conditions are good to use it. Suppose you want to develop an app that can help you monitor your office's solar panels or launch the solar panel monitoring app for your solar panel brand. In that case, this blog will work as a useful guide for you.
This guide will provide a complete overview of solar panel monitoring app development. It will cover topics such as what features to include, how to develop the app, potential use cases for the app, and how to monetize it.
We will also discuss the advantages of using a solar panel monitoring app over traditional methods of tracking energy usage. With this guide, you'll have all the information you need to get started on developing your own solar panel monitoring app.
So, let's start with some basic information before we dive deep into this blog.
Key Industry Stats: Solar Energy
Solar energy consumption in the USA is 16% of the total solar consumption worldwide.
By 2024, Solar PV demand is projected to surpass 125.2 gigawatts.
In 2022, the global solar energy market was expected to reach $422 billion.
Worldwide renewable energy capacity is 3,146 GW consumption is 39.91 exajoules.
By 2025, the global renewable energy market size will be 2.15tr USD.
UAE's plan for increasing the contribution of clean energy by 2050 is 50%.
What Is a Solar Panel Monitoring App Development?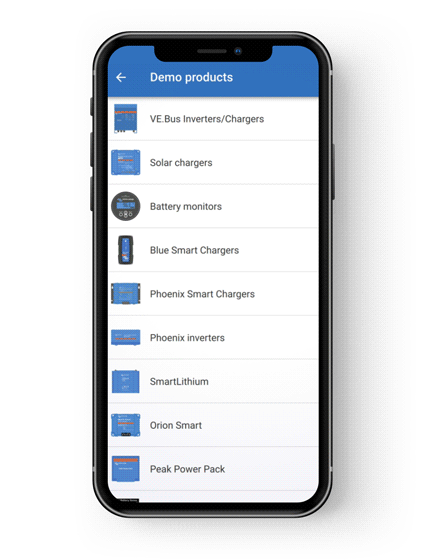 To understand what a solar panel monitoring app development  it would be best to know first what a photovoltaic cell is and what it does. Multiple times you have already seen solar panels near your office location or locality that look like a thick glass sheet containing a metal casing.
Actually, beneath the glass sheet, there is a grid of photovoltaic diodes that converts sunlight into electricity, and then output is directly sent to the inverter battery for energy storage.
So, the solar panel monitoring app development  is like developing a mobile application that connects with a solar panel network and collects data related to energy consumption, power generated, energy storage statistics, system monitoring, and more.
With the help of a solar monitoring app, you can manage all the tasks. You can switch off or on the solar network installed at the premises. Additionally, the app and you can also leverage software for monitoring solar panel networks. Solar Panel Software is the best if you want to watch the system via PC.
The Benefits Of Solar Panel Monitoring App Development
There are multiple advantages of a solar panel monitoring app in terms of all aspects, such as:
1. Electricity Production Monitoring
If you have installed a small or large network of solar panels, then monitoring electricity production is crucial. It will help you monitor the system best, like how each panel works and the overall output.
2. Mobile Accessibility
The best part is you can monitor the whole system from anywhere in this world, even while on a weekend trip. You can constantly monitor the overall performance of the solar panels you have installed.
3. Alerts
The solar panel monitoring app also sends alerts via e-mail and sms. So, you can have all types of system alerts on your device. It will help you with preventive maintenance.
4. Analytics and Report Generation
For the effective maintenance of solar panels, data analytics, and report generation is a must. The solar panel monitoring apps have data and report generation features that support power consumption strategy development.
What Are The Features of Solar Panel Monitoring App?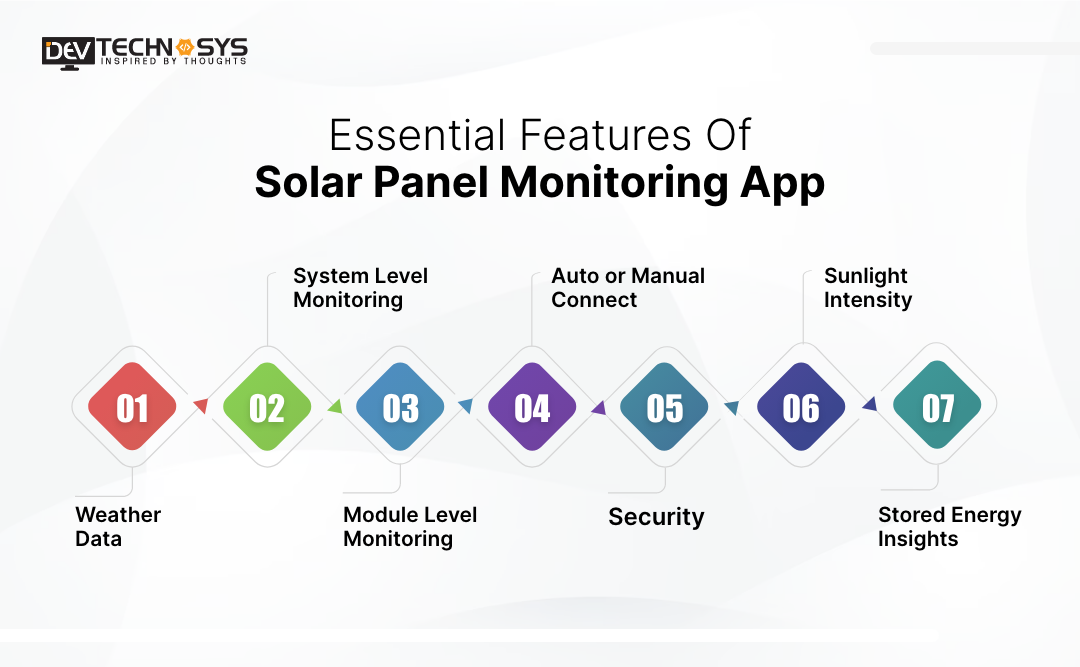 If you have a question – about how solar panel monitoring app development takes place, then it becomes important to know about the features of a solar panel monitoring app. So, here are the key features of the solar panel monitoring app that you can consider for developing the app based on your requirement.
1. Weather Data
Weather data is more important to operate solar panels. It is also applied on a single solar panel. Although there are some of the best weather apps available over the internet, it is beneficial to include this feature in your next solar panel monitoring app. It will help you observe real-time weather conditions.
2. System Level Monitoring
The system-level monitoring features allow users to view energy production. It is helpful in finding out in real-time how much power is generated and stored with the help of panels and inverters.
3. Module Level Monitoring
The module-level monitoring features facilitate the monitoring of the solar panels deeply. It determines the working of each module. It also facilitates monitoring each solar panel, such as you can view which particular panel is under shadow or non-performing.
4. Auto or Manual Connect
You can connect your device to the solar panel automatically or manually. Once you have connected your phone to the Wi-Fi network then your device will be automatically connected with the panel network or you need to enter a panel's name provided by the network and connect with it. The choice is yours.
5. Security
Installing a solar panel is okay, but you also need to take care of its security. The solar panel monitoring app works fine for the same. Whenever or at any time, if there is any error occurs, then the app receives the alarm. It is also helpful in preventing other types of threats, such as harming the plates or stealing the panels.
6. Sunlight Intensity Indicator
Sunlight is the primary and only source to recharge solar panels. For a seamless collection of energy, it is essential to monitor the sunlight intensity, which you can do with the help of an app. Here IoT App Development will help you the best.
7. Stored Energy Insights
The solar panel monitoring app gives you a deeper insight into energy storage. This feature displays the result in a graphical form, such as total storage, remaining batteries percentage, estimated charging time, and more.
The Points You Need To Consider For Solar Panel Monitoring App Development
If you are interested in developing the solar panel monitoring app, then the better idea is to hire dedicated developers they will assist you to make it in an appropriate way. However, there are some points that you need to consider while developing the solar panel monitoring app.
#1.Target Country
The first point you need to think about is the target country, like for which country you are choosing to launch your app, as rules for renewable energy might be different, and other factors are every country has specific climatic conditions.
For example, UAE is one of the best countries for solar panel monitoring app development as climatic conditions are best. In 2020, the Dubai clean energy strategy, aimed to provide 7% of total Dubai's energy from clean energy sources.
#2. Market And Competitor Analysis
The regions or countries such as the USA, EU, and UAE are focused on clean energy sources for their energy requirements. So, if you are considering these markets to launch your app then perform extensive research on what your existing or would-be competitors are doing in the market, what type of customers they have, what features their app have.
#3. Features
There are multiple solar panel monitoring apps available over the internet and competing with each other. To have an extra edge in competition, you need to develop a unique app.
So, first research all the apps, and their features and make a shortlist of the key features. Then develop these features with the help of mobile app development services.
#4. Business Model
It would be best to decide the business model of the app because, overall, you want to develop the app for business. You can choose a business model like an advertisement, marketplace model, subscription-based model, or other models if any.
#5. Challenges
There are certain challenges associated with the solar panel monitoring app development. One of the challenges can be a roadblock to the app, such as legal rules. So, before developing the app, go through all the compliance, rules, and regulations decided by the governments.
#6. User Centric Design
While developing the app, also take care of its design. It will be used by users from different categories and types, so it would be better to design the app simple and attractive. It will also be worth onboarding more users.
#7. Compatibility With the Latest Trends
Your app must be compatible with the latest trends. There is an interesting example related to it. Nowadays, the agriculture industry is leveraging drones for monitoring, surveillance, and other tasks.
It is just an example; there are other top industries using drones. Additionally, solar panel monitoring apps are also applicable to agriculture. So, you can develop an innovative solution such as smart agriculture farming where drones, solar panel monitoring, and agriculture technology can work together.

Cost Of Solar Panel Monitoring App Development
If you are developing a fine-grade solar panel app, then you might also want to know – how much it costs to create a solar panel monitoring app. Although it is a good investment that you make for the business. There are several factors that influence the cost to develop a solar panel monitoring app. The key cost-influencing factors are:
App complexity
Size of team
The platform you are focusing
Location of developers
Number of features and functionalities
Tech stack and more.
The approximate cost to develop a solar panel monitoring app(MVP) is $20,000-$30,000. If you need an advanced version, then it may cost you more than $50,000. The best idea to have a clear cost estimation is to consult with an on demand app development services provider.
The Final Thoughts
The idea of a solar panel monitoring app is simple: it helps in monitoring the energy production by a solar panel network installed by you. An especially built app lets you know how the system is working, and if there is any flaw, then it updates you. More or less, it is directly related to energy production, consumption, usage, monitoring, and maintenance.
With the app, you will have all control over all operations. One of the biggest advantages is cost-effectiveness. Although, cost to develop a mobile app for solar panel monitoring app is also a constraint that you need to look.
However, if you consult with an experienced mobile app development company, then things will be fine, and you will have a clear view of the cost and how your app will be developed.