Nowadays, the weather changes quickly and is a hindrance to our work schedules. It is preferable to check weather updates first if you are considering leaving your home or place of business. The demand for the best weather apps increased extensively in past years. The weather app is ideal for people who plan a long trip and will require a sophisticated system to forecast the weather so that any serious harm can be prevented well in advance. It is essential to know these are the circumstances that make having the best weather apps that can provide you with the weather report whenever necessary.
The best weather apps have become another trendy solution that helps us be updated on weather conditions. Due to the increase in demand, several entrepreneurs wanted to invest in weather app development. Now everyone can install the app and get the latest updates on weather conditions on their mobile device, which can be the ideal handler. In addition to offering daily weather forecasts, a wide variety of free apps in the app store are also safe to use and can deliver much more interesting information.
There are many more applications for weather forecasting that you'll find, but before you walk over to the App Store and start downloading. Suppose you are here to know the best google weather app for android or ios. You must know we have covered almost every popular app on the google play store and apple store. So make sure to read this entire blog to know a good piece of information related to it.
Current Market Stats of Best Weather Apps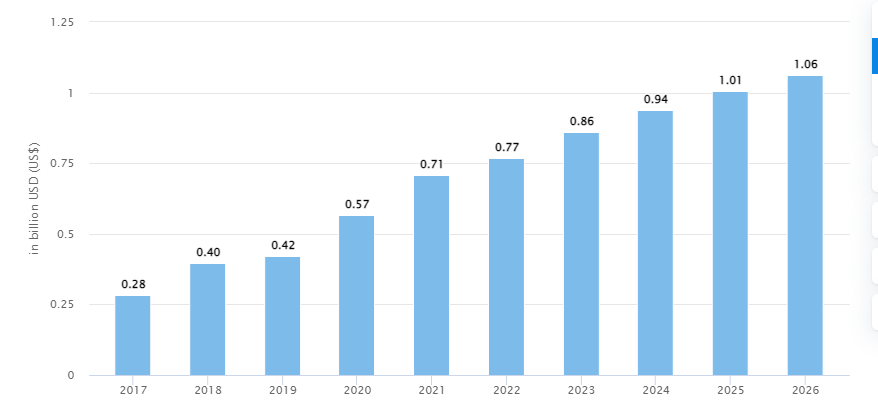 In 2022, it is anticipated that the Weather section will generate $7.7 billion in total sales.
By 2026, the total revenue is predicted to expand by 8.48 percent annually (CAGR 2022-2026), with market size of US$1.06 billion.
The weather segment's in-app purchase (IAP) revenue is anticipated to reach US$256.20m in 2022.
In the Weather segment, paid app revenue is anticipated to reach $42.83 million in 2022.
Weather section, advertising revenue is anticipated to reach US$467.90m in 2022.
In 2022, it is anticipated that the Weather part will have been downloaded 734.1 million times.
The current estimate for average revenue per download is USD 1.04.
Global comparisons show that China (US$306.30m in 2022) generates the majority of revenue.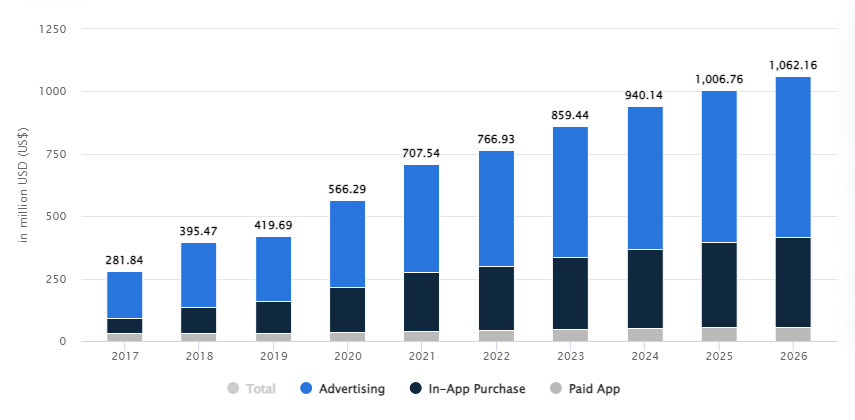 Best Weather Apps For Android & iOS
As we noted above, there are several best free weather apps for iOS and Android. Below we have covered almost every app trending right now, so you must go on and read the blog thoroughly.
Weather bug app is another one of the best weather apps that offers a snow forecast, which will help users prepare for winter.
You can follow the depth of the snow for the coming week and view the projected snowfall on an hourly basis.
It is vital to know that it's a WeatherBug app that is an entirely customized application that offers weather notifications and informs you when snow is expected in the coming days.
You must know that there are more than twenty weather maps available for viewing, including wind chill, lightning, future radar, Doppler radar, local temperature, and precipitation. The weather bug application also provides you with all the information you require, including pollen count and heat index information.
The user can also set the alerts and information they want to see on the home screen with its weather widgets. You must know that the software informs users of severe weather nearly 50% faster. Hire the best web development company to offer you the best weather app development.
It can also offer you a brief knowledge about heat, flames, and air pollution. The app also examines the weather patterns, the likelihood of severe storms, and more with the radar weather maps.
This app's weather network offers the greatest real-time forecasts and the quickest warnings to users according to their specific settings.
Many of you must have heard of the weather channel application. The Weather Channel app is one of the world's oldest and most widely used apps, making it one of the top weather applications worldwide.
It is vital to know that the Weather Channel app is critically the high-level standard and is by far the highest rated weather app on this list (with 2.9 million ratings in the Apple Apps Store.
The Weather Channel is another best weather app in the world with the most elegant, appealing style. It also provides the users with authentic information quickly and simply. It provides weather radars so you can always see what's happening nearby, the current weather, and a daily prediction that is accurate to the hour. If you are interested in developing another viral weather app, you should hire dedicated developers or a mobile app development company and start the process.
Weather live application is another add-on to the best weather apps worldwide. It is essential to know that the design of Weather Live is the most stunning and appealing of any google weather live app. The USP of this google weather live app is the colorful display that attracts several users to use it, which is just stunning. Additionally, this amazing program lets you add many places around the globe so you can quickly switch between cities. The present forecast, the 24-hour forecast, and the 7-day forecast are all provided by this application.
Read More : An Ultimate Guide to Start a Food Delivery Business in Qatar
This weather platform also uses an actual arrow-shaped indicator to represent changes in local air pressure. It is the best live weather app for iPhone or Android that will also inform you of the moon's phases and the sunrise and sunset timings each day.
Knowing about the weather and weather live software is also very easy for first-time users as it is far too attractive and aesthetically charming to ignore.
Weather & radar is another fascinating weather app that offers many amazing features for users. When it comes to the best free weather apps, Weather & Radar is the best app that offers one of the greatest future radars. The forecasts are precise, and the program itself is simple to use despite the intrusive full-screen ad that appears when it first opens. You can view graphical charts by skipping ahead or tapping an hour or day to access more information.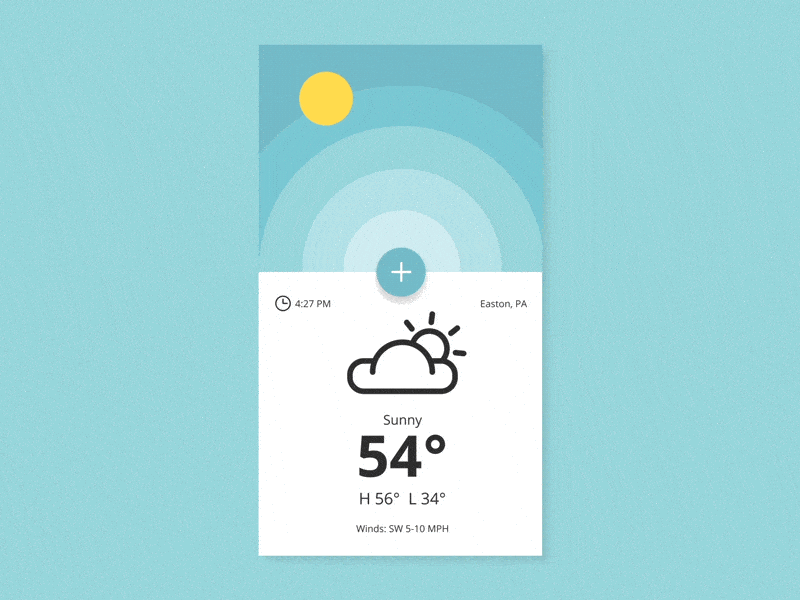 It is vital to know that you can receive alerts for weather news, impending changes, and brief 90-minute weather information. Weather & radar has the most amazing features that showcase news, forecasts, radar, and alarms all in one app. The weather & radar app has apprehensively hourly predictions (including pressure, feels like, wind, precipitation chance, and temperature).
5. Overdrop – Weather & Widgets
Overdrop is another of the best free weather app for Android and ios. So, you must know that over-drop is associated with top forecast weather apps like AccuWeather.
There are so many features included in this app that you know. The features involve a 96-hour radar map, 50 beautiful widgets, and receiving severe weather alerts with and setting one of six different looks. It will all help you remain ahead of the weather forecast every time. It is the best free weather app for Android or ios.
Weather software ensures you never get caught in uneven weather by offering real-time weather forecasts from the top weather forecasts authorized.
You may obtain weather information through the comprehensive weather report the app provides. The captivating temperature, wind, and rain graphs showcase a 24-hour weather forecast which will help users see changes on the timelines. It is vital to know that software provides entertaining weather notifications along with living updates that engage users on another level.
It is vital to know that AccuWeather has been a fantastic and effective app for many years by becoming another fascinating member of the best weather apps. The application is quite popular in the UK and has been in trend.
The app's widespread use results from its appealing, well-organized user interface and many data formats. Additionally, Accuweather includes weather forecast information for over 3 million places worldwide.
AccuWeather is another promising weather application that makes it simple to use for planning all outdoor activities. It will offer accurate hourly, daily, and 15-day weather forecasts. It is an ideal app for those interested in weather news.

The app offers you options that say "feels like " for precise temperatures. It will offer users alerts and warnings for a variety of weather events with Accuweather.
You must know that an app like Accuweather has various attractive stats such as live radar, UV index, cloud cover, allergies, visibility, precipitation, and data on the air quality that engages the user.
A satellite map, one of the best weather apps for iPhone with more recent additions. It will help provide the most up-to-date and accurate perspective of the earth from space.
Read More: How to Build A Music Identification App Like Shazam?
The potent weather app CARROT Weather leverages auto-renewing subscriptions. It also offers forecasts that are distorted. It is a fun and simple google weather app for Android or ios that offers precise weather information. Furthermore, it is one of the best weather apps for the next ten years or the previous 70 years for any area that premium users can view through this application.
Additionally, premium customers can add a programmable widget to their home screen, allowing them to view the weather without launching the app. If you are a premium member, you can stop the obnoxious advertising.
Get a similar app like carrot weather by contacting a mobile app development company. The app also has a feature that offers information about the current location via notifications alerts with weather alerts. Individual radar stations, forecast radar, and several layers are available on weather maps. All of the Premium features, including storm cell, lightning, and rain notifications, are included in the Premium Ultra plan.
Takeaway!
Hopefully, the blog mentioned above was quite a help for you in knowing about the top-notch weather apps for Android & ios. Now the time has come where you need to know that developing such an application requires the best Hire dedicated developers. If you're interested in acquiring any of these applications. In that case, you should get in touch with our expert team and discuss your business requirements. Our team will help in getting your upcoming weather application ready!