The Food Delivery industry is showing progressive growth over the past few years. If you are planning to build your very own food ordering app , then it is definitely the perfect time to do so. However, as there are several food ordering apps already available such as GrubHub, UberEATS, or Postmates which are surely going to be your competitors, you need to come up with something that will have a unique selling point and stand out among others. And in order to compete with these giants, you need to build your resources with the food delivery app development company. Here are some of the tips that will surely help you succeed during the process:
To start a restaurant app development company, you need to have some experience in the food industry in terms of management as that will help you along the way. It would even be better in case you already have a on-demand food delivery app solution in place, i.e. if you own a cafe or a restaurant and are providing delivery options through phone calls or through your own.
If you are starting out in an area where you do not have upfront competitors like UberEATS, then you can establish a great market mobile app developer in Dubai opportunity in your region.
Another option that you can choose is to build a food delivery app for your region, and when it turns out to be quite popular, you can always sell it to a bigger vendor. This is a common strategy among several delivery app start-ups, and it has always been a profitable business.
So if you want you can ensure that you find a niche audience for your business who can help you succeed with your food delivery web or mobile product which can later be acquired by someone bigger in the industry. Hire someone if you are looking for a mobile app developer for your app.
In order to ensure your success, you need to create an MVP for your niche audience for your on-demand food delivery app, that will have a unique selling point for the audience and also ensure that you find the right product-market fit.
This can be achieved by finding a business opportunity that will help in developing an effective web or mobile application that will ease your pain.
Steps to Develop a Restaurant Finder App
 Figure Out the Key Features of your Food Ordering Apps
One of the main things about the development of a food delivery app system is that you need to create multiple products for the stakeholders in order to make sure that the system works.
Just think about the following aspects of the app:
Create a custom application using which the orders will be prepared.
Next is the admin panel where you can easily supervise and manage the requests that you have made.
You will also need a courier application in case your idea is not built around some other solution.
Although it might seem a little bit complicated at first, it can be a key step in the success of your app. The needs of the party can be different but is important that you can satisfy everyone successfully:
Provide faster and easy access to the menus to the restaurants that are nearby and give them the opportunity to make orders right in the app.
Provide the courier service with geolocating services and easy access to the available orders so that they can easily provide pickup and drop services.
Provide the restaurant managers with an analytical tool to track the overall customer retention and ensure that they have access to viewing orders and assigning them to contractors who can organize the meals that need to be prepared.
Each of these links needs to clearly work; otherwise, it would be difficult to succeed in this business.
For the Customer Side
Let's take a look at the buyer's journey and what all essential features they can adapt on the go.
Think of what your users are going to do o
Initial Stage: Find a Restaurant or a Food
Once you start with your application. Start looking out for what you want to eat and what all places they can order from. So, two things that you need to keep in mind, in this case, are as follows:
Finding out the local eateries that people are most likely to order from
Getting detailed information related to the prices, cuisine list, special offers, and reviews.
If you want to provide users with a perfect UX solution, then you need to pay attention to the searching feature, i.e., they search for the restaurant by its name, address, or even dishes that they are providing to the people.
Another option that you need to provide customers is the option to provide multiple restaurant searches for the same food item so that it becomes easy for them to select the cafe or restaurant of their choice.
You need to leave an option for the customers to search the food item themselves and provide them with all possible restaurant options for a particular order in case you are trying to build an aggregator for local food delivery app.
Partnering with the Contractors and Keeping Track of user Activity
Once everything necessary is figured out, you can start making an order!
You can start by adding the dishes of their choice to the cart for the users. Keep track of the add-to-cart option and further purchase metrics for your business so as to make sure that the process goes on smoothly.
Also, make sure that you show the order summary before the final confirmation to the customers and provide them with an option to change the dishes they might have ordered as well. In case something goes wrong, they can always cancel the orders.
Your users will also appreciate in case you let them select between two options, i.e., for delivering and preparing the order as quickly as possible or provide them within an estimated time at the later stages.
Food delivery to the user
As a food delivery app service, you will need to make sure that your users receive the meal quickly no matter where they are, and for that, you need to set up services that are fast enough. You should set a drop location by writing down the address or leaving the pin on the map so that they can keep track of the delivery person. Provide them with a real-time tracking system for the meal delivery service.
Payment options
Although your users might not pay much attention to this part, it is necessary for the business owners and contractors. Make sure that the in-app payments that you are providing are fast, secure, and easy.
Always provide your users with an alternative option which also includes cash on delivery option.
Ratings and reviews
Once the order is paid and delivered, the final thing that you need to take care of is to leave feedback for the users for the courier and eatery services. Provide them with an option such as whether the meal was tasty, was the courier person polite, whether they had to wait for too long or not.
Start with a five-star solution for your MVP and let the users provide comments and extended feedback for future transactions. You can make the feedback system useful in both ways, i.e., check for the parts that need improvement and how the customers have an opinion about you.
User Registration and Account Editing
By providing the ability to create accounts, you can always establish deep bonds with the users and give them the possibility to quickly log into the custom settings.
At the least, users must be able to use any username and password. They should also be able to link their card to the account to authenticate the automatic payments. You can build account editing features which include profile pictures, a list of favorite places, as well as the food preferences of the users.
Keep the signup process optional for the users as most of the users do not feel like signing up every time.
Here are a few more tips that you can consider adopting:
Make sure that you provide login via Instagram, Facebook, Twitter, and other social networks for the app.
Keep the registration process fast and short.
Store the personal data of the people as per the GDPR guidelines or according to the regulations that are applicable to your area. The price of neglecting such an aspect of the business can be too high.
Read the blog- Time and Cost for the Development of Food Delivery App such as Talabat for Dubai 
How can you Make the Customer App More Appealing?
The features that are mentioned above are important to create a food delivery app solution and provide more features that would help in improving the user experience. Here are some of the things that you can include in your app:
Favorite and wish lists;
Shares on social media;
Order history;
Push notifications;
Estimated time of delivery (ETA)
Courier Delivery
When it comes to the application related to the couriers, you do not need to worry much as it is not as functional as the one that is meant for the customers. Make sure that you have all the necessary features included in the app and cover the following aspects of the services:
Registration and Profile Editing
Before you start giving orders to the contractors, you need to authenticate them and make sure that they identify themselves. This would majorly depend on the process that you want to pick for your business.
You can start with completing the registration form as well as the phone number, email, or social network account and fill out the profile with the necessary information. Another thing that you need to keep in mind is to provide a recovery password and change password options to the users.
Validating the couriers is certainly not in your hands or your business model.
Do not make the registration process mandatory for the customer app but make sure that you validate the same when it comes to the courier to prove their authenticity as you need to provide them work via your app.
Once your delivery guy has logged in, he can check the list of the orders along with complete information related to the size, drop location, pickup along with other specifications. Furthermore, you can always confirm the
Delivery requests made by the customer by booking it.
What is the Admin Panel?
Admin panel is the key element for the business owners and is required for accepting, editing, setting prices, and managing customer and courier bases, etc.
What is the Overall Cost of an On-Demand Food Delivery App?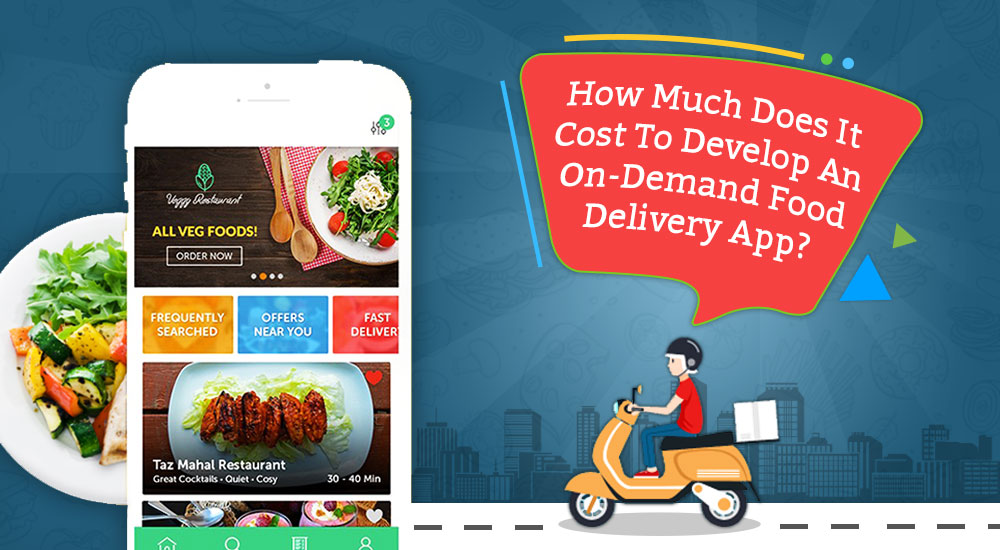 Let's try to understand the cost of the food delivery web or application. You need to keep in mind that that product that you are building is unique in itself and can solve problems of different customers.
So, let's take MVP of a food delivery app with a set of features that have been mentioned earlier for calculating the cost of its development with React Native and ReactJS – firebase/AWS for the back end, or Frontend/Mobile.
There are several basic features that are available for both courier and customer apps. These features can only be developed once in a while and can be reused for both the apps. You can allocate them separately for different purposes.
In the coming years, food ordering apps are going to be extremely popular. You can figure out the niche audiences that you are going to target and use the above-mentioned tips to build the app that suits your needs. This article will surely help you to create a food delivery app that is worthwhile and will help you win big in the marketplace. You just need to grab the opportunity and build something big out of it.