In previous times, weekend dinners with family were leisure like none other. Not anymore! Now, house parties and online food ordering have become a convenient option.
Whether it is about ordering a main course or dessert, your delicacies are just a few clicks away. If there is a key to that one time, it's the ease of life owning to technological innovations.
Previously, people used to call the restaurant, and the receptionist note the order. Today, we have a complete menu on some food delivery apps. Where the users can order the customize their food with an attractive offer.
The world embraces the digital revolution; these apps have been here to say for a long time. The food delivery business will stay for long in the market.
If you think to start a food delivery business in Qatar, you should know some aspects of building a specified app. In this article, you will learn about a food delivery app business. Let's get started.
What Is An Online Food Delivery Business?
An online food delivery business is where a business owner food service through a website or food delivery apps. Customers can place orders online with the mobile app or a website from their homes.
The food delivery app owners can display dishes, their cost, and availability on their application. You can give special coupon codes and discounts. You can start a food delivery business in Qatar. There would be more opportunities to cater to a large audience while offering comfort, accessibility, and affordability.
The food delivery business isn't easy to establish as you must collect information like customer behavior, most order food, and many more.
The large-scale digitalization worldwide has also increased the demand for online food delivery services. Suppose you see the Indian audience it becoming comfortable with ordering food and groceries online.
Every businessman should know these things while establishing an online food delivery business in Qatar. Plus, you need to know about the business app development in Qatar to establish an appropriate food delivery app. Furthermore, you might require a mobile app development company in Qatar.
Why Is The Food Delivery Business A Gold Mine?
With the huge mobile adaption and technology enhancement, the food delivery business is a gold mine. A big amount of audience is becoming comfortable with ordering food online. As per the survey report, India's food delivery market is expected to be $13 billion by 2025. The food market is expected to grow at a CAGR of 11.51% by 2023.
These stats determine that the food delivery business would be lucrative in the future. Plus, to gain the popularity of your food delivery app, you should know the features that would increase its popularity among the audience.
If you need, you can check some top food delivery apps in Qatar. Add those features in your application that helps in making your food delivery app business lucrative. Don't worry! You can check out below some top food delivery apps in Qatar.
Top Food Delivery Apps In Qatar
The food delivery app development will not stop here. With time and technology, food delivery app development will increase, and here below are some top food delivery apps in Qatar. You should check out the apps precisely and read the list below.
#1. Akly:
Akly is a modern and easy-to-use tool that gives users a huge range of healthy and nutritious food options available for delivery. Users can order the food from healthylicious restaurants, and they can get the food they love delivered to their doorsteps. It would help if you chose on-demand meals or subscribed to ready-made plants to achieve your diet goals.
#2. Carriage:
It is Qatar's first fastest food delivery app that aims to give the best food delivery services to the people of Qatar. The carriage has more than 2000 restaurants and cuisines.
Plus, this application is available in Kuwait, Saudi Arabia, Egypt, UAE, and Bahrain. Application offers on-demand delivery services such as groceries, games, electronics, and baby supplies.
#3. Foodak:
This application connects to 500 restaurants and has a user-friendly and entertaining interface. Food is the gateway to world delight.
Through their partners and on-time deliveries, they strive to make Foodak a place where shattering the client's taste buds' expectations of norms is not the exception.
The users can explore the taste of every single concern of the world with just a few clicks. This application is made by passionate food lovers who are working relentlessly to make foodak unique.
#4. Fingertips:
This application is an online food delivery platform that aims to offer the best delivery service across Qatar. Users can explore a wide range of restaurants and experience the best food services in Qatar.
Users can order the food from their favorite restaurants and get their food delivered to their doorsteps. Plus, the users can track their orders with the timely notification of the rider.
#5. Talabat:
Talabat is the biggest online food delivery company in the middle east. This company was founded in Kuwait and operated in Saudi Arabia, UAE, Bahrain, Oman, Qatar, Jordan, and Egypt. The app provides food deliveries and deliver groceries, pharmacies, and flower shops.
Read More: How to Create a Food Delivery App Like Talabat in Dubai?
#6. Rafeeq:
It is another local online food delivery platform that gives the best custom website development services across Qatar with no minimum charges and a live order tracker. The order offered could be viewed, customized, ordered, and tracked with just a few taps.

Different Models In Online Food Delivery Business in Qatar
Many companies follow this food delivery business plan. In the type of food delivery business ideas, your business needs to act like a bridge between the local restaurant and users through your online platform. Your application should facilitate the users and restaurant to connect with each other to place and deliver the order. This business model's aim is to let restaurants reach out to a larger audience base.
The two-phase of this food app business model work like:
For Order Allocation

Customers can place the order from the website or application
Restaurants will receive the order with mail, fax or mobile notifications.
They will confirm the order and send a message to the customer
In some cases, the order will be directly printed into the kitchen with the help of the POS system
For Delivery

The restaurant delivery boy delivers the order to the client's doorstep
For any issues, the customer's mobile number is available to the delivery boy.

The Order and Delivery Model:
This food delivery business model handles customers, restaurants, and delivery. It is the most common marketplace solution which is used by businesses.
Most restaurants and companies would register with this type of food delivery business model as they don't need to deal with the delivery. The famous food delivery app with this business model is UberEats, DoorDash, Zomato, and many more.
For Order Allocation

Restaurants can register on the user's online platform.
Users can place an order through the application.
The restaurant receives the order by website or application notification.
The user can pay online or cash on delivery as per their choice.

For Delivery

The delivery boy nearest to the restaurant will get the message/notification to receive the order and deliver it to the customer's place.
The delivery fee will be applied the based on customer's distance.
Users can add the instructions for the delivery.

The Fully Integrated Model:
This is the third food delivery model that revolves around meal delivery startups. Fully-integrated model is different from the rest of the models. This business model is a complete meal delivery plan to initiate your own business. Examples of these business models like RocketFood, Extra Plate, Eat Purely, and more.
Current Stats On Food Delivery Business Model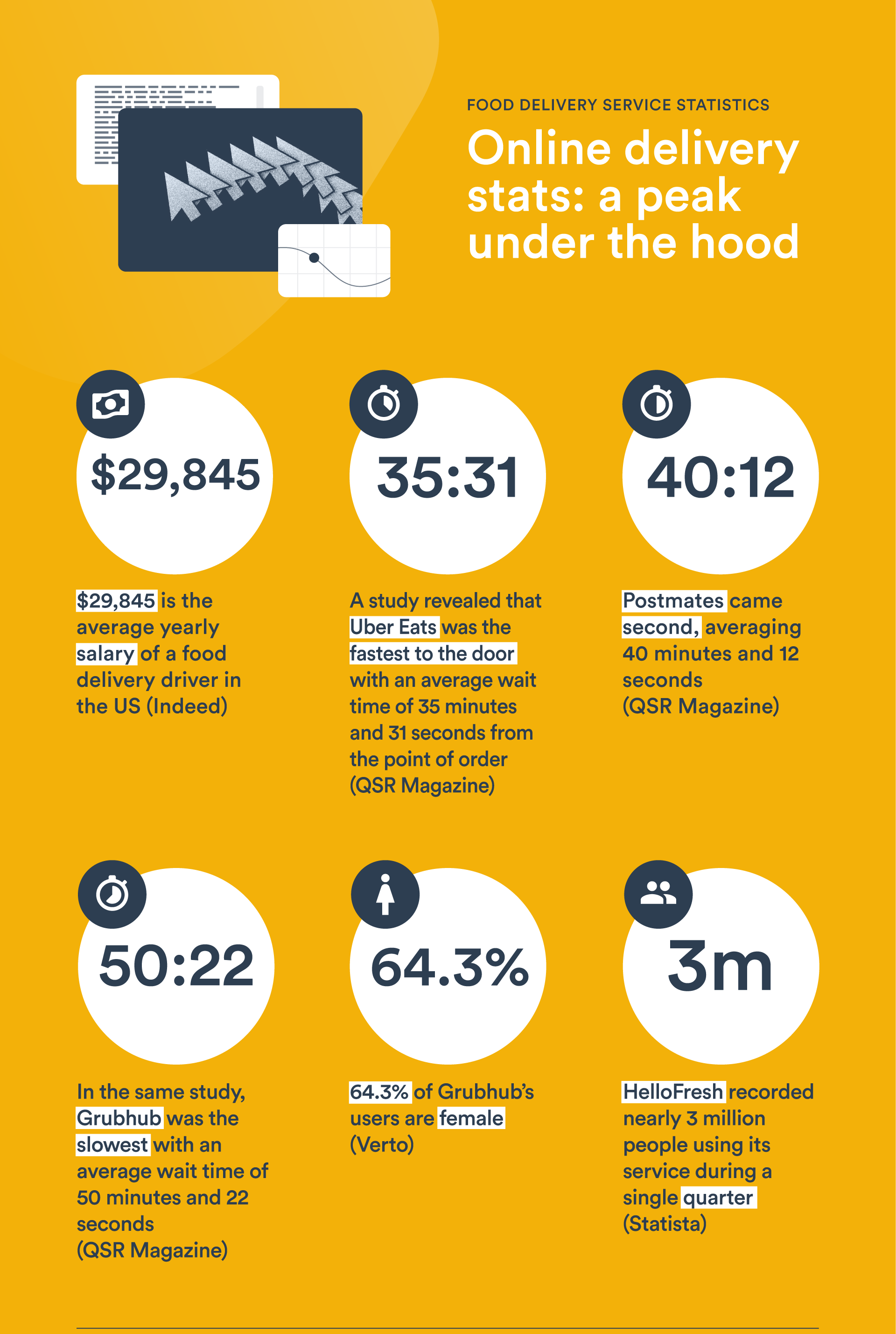 The food delivery app development company could be a lucrative business. The enhancement of technology brings food delivery business to the market, and the pandemic pushed the sharing of online food delivery business more. Starting an online delivery business with a perfect food delivery business model can be helpful in a crisis. Here are the numeric values that make your decision more strong.
The reports stated that 60% of US people order food online twice a week.
57% of millennials want the food delivered home. They can watch movies and TV shows at home.
In the pandemic, the food delivery business market is expected to reach $154.3 billion at a 5% CAGR in 2023
60% of the restaurants have agreed that online orders and delivery have resulted in incremental sales of their business.
The annual average sales of delivery increased by 20%
Bottom Line
Starting a business in Qatar isn't a big deal anymore if businesses properly follow the guidelines mentioned above. Qatar is the best place to build a  business app development. You can hire a good development team to build an app for your business if needed. This business will become a lucrative business in the future.