"Sport Is A Preserver of Health"
The world of sports has a huge and passionate fan following. Be it Tennis, Football, Cricket, or Basketball; there are fans all around. This trend has raised the demand to develop a sports app like ESPN, Cricbuzz, and other fantasy applications. As per research, ESPN fantasy apps and channels got a massive viewership in the past few years.
Influenced by the ever-rising popularity of sports, more businesses are planning to set their mark on fantasy sports app development. In fact, building a sports app is one of the smart decisions to accelerate sports business growth and reap amazing benefits and success in less time.
In all this, smartphones have played a huge role and acted as modern-day sports fan savior. Though fantasy sports websites fulfil short-term needs, creating a sports app like ESPN is essential to help users get the best viewing experience. If you are an owner of the sports industry, you might also be thinking to make a sports app. Right? You're at the right place!
This blog highlights the ESPN sports app features, development process, tech stacks, and cost. Let's dig into the process one by one.
What Is ESPN Sports App?
ESPN, or Entertainment and Sports Programming Network is an American International sports channel owned by ESPN Inc. Owned by The Walt Disney Company and Hearst Communications, this sports channel was founded in 1979. Sports app similar to ESPN provides sports fans access to a wide range of sports content, including news, highlights, scores, and live-streaming games.
Users can follow their favourite teams and sports leagues with the ESPN fantasy sports app. They also get timely alerts and notifications regarding sports start times and scores. In addition to offering coverage of major sports such as football, basketball, baseball, and soccer, the ESPN app also provides coverage of niche sports such as cricket and rugby.
The app is available on both iOS and Android devices. So, businesses planning to develop a sports app like ESPN can avail Android app development services or other services based on their preferences.
How Does ESPN Sports App Work?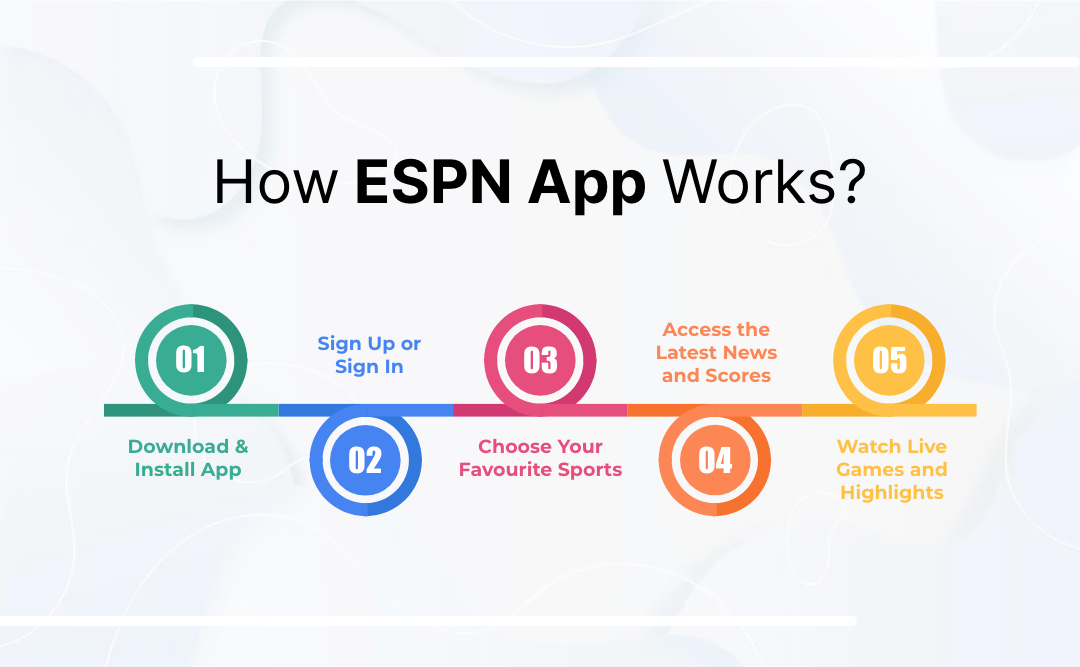 Using an ESPN app is very simple and quick. You can follow the steps given below to get the best-ever sports experience. Here's how the ESPN app works –
#Step 1 – Download & Install App
Users can download the ESPN app from the app store (e.g., Apple App Store, Google Play Store) and install it on their mobile devices.
#Step 2 – Sign Up or Sign In
Once users install the app, they can sign up for an ESPN account or sign in with the existing credentials to access the app's content.
# Step 3 – Choose Your Favourite Sports
Next, users can choose their favourite sports and teams to follow within the app. The ESPN app reflects timely updates on the news, scores, and highlights.
#Step 4 – Access the Latest News and Scores
Once the user chooses their favourite sports and teams, they can access the latest news and scores for those teams within the app.
#Step 5 – Watch Live Games and Highlights
While using the ESPN sports app, users can watch live games and highlights for various sports, including NBA, NFL, MLB, NHL, college sports, and more.
Overall, the ESPN sports app is designed to be a one-stop-shop for sports fans to stay updated on the latest news and scores. While looking at the steps mentioned above, it is quite clear that using an ESPN app is a very simple and easy process. So, when you develop a sports app like ESPN, keep the UX/UI user-friendly and easy to use.
Sports Mobile App Development Market Stats
Nothing can beat the vibes of watching a match on a big screen, but still, most users prefer to watch their favorite sports using a mobile application. As per Statista, "Mobile app verticals with the highest install and user base growth in 2018" was sports apps like ESPN.
After taxi booking services and gaming app development, the sports industry is the third-fastest growing vertical.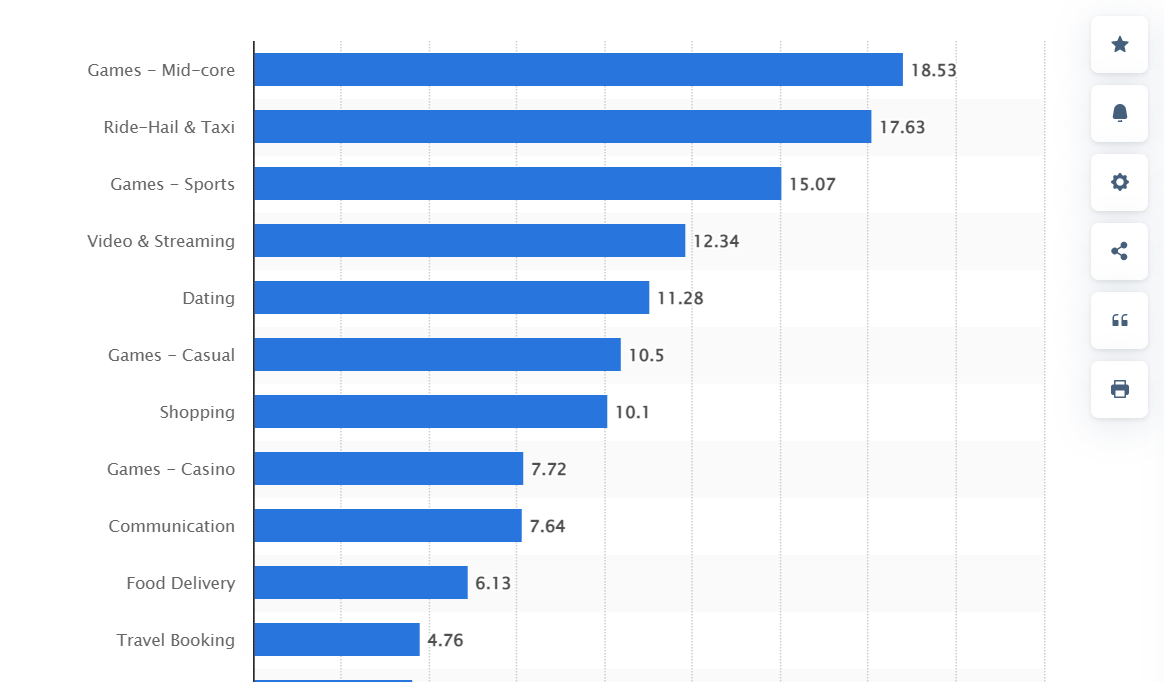 The sports industry is growing daily, and the value is expected to grow at a CAGR of 6% to an astounding $650 billion by 2023. The major reason behind the development is the emerging market increasingly investing in sports.
The government has kept a budget of around $262 million for the 'Khelo Program' to promote the sports industry. These figures are clearly reflecting the growth of Sports app development. As a result, more and more business owners plan to develop a sports app like ESPN. So, let's look at the key features to create a successful sports app.
Key Features to Develop A Sports App Like ESPN
Are you planning to build a sports app like ESPN? You shouldn't miss the following key features of sports app development.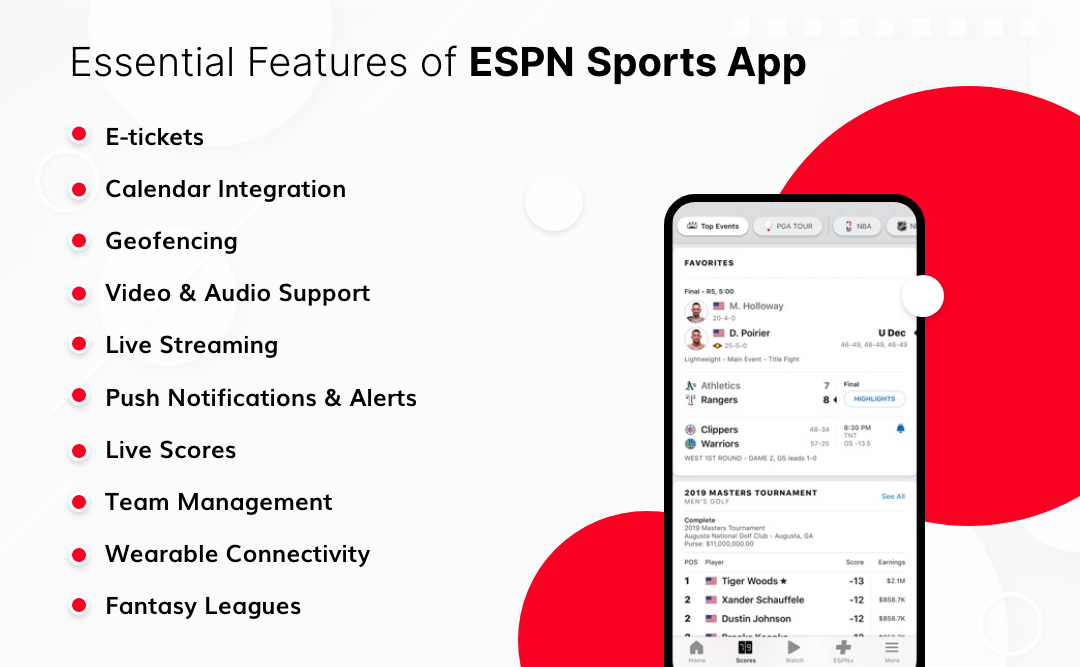 1. E-Tickets
Very few people prefer to wait long to get tickets to watch a sports match. To resolve this, the online ticket booking features of the ESPN fantasy sports app come in handy. Here, the users can easily get an e-ticket via an application. It helps to boost business revenue and engage more customers.
2. Live Streaming
Every sports application is incomplete without live streaming. This feature helps the users to watch the live match through the application. Including this feature increases the app's engagement greatly.
3. Calendar Integration
With this amazing feature of ESPN mobile app development, users can add calendars or reminders with user permission. It enhances live event viewership and engagement within the app. So, even if you avail on-demand app development company assistance to develop the ESPN app, ask the experts to include this feature.
4. Geo-fencing 
If you want to increase the viewership or engagement of your ESPN fantasy football app, use this feature. However, take the user's permission before to avoid spamming. It will prevent the usershi from uninstalling the application.
5. Video & Audio Support
It is an essential feature to develop a sports app like ESPN. As today's users have moved on from text-based data to audio and video formats, including this feature is a must. Also, ensure that all the data available on the sports application, like podcasts, events, and more, must be high quality.
6. Team Management
While using a sports app like ESPN, users can manage players, coaches, or even sports team owners for an enhanced playing experience.
7. Push Notifications & Alerts
Keeping your application's users is a must to increase app engagement. Right? So, do not avoid inserting push notifications and alerts when you develop a sports app like ESPN. It will keep all the users updated on ongoing and upcoming events.
8. Live Scores
Integrate the latest tech stacks so that the application can gather all the useful information and display the live score on time. Such features increase the worth of fantasy sports app development with time.
9. Wearable Connectivity
As today's generation is moving towards wearable technology, your sports application should also have a wearable connectivity integration. It will make your sports app connectivity effective.
10. Fantasy Leagues
If you want to increase the engagement and popularity of your sports app, include a fantasy league element. Add functions like team organization, live streaming, contests, and more into your Fantasy ESP application.
These are the top 10 features of sports apps like ESPN. You can ensure more success and growth when you include all the features mentioned above in your sports application. Now comes the major question, i.e., 'How to create a sports app like ESPN?' For that, refer to the succeeding section.
7 Steps to Develop A Sports App Like ESPN
Are you planning for sports app development? Here's the step-by-step process highlighting the best ways to develop a sports app like ESPN.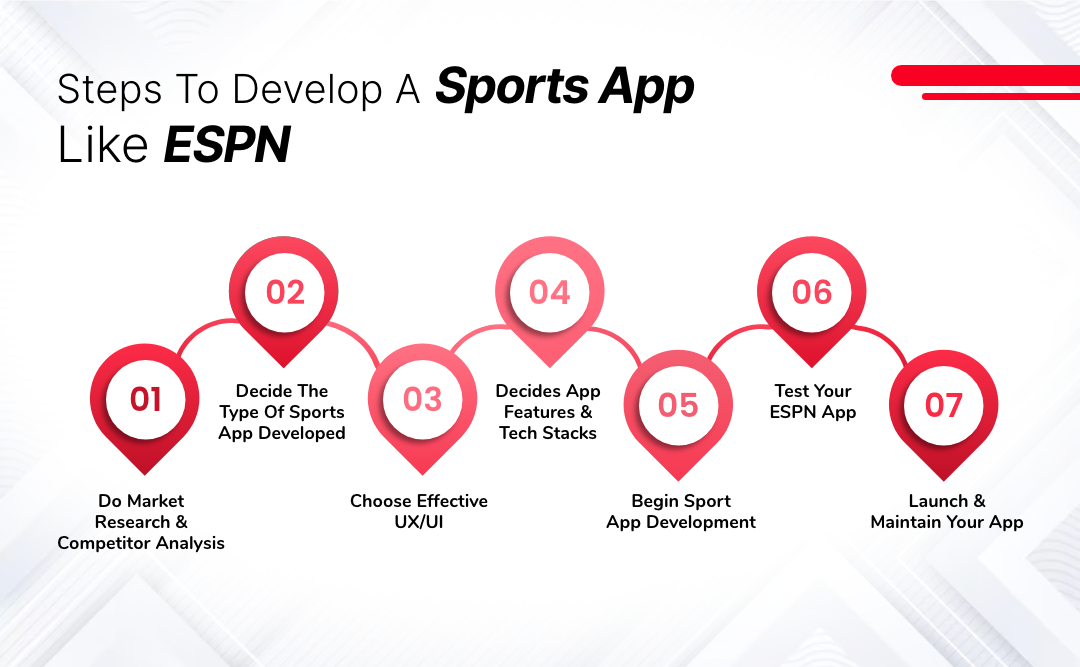 1. Do Market Research & Competitor Analysis
Before you begin the process to develop an ESPN app, conduct enough market research to get an insight into the market trends. Today, a wide range of sports applications are available, so do enough research to find out which is the most popular sports app in the market, what are the sports market trends, and more.
Also, keeping an eye on the competitors is necessary to create a successful sports app. Research the 'Top 10 popular sports apps like ESPN?' to understand the factors behind their success. Write down every detail while researching.
2. Decide the Type of Sports App Developed
Next, decide the type of sports app you want to develop. Different businesses have different business priorities; therefore, deciding the type of app is a must to initiate the sports app development process. For instance –
Video Streaming eSports App
Sports Updates and News App
Sports Training App
Fantasy Sports App
Team Management App
You can pick the category from the list mentioned above and then make a plan to develop a sports app like ESPN.
3. Choose An Effective UX/UI
Users are always get attracted to the effective design of a mobile app. So, besides focusing on gaming app development, shed some focus on the application's design. Keep the user interface easy to access and user-friendly so that every user can access your sports app without facing any difficulty.
For accurate business outcomes, it is advisable to hire dedicated fantasy app developers and designers with experience in creating an app similar to ESPN.

4. Decides App Features & Tech Stacks
Features of any mobile app or software can either make or break your application's success. So, include the best features and tech stacks while developing a sports app. We have already mentioned the best sports app features; you can choose from them. Refer to the following table to choose the right tech stacks for your sports app.
Sports App Development Tech Stacks

Front-end

 React Native, Angular, Vue.js, Ionic

Back-end

 Node.js, Ruby on Rails, Laravel, Django, Flask

Database

 MySQL, MongoDB, PostgreSQL, Cassandra, Firebase

Cloud Hosting

 Amazon Web Services (AWS), Microsoft Azure, Google Cloud Platform

Push Notifications

 Firebase Cloud Messaging (FCM), Apple Push Notification Service

Analytics

 Google Analytics, Firebase Analytics
5. Begin Sports App Development
Finally, begin the process of ESPN sports app development. It is where the actual process begins. Here, you can use all the information gathered while conducting research. It is a technical process requiring expertise and knowledge, so you have enough experience.
On the other hand, you can seek mobile app development services from a leading firm to get ensured results. The experts will help you develop a sports app like ESPN within your desired budget.
6. Test Your ESPN App
When the development process is complete, you can conduct in-depth testing of a sports ESPN app to remove all the errors and bugs. Your application won't be able to run in the market for long if it contains lots of errors. So, go through in-depth testing before launching a sports app.
A perfectly tested mobile app will save the mobile app development cost in the future and also help you gain the users' attention.
7. Launch & Maintain Your App
Finally, when you successfully complete all of the processes mentioned above, launch your app similar to ESPN. It is the last stage of the sports mobile app, where you'll have to launch the app on the desired platform, i.e., (Google Play Store or App Store).
But wait! The process does not end here.
Timely mobile app support and maintenance are also essential to keep the application alive for a lifetime. You can also avail professional maintenance services where the experts will take care of your business applications, and they will never lose their worth. Know more about 'How to launch an on-demand app?'
How Much Does It Cost to Develop A Sports App Like ESPN?

The average cost to create a sports app costs in between $25,000 to $50,000 and more depending on the type of mobile application developed. The cost keeps varying from one application to the other depending on multiple factors including –
App Size
Features
Tech Stacks
Developer's Location
Development Platform
App Complexity
UX/UI
The Future of Sports App Like ESPN
Sports lovers or fans have moved to digital channels, claims the Sports Business Institute. Sports live-streaming viewership is dropping by 11% yearly, forcing marketers to develop innovative strategies to draw viewers. Currently, the sports have been significantly affected by digital technologies, just as other forms of entertainment.
In the coming time, more and more people will utilize smartphone apps to follow their favourite sports. All this wouldn't have been possible if there were no sports applications available. So, now is the right time for businesses to step into Sports app development and reap amazing benefits in the future. Do not delay; instead, get in touch with a leading fantasy app development company, share your requirements with them, and the experts will help you develop a sports app like ESPN. Also, ask them about the mobile app development cost to manage your budget accordingly.
Frequently Asked Questions
Q1. How Much Does ESPN+ Cost?
The cost of an ESPN+ subscription is $10 per month or $100 per year. Another bundle offers ESPN+, Hulu, and Disney Plus for $13 per month, saving you 50% off the typical combined price of all three services. So, if you plan to develop a sports app like ESPN+, consider this subscription model cost estimation.
Q2. What Are the Best Alternatives to ESPN Sports App?
ESPN is a very popular sports application. But, there are a lot of alternatives available in the market, such as – theScore, Yahoo Sports, LiveScore, 365Scores, NBC Sports, Cricbuzz, and Dream 11.
Q3. What Is the Exact Cost to Create A Sports App?
The average cost to build a sports app lies between $25,000 to $50,000. The cost might also increase depending on the type of sports application developed and other factors, including size, design, complexity, features, etc.
Q4. What Are the Key Features A Sports App Must Have?
Every sports application has unique features. But, if you are developing a sports app similar to ESPN, include these features.
Live streaming
Live scores
Calendars and alerts
Video and audio support
Sports and team lists
Team management