With the advancement in the latest tools and technologies, now every service is available on-demand, right from the grocery to on-demand taxi booking. As a result, today's life has become way easier and smarter than it used to be decades ago. For example, people have to wait in a queue to get their turn at hospitals, grocery shops, and more in previous times. But now, they can easily order their essentials and even get online healthcare solutions while sitting at home. All credit goes to on-demand app development and brilliant minds constantly come up with new ideas to make life hassle-free. launch an on-demand app development guide describe here.
The on-demand app economy has completely revolutionized the way the supply chain works and users perceive modern technologies. Due to this, the industry's growth is increasing at an accelerated pace, and more businesses are planning to step into on-demand solutions. So, if you are also thinking of the same, this blog is a must-read for you. It acts as a guide to developing an on-demand services app.
What Is An On-Demand App?
An on-demand service app is an application that enables users to order a product or book any service instantly in no time. For instance, to order food online, people usually turn to Zomato & Swiggy or look for Uber to travel from one place to other. So, this is how on-demand solutions are helping people in their day-to-day lives and making it less of a struggle.
The major reason why people turn to on-demand services apps is that they make things accessible. Overall, on-demand applications have a bright future in the current time and beyond. So, developing an on-demand mobile app for your business will definitely be advantageous for your business.
Current Market Statistics of On-demand App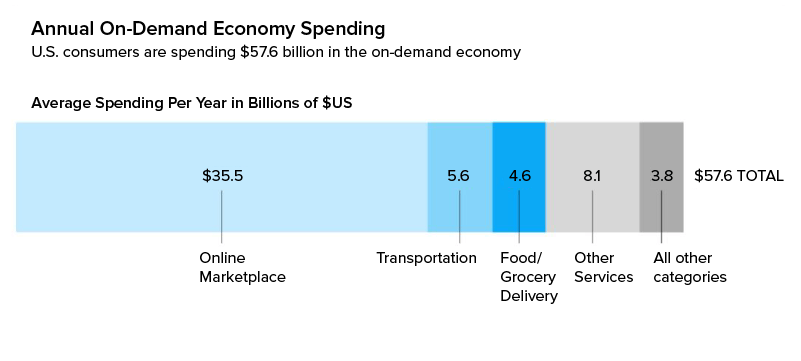 As per Statista, the popularity of on-demand applications has been gaining immense popularity from the last few years and will continue to rise in the coming time. Let's take a look at the market stats of on-demand apps.
In 2019, around 22 billion people downloaded android mobile applications for different purposes.
iOS app development dominates the consumer market by 65%.
In 2018, the app revenue worldwide was amounted to 365 billion and expected to increase in the coming time.
On-demand mobile app features like in-app ads will generate revenue of around 935 billion USD.
The numbers clearly reflect the success of on-demand app solutions in today's time. So, if you already have a business, it is better to consult on-demand app development company professionals and get an app in hand. Besides this, if you are planning to start a new business, you can check out "10 Successful Ideas for On-Demand App Development."
How to Develop An On-demand App?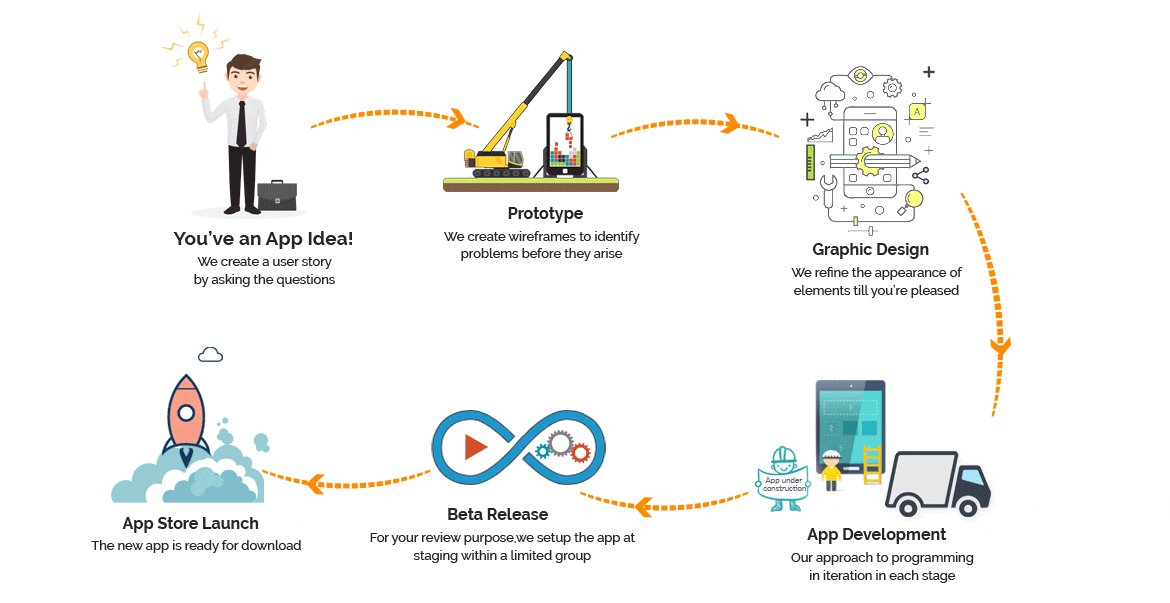 Developing on-demand app solutions is the same as that of other mobile app development processes. So, here is what you need to consider while developing an on-demand mobile app.
Step 1 – Understand Your Customer Needs
First of all, understand your customers' needs and demands to know their preferences. You will only satisfy the users if you are well-aware of their needs. So, conduct in-depth research of your customers and then plan your on-demand app development accordingly.
Step 2 – Research Your Competitors
Along with focusing on the customers, keeping an eye on your competitors is necessary. As the on-demand sphere is quite competitive, you need to do something out-of-the-box if you want to stand out. Well, that can only be possible when you are well-aware of your on-demand app competitors' activities and marketing strategies.
Step 3 – Finalize Skilled Developers
Choosing the right mobile app development services provider hold great importance in defining your application's success. So, make a list of the top 10 mobile app development companies in UAE or other areas, research each of them, and then choose one. This will help you remain assured of your decision, and you will get a perfect on-demand mobile app in hand.

Step 4 – Finalize the App Features
The next most important factor behind the application's success is its features. So, along with including the basic features of on-demand app development, add on some advanced features. Be it only one feature, but come up with something that other on-demand mobile apps don't have.
Step 5 – Start the Development
Finally, when you are done with all the above steps, now is the time to start your mobile app development process. So, share your project requirements with the mobile app developers and get a well-structured on-demand app in hand. When you think to launch an on-demand app, app development is one of the main steps.
This is a 5 step process to develop an on-demand mobile app that will bring in huge business profit and success in the coming time. Along with following these steps, incorporate the following on-demand app features.
Read More: 10 Successful Ideas for On-demand App Development
Essential Features of On-demand App Development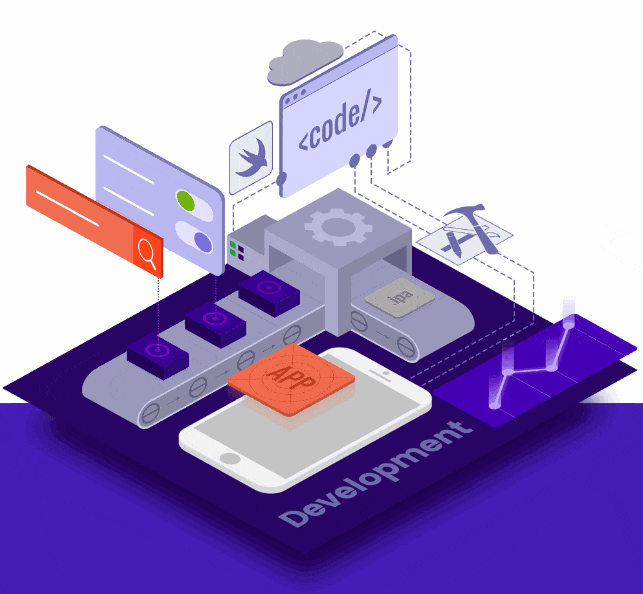 On-demand applications are basically divided into three different panels, i.e., customer panel, service provider panel, and vendor panel. First, let's discover the essential features of each panel.
Customer Panel
User Registration – This is the most obvious feature that every on-demand mobile app should contain. Here, users can sign in and create a profile to avail online services.
Order Details – A complete order history, including the current details, is essential for every customer. So, this feature will enable the customers to check their previous orders and keep track of current ones.
Real-Time Tracking – This feature allows customers to track their order status in real-time and ensures seamless delivery.
Push Notifications – Incorporating these on-demand app features will not only keep the customers notified about the latest deals, discounts, & products but also help them stick to your services for long.
Payment Integration – Your application must have multiple payment gateway integrations to help users pay hassle-free. Make sure it should be reliable and secure.
Customer Support – This feature holds immense value regardless of the application's type. So, include a helpful customer support feature in your app and offer the best services to your app users.
Reviews & Ratings – Nothing is more valuable than the golden words said by the potential customers. So, this feature will help customers leave their valuable feedback about your products & services and, in turn, increase your business worth.
Read More : Why Choose UAE for On-demand App Development in the World?
Vendor Panel
Order History – This feature helps the service providers check the details of their past deliveries. One can easily keep track of performance with this feature.
Payment History – Vendors can check on their monthly wages with this feature and improve their services accordingly.
Accept Or Reject Delivery – As soon as the customer places an order, it will be displayed here, and the service provider can either accept it or reject it.
Real-Time Tracking – Just like the customers, vendors can also keep track of drivers to confirm whether they are performing their job well or not.
Google Map Integration – This feature helps the delivery partners know the shortest route possible to deliver the product as soon as possible.
Read More : What Is the Average Cost To Create A Fantasy App Like Dream11?
Admin Panel
Dashboard – This is one of the crucial features of three of the panels. Here, the admin sign into the application to track customers' orders and service providers.
Details of Delivery Agent – Every admin has access to both customer and vendor's panel. So, this feature will help the administrator to track the details of all the delivery agents at once.
Order Tracking – This feature is slightly different from the rest of the two panels as it enables the administrator to provide the track record of the delivery personnel performance.
Real-Time Analytics – While running an on-demand application, it becomes essential for businesses to access real-time user performance and analytics. This is where enabling this feature is a must for your app.
Payment Management – While running a business application, keeping track of in-app payments and others becomes a must. For that, the integration payment feature is a must for your on-demand application.
Order History – This feature will help the admin to keep an eye on the overall orders under one roof. It will help the admin analyze the application's performance and improve business sales & profit.
Manage Pricing – Only the application's admin has the right to manage products and pricing. So, this feature helps them do so in a hassle-free manner.
These are some essential features of on-demand mobile app development that every business should include while creating on-demand app solutions. Including all the features mentioned above will help you craft a successful application with huge business profit and sales.
Besides this, keeping a check on the cost of on-demand mobile app development also holds great importance behind the app's success. This is because certain factors influence the cost of mobile applications, as highlighted below.
Major Factors Affecting On-demand Mobile App Development Cost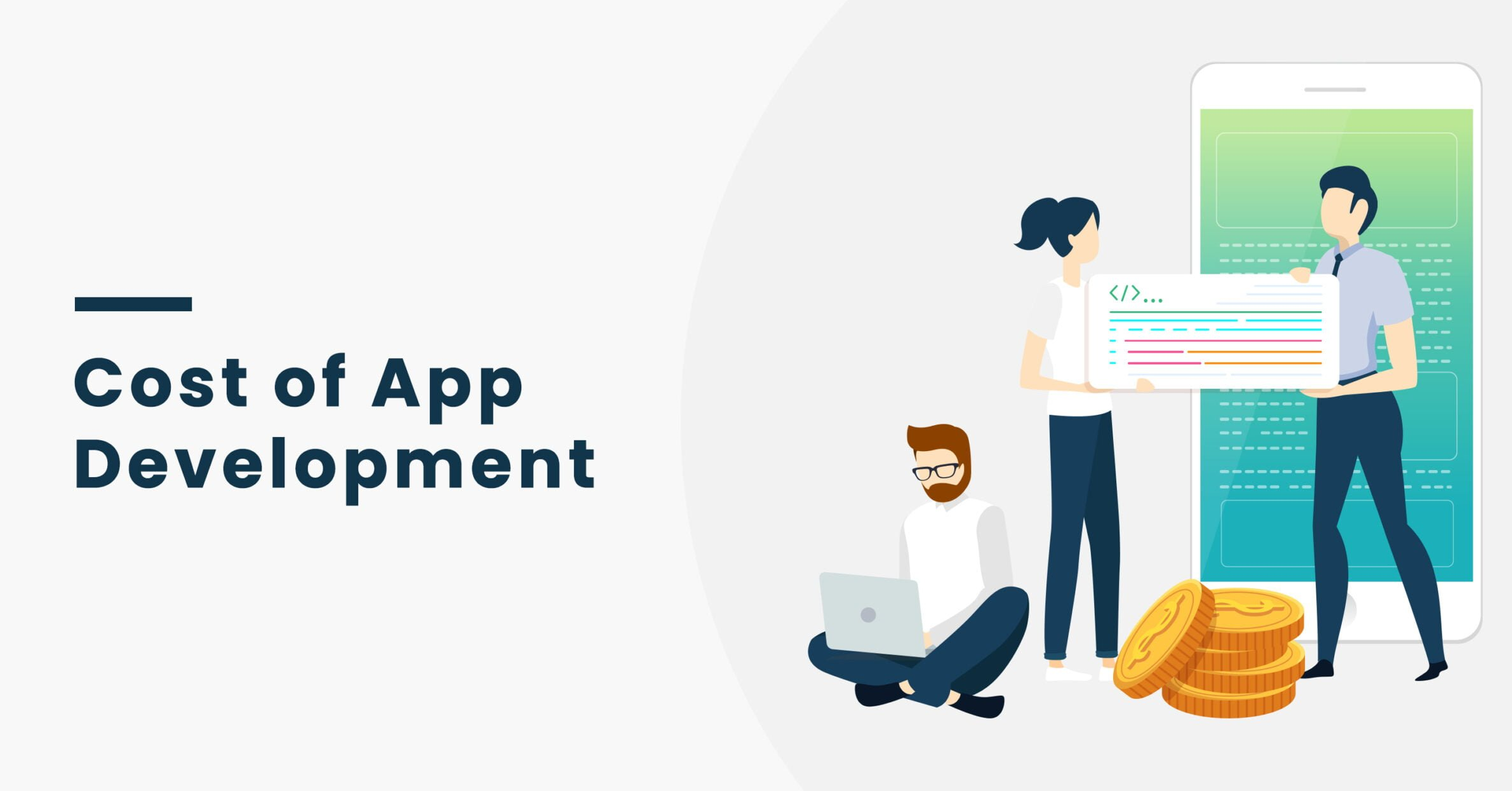 As per the mobile app development services providers, different mobile applications come with their own requirements, which further fluctuates the cost. So, the overall cost of the on-demand mobile apps keeps on varying based on the following factors – 
App's Complexity
Design
Integrations
Additional Features
Developer Location
Platform
Tech Stacks
Get Ready to Develop Your On-demand Mobile App!
In this era where on-demand mobile app development has become the need of an hour, this guide will act as a helping hand for all-scale businesses. We hope that this blog is helpful for you to know everything about on-demand app development. Now that the development process, cost, and features are revealed, it is time to hire on-demand developers and step to launch an on-demand app & the mobile app development process.