Over the past few decades, health-conscious eating have become a habit for fitness freaks. Today, more and more people are switching to healthy diet and track their health progress via diet and nutrition apps. This high demand has also urged businesses to step into diet and nutrition app development.
So, if you are also a business owners planning to build diet and nutrition app, this blog is for you. It will give you fresh insights into – diet and nutrition app development, current market stats, features of diet & nutrition app, cost, revenue model, and more. So, let's begin!
Latest Market Stats of Diet & Nutrition App Development
Currently, the best nutrition apps 2022 is becoming popular among users because of its high usability and amazing user experience. Here is the current market stats of diet and nutrition app development showcasing the ever-growing demand.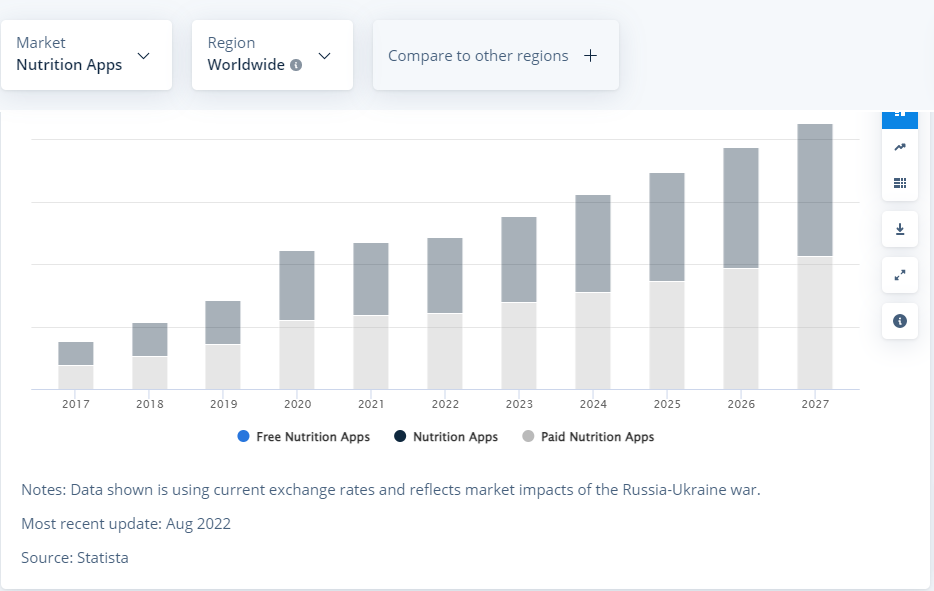 In 2021, the nutrition app sector revenue was $631.83 million, which is expected to reach $4.35bn by the end of 2022.
In between the period 2021 to 2025, the nutrition & diet category showcases a promising CAGR of 6.10%.
By 2025, the user penetration in the nutrition and diet segment will reach approximately 9.94%.
Diet and nutrition app user penetration will be 4.03% in 2022 and hit around 4.96% by 2027.
After referring to these market stats, we hope that you might have understood the rising importance of diet and nutrition apps. Now that you have decided to create a nutrition app let's get an insight into the app.
Read More: Food & Restaurant Mobile App Development Services
What Is A Diet & Nutrition App?
It is a nutrition tracking app that helps users lose weight while staying stronger and healthy. Today, different diet and nutrition apps are available such as diet trackers, calorie counters, marketplace platforms, and nutrition planner apps that help users connect with professional coaches.
Besides this, there are also different types of diet apps designed for different types of people. So, businesses that want to build diet apps have to decide the type of application to be developed, such as food delivery app like Talabat, and then they can proceed with the on-demand diet and nutrition app development process.
Step-by-Step Process to Build Diet & Nutrition App
Wondering how to develop a diet and nutrition app? The following is the step-by-step development process you can follow to create a perfect business app. 
Step 1 – Start with an Interactive Prototype
One of the best ways to ensure successful diet & nutrition mobile app development is, to begin with, an interactive prototype. It is a click-through version of your product that will be appeared via design, and no coding is required. Preparing a prototype ensures better user testing to find out whether the app properly resonates with the target audience or not.
Step 2 – Begin Diet & Nutrition App Development
Once you analyze the app's prototype carefully, begin the diet and nutrition app development process. If you have a team of developers, well and good, or else hire dedicated developers from a leading diet and nutrition app development company. The experts will help you create a perfect business app adhering to your business needs and demands.
Step 3 – Conduct Extensive App Testing
None of the users loves to use software or application with lots of bugs and errors. That's why conducting proper in-app testing is crucial after developing any type of business application. It will help you remove all the bugs before users encounter them. Focusing on this step will ultimately increase the worth of your diet and nutrition app.
Step 4 – Launch Your Business App
When you successfully accomplish the three steps mentioned above, it is high time to launch your diet app. Here; you need to get your app approved by the App Store or Google Play store, depending on the application's compatibility. After successful approval, you can go for mobile app launching.
Step 5 – Focus on Diet & Nutrition App Maintenance
Every business application requires timely mobile app support and maintenance. So, do not limit your diet app to its development; instead, focus on its maintenance. Implementing this step will keep your on-demand diet & nutrition app updated.
Read More: How to Build a Food Delivery App Like Postmates?
So, this is a simple five-step process to develop a nutrition app that brings business success and profit in the coming time. 
Key Features of A Successful Diet & Nutrition App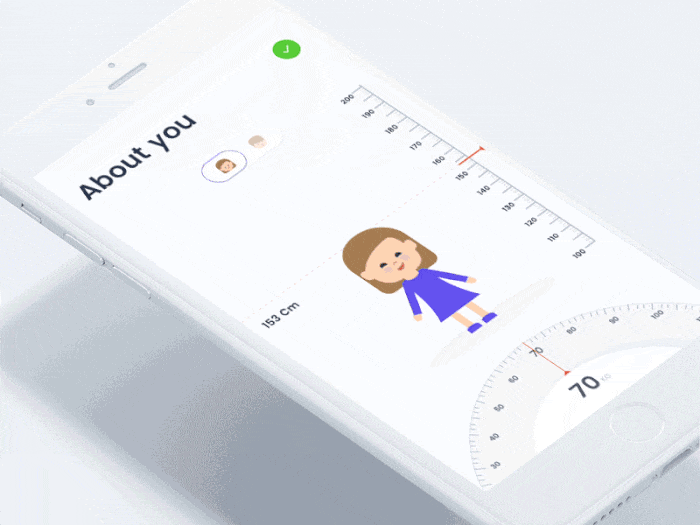 One of the crucial steps to developing a successful diet and nutrition app is deciding on its key features. Most business owners fail to include the right features while creating a nutrition app or during food delivery app development. So, here we have discussed some of the key features below.
Whenever a user decides to avail an online service such as a gym or nutrition centre, the first thing they will do is the registration. All the sensitive user information will be stored here, so use the latest tools and technologies while incorporating this feature into your diet and nutrition app.
Calorie Counter or Food Dictionary
The calorie counter and food dictionary are the two main crucial components of a diet and nutrition application. It helps to keep track of what the user is consuming while serving their main goals. By incorporating these features, it will become easier to determine calories burnt and track users' food intake.
Push notifications leave a positive impact on user retention and engagement. A diet and nutrition app for keeping a nutrition journal should notify users of their progress toward their goals & inspire them to maintain their diet and nutrition schedule.

Integration with Wearables
With advancements in tools and technologies, most people use smart wearable devices. So, make sure that your diet and nutrition app is compatible with your business app and helps to record crucial information automatically, such as – heart rate, no. of calories burnt, or pulses. All this could only be possible with third-party integration that helps to connect the application with a wearable device.
Read More: Top 6 Challenges Faced by Food Delivery Business Apps and its Proven Solutions
Customer Support & Feedback
Users can read the consultant's recommendations in the customer support section if they become perplexed or have questions about the scheduled diet plan. You can also include FAQs or instructional videos to respond to user queries.
Similar to that, feedback is an essential component that aids the developer in creating a diet and nutrition app that is streamlined and uncluttered.
Read More: Key Features, Time & Cost of Food Delivery App Like Talabat in Dubai
App dashboard is another crucial feature of a well-developed diet and nutrition app. After successful app registration, the very first thing that users encounter is a dashboard where they get access to all the crucial data in one place. All the best nutrition apps in 2022 have this feature, so you shouldn't miss including it in your diet app.
Enabling a barcode scanner into your nutrition app would be a great feature for your business application as it will ease the shopping process for customers. It would provide crucial information to users, such as the products' ingredients and calories, with the device's help.
These are some crucial features that businesses should incorporate when building diet and nutrition apps. Adding each feature mentioned in the list above will add worth to your diet and nutrition application, so don't forget these features.
Revealing Diet & Nutrition App Development Cost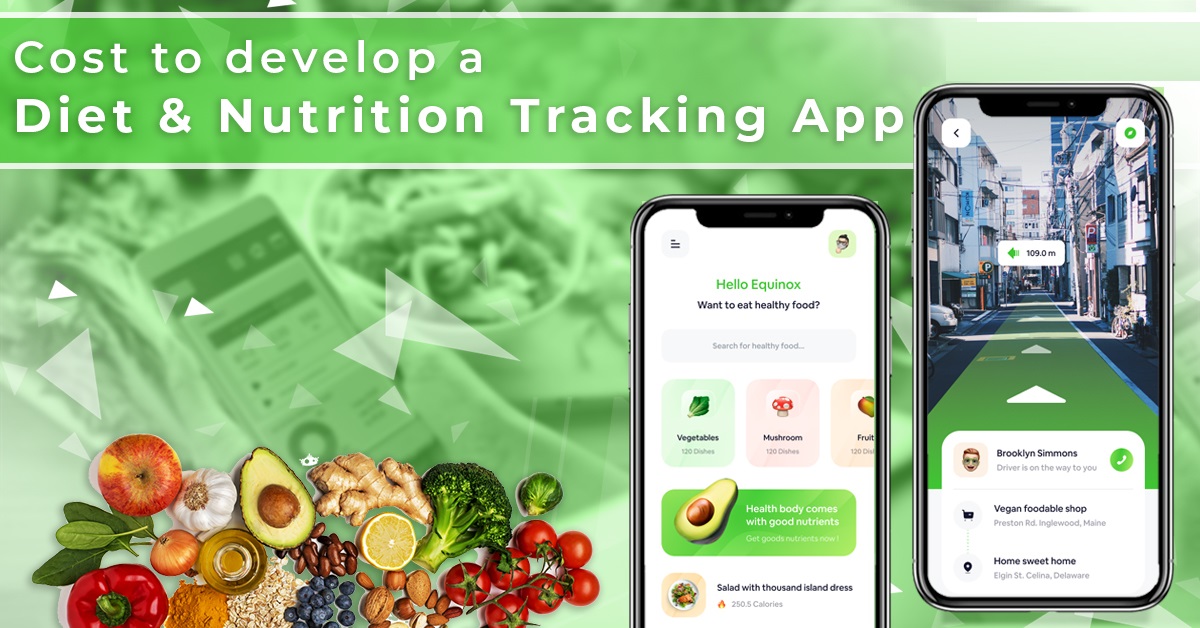 Generally, there is no fixed cost to develop a diet and nutrition app as the cost keeps fluctuating from one software to the other. Still, on average, the basic diet and nutrition app costs around $45,000, and if you plan to build an advanced diet and nutrition app, it will cost around $80,000 and more, depending on the application. It is just an idea of the basic diet and nutrition app development cost; some factors that influence the cost greatly are –
1. App Type
The type of diet and nutrition app businesses plan to develop, leaves a major impact on the cost. Some diet applications are simple and do not require more development efforts, while some are extremely complicated and increase the development time and cost of mobile app development.
2. App Features
Next, the nutrition app features are another crucial factor contributing to diet and nutrition app development costs. So, if you have a low budget for diet & nutrition app development, it is advisable to insert only basic features; for the rest, you can go for some advanced features if your budget allows you.

3. App Platform
Some businesses want to develop an Android app, while others go for iOS app development or both. So, the mobile app platform you choose will increase or decrease the cost of developing a diet and nutrition app.
4. App Developer's Location
It is one of the most important factors that decide the overall development cost. The mobile app developers' location changes the cost greatly. So, for a low budget, choose regions accordingly.
5. Tech Stacks
To develop a technically advanced and updated business application, it is a must to incorporate the latest tech stacks. It also raises the cost to some extent.
Read More: How to Create A Food Delivery App?
Closing Thoughts!
Creating a diet and nutrition app isn't a big deal, especially when you know the development steps. With the tips, features, and costs mentioned above, we hope you might have got a clear idea of 'How to build a diet and nutrition app within your budget?' Now, let's begin the process. Search for the best diet and nutrition app development company, share your project requirements, and get started right away.