There are more than 4 billion sports fan presents throughout the whole world. That is why new online fantasy sports apps like Dream 11 have a huge user base. In 2020 after the outbreak of the coronavirus, people have to stay in their homes, to reduce the spread of the virus. At those crucial times these types of gaming apps, keep the morale of sports enthusiasts higher.
Not only that, these apps provide sports fans various opportunity to earn money with their skills and knowledge. For this, the fantasy app is considered to be one of the fast-growing sectors in the development market. So, if you have a unique idea to develop your own fantasy spots application like Dream 11. Then hiring the perfect fantasy sports app development company can ensure your success easily. As they are capable of developing a feature-packed and responsive fantasy sports app according to the requirements of your business.
To know more about fantasy apps like Dream 11 and what is the average cost is to build it, please continue the blog.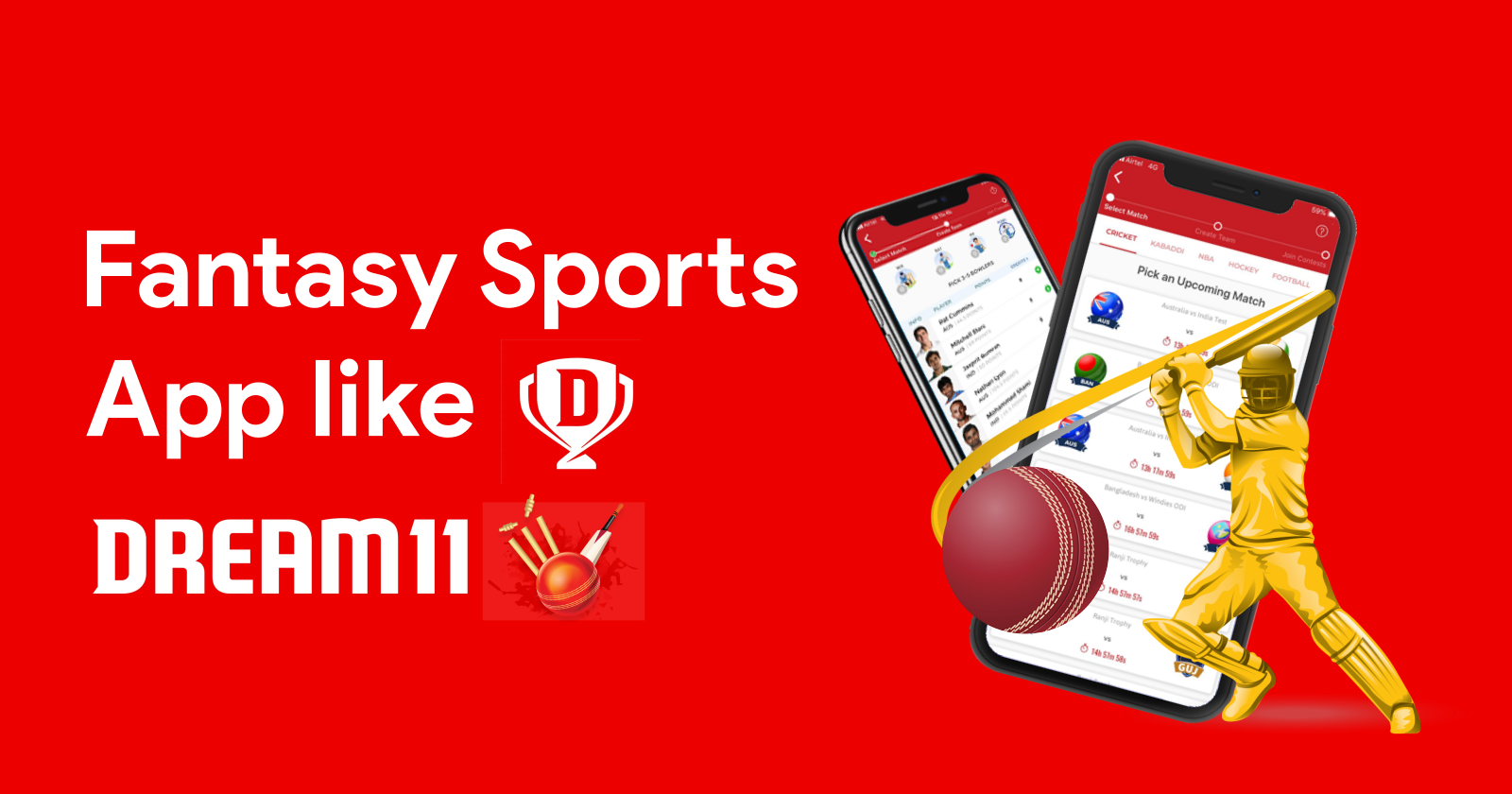 What Is Fantasy Apps Like Dream 11?
Fantasy apps are the mobile apps, where fun-loving users are allowed to create a virtual team with real players, based on a real match. These apps provide various free and paid contests based on various real league matches such as NBA, CPL, IPL, WCC etc. The users are allowed to join their favourite league contest of their favourite sports. This includes sports like Cricket, Football, Baseball, Basketball, Tennis and much more.
So, to implement a contest of various live events for all the sports, all you need is an app with some local government acceptance. If you are fearful of any legal acceptance you can hire best fantasy cricket app development services, which can relieve you from legal overhead. You just have to hire the best fantasy cricket app development services. Then only you can offer better customer services and increase your brand value in the market.
How Does A Fantasy App Like Dream 11 Works?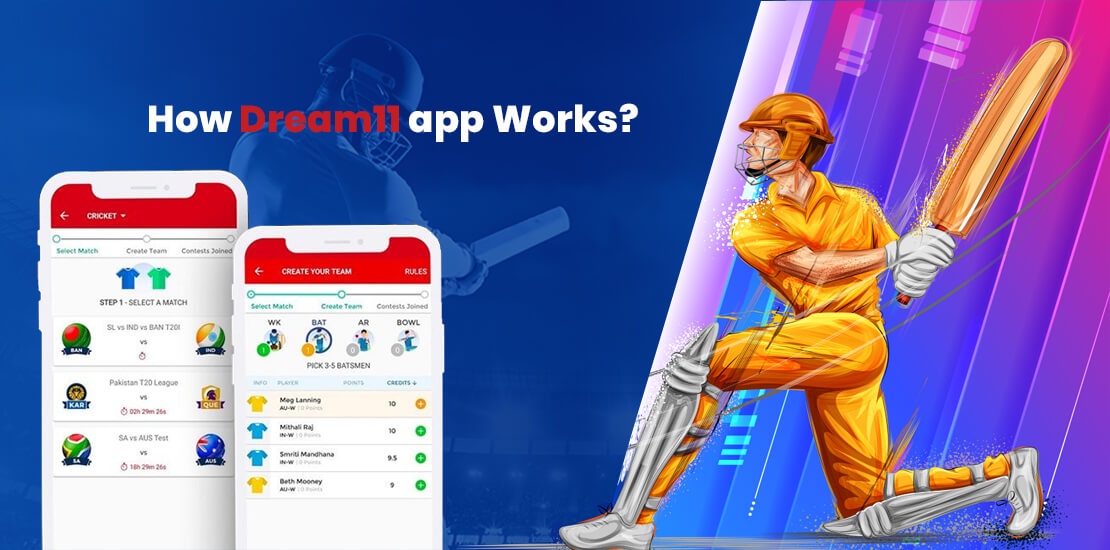 As a business owner or an entrepreneur, it is very important for you to know the mechanism of this application. So, that you can figure out your goals, priorities and the type of service you want to provide to your users. Getting a deeper knowledge of these gaming applications can help you develop an effective gaming environment for all sports fans. Usually, the mechanism of these applications is very easily such as
Fantasy apps like Dream 11 offer contests on many sports from the real world. So that the users can have the freedom of choosing their own favourite sport and enjoy the application.  There are many free and paid contest which goes live before the match starts, also the rewards vary from contest to contest.
Creating a team with players of both the opponent teams
After choosing the contest, now the users have to create they're on a virtual team with their favourite players. Remember you have to choose from both the opponent teams. You can also choose those players who are in better sports forms.
Decide the captain as well as vice-captain in sports like cricket
Then you can decide which player should be the captain of your team. Here if users are playing any contest from Cricket, then they also have to choose a vice-captain.  Choosing a captain and a vice-captain is a very important decision. As, after the end of the match, double the score of your captain will be added to your total score. So, choose it wisely for better and effective results.
Management of your created team as per the performance of the players
The fantasy sports app is not just a betting application. As to win this contest a user's needs both skill and knowledge on the league games. This will help you to manage your team effectively. That means you can exchange any player on the basis of their performance and form.
This is the best part of any fantasy sports app like Dream 11, as there are various types of bonuses for every ongoing contest. As soon as any user win any contest, the prize amount will be added to their in-app wallet. From their they can redeem it to their personal bank accounts or re-invest it to take part in next contests.
Hiring a better Sports app development service to develop your fantasy app, can help you to provide a flawless experience to your users.
How To Earn Revenue From A Fantasy App Like Dream 11?

There are many ways to earn better revenue from your fantasy app like Dream 11. Yes, as an owner of earning a better revenue is the whole to hire a fantasy sports software development service and develop a unique product. But choosing the right strategy can help you to earn revenue more efficiently. For example, Cricket is the most popular game in countries like India, England. So, providing more and more contests and rewards on this sport can attract more users. Here are some of the factors that can help to earn better revenue in most markets,
You can always collaborate with various top brands or invest in various events so that people know more about your brand. Try to sponsors events that include famous celebrities, players or high-profile VIPs. This event can be the main attraction for some of your target audience.
Implementing a subscription model can be done on the basis of target users. If the users are willing to pay a certain amount of money for a premium version of your app. Then providing that will be the best decision for your business. In you premium app your can offer perks like free entry to all contest, ads-free performance etc.
Advertising is one of the most effective marketing strategies to earn better revenue in this market. That is why leading brands always invest a considerable amount of money on ads. The better ads or posters you release in the market, the better the people will know about your application.
Always try to launch your application free of cost in the market. Then only people will download your app and will start to experience it. Plus, you can implement various contests with little amount and entry fee and provide very high reward points.
What Are The Key Features Of Fantasy Apps Like Dream 11?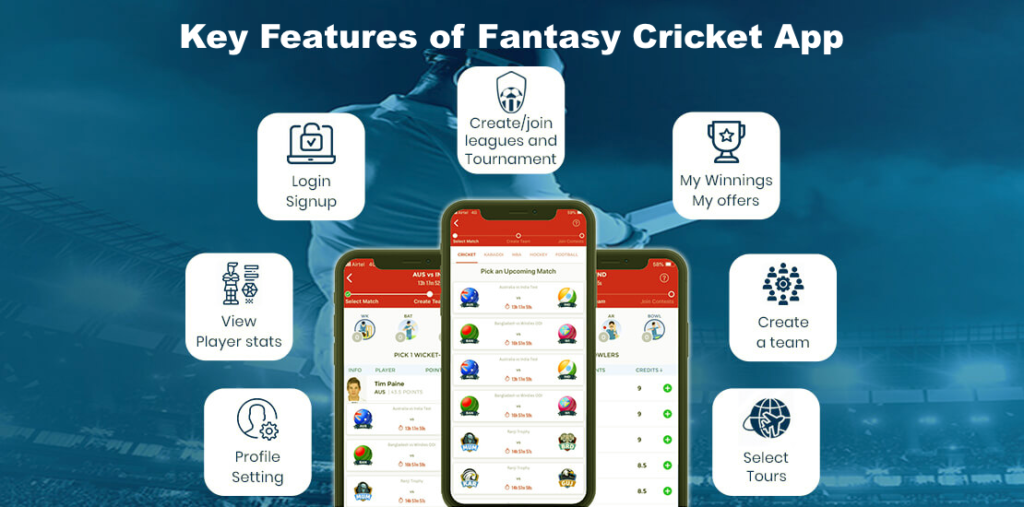 There are many key features that you can implement in your fantasy sports app like Dream 11. Now to gain better control over the applications you can add 2 types of features to your application. One if for the users and the other is for the admin who will manage the software. Here are some of the important key features that you have to implement in your applications.
1. Features for users
Login and registration
This feature is present on almost every application present in the market. Here the users have to create their own personalized profile by verifying some contact information. Usually, applications use email id and password or phone number and password combo. But hiring better fantasy app developers can help to implement advanced features like login with help social media handles.
Dashboard
This is the page of your app user interface where users can get the information on the present scenarios. This includes ongoing contests, the total amount in the app wallet, rewards and bonuses and much more.
Selecting and joining the contest
The users search for the perfect free or paid contest to join, on the basis of their knowledge. Basically, the user will spend more on the contest they are confident in.  
Creating your own contest
With this feature, the users are allowed to create their own set of contests. And send it to their friends so that they can join it at the same time.
Payment gateway
The fantasy app usually has a plethora of payment options, to help any users to pay for any contest they like to join. This includes UPI's, debit or credit cards, internet banking, e-wallets and much more.
Refer and Earn
This feature can be one of the most effective market strategies for your app. Here the users are rewarded to share your application with their friends and family.
Live video streaming a commentary
With the help of this feature, users are allowed to live stream the match associated with the contest.
2. Features for Admin
User management
Sometimes many users try to create various fake user profiles to increase their winning possibilities. So, the cricket betting app development service implement this feature to detect those accounts and banned them from the application.
Management of rewards and results
With this admin can manage effectively the rewards after the real match ends.
Payment management
This help to manage on all the transaction that the users have done in your applications. Plus, it also helps the admin to provide assistance to users during any payment related issues.
What Is The Average Cost Required To Develop A Fantasy App Like Dream 11?

The development of fantasy apps like Dream 11 depends on functionalities and features implemented in it along with the fantasy app development hired to conduct the development process. Here are some of the factors that can affect your development cost,
1. The complexity of the applications
More the complexity of your application more will be the cost of the development process. This is because complex fantasy applications need the support of complex programming languages. Not only that you are going to need various cloud computing solutions to maintain the performance of the application. All of these jacks up the price of the development in the market.
2. Feature and functionalities
In order to provide a better gaming experience to your users, you have to create a fantasy app with the necessary features and functionalities. Also, if you want to implement various advanced features like AI, VR and AR etc. it can cost more.
Always remember implementing too many features in your fantasy app to attract more users can sometimes make your application slow. Basically, no user like a slower application and also it can affect the reputation of your business. So, it is better to maintain a simple easy to understand UI without compromising the performance of the applications.
3. Location of the hired developers
This is also an important part that you have to consider while hiring developers for your fantasy app like Deam11. Usually, the developers charge on an hourly basis for developing a dynamic application. So, if you hire developers from the USA, your per hour expenditure can rise up to $200 dollars per hour.
Whereas, if you outsource your development process to countries like India you can expect the same product at a lower cost. This is because the per hour development cost for developers in India varies from $60 to $100 per hour. The developer set their per hour charges according to the experience and the skill they have to develop an app.
4. Development tools used for the development process
Development tools and technologies are integral parts of any application. Choosing the better quality of development tools can ensure a better product for your business.
Yes, there are many free and ready-made solutions already available in the market. But choosing that solution might not be the best idea for the long run of the software. As you might face various problems during the increase of the users base and updates. So, try to hire a development company that can provide you with a scalable product at affordable rates.
If you successfully maintain all these factors efficiently. Then creating an MVP of your own fantasy app like Dream11 can cost you near about 8,000 US dollars to 12,000 US dollars. On the other hand, if you want to custom made your fantasy app from scratch that can cost you around $20,000. So, don't rush into any decision, take your time and hire the best fantasy sports app developers available in the market.
Conclusion
The fantasy app like Dream 11 is one of the fast-rising sectors of the app development market. So, if you create a unique app to provide a better gaming experience to sports fans, it can bring your success efficiently.  As these applications not only provide a better gaming environment to the users, it also provides various opportunities to earn money with their skills and knowledge of sports.