The 21st century is considered to be the era of mobile applications. Nowadays we have a mobile application for almost every small and large task. So, if you have a unique idea for a business, then creating a mobile application on the basis of your business model is the best way to compete with your competitors in the market. With the help of your on-demand service app, you will be able to provide better services and support to your customers.
In 2020 the outbreak of the Coronavirus gives a substantial amount of boast to various types of app markets. That is why entrepreneurs and business owners are expecting a scalable quantity of user base for their developing applications. Like all other countries UAE is not only a place for skyscrapers and vacations, but it also has a large number of famous app development companies. Businesses are finding it a hub for finding an expert and dedicated .Net developers. IT companies in Dubai, Abu Dhabi, Sharjah are also efficient enough to create a dynamic, feature-packed app for your business at reasonable rates.
Along with time, the number of smartphone users is increasing at an exponential rate. This inspires many entrepreneurs to invest in various unique applications and earn a better return of interest from those apps. According to Go-Gulf, 51% of the users download at least 5 apps on their phones. Moreover, countries like UAE have lesser restriction on apps. That makes it the perfect market to launch various on-demand service apps and gain a better user base.  You can always attract more and more users to UAE, just by implementing the Arabic language in your application.
To know more about how to hire dedicated full stack developers and what their team models are, we will throw light over multiple factors. 
What Is The Usual Model For A Dedicated Developer's Team In Dubai?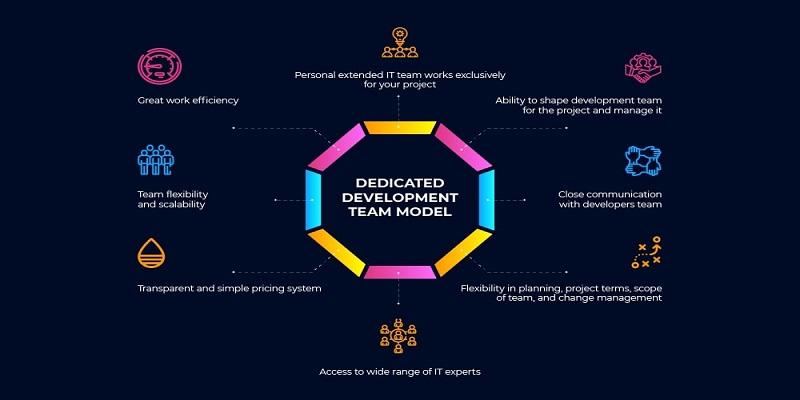 When a development company hires a remote group of developers, in order to execute a unique app idea effectively.  Then that group of developers is known as dedicated developers. As the owner of the development company, you can choose the developer according to the requirement of the project. Also, you have to maintain a proper contract process until the app is fully developed and ready to launch for your client. This contract includes various requirements of the client, roadmaps creation, budget estimation, and deadlines, etc.
 If the hired dedicated PHP developer agrees with the terms and conditions drafted in the contract, the development task is rendered to the developer. After the completion of the project as well as the contract, their collaboration with your development company will also end. Although, many remote developers specialized in various parts of the development process, are available in the market. You can either hire them as freelancers to accomplish or implement any specific aspect into the ongoing development process. Otherwise, you can hire a group that will take full responsibility for your client project until it gets launched on major platforms.
Usually, the dedicated developers can be divided into two types, depending on the working process, such as
In this type of development process, the client gets full control of your hired team of dedicated developers. It is not like outsourcing development work where the client directly gets the ready-to-use product. In this work process, the developers usually get full access to the client database. Moreover, they take part in the various meetings, in order to understand your requirements more clearly. Better they understand more about your business, service, and priorities better will be the end product.
Here, the development company that you have hired for the development works will take care of the searching process. They will search and hire remote dedicated web developers according to the requirements of the development process. Usually, these development companies have professional, who decides which type of developer to hire for your particular project. This increases the efficiency and the effectiveness of the development process. As a client you don't have to worry about the skill set, experience, and salary rate of the developers, it will be handled by the development company only.
In this development process, although the developers work under the development company. But they will efficiently respond to the priorities and requirements of your business, and ensure a better end-product for you.
What Are The Advantages Of Hiring Dedicated Developers?

For large ongoing projects such as eCommerce shop development or marketplace development, the industry demands some specialized expert. Here dedicated magneto developers are highly hired for such tasks. There are many dedicated Magento developers already available in the market. But hiring the perfect developers can help you create a better app for your business and also some benefits. Here are some of the benefits that you can experience if you hire dedicated developers in Dubai.
1. Lower development expenses
If you hire remote dedicated developers. You just have to pay for the specific skill set that is needed to create your app. Plus, you can hire developers from various regions, where the per-hour development rates are lower. Basically creating your own development team and giving them training for creating your app can consume more money as well as time.
 2. Efficient management with better communication
The dedicated developers always maintain better communication with their clients. This is because communication is the only way to understand the purpose of the app and the service that you will provide to your users through it.
Moreover, you can hire a project manager who will maintain constant communication with the developer team. However, you can get development status directly for the development team including all the drawbacks and project achievements. If you want to increase the scalability of your development process, you can always hire more developers to your development team effectively.
 3. Chance to hire a developer expert with a specific skill set and experience
There are various ways to develop an on-demand service application. This includes various frameworks, programming languages, and much more. Choosing the perfect development tool can give you a more reliable and better-performing product for your business. That is why if you choose a dedicated software development team, you can hire developers who are experienced in those specific tools. This increases the efficiency of the development process and provides you better end products.
How To Hire The Best-Dedicated Development Team In Dubai?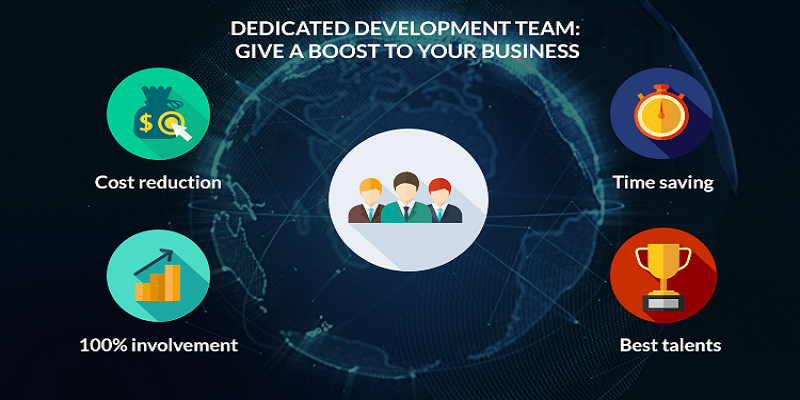 There are many technologies, where the demand of the project varies. Hiring coders with traditional development skills is not too hard, whereas for advanced frameworks, such as Angular, hiring a dedicated angular JS developer team in Dubai requires a little more effort. Here we will generalize the steps for hiring the developer.
Following these steps effectively you can ensure the best-dedicated development team for your application,
At first, you have to decide the requirements, priorities, and type of service you want to provide your targeted customers.

Once you fix that, you have to conduct thorough market research for your unique application. This includes questions like whether the app is use full for your targeted users, why they should use them. And who are the competitors in the market?

Then you have to create an effective business as well as a revenue model for your organization. These models should be created according to the market conditions.

After that, you have to create a roadmap for your application and find the most cost-effective way to create a responsive, dynamic, and feature-packed app for your business.

According to your app roadmap, you have to hire a group of dedicated developers available in the market. And maintain a proper documented or contact, during the development process of your app.

Then conduct a thorough test before launching the application in the market. And try to fix all the drawbacks and the bugs in it.

Then launch the application on various famous platforms i.e., Android and iOS. And try to maintain a better quality of service for your users after the launch.
What Are The Factors That Can Help You To Hire The Best-Dedicated Developers In UAE?
Hiring the best development team for your software requires immense research and time over the market. Try to consult various app experts and find the perfect roadmap required to develop a responsive app at reasonable rates. Then choose the developers available in the market according to it. For small web projects such as to hire a dedicated WordPress developer, it demands very little effort. However, you cannot be assured of quality without making filters in interviews. Here are some of the factors which can help you to hire a dedicated programmer effectively,
Always check how long the development company is operating successfully in the market. Along with that ensure their past successful projects.  
Take a closer look, at the previous clients of the development team. And confirm their working experience with the development company. There will be many companies that will offer lower rates for your app development. But always choose quality and service
Developing an app for your business involves a considerable amount of investment. So, it is natural to get worried about the safety and security of your investment. In order to ensure better security, you have to draft a versatile contract that contains the answer to every possible risk. Such as, various scams, frauds, and violations of the agreed deadline.
Ability to manage various projects
A better and experienced development company will always have better managerial skills for every project. So, during the hiring process try to observe the managerial skills of the development team. The management operations should be conducted in the most cost and time-saving manner. Moreover, a better management process can make your development team to work in their full potential.
Always check feedback and reviews of the hiring development company available in the internet. If you conduct a thorough tour of the rating and reviews of the development company you can also get a clear idea about the past experience with their previous customers.
Usually, developers charge on an hourly basis, and they have different rates on the basis of their regions. For the exam, the rate of dedicated developers who belong from countries like the USA, Europe, etc. have higher hourly rates. But in countries like in south Asia, developers charge less money for every hour. IT companies in west prefer to hire a dedicated PHP developer in India and other south East Asian nations, where the quality and cost balances.
FSD, PRD,and other agreements
There should be proper documentation on the whole development process of the application. And the documentation is usually provided by the hired development company. A better-dedicated developer team will always maintain 100 percent transparency during the development process.
Top Dedicated Development Companies That You Can Hire In UAE?

There are many companies available in the market of UAE, where you can hire dedicated programmers. Here are some of the top development companies that you can choose,
Dev Technosys interactive is one of the leading mobile app development companies located in Dubai UAE. Their specialty is to provide unique customized mobile applications to their customers at reasonable rates. They are capable enough to provide apps for both Android and iOS platforms.
S13 digital was first established in 2008, with the goal to navigate various unique businesses through the digital era. They are well known for creating attractive and well-engaging websites and user interfaces. They are also well known for their various unique solution to digital marketing. Due to their dedication and experience in the development business, they have a scalable client base in UAE.
This development agency is based in Dubai and Ras Al Kamiah and is well know for digital marketing. Kamil Web Solution is a high trustworthy development company. Who can deliver you promising results by providing various dynamic apps for their clients?
The Centrix DXB is a development company that helps various brands to connect with their users. As they are capable enough to create apps according to the client's targeted audiences. So that more and more audience prefer and use their services.
The Planet Green Solution is a professional development firm which is located in Dubai. They are well known for serving every kind of industries including small, medium, and large user bases. They usually work on web-based technologies. And is highly recommended to various start-ups in the UAE app market.
Conclusion:
Hiring the perfect group of dedicated developers can take much effort and time. But once you successfully hire the mobile app development company, you can ensure a better product. So that you can provide a better service to your customers and increase the market value of your organization effectively.