We Live in a world where mobile applications play a very crucial part. Mobile applications are part of our day-to-day life and are no more a luxury but a necessity. Having a mobile application for their company has been the priority nowadays and this is the latest business trend as well. In this article, you will get the complete details that will help you to hire on-demand app developers for your business.
This is also the most powerful way to attract a large number of customers. Mobile applications for every day to day activities are present there on the market and these applications involve all the sections of an individual's life including food, health care, education, fitness, transportation, grocery, and other utilities.
The main motive of these mobile applications is to enhance the living experience and also make day-to-day activities very easy. These applications help in saving time and even money.
Any individual who has an interesting and unique idea about any business that will provide specific services to its customers will help in expanding the business. This is also applicable to business owners who want to expand their business further. Hiring an on-demand app development company can achieve the whole idea behind the business and the expected result. These companies are capable of creating a high-performing application that serves the application defined by the business owner.
If you are someone interested in this market then you should read the following points for learning more about on-demand applications.
What Does It Mean By On-Demand App Development?
In simple language, the applications created for fulfilling the needs of the user are known as on-demand application development. For a business person who wants to increase the customer base of the business with the help of this on-demand development, solutions should look at better experience and service.
The main purpose of these urbanized apps is to satisfy the needs of their customers. You can hire an on-demand app development company that has dedicated app developers or you can hire a team as well. These are professionals and will help you in making an application that suits your purpose.
Advantages Of Developing On-Demand Apps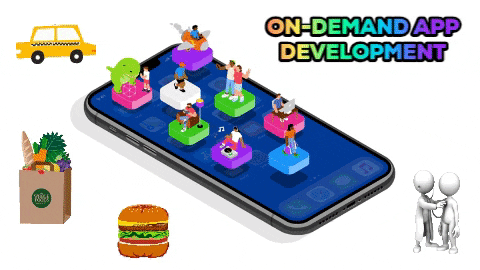 There are many advantages of developing on-demand applications. Here, we have listed a few here:
1. Higher Usability
These on-demand apps are very useful in various ways. Such as, if an individual is ill or just does not want to go out for some reason but needs help for the daily chores to be done at the right time then these on-demand applications will be very helpful. They come with a handy user interface as its model allows users to order food, medicine, groceries, and much more.
Individuals will be able to take proper rest because the delivery will be done at their residential address. This service is best for people who want to take proper rest for getting back into the normal worldly activities. On-demand food delivery app development and restaurant solutions have emerged as one of the most famous services provided by these applications as people now can enjoy their favorite food in the comfort of their homes.
2. Easy to Use
These applications are built in such a way that even a beginner will not have any issue understanding the concept and working of the application. If an individual lacks the technical skills, even in that case, these applications can be used and that too with better efficiency. This all gets possible by the on-demand application's easy design and functioning. There is no need to read a long user manual for such applications and the app itself will guide new users and once learned, users will be able to use it in no time.
Why are these applications user-friendly? The only reason is that in the days when only youth were using the technologies, even elders deserve to enjoy such applications, and they are also the targeted customers and that is why these applications are made in such a manner.
3. Applications are Available in Paid And Free Versions
Many famous on-demand apps available in the market can be downloaded by users for free of cost. Some of the applications can be used without costing anything to the user. If you are a business person who wants to launch an application for the business then you can launch either a free or a paid version of the application. It should be based on the services you will provide to the users.
4. Quite Convenient for Delivery Services
On-demand applications work best for delivery services around the world. In the modern world, on-demand applications have a variety of delivery applications working to deliver different essential products to the doorstep of the customer. From electronic goods, food, medicines, groceries, laundry to treatment services, everything can be booked on these applications.
As a business holder, you should understand that you will gain customer growth only after you have a systematic service for delivery, thus a delivery application is much needed in these times when people enjoy the feature of home delivery.
Disadvantages of On-demand Applications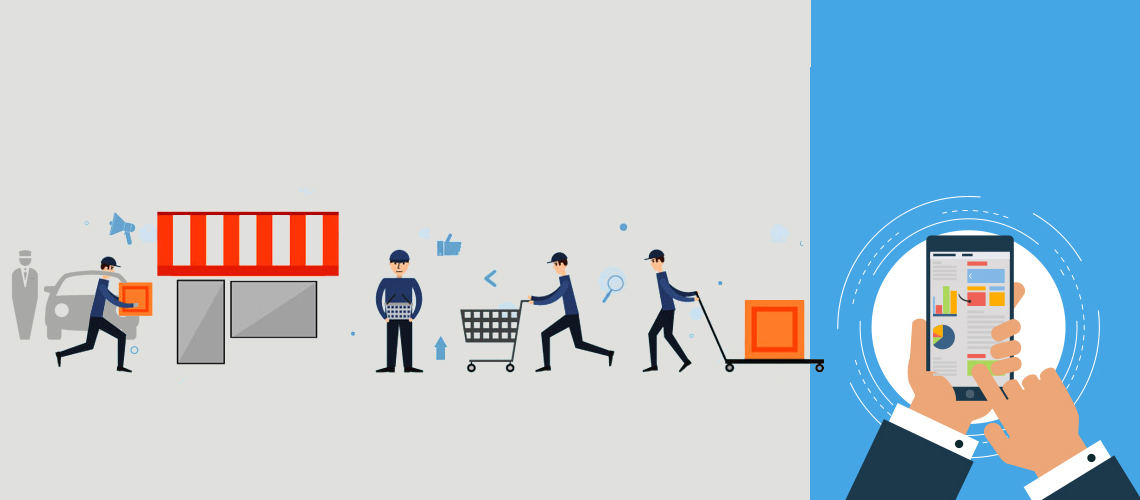 Like every other thing in the world, sadly on-demand applications have some disadvantages and we will see them in the given points:
1. All the on-demand Applications Will Not be the Same
Every human can be the same, right? Just like that, not all on-demand applications are the same either. There are many applications available in the market right now that are providing quality service to their customers and then there will be applications that do not have a user-friendly interface or do not offer a streamlined service.
The point is, one can not tell how an application will work without using it and ensure that a certain application is good for users, people have to use it before jumping to conclusions.
2. Creating a Delivery Application Will Cost a Businessperson a Bit Expensive
There are many famous applications for food delivery to clothing and accessories shopping that are delivery friendly. These applications cost a lot to build because they are complicated as they have to serve quality service to the customers. The better the features and functions, the more they will cost to be made.
Some features like live tracking of an order, integrating payment methods, and much more are added according to the ongoing trend in the market to ensure that the application makes a profit. Thus, to gather more users, the application will need changes accordingly and it will cost more. These points hike up the pricing of the creation of on-demand applications.
3. The Development Process is Indeed Complicated
If a businessperson wants many features in an application, then it will lead to a complicated app development process. The more the features, the more the complications. This will lead you to no other option than to hire the best application developer for creating such a completed application.

Users are divided into two categories, one is android users and the other is IOS users. To run the application smoothly on both the versions, android app development, and iOS application development may need a little bit more effort from the developer. For this, hire the very best app developer to ensure that the application runs smoothly.
Considerable Tips While Hiring On-Demand App Developers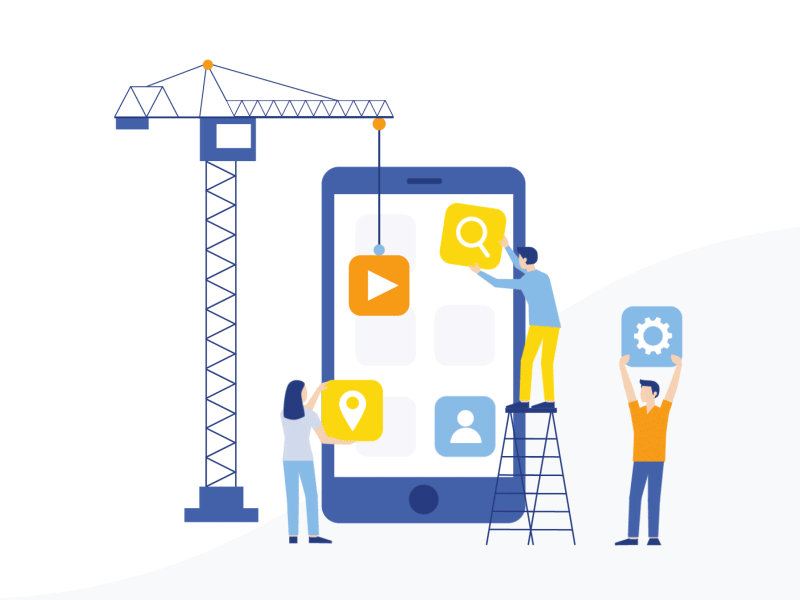 In today's time, searching and selecting a good app developer to develop an on-demand app for a better user experience is not considered a kid's game. There are many factors that should be kept in mind before leading ahead with an app developer or a development company. Let us engage in some of them here.
1. Experience
One of the main aspects when considering on-demand app developers for the given application is on the basis of experience. It truly speaks with their power and capability through long-term experience in the field. From executing your app as swiftly and fluently as it can get to make it simply usable rather than those hefty usages and patterns, they will do their thing accordingly because of nothing but experience and knowledge at its peak.
2. Quality of the Product
If we are talking about hiring on-demand app developers, that given capability of one to stick to the finest of the quality of their products is an undeniable factor. Not only the application developed by them but also the fluent services after their completion should also be kept in mind thoroughly.
3. Smart Ideas
Reflection of innovation in their ideas is a must because sadly there are still those dull and similar types of services doing rounds in the market. Coming forward with their open mind and suggesting yet working with a full pace to make it a successful event full of surprises, is a plus factor.
The developer should have that quality of being materialistic and considering the real-life problems of the user and provide them with real and unique solutions rather than that old same services such as that of their competitors.
4. Technical Capabilities
In this network of services, technical capabilities play a vital role with experience hand in hand. So, if you have hired an on-demand app developers company, they should be having that capacity and capability in themselves which revolves around a good grip of development tools for the long run.
This will not only be beneficial in a way with respect to cost-effective and efficient development tools but for the future of business as well. Hence, accordingly, choose your option with a good technical grip and it will ace finely.
5. Getting There by Hand in Hand With the Development Team
Synchronizing your conversation from time to time and a better and core knowledge of the development team will lead to transparency amongst the employees and even you will get to know about their experience and framework they are working around.
On the other hand, it will also save you from any kind of other fraud development company still working in the market open-handedly.
6. Quality is the Main Focus And Not the Cost
The priority which should be made clearly visible with respect to developers is the quality of their delivered applications before the shortcoming of cost. Talking about the current market, there are many options available which include free and low-cost solutions. Getting ahead with such will only affect the long-run pattern of the business. Hence, it is advisable to count your work on efficiency and experience and not to run behind free solutions.
7. Non-Disclosure Agreements
Non-Discloser Agreements or NDA is one factor out of many that ensure the privacy of the application. To create a detailed iron-clad NDA, one will have to hire a reputed iOS application development service provider. They will also help in maintaining detailed documentation while the development process will be ongoing ensuring your proprietary rights on a certain project.
8. Understanding of Your Business
A businessperson should always keep in mind that the developer you hire should have better knowledge of your business or at least understands what are you trying to sell or do with the application.
This is crucial because if the on-demand app developers will not understand the business then creating an application according to the requirements will be difficult. The best way is to communicate with the on-demand app developers and help them in understanding the motto and business.
9. Always Check the Feedbacks
Feedback can really give you an overlook of what you will be dealing with. The main aspect to understand that is the hired on-demand taxi app development service or on-demand food app development services are perfect for you as an individual and the business you have to enlarge.
This simply means that you will have to conduct thorough research of the company, also by checking all the feedbacks. This gradually will tell how capable a mobile app development company or individual is in terms of providing what a customer needs.
10. Preference to the Quality Than Cost
As a business owner, you should always consider hiring an application development company or individual who gives a better quality service. Always hire a team who can make your dream application come true by putting in the same effort as you are.

Conclusion
There are numerous such sectors in the market that are gaining their speed at a good rate, but here on-demand mobile applications are undoubtedly leading because of the plus factors discussed earlier.
Earning better revenue from a business and ensuring your step on the ladder of success, lead with a better quality of the application and it will surely help to provide a better service to the users engaging. Hence, consult the best app development company with the help of the above-discussed pointers and do the best.