Nowadays mobile apps play a huge role in our day-to-day lives. That is why it has become a trend for most of the businesses present in the market. Also, it is considered to be one of the most powerful ways to attract more and more customers and increase the user base of your business.  Nowadays, we have a mobile application for every work in our daily lives. These applications include almost every sector present in our society. Such as Food, educations, healthcare, fitness, grocery, transportation, and much more. The main goal of these on-demand applications is to make our day-to-day life more easy-going and effective.
If you, have a unique idea to create a business, provide any kind of service or expand your existing business. Then developing a dynamic and feature-packed application to execute that idea can be the best option for you. For that, you just have to hire the best mobile app development services available in the market. As they are capable of creating a high-performing application to serve your users according to the requirements and priorities of your business.
To know more about the on-demand development and tips to consider while hiring on-demand developers. Please continue the blog:
What Is On-Demand App Development?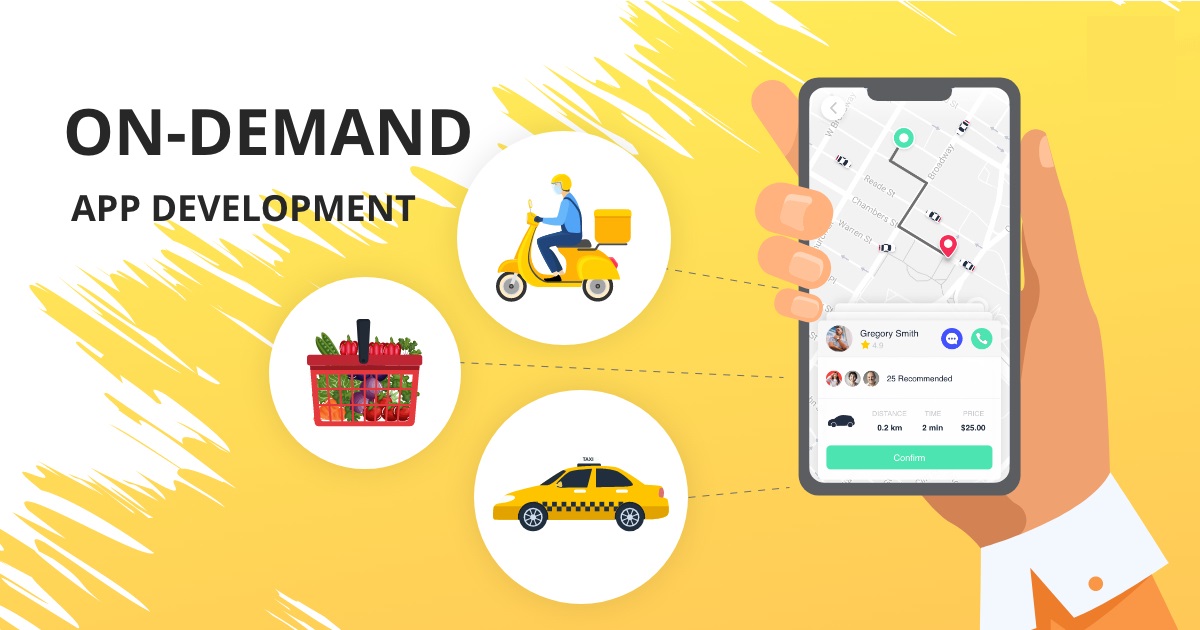 The apps which are created to fulfil the needs of the users are known as on-demand app development. In order to increase the customer base of your business through these on-demand app solutions, your main driver should be user experience and service. As the main purpose of the uberized app is to satisfy the needs of their customers. So, like most of the on-demand apps companies, you can hire developers' team or collaborate with best app development services to develop your application.
What Are The Advantages and Disadvantages Of On-Demand App Development?
These applications are very useful in many scenarios. For example, if you are sick or ill, you are going to need help for most of the daily chorus. These on demand service applications will come in handy because the model is famous in delivering food, medicine, and much more at your doorsteps. This helps to worry less about the daily chores and take some time for your rest. So that you can relax and get back into the normal world effectively.
These on-demand delivery applications can provide you with almost every service at your doorsteps.
Usually, these applications have easy to understand user interface. That means, even if you are technologically unskilled, you will be able to use this application with better efficiency. This is possible because the on-demand application is developed with such easy designs and functions. That everyone including the non-tech person can use it, in no time. It is one of the crucial examples that nowadays the applications are not only for youths. Also, the elders can use this application with similar efficiency.
Available in both paid and free versions
Most of the famous, on-demand applications that are available in the market are free to download and use. As, an owner of a business, you can launch a free or a paid version of your app according to the services you will provide.
Since most of the applications are free, the users don't hesitate to download them from the app store. As well as, try your service for the first time. Moreover, with this application, you will be able to convert one-time customers into loyal users effectively. The only way to attract customers to your business is by providing them with better quality of applications and services.

Best for various delivery services
The on-demand application works best for the delivery services providing applications. Nowadays we have many types of delivery applications which are capable enough to deliver various essential products. Such as food, medicines, electronic goods, groceries, laundry, and much more. Some of the famous on-demand food and restaurant solutions like Dominos gained substantial user growth by providing a capable delivery application.
Moreover, you will be able to implement the latest trends and functionalities into your application quite easily. So if you want to provide a unique service to your target users in the market. Then creating a dynamic on-demand delivery application can help to ensure your success and increase the brand value of your business.
The on-demand applications are easily scalable and can be spread effectively among the targeted audiences. This is mostly because the apps are easy to use and provide essential services at your doorsteps. Plus, this is the most effective way to make your business services unique for your users. As there are many similar service provider companies who also want the attention of their users, there you stand out of the crowd with one-click reachable service.
Still now marketing and gaining content for your services can be done through these applications are uncommon. So more you get into these processes, the better can be the outcome of your business revenue.
With all the benefits the on-demand applications have their own set of challenges. You can minimize the magnitude of these challenges. It is possible with collaboration in high-tech demanding market resources like middle-east. You can hire the best on-demand app development company in Dubai. Here are some of the disadvantages that you may face while developing this application,
Not all on-demand mobile applications are the same
As on-demand mobile applications are famous for serving almost every kind of service to the users. There are many service-providing apps that are present in our app stores. So, if you have a better and reliable experience with one of them. That doesn't mean that you will have the same with other apps also. So, in order to ensure that, do try the application once, and use it again if you feel satisfied with their services.
Can be costly for delivery service applications
Creating a full-fledged service delivery app like Zomato, Swiggy, Myntra, etc can be very costly. These apps are complex because of the quality of features and functionalities implemented in them. Basically, the on-demand application for delivery service needs some of the crucial features. Such as live tracking of the order, a plethora of payment options, and much more. And due to the ongoing trends in the market, you have to implement it into your app, in order to gain success in the market competition. This jacks up the price of the development for these delivery service-providing applications.
The development process can be more complicated according to the requirements
As discussed earlier, the implementation of the latest features and functionalities make the development process more complicated for these applications. More the features you want to add to your application more complicated your app will become. For that reason, you just have to choose the best app developers for creating the road map of your app more effectively and efficiently.
10 Tips To Consider While Hiring An On-Demand App Developer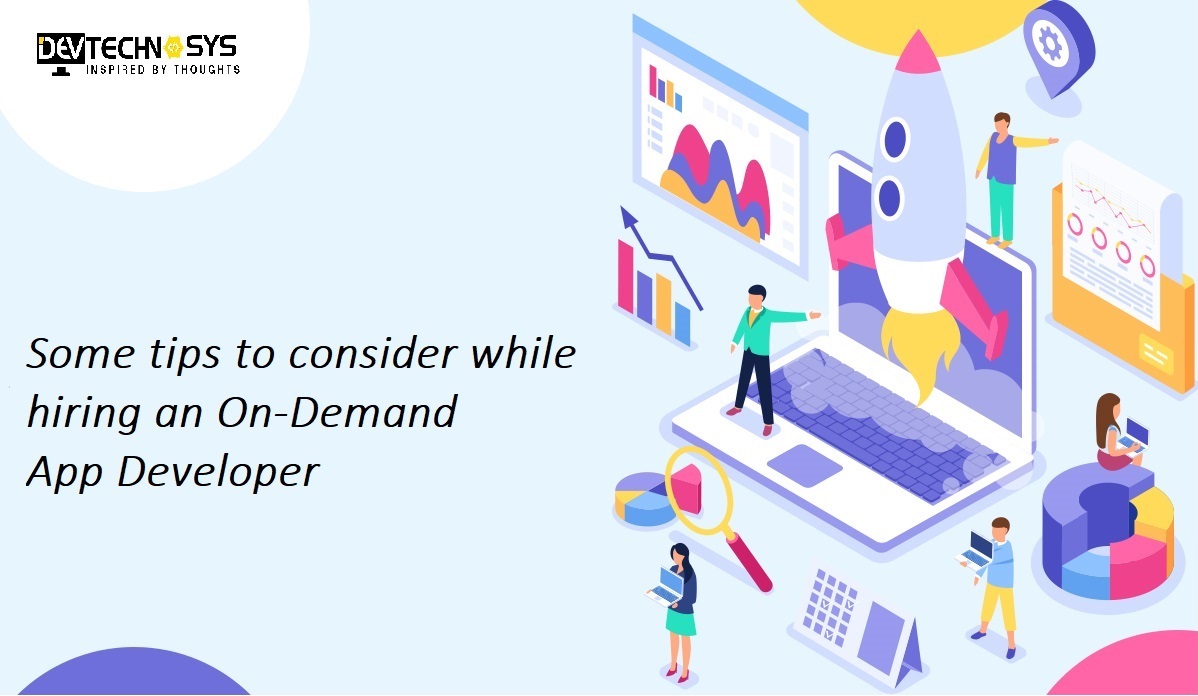 Hiring the best on-demand app development company available in the market for your project can be very difficult. As it requires immense time and effort to conduct a proper survey on the present market. So, here are some of the top 10 tricks by considering which you can ensure a better on-demand app developer for your business:
1. Experience
Experience is one of the most important things that you have to consider while hiring dedicated app developers for your application. If they have long experience on the various complicated app development projects. They will be capable enough to execute your app development process fluently. Plus, they will also ensure a better-performing product in spite of the complex features that you want to implement in your application. You can ensure the experience of the hiring app development company by checking their portfolio of previous projects.
2. Innovative ideas
Innovative ideas are also one of the important parts of the development process. Nowadays there are many applications that provide the same type of service to their customers. This increases the competition among various applications in the market. So, in order to gain a better edge, form your competitors, your hired developer should provide innovative ideas. Always remember, you can only ensure success by solving real-life issues of the user, not providing the same service as your competitors.
3. Technical capabilities
Another important factor in the app development process is the technical capabilities. Basically, there are many frameworks, platforms and development tools that already exist in the market. So, your hired android app development service providers should have a better grasp on most of the development tools. If they have a better experience with the framework, they can help you to find the most cost-effective and efficient development tools. This you can choose for your app development, according to the requirement of your business.
4. Better knowledge about the development team
Gaining a better knowledge of your hiring development team can help you in many ways. First of all, you will know the framework in which the developers are experienced.  And you will know the cost of development they are going to charge you for your application. Plus, this can save you from many fraud development companies that are available in the market.
5. Support during the post-development period
Developing the quality of the product is not only the sign of better on-demand development solutions. They should also provide a better quality of support during the post-development period. Usually, a better app development company will provide you and your user's assistance for any kind of issue 24/7.
6. Better quality of the product
Ensuring a better quality of the product is mandatory to ensure success in the market. Your hired development services should be capable enough to provide you a high-performing application with a decent number of features and functionalities implemented in it.
7. NDA Agreements
NDA or Non-Discloser Agreements is one of the factors that ensure your app privacy in the market. Hiring some reputed iOS application development services can help you to create a detailed iron clad NDA agreement. Not only that they will also maintain detailed documentation during the development process to ensure your proprietary rights on the project.
8. A better understanding of the business
The hired developer should have a better knowledge of your business. Then only they will be able to create an application according to the requirements of your business. This can be done if they maintain better communication with their clients.
9. Feedback
The feedback is one of the main aspects to understand whether the hired on-demand taxi app development services are perfect for you or not. That means, before hiring any app development services you have to conduct thorough research on the feedback on the company. This provides you with a better idea of the capabilities of the development company from their previous clients.
10. Quality is the primary focus not cost
Always choose quality before cost. Basically, there are many free and low-cost solutions that are present in the market. These solutions are fee, ready-made and have less time to market ratio. But, choosing these kinds of solutions can be less efficient for the long run of the business. Developing your own applications by hiring an app development company will provide the freedom of implementing features according to the requirement of your business. Plus, it will also help to make the application scalable with the increasing users base of your business.
Conclusion – 

The on-demand mobile application is one of the effective rising sectors in the market. Ensuring a better quality of application can help you to provide better service to your users. For that, you just have to hire the best app development company available in the market while considering the above-mentioned tips. So, by creating a dynamic on-demand application for your business you can ensure your success and earn better revenue from the market.