Hi there!
Do you want to become the reason for a beautiful change in blind people's lives? Then you must be here to create app for blind, we guess! Before we go further, let's chat.
It is courageous to be one of the kind people who want to help society, especially those who are disabled. It isn't surprising that more than 285 million people are visually impaired worldwide. The World Health Organisation states that 2.2 billion individuals worldwide have vision impairment. Studies have shown that more than 1 billion people can be treated.
It is vital to know that technology has made it easy for visually challenged people to explore that world. Now advanced technology has made it possible for visually disabled people to see the colorful world. The time has come when we must make impossible things possible for these people and offer them independence with beautiful technology.
Designing an app for blind people isn't easy. To help society, several entrepreneurs have developed an application for blind, impaired people. It has several exciting and attractive user interfaces that make the user experience beautiful.
Suppose you are one of the people who want to create app for blind people. In that case, you must read the entire blog thoroughly. So, let's dive into the blog now! In this blog, we have covered almost everything that will help you build a perfect app for blind people.
Why Do We Need to Build Apps for Visually Impaired People?
As we said earlier, more than 285 million people are visual. As individuals age and live longer, the number of visually handicapped persons increases. The demand for developing an app for blind people rises when people come up with improved or great UX. The reason behind the increasing popularity of hiring custom web development companies is that problems still exist in that a blind user cannot grasp the visuals or translate them into an auditory description.
The experience on mobile is not quite as fantastic as on other blind devices. You might be shocked to hear that not even the most well-known apps offer an optimized user experience or are even accessible for blind users. More control over the UX for accessibility is possible because of the other device's development environment. To achieve the same experience on iOS and Android, several enterprises started to invest to create apps for blind.
Let's look at some market stats to witness why you must initiate thought to create app for blind people.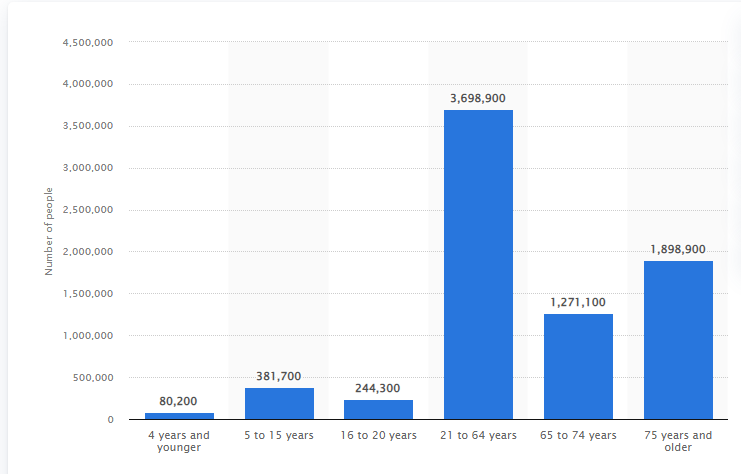 According to Statista, the stats have shown that more than 244300 people being visually challenged at the age of 16 to 20 in the year 2018 made them face the serious difficulty that resulted in blindness.

According to Statista, more than 55% of people live with blindness.
In 2020, more than 24 million women were blind, and 19 million men were blind from more than 76% of people aged over 50 years.
How to Create Apps for Blind People?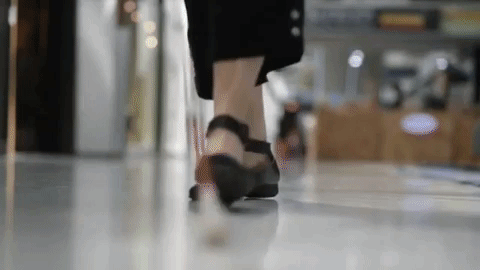 To create app for blind people, you must go through these development steps. Below we have mentioned the development of the blind app step by step, so read carefully.
To get the best blind app, you must hire the best custom web development company.
1.    Competitor or Market Research
The first and most important stage to create app for blind persons is to conduct market or competitor research. Before developing, you must go through some competitor-free apps for visually impaired people and learn several market strategies.
You can learn what to add or remove from applications by researching your competitors' strategies and marketing concepts to analyze their performance. In addition, market research will give you a sense of expertise in this application niche and help you create app for the blind.
2.    Define Goals Before Create App for Blind
It's time to formulate a strategy to create app for blind people. The strategy will include a competitor research list, business model, and revenue model of your blind app. When it comes to launching any mobile application, planning is crucial. Your application's budget, aim, and objective will all be part of your plan.
Knowing if you are creating an app for the blind is vital. That means you're helping society, but revenue generation is part of every business app development. So don't forget to study the revenue model of blind app competitors to have a successful app that lasts an eternity.
3.    Design And Features
It is the stage where you should choose the features of your apps for the blind and visually impaired. As you should know, the features of the blind app are unique from normal mobile apps. We've included a few of the main features that many apps for the blind and visually impaired have as an illustration. To find out more about the features that will be useful for expanding your business app development.
Read the section on features below. After including features, it's time to successfully design your program by examining the moderate to complex UI/UX use.

4.    Development Of Application
It's time to hire dedicated developers in this phase to deliver top-notch app development services for you. Hiring the top developer team will get the finest outcomes from the on-demand app for blind people. The plan for your app, including its features, design, and objective, can be discussed once the developers have been hired.
Read More: Top 10 Ideas to Start a Business in Kuwait
Hiring an on-demand app development company is crucial to enhance the scope of your business and aces to hi-tech development technology. It will all lead to create app for blind people with the best and most unique features.
5.    Launch And Maintenance
It's the final step after you create an app for blind people. In this step, your app for blind people will come to a finish point. The app for blind people will now be ready to launch in the market with some specifications. The on-demand app development company will help you in the launch.
However, it is crucial to be aware that publishing an app for the blind involves advertising and marketing it on other social media networks. Therefore, promote your app on social media sites like TV, Instagram, Twitter, Facebook, Snapchat, and many more. It is an app that requires the attention of society. So make sure you promote it on several platforms to reach the people in need.
Some Top Blind Apps Worldwide
Here we mentioned the top blind app widely used worldwide with its rating and downloads.
Top Blind App
Rating
Downloads
Be My Eyes
4.7
1M+

Downloads

Blind – Workplace Community
4.6
1M+

Downloads

 

Lazarillo GPS for Blind
4.3

 

100K+

Downloads

 

Lookout – Assisted vision
4.0

 

 

100K+

Downloads

 

Big Digital Clock
4.6
10K+

Downloads
You must know these applications are free apps for visually impaired people that anyone can get access from the google play store.
How to Design User Experience for Usability for Visually Impaired Users?
Now the time has come when you need to know the design process to create an app for blind. Below we have covered the best and unique features you must add to your blind application to offer the best app for blind person.

1.    Colour Code & Textures
It is vital to understand that blind people face difficulty understanding the appeal of color coding a message since they cannot notice changes in screen color. It is the main reason a mobile app development company shouldn't significantly rely on color to communicate a message to the end user if they want to create an app for everyone. Using texture to distinguish one piece from another instead of color can provide your blind people with more ease and a better experience. You must create an application that can also be easier and unique for normal people.
2.    Text Size
Your app must include text size with the "zoom" feature to make the text easier for visually impaired people to read. It is vital to know that using "zoom" repeatedly wastes time in the app session and degrades the overall user experience. It has to be revised for visually challenged people if it is challenging to read for those with normal vision. When creating an app for blind or visually challenged people, don't forget to use bigger text frequently. However, you may offer your audience with poor vision a manual option to change the text's font size in the app to their taste and comfort.
3.    Screen Reading Tools
VoiceOver and ORCA are built-in screen reading programs for Android and iPhones. It will help blind people hear what is on the screen they cannot see and improve product interaction. If you want to create an app for blind, in that case, you must know screen reading tools are a must in your application. Make sure to hire the best react native app development company that can offer you the app that utilizes these tools to execute basic functions.
4.    Add Alt-text for images.
Another exciting feature you must include in your app is adding alt text for images. Images are incorporated in apps for the blind to make text material more readable. You must use this feature. Instead of describing what is depicted in the material, a visually impaired user who uses a voice search tool hears the word "Image." App developers must add this in-app and offer photos to visuals. The user experience for blind users is improved and added value when there is a suitable description for the image.
5.    Sound Code
The use of sounds is another feature that is very important to add to an app for blind people. When you create app for the blind, make sure to add color-coding to your messaging and user communications. Add different noises for the simplest tasks like switching between options, changing screens, and entering incorrect passwords. It makes visually impaired users feel more informed about the app's operations, which improves their ability to interact with your app. Hire dedicated developers to add these amazing features to your blind app development.
6.    Dark Mode
When it comes to create an app, it is important to address a dark mode in your app. The dark mode can completely impact your user experience. If your app is text-based, laying it out in lighter tones on a dark background rather than the other way around might make it easier for the visually impaired audience to read. Making your software product compatible with mobile developers to access the best UI while maintaining the graphics and icons is important if you create for the company. Make sure to hire the best mobile app development company to get skilled or proficient developers who can offer you these unique functions and features for blind apps.
7.    Illustrative Language
You must know that adding an illustrative Language to your app for blind people is essential. The app's built-in screen readers will help blind people get all the information. It is vital to know that your app must consist of transparent text that explains what you want blind users to accomplish through the app. make sure that you hire developers that make sure that the same information is accessible to them as it is to users with normal vision.
Common Challenges Faced By Visually Impaired Users
Several entrepreneurs think to create apps for blind people but forget what major challenges a blind user face. Below in this section, we have covered some problems that blind consumers face in an application so read carefully.
1.    User Interface
It is the most prominent thing in an application that a user finds difficult. Any app user will first engage with the user interface. Several entrepreneurs who started their app development only focused on the user interface settings for people with normal eyesight. But it is essential to keep in mind and hire a software development company that can offer you both.
You must know many development companies make an effort to include accessibility features, such as options that read options aloud and vibrate in particular ways while performing an activity. But it is also vital to know that very few applications genuinely manage true accessibility by concerning blind people.
Read More: Top 7 Web Development Ideas to Start A Business in Middle East
2.    Implementation
Knowing that implantation is the key to every app development is vital. When an app is inclusive and offers voice input options, visually impaired users may occasionally experience difficulties utilizing the application. It is essential to understand that it will be difficult for the blind user to use the application if it doesn't have any captions/alt text in the code or heading.
It will not be able to return to the voice-over function. In addition, if there is no setup for alt-text, the listener won't understand why the reader has stopped.

3.    Links and Buttons
Many business app development companies forget that an application is filled with several links a user can access through a click. Links and buttons are important to add to the app to interact with the many functions. These factors greatly influence the use of an application.
But it is vital to know due to links and buttons everywhere. Apps won't be very useful to visually impaired persons. Any normal application will be challenging for blind people with such links and buttons. So, whenever you think of creating an app for a blind person, make it quite simple.
Takeaway! 
Hopefully, the blog mentioned above was quite a help for you in understanding how you can create apps for blind people. Taking this project as an initiative will help society and people who cannot do it for themselves due to their disability. You must know that software development for blind people isn't something any developer can do. If you are looking for android app development services to build an app for blind people, in that case, you must contact our experts.
Our dedicated development team will help clear your every doubt related to android app development services and provide you with a successful app for the blind in a few days. So what are you waiting for? Get in touch with us now by dropping requirements.