Are you looking for transport management software development? Then you've stopped on the right path. As we all know, any given corporate world operates in a dynamic, uncertain, confusing, and quickly changing environment. to protect the business environment, several companies are switching to opting for transportation management software.
A Transport Management software development offers flexible, scalable, real-time transportation process management across the whole supply chain in response to the ongoing problem of automating the fundamental transportation processes to make efficient deliveries.
By implementing a TMS, business owners can cut delivery times, lower freight costs, and increase warehouse productivity, which will improve customer happiness and supply chain effectiveness. A supply chain management component focusing on transportation logistics is also referred to as a transportation management system.
TMS makes it possible for an order management system to communicate with a warehouse or a distribution center.
Many logistics businesses started investing in hiring web developers to build TMS software. It is the most incredible software that aids suppliers in maintaining communication with buyers and tracking shipments. Several enterprises believe that it is one of the most popular logistics and trading systems, making the trade agreement successful.
If you're someone looking for a guide to build TMS software in that case, you must know your direction. In this blog, we have penned down some tremendous information, including steps to build TMS software key features, challenges faced by the business without TMS, and last, the cost to build TMS software, so make sure to read this entire blog till the end.
Market Statistics of TMS Software Development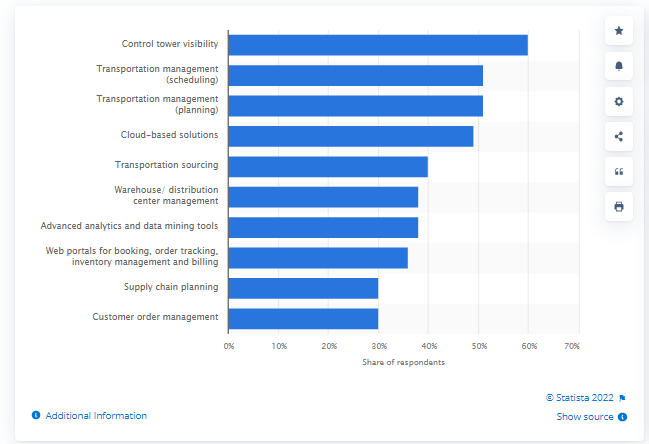 A global survey of logistics and supply chain executives was conducted in July 2021. The study's questions focused on the most crucial IT-based competencies a 3PL provider must possess.
In the poll, 51% of the shippers believed that 3PLs needed transport management system software capabilities for planning.
The transport management system software market was estimated to be worth USD 9.22 billion in 2021 and is anticipated to grow at a CAGR of 14.6% from 2022 to 2030.
>>>Read More : Top 10 Web Design Software in 2022<<<
How To Build TMS Software?
Now you must know how to build TMS software for your business. So, we have mentioned a step-by-step guide to help you build TMS software. Please read carefully to understand it more thoroughly.
1. Competitor And Market Research
Researching the market and the competition is the first stage in creating transportation software. It's essential to understand this initial step when you're about to build TMS software. In this step, you should do a market analysis to get information on the supply of transportation software development. So, here you'll get a satisfactory conclusion after examining the growth and fall in the market for transportation software that it's time to test your idea.
After market research, competition research is a crucial phase. Considering your rivals' growth patterns and marketing tactics is crucial while creating software. By studying your competition's errors and sensible tactics, you can create excellent software.
2. Plan Your Business
Deciding on the plan is the second step in building TMS software. Now it's time to choose the objective for your business. If you are wondering why then you must know understanding objectives is crucial. It is also necessary to realize that developing a business plan necessitates developing a marketing strategy and allocating funds for such efforts. So, in this step, you must clarify your business concept by creating a business model, revenue model, and other components linked to Building transportation management software. However, many organizations employ software development firms to get the best guidance possible at each stage.
3. Hire Development Company
The third but most important step in the guide to build TMS software is to look to hire the best web development company for your business. It's time to bring on specialized developers to create transportation software. Hire dedicated developers with years of experience but if you want software for your company with better capabilities. However, you must know that selecting the best mobile development company is crucial if you want to create a masterpiece or well-known transportation app. In this step, you should talk to an app development company about your software's concept and wait for a finished transportation software to produce excellent results.
4. Design and Features
In this step, you know that it's pretty beneficial to make your software's UI/UX and feature preferences at this point in the software development process. A business plan should be followed by a list of every characteristic and style you hope to see in your target market. So, your mobile app development business will provide you with a mobile app prototype once they've used every feature and function in your product. Moreover, your software development company must deliver a mobile app prototype as an example during the development stage.
5. Examine and Launch
It's essential to remember that after you Build transportation management software.
it would be best to verify that the team of dedicated developers you hired to put the application through testing. Many companies neglect this step, which they subsequently regret after discovering the application's live flaws. However, it's imperative to consistently verify that the app developers you select are giving you tested products. So, it would help if you determined whether your program for the transportation industry is bug-free after detecting any issues and fixing them. If you carry out all these steps, you will reach the final stage of launching software.
Key Features Of  TMS Software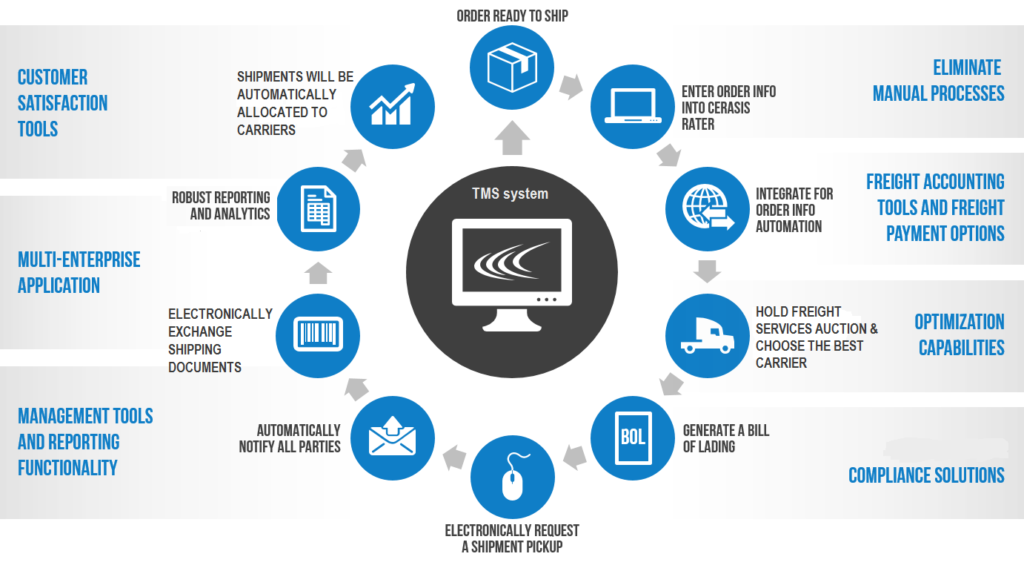 Building a TMS software isn't complete without knowing about the key features that make this software unique out of many. In this section, we have covered the outstanding Key features of the customer and admin panel TMS software, which you must know before starting the development process.
1. Customer Panel
● User Identification
The consumer can access the dashboard of the transportation software system by signing up or logging in using social media accounts and an email address.
●  Schedule Reservations
Customers can use this option to arrange their booking of transport management solutions according to the most convenient time or date.
● Follow Shipments
A consumer can access information related to an order from a company that creates transportation software to view the progress of their order.
● Payment Gateway
Customers will find this option convenient for receiving payments. So for a secure checkout, a consumer can select from various payment choices under this.

● Chat Support
For further information regarding the goods or services they have ordered from the transportation app development company, the customer can get in touch with the admin and driver using this feature.
● Alert Notifications
Users can receive notifications for reservations, cancellations, order dispatch, delivery, and invoices. So, it will be beneficial for both admin and user to notify of activities.
● Reservation Cancellation
Before a good or service is delivered, customers can use this functionality to cancel their booking easily. It will avoid misleading bookings for other customers.
● Feedback
Customers can provide feedback depending on their service and rate the driver or transportation software.
2. Admin Panel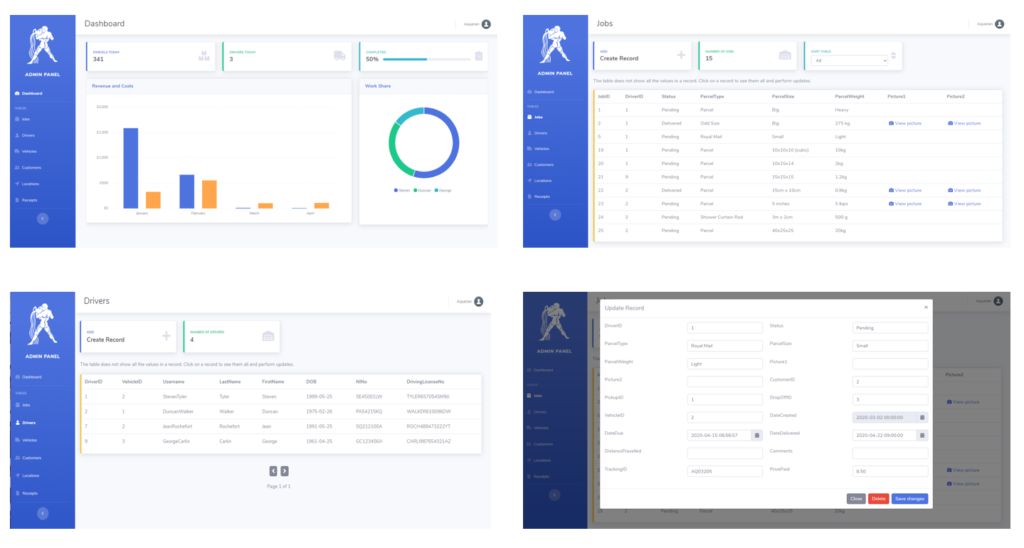 ● Admin Dashboard
Administrators can access all transportation software activity by logging into the dashboard. A program administrator may also manually add or modify their information.
● Telematics and Fleet Management
Admin can efficiently manage resources, gather, analyze, and show information on the whereabouts of vehicles, the performance of their engines, the weather, and driver behavior.
● Traffic Management
Admin can also utilize data technology, acclaim systems, and traffic modeling tools to instantly analyze traffic, spot accidents, and monitor real-time movements.
● Asset Control
The transportation management software has IoT devices, GPS, RFID, and QR codes to keep track of company assets. These systems keep exact track of the valuable inventory and monitor it.
● Control Requests
Requests for package pickup, delivery, or carriage can be viewed and approved or rejected by an admin. It will avoid misleading or acceptable rejected suggestions.
Read More: Benefits of Construction Management Software Development for Businesses
● GPS Route Monitoring
The admin can track the driver's whereabouts and determine their route to their destination, thanks to GPS route monitoring.
● Payments
The administrator can quickly handle client card or COD payments and check payment histories to keep track of any payment method a user selects to use within the app.
Challenges Of Faced By Business Helped By TMS Software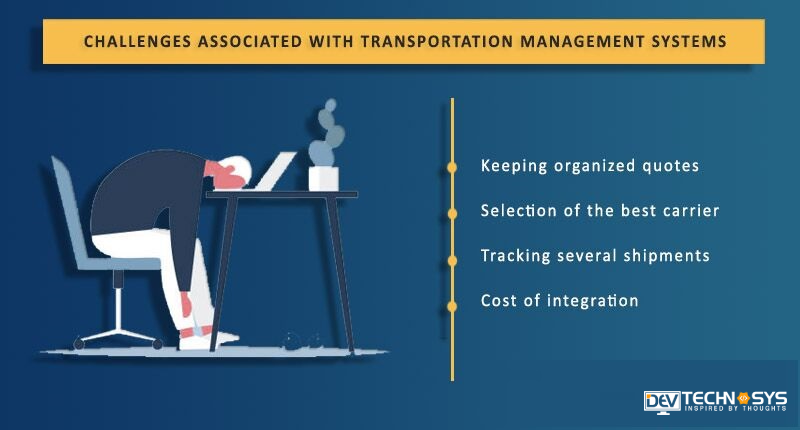 It is vital to know that businesses face several challenges when they do not have an ideal choice to build TMS software. However, in this section, we have mentioned quite a few challenges faced by businesses involving transportation.
1. Digitalization
It is vital to know that many transportation-related businesses still use old logs, records, and documents. It is a problem, as the governmental digital standards are increasing the pressure on transportation companies, who are still reliant on outdated technology. So, TMS software is simple and approachable enough to help firms upgrade from antiquated tracking practices.
2. High Cost of Maintenance
The cost of maintaining resources is among the highest in transport management system software development. But it is vital to know that maintenance expenditures decrease the total profit made by the transportation sector. Transportation management software is very profitable to help businesses get beyond financial constraints and generates economic transportation services.
3. Global Rivalry
With the surge in demand for transport management system software development, it is challenging to defeat competitors on a global scale. So, several businesses want to develop cutting-edge transportation software to assist in growing and differentiating themselves from the global competition. The consumer base contributing to competitiveness will naturally grow thanks to the transportation industry's software.
4. Customer Contentment
It is crucial to know that consumers' preferences vary as technology develops. Customers are fortunately more informed than ever on transportation and relevant technology. But it suggests that expectations have increased, particularly openness and communication. Many businesses have obtained TMS software to give customers the maximum value.
5. Revenue Generation
As we all know, creating high income and ROI in the transportation sector is a constant challenge due to complicated route planning, driver behavior, and an increase in fuel supply networks. But with the help of Transportation Management Software, several businesses utilize special features and user interfaces to make it easier for a business to predict an increase in revenue and profit in a shorter amount of time.
How Much Does It Cost To Build TMS Software?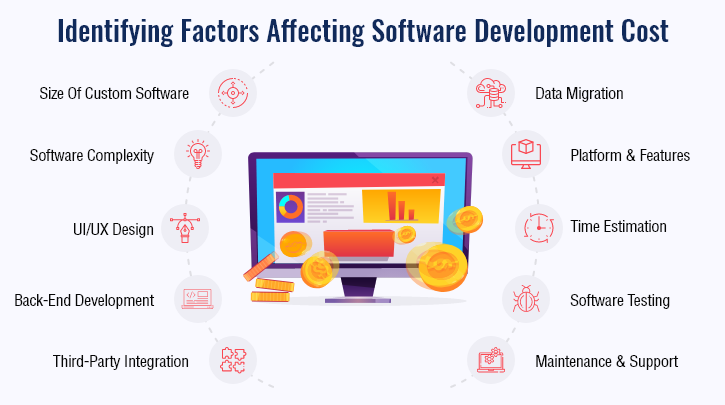 It's the most crucial part when it comes to building TMS software. The cost analysis is one of the most crucial factors influencing the decision to build a TMS. Several companies want to build TMS software but cannot get it because they think it might cost them way too much.
However, we have everything mentioned above that can be used for you in building TMS software, so adding a section to cost analysis is also essential. In this section, we'll be discussing the Transport Management Development Cost for your business.
Read More :  What Is The Cost To Develop A Software?
The Transport Management Development Cost will be around $ 200-300K, but the cost may vary depending on the other factors. But it is vital to understand that the development cost can vary depending on the number of features and the complexity of features you add to your transportation management software. Here's the list of factors influencing the cost of developing transportation management software.
1. Development Team
When building TMS software, hiring the best software development company is crucial. Development team skills and expertise will help you launch the best TMS software. But it is also critical to understand that hiring the best developer can sometimes be expensive, which leads to a higher Transport Management software development cost in some cases. Depending on the project's needs, each app creation has a particular Transport Management software development cost and employment methodology.
2. Features And Time
As we all know, Transportation Management software has a surfeit of features. All of these functionalities do not have to be integrated. However, it is essential to understand that you must plan ahead of time and incorporate features that set your app apart from similar softwares. It is essential to know that the development of each feature requires a varying amount of time, and the cost varies proportionately.
3. Platform And Technologies
You heard right! Platform. The TMS Development cost depends on the choice of platform you make. If you are developing a TMS on android, it might be cheaper than developing an app on iOS. It is also essential to know that the number of technologies you use affects TMS Development cost.

In a Nutshell!
Hopefully, you liked this blog, and now you know how to build TMS software with mentioned above features and cost analysis. Our blog has also offered some crucial challenges of TMS software that you should learn about when you're considering the development of TMS software. So, now the time has come when you must know that TMS software development isn't easy.
It requires a unique skill set and experienced developers to design. It is vital to acknowledge that only the best mobile app development company in Dubai can design the fascinating TMS software for you. So what's next, then? In Conlusion come forward and get in touch with our design team so they can help you make your dream of TMS software a reality. Our design team has specialized in software development for years and has delivered numerous software to satisfied clients. Drop your requirements now!