Are you looking to develop healthcare software in 2023?
Then you have reached the appropriate place. We will be discussing how you can build healthcare software with ease.
Healthcare software development has evolved too quickly to take on a crucial role in the healthcare sector now that the information revolution has already impacted this sector. It is renowned for making medical operations easier and improving patient satisfaction.
It makes sense that various healthcare software development firms are emerging, and the market is becoming increasingly competitive.
You must contribute something distinctive and different from everyone if you are aiming to catch up to the competition.
The software can simplify tasks like estimates of physician bills and statistical results. It will benefit significantly if the healthcare sector uses the main components of specialized software.
We have never had a resource as valuable as our wellness; other initiatives rely on it. As a result, even more, funds will be used to raise and increase the living level.
Thus, developing healthcare software contributes to the dissolution of the traditional doctor-patient relationship. Are you also the one who wants to build healthcare software in 2023?
Then this blog is for you. Here, we will discuss how to build healthcare software and the significant features needed for the software. 
 Let's get started. 
What is Healthcare Software?
Any software created to serve the healthcare sector is considered healthcare software. As a result, it includes medical remedies.
A more explicit description would distinguish this software from Healthcare UAE, where the former is related to patient safety and satisfaction, while the latter is to diagnostic and therapy efficiency.
These software solutions enhance patient satisfaction by streamlining interaction between hospitals, patients, drug stores, and other health professionals, capturing patient record storage, scheduling appointments, ordering medication, etc.
Market Stats of Healthcare Software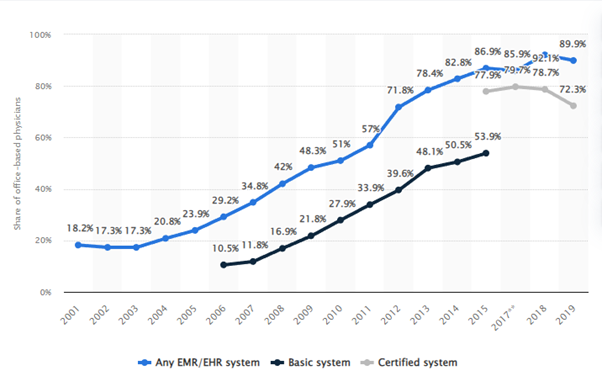 Here are the current market stats of healthcare software that are essential to know to build healthcare software. Let's have a look at them. 
With an estimated worth of far more than 32.9 billion dollars, UnitedHealthcare was named first one of the most lucrative healthcare franchises in the market.

At a CAGR of 4.9%, the market for medical services is projected to reach $9,014.06 billion in 2026.

In 2022, it is anticipated that the Health Care section's turnover will be US$52.76 billion.

The United Arab Emirates (UAE) spent 12.8 billion dollars on healthcare in 2017.

By 2027, the market volume is predicted to reach US$94.19 billion, with revenue forecast to expand at a 12.29% annual rate (CAGR 2022-2027).

By 2027, there will likely be 1,567.3 million users in the medical insurance segment. 
Steps to Build Healthcare Software in 2023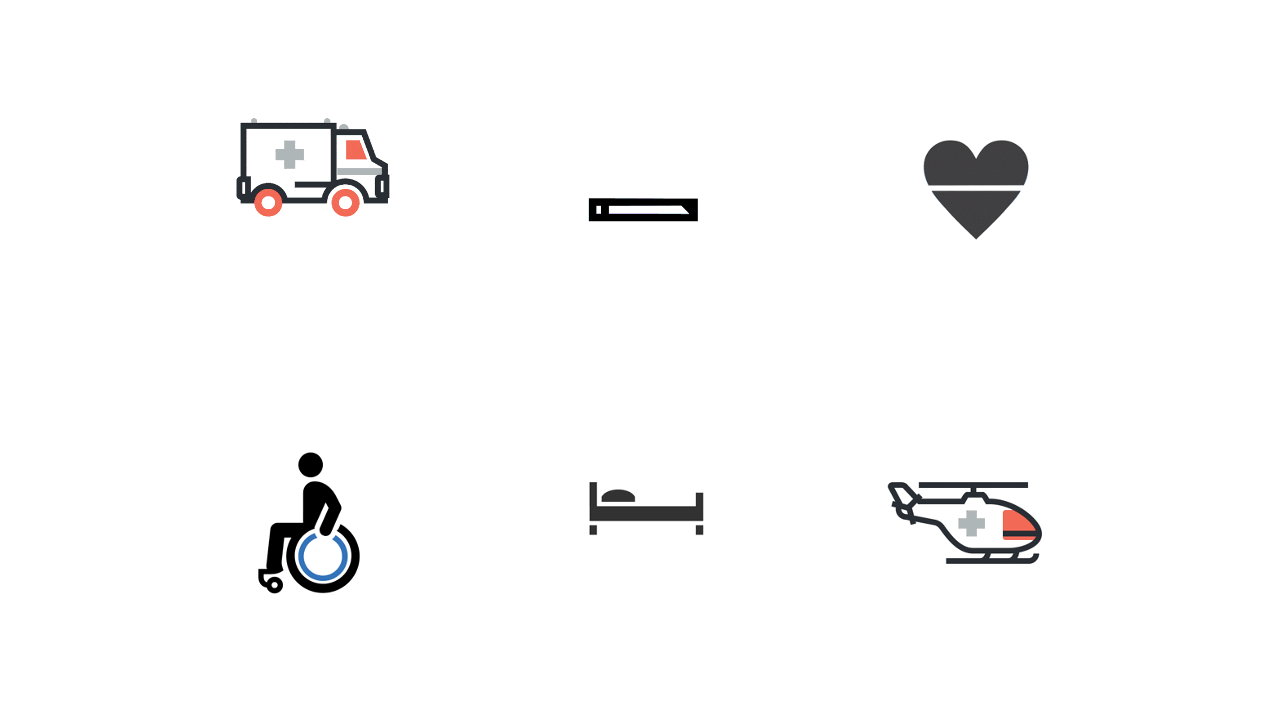 Now that you know the market stats of healthcare software, it is time to understand the steps to build healthcare software. 
1. Identify Your Target Audience
The first step to build healthcare software is to identify your target audience. Deciding who your target audience can be is essential in any development process.
Before healthcare software development, you must conduct extensive market research to know the requirements of both medical specialists and patients. Also, you must know who your competitors are, and how you can make your software different from them.
2. Decide on the Functional Structure
The next step to build healthcare software is to decide on a functional structure. 
Software functionality is always reflected in the structure of the program. You can see the design of your software as soon as you identify the functions it will carry out. Choose which modules and submodules to build and how to integrate them. 
3. Design User-Friendly UI/UX
The next step to build healthcare software is designing user-friendly UI/UX. Hire a Dedicated Developer and designers to work together to establish a UI and generate a UX based on customer standards to deliver a standardized and easy solution. 
It would be best to adequately examine factors like typefaces, icon sizes, text orientation, image selection, and color combinations. Designing wireframes that show each display's fundamental operation and content organization.

4. Provide Data Protection
The next step to build healthcare software is to provide data protection to the users. There are significant concerns about highly confidential data leakage and cyberattacks associated with the collection of medical information using healthcare technology and its storage and management.
Giving security assurance will allow you to have significant emphasis.  Any kind of healthcare software should follow the laws and regulations set forth in the state or region in which it is designed and put into use.
you can achieve personal information security by using various strategies and encryption mechanisms.
Hire app developers in Dubai that can build healthcare software with next-level data protection level.  
5. Integrate with Other Systems
The last step to build healthcare software is integrating it with other systems. Connectivity with the traditional process is crucial since many records or operations must be maintained and transferred into the new system without interruption. 
Managing the integration process is problematic because, on the one hand, solutions must be compliant with other networks, and, on the other side.
The movement must be carried out without causing any disruptions or unscheduled downtime for users. Consequently, it's crucial to incorporate integration techniques from the start of your planning process.
Essential Features of Healthcare Software 
Now that you know the steps to build healthcare software, it is time to know about the features that are essential to building healthcare software.
To add these features to your robust software, you must hire on demand app developers. Let's see each of them in detail.  
#1. Sign Up
You must incorporate social media features into the healthcare software to provide speedy sign-in on the platform.  Users can activate the rapid social media sign-in feature to utilize it each time they attempt to enter into their specific healthcare software. By doing this, it is simple to log in using the current login information.
#2. Tracking 
Any healthcare software must have a function that allows for the surveillance of patients' health status and conditions as its primary concern.
Pulse rate, heart, blood glucose levels, blood pressure, and calorie consumption all need to be easily traceable by healthcare software. Software that has such a dynamic feature boosts the user experience.
Major Reasons to Invest in Healthcare Mobile App Development
#3. Appointments and Scheduling 
Schedules and reminders are essential to provide adequate critically ill patients with a hassle-free healthcare facility and treatment.
Using such software, customers may set alarms for hassle-free doctor's visits, alerts for taking their medications, getting sufficient sleep and workout, drinking enough water each day, and various other activities.
#4. Doctors Catalogue 
Both medical care providers and patients should value a doctor's catalog as a useful tool. It improves the probability that the patient and the specialist doctor's healthcare procedures will be accurately matched.
Numerous custom app development companies are proficient in hybrid app development in UAE. By reviewing the portfolio, the catalog is a critical component of healthcare software that aids patients in finding doctors with the appropriate specialties.
#5. Patients Dashboard 
The dashboard is a significant instrument for a specific doctor to organize and take rapid action toward providing the most effective therapy.
Knowing that this feature is mandatory to build healthcare software is vital. It thoroughly analyses the patient data and medical history needed for an accurate diagnosis.
This attribute will draw attention to all the specifics and sort each patient as per specific health issues.
#6. Physical Information 
The patient must be able to identify their specialist by applying various filters and criteria. It is an essential feature to build healthcare software.
This feature is crucial, and you can take help from Healthcare software companies in UAE that can add this feature to your software.
Patients often consider a few things, such as the specialist's expertise, charges, specialization, accessibility, sexuality, and region, before paying for the consultation; examining a specific doctor's background becomes straightforward.
Advanced Technologies That Can Make Healthcare Apps More Interactive
#7. Payment portal 
A key feature is an ability to pay medical bills using healthcare software. The ability to pay for prescription medications and medical consultations at any time online is an attribute that will be helpful to patients. To build healthcare software, it is essential to add this feature in it. 
#8. E-prescription 
The doctor can quickly access a list of prescribed medications with E-Prescriptions. It will simplify the work so it is a must-have feature to build healthcare software. The software makes recommendations for prescribed dosages according to the patient's requirements.
Final Thoughts 
Technology has made several changes in the healthcare industry, and those changes have given immense benefits to people.
Advancements are driving the evolution of healthcare in digital innovations and healthcare software development. The Health Sector uses software for a variety of purposes.
First, it can assist medical professionals and administrative employees in scheduling and diagnosing patients. Additionally, it enables the exchange of medical data with other health personnel. 
So, it is the correct time to invest in healthcare software development because of the increasing demand for intuitive, user-friendly, safeguard software solutions.
Thus, we have provided you with the necessary details of healthcare software development. Including essential attributes, current market stats, and the most significant development steps.
Now is the time to build healthcare software with assistance from an experienced and proficient Healthcare Software Development Company.