On-demand delivery app development is gaining immense popularity these days, and as a result, delivery apps like Rappi, Uber, and Airbnb are in high demand. The increased popularity of such applications has pushed most businesses to think about developing a Rappi clone app.
Rappi offers one of the best on-demand delivery app solutions and holds a market value of around 300 million US dollars. Although popular on-demand delivery solutions like Uber and Amazon top the list, apps like Rappi are inspiring entrepreneurs to bring new and unique on-demand delivery solutions to the market.
In all of this, on-demand app development companies are assisting businesses to create a Rappi clone app and earn more profit and success. So, if you are the one planning to build an on-demand delivery app like Rappi clone, this blog is for you. It acts as a complete guide to developing a successful on-demand delivery app.
What Is On-demand Delivery App Like Rappi Clone?
Rappi is a popular on-demand hyperlocal delivery management software that allows customers to avail different types of delivery services, including medicines, food, electronics, groceries, and more.
Nowadays, the Rappi app is also working on bike rental services and bank-related services, such as paying bills and transferring money. So, businesses planning for the Rappi clone app can hire dedicated developers and get a perfect business app in hand.
Today, users tend to keep multiple applications on their smartphones to fulfil their daily needs and provide on-demand delivery services. So, if you want to build on-demand delivery app that outshines others, it is advisable to come up with something out-of-the-box. You must know that the total market value of such applications is around 70 billion US dollars, so think accordingly.
Why Is Rappi Clone App Gaining Popularity?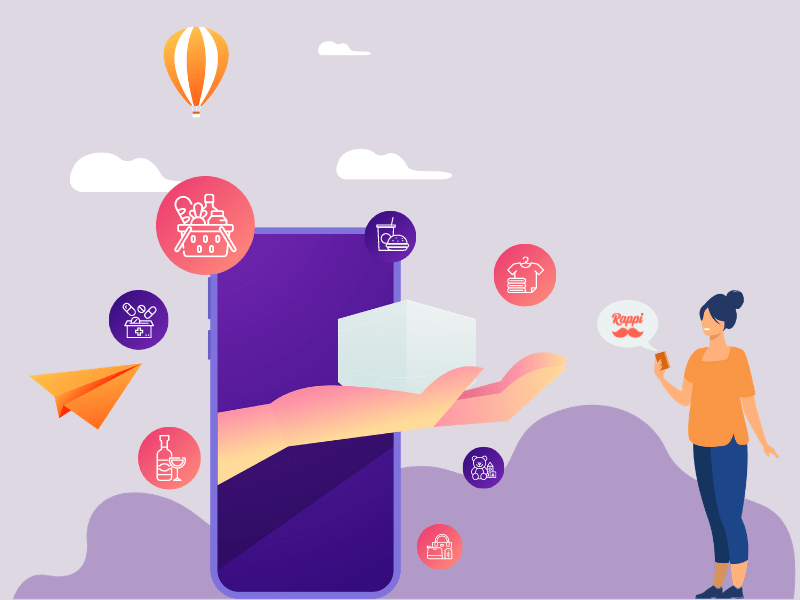 Quality service and one-stop solutions are the major reasons behind the Rappi clone app's success in this competitive market. The main goal of the Rappi clone application is to provide an enhanced quality of service to its customers.
Businesses that want to offer the best on-demand delivery services to their customers with a well-developed application can consult the best grocery delivery app development service providers. Also, if you are wondering why to develop an app like Rappi clone, you must be well-versed with the reasons behind its popularity.
New Service Experiments
To stay at the top of the list, e-commerce developers applied new services in the Rappi clone apps. Undoubtedly, implementations of the new services take lots of risk and effort simultaneously, but success can be achieved with the right expertise. Rappi clone apps are more focused on providing a better quality of service to the users.
If you want to offer your customers the best on-demand delivery services, keep trying new service experiments. It will help you gain an upper edge over your competitors.
Region-wise Users Targeting
Customers' needs and requirements vary from one region to the other. So, Rappi being a hyperlocal delivery application targets users region-wise. So, when you develop a Rappi clone app, make sure it should be diversified enough to fulfill the needs of various regional users. Hiring e-commerce developers will be advantageous for you in this situation.
Read More: Time and Cost for the Development of Food Delivery App Such as Talabat for Dubai
Better Communication
Maintaining better communication can make your Rappi clone script app service more reliable to your customers. The user growth of any on-demand delivery application is based on feedback and review of its services.
And as an owner, it is only possible through effective communication with your customers. So, Rappi helps provide better service to customers in the future and simultaneously increase the business's market value.
Improved Customer Data Analysis 
Rappi clone applications give extra attention to their customer reviews and feedback. It is because the app help businesses determine users' needs, and they will be able to figure out the flaws in their services simultaneously. Also, hiring on-demand food delivery app experts can help rectify such flaws more efficiently.
Exclusive Offers
To increase the user base and the quantity of the orders, the Rappi clone script provides exciting offers & discounts to its users. Also, the Rappi app introduces unique rewarding systems to its loyal customers.
With the help of this, the users can collect reward points on every purchase through the applications. Those points can be further used as discounts for their future orders via the Rappi app. Hiring the best android app development company available in the market can help you implement all these factors effectively into your Rappi clone application.
Read More: Some Essential Tips to Hire On-demand App Developers In Dubai
These are some reasons that clearly signifies why Rappi clone app is gaining immense popularity in today's time. Now, that you know the reasons, you can think of developing an on-demand delivery app clone. To aware you about the steps to develop a Rappi clone app, we have mentioned the step-by-step process below.
How to Build An On-demand Delivery App Like Rappi Clone?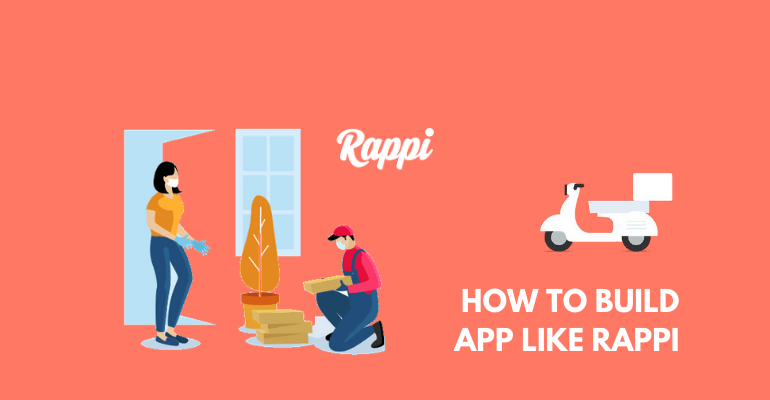 The process of Rappi clone app development consists of four different stages. Many businesses fail to develop a successful on-demand delivery app as they aren't aware of those strategies. So, here the eCommerce app development services experts have highlighted the best ways to develop a business application.
Following these steps will help you create a robust, dynamic, and responsive solution for competing in the market. Here is the detailed information to develop a Rappi clone application for your business.
Find the Perfect Business & Revenue Model
Your unique business app idea is useless if you don't have a proper business and revenue model in hand. Creating an effective business model is mandatory for the development process.
The business model should be created based on the number of services and the type of service you are thinking to provide.
Usually, users prefer a diversified on-demand delivery app with a responsive user interface.
Use the cost-effective framework solution so that the users don't have to compromise on the performance of the applications.
If you plan to offer food, medicine, and daily grocery delivery services, tie up with restaurants, grocery stores, and medicine shops. Also, offer multiple payment options while developing an app.
A dependable revenue model will help you earn better profits from your applications like Rappi clone.
Hiring professional mobile app development company professionals can help you create an effective business and a revenue model adhering to your requirements.

Conduct SWOT Market Analysis
Before investing in mobile app development, it is essential to conduct a thorough SWOT analysis of the market conditions. That means analyzing different application factors such as strengths, opportunities, threats, and weaknesses before working on the Rappi clone script. Here are some ideal factors for developing a Rappi clone app.
Strength
As your application will be developed using 'on-demand delivery services, you can promote it on various social media sites and reach a scalable audience.
The users will be able to use your Rappi clone app free of cost.
You can provide various advanced features like the live location status of the delivery executives.
Weakness
Finding out the technical difficulties users face while developing a Rappi clone application.
You might have to figure out various measures for preventing scams.
Maintaining a secure environment for ensuring the safety of the user data can be very hard.
Opportunities
Include as many types of delivery services you want to provide to your users.
You can track the customer's behaviour to recommend more.
Exciting offers depend on the likes and dislikes of the customers.
Enlist your products to analyze the upcoming opportunities.
Threats
As you start the market as a new business, it may take time to compete with your already established competitors.
It may be even harder to gather that kind of user base.
After all the market research is done, now is the time to enlist the products you want to sell and make them publicly available. At first, people may hesitate to choose your service for fulfilling their needs, but you don't have to worry, as Rappi clone apps have their separate user base.
You can also show various Q&A information so that the users can get a clear understanding of your business. It might be tough to compete with the existing on-demand delivery applications, but hiring the best website development services can help you implement features that can make your app unique in the market.
Decide the Right Features & Functionalities
Nowadays, there are ample on-demand delivery applications available in the market, features and functionalities are the only thing that makes an app stand out. So, making a feature-packed, stable Rappi clone application is the key to success in this market.
Read More: Why Choose UAE for On-demand App Development in the World?
Here are some of the must-have features that you shouldn't miss including while creating an app like Rappi clone –
Management system for your delivery fleet
Warehouse and inventory management
GPS tracking ability
Data analytics
User feedback and review option
Personalization of user profile
Free delivery facility on purchases
One day delivery option
Assured cashback offers
Routing optimization

Include the Right Tech Stack
To integrate the best features during on-demand delivery app development, you will require the right set of tech stacks. Every tech stack you choose will affect the cost to develop Rappi clone, so choose wisely.
Languages – Java, swift, PHP
Frameworks – Ruby on Rails, Flutter, React Native
Payment – Paypal, Google wallet, Square
Cloud – AWS, MS Azure, Google Cloud
Push notifications – Twilio, MAP, flink
Email Marketing – MailChimp, Mailgun, Zoho
Other tools – Google Fit SDK, Google Tag Manager
These are some of the things that businesses should consider when they build on-demand delivery app. The same is applicable when you develop an app for iOS platform. You can also hire iOS developers for the same. Different platforms have different costs associated with them.
What Is the Cost of Developing A Rappi Clone App?
The cost of developing a Rappi clone application depends on the features and the e-commerce website development or app development services providers you've hired. The developers usually charge around $20 to $100, depending on their capabilities.
So, an MVP of a Rappi clone app can cost you around $10,000 to $20,000. But if you want to custom-build every application feature, the cost can reach from $50,000 to $100,000. To get the final cost estimation of on-demand delivery applications, you need to hire dedicated developers share your business requirements, and the experts will help you with the same.
| | | |
| --- | --- | --- |
| Platform | Estimate Cost | Time |
| Android | $40,000 to $60,000 | 2-3 months |
| iOS | $60,000 to $150,000 | 2-3 months |
Conclusion!
The Rappi clone apps have the highest-growing user base in the market. So, now is the right time to step into on-demand delivery app clone development. If you have a unique idea for Rappi clone apps, executing that idea by hiring the best app development company can ensure your success. So, get in touch with the best mobile & web development company and let the experts help you with delivery app development.