As we all know, the growth of the beauty and hair salon industry has increased surprisingly. Grooming and beauty wellness are initial requirements of numerous people across the world. Maintaining the look or looking best every day offers peace of happiness to everyone.
Several people want to maintain their look for a social media appearance, which leads them to visit the salon. However, Covid-19 has hit us differently, due to which lots of people faced challenges in pursuing their day-to-day activities for their health and wellness in one of was grooming and beauty services.
However, many beauty salons switched their business online to on-demand beauty app services. On-demand beauty service app development helped many salon services save their business and get immense profit in 2020- 2022. The development of on-demand beauty has not only become popular among business owners, but it has always left a positive impact on several women.
During covid, this beauty service app has become the go-to application for many people. Getting any time anywhere beauty services are easier and cost-effective, which makes people love fond of these applications.
Moreover, the expected growth in on-demand beauty service app development is increasing rapidly, making many individuals begin their startups in this industry. Suppose you are one of the people who want to develop another viral on-demand app development worldwide in the beauty industry. In that case, you must read this entire blog thoroughly to understand the measures you should know or keep in mind before the development process.
On-Demand Beauty Service App Development Market Share Statistics
We have mentioned some current market statistics of beauty service apps for individuals who want to invest in beauty on-demand app development.
The beauty industry gained more than 5% of its profit worldwide in the past few years.
The skincare industry has expected growth in this market by 12% by the end of 2025, with 55000 in 2014.
The revenue generated from hairdressers and cosmetologists was 656,000 in 2014 and will grow over 10% by 2024.
According to trusted sources, 28% of stylists, cosmetologists, and hairdressers have witnessed expansion in their businesses by developing apps for beauty services at home.
Beauty salons and spas generated a revenue of 472.32 billion AED in 2017. The expected revenue of this industry is 700.86 billion AEDin 2024.
On average, consumers spend 211.57 billion AED on-demand app development companies.
From trusted sources, the on-demand beauty service app development market will surprisingly expect growth of 5784.62 billion AED by the end of 2024, over a CAGR of 49% by 2022.
How To Develop An On-Demand Beauty Service Application?

As we know, an on-demand beauty service app development is something several individuals are looking for. After a deep study, we have covered the step-by-step guide on developing an excellent beauty service app.
Read the following mentioned points steps to understand the guidance on the development process.
1.    Competitor Or Market Research
The first and initial step of developing an on-demand beauty service app is to perform a competitor or market research. Analyzing your competitor's performance by examining their strategies and marketing ideas will help you understand things you can include or remove from applications. At the same time, research about the market will provide a sense of knowledge in this application niche which will help you launch your beauty service app.
Read Also : How to Develop an On-demand Fuel Delivery App?
2.    Make A Plan For On-Demand Beauty Service App
After the market and competitor research, now is time to make a plan to develop an app for booking makeup artists, salons, and beauty services. Your plan will include the budget, purpose, and goal of your application. Planning is important when it comes to launching any mobile application.
3.    Design And Features
Here comes the part when you should determine the features you want to include in your on-demand beauty service app. To provide an example, we have mentioned some top features that many beauty service apps have. Read the below section of features to learn more about what features will be effective for your business expansion. After adding features, it is time to design your application effectively by analyzing the moderate to complex use of UI/UX.
4.    Development Of Application
In this step, it is time to hire a mobile app development company or a dedicated developer to provide you with great work on app development. Hiring the best developer team will offer you the best results in on-demand applications. After hiring the developers, you can discuss the plan of your app, including its features, design, and goal, which will result in the development of the best on-demand beauty service app.
5.    Launch And Maintenance
Till now, your beauty service app development has come to an end. It is time to launch your application on the chosen platform. But it is essential to know that launching the apps comes with advertising and promoting your app on other social platforms. So make sure to advertise your application via social platforms, including tv, instagram, Twitter, Facebook, snapchat, news, and many more.
What Types Of Business Models For On-Demand Beauty Service App Development?
There are two business models for beauty on-demand app development that you can choose according to your business requirements.
1.   Self-Owned Model
It is essential to know that reputed beauty brands design these apps when self-owned on-demand beauty service app development models. Building this application from a well-established brand is to promote their salon and expand their company locally. In addition, the service provider can use these apps to inform clients about their services and improve their company's web profile.
With the help of this app, the owner will receive a straight notification about the booking confirmation. In addition, it will help them manage their staff offline and online to provide effective staff to customers' doorstep for better services.
2.   Aggregator Beauty Service App
Aggregator application puts several salons, makeup artists, beauticians, and hairdressers together. After this step, you'll need to collaborate with local beauty salons and spas for services. Generating the app to find beauty services at home will help customers and offer profit to business owners. The revenue is made by charging fees on each app's transaction from the beauty service providers.
What Are The Features To Add In On-Demand Beauty Service Application?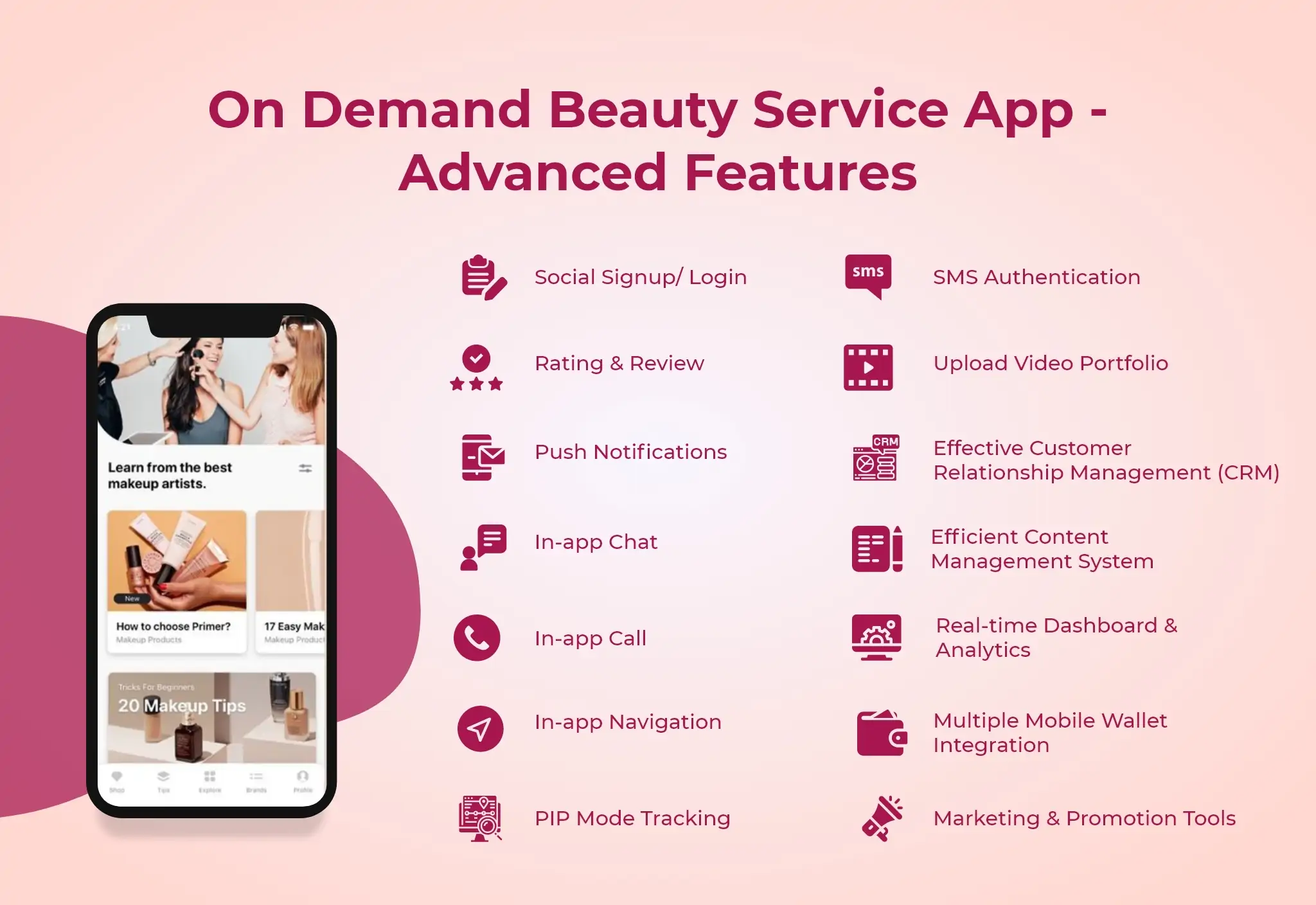 Before releasing your on-demand beauty service app development, you must know the important features you should include. First, however, it is important to know that the app is for three panels.
Customer
Beauty Service Providers
Admin
These three panels have different features that are a must to include in your beauty service application. In this section, we have mentioned one by one features descriptions of all three panels, which will be a help for you in understanding why these features are important.
Read More: An Ultimate Guide to Launch An On-demand App
1.    Customer Panel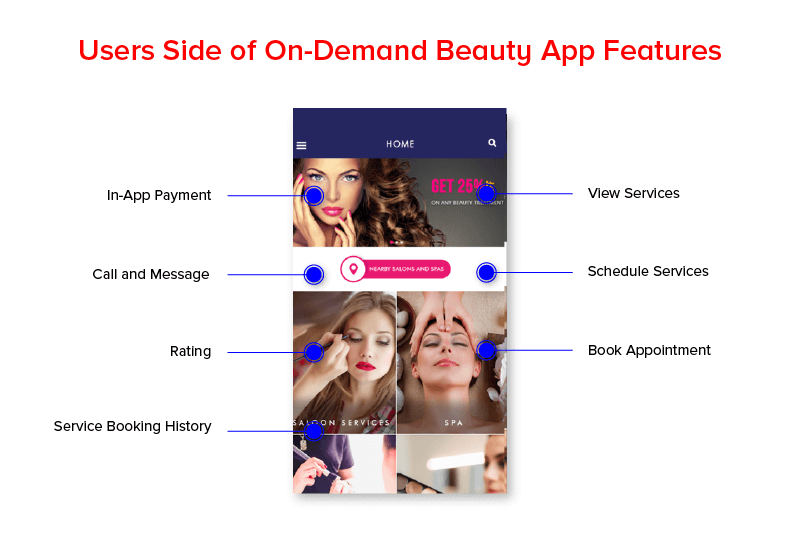 ●     Registration
The initial feature is a must in the user panel where a user can simply sign up or log in via an authorized social media account or their Gmail or contact number.
●     Schedule Appointment
The makeup appointment app has a schedule appointment feature that helps customers decide on the services they want by scheduling appointments.
●     Payments Gateway
A business application needs to provide payment gateways to its clients. For example, your app for booking makeup artists should offer customers different payment options to ensure smooth transactions and convenience. Your app can include authorized and well-known payment alternatives to customers, such as PayPal, Google Pay, or Apple Pay.
●     Cancel/Reschedule
With this feature, customers can quickly cancel or reschedule their appointments according to their beauty services requirements.
●     View the Services Photos
The app to find beauty services will help users visually preview the service they've chosen.
●     Push Notifications
Through this feature, users will get notified of reminders of appointments. In addition, push notifications will keep them informed about any special offers or bargains!
●     View Subscription Package
You should always include this feature in the application to ensure that your consumers can take advantage of offers and discounts while checking out using your app.
●     Live Chat With The Stylist/Beautician
It is important to add live chat support in the application to offer customers smooth communication with the support team or their service provider.
2.    Admin Panel Features
●     Manage User and Beauty Salon
This feature allows the admin to manage/control the dashboard's user and beauty salon panels.
●     Edit Services
In this feature, the admin can manage the services offered by beauty providers to users. The admin can remove, add, or edit products or services from this feature in the application.
●     In-depth Analytics
From this feature, the admin can see through the insights of the makeup appointment app.
●     Report
In this feature, an admin can examine the algorithm that provides an accurate analysis report of performance, overall profit generated, and the number of bookings.
●     Manage Payments
Managing the payment is an important responsibility of an admin. The feature of payment management enables the admin to solve issues related to the payment of users and beauty service providers.
●     App Monetization
Through this feature, the admin can manage the analysis of the in-app purchase, advertisement, content, and promotions.

3.    Beauty Service Providers
●     View Bookings
With the help of this feature, the beauty service providers can see their bookings request in the on-demand beauty service app development.
●     Manage Booking And Calendar
For a business owner, it is an important feature to witness booking. The makeup appointment app will offer beauty providers to manage their booking appointments and organize their calendars with this feature. In addition, it helps manage the booking by notifying them of the same date booking was taken.
●     Accept or Reject User Request
It is a crucial feature for beauty service providers as it allows the owners to reject or accept the request of users depending on the availability of the service.
●     Add The Cost Of Service
Through this feature, the service provider owner can edit the cost of services depending on their profit and loss for a specific service.
●     Payment
Under this feature, the service provider can see the revenue generated by using the customers. it will notify the owner about the pending payment or received payment from the customers
●     Push Notification
The push notification will keep the owner updated about the upcoming booking and cancellation to avoid service delays.
Read More: Trending On-demand Mobile App Development Solutions That Rule In 2022
What Is The Cost Of Developing An On-Demand Beauty Service App?
Many people want to develop an application for beauty services. But before the development, knowing about the cost estimation of development is important. The cost of beauty services app development is determined by various criteria, including the type of features, backend, app complexity level, etc. These elements influence how long it takes to design a beauty service app.
We have mentioned below some factors that affect the development cost of the beauty service mobile app.
1.    App Platform
Before the development, it is essential to choose which platform you want your application to launch as Android app development is cheaper than iPhone app development.
However, if you want cross-platform app development to launch your app, it is crucial to know that the development cost will increase due to a boost in time, effort, and money.
2.    Complexity Of The Design
Suppose you want a one-of-a-kind design that catches people's attention right away. In that case, you must know that it will increase the cost of app development. The cost will increase by adding unique UI/UX in your application to get effective user engagement.
3.    Location
It is essential to know that the location of the development company has a direct impact on the overall cost. Most clients consider UAE to be the most cost-effective location for outsourcing mobile app development. The reason behind this is the lower cost. It is essential to know that the android app development company charges from 73.46 AED to 257.12 AED per hour. Therefore, it is the most cost-effective price to develop a mobile app.
It is essential to know that developing a beauty service app with basic features will cost you anywhere from 55096.50 AED to 66115.80 AED. At the same time, the app development with advanced features ranges from 84481.30 AED to 110193.00 AED. But generally, cost estimation is generated after including the cost-affecting factors.

What Team Structure Is Required To Build Unique Beauty Service Applications?
If you want to make your dreams come true, then it is time to start implementing your thoughts into action and hire an effective professional team for your epic creation. These mentioned designations are important to build the best software for beauty services.
Let's dive into it!
Business Analyst Team
Project Management Team
Android or iOS Development
Front End Developer Team
UI/ UX Designer Team
Backend Developers Team
SEO Team
What Are The Tech Stacks Used In On-Demand Applications?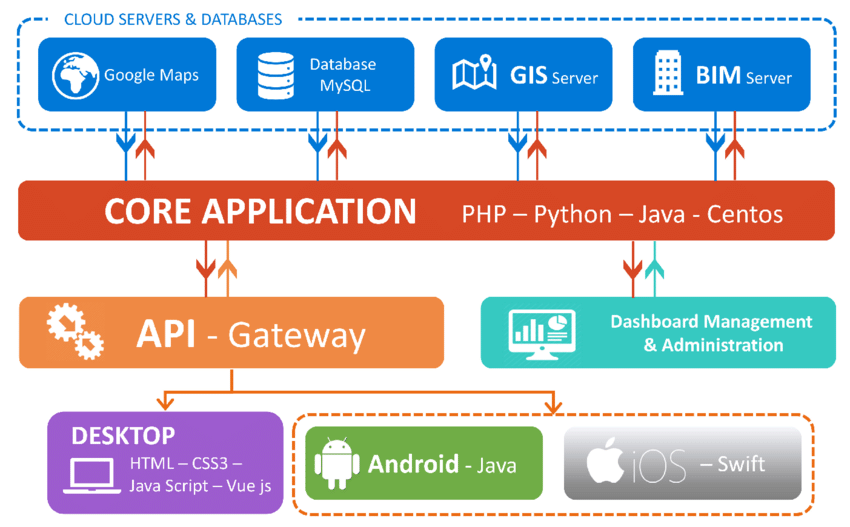 Before developing an on-demand beauty service app development, it is crucial to have a deep piece of knowledge about the technology stack used to develop a beauty service app. Building an application is typically based on the high-quality stack you utilize in the development process. Therefore, choosing the best technology stack for development is essential as it will highly impact your application growth.
Let us give you an enlightened technology stack that you can use in your application development.
| | |
| --- | --- |
|  Functions | Tech Stack |
| Push Notification |   APNS And FCM |
| Cloud Environment |   AWS And Google |
| Payment Gateway |   Stripe And Paypal |
| Real Time Analytics |   Hadoop, IBM, Cisco, Spark |
| Data Management |   Datastax |
| In-app chat |   QuickBlox Chat |
| Voice/Phone Verification/ SMS |    Twilio, Nexmo and Sinch |
| Database |   MongoDB, Cassandra, HBase |
| Programming Mandrill |   GWT |
Launch Your On-Demand App Today!
Hopefully, the information mentioned above was quite helpful for you in understanding how you can develop your on-demand beauty service app development today. But it is also essential to keep in mind that knowing the process isn't enough as it requires a skilled or expert developer or developer team for the implementation. So make sure to hire the best developers for your hybrid app development process.
Investing in the on-demand beauty service app development market is a great choice for boosting your entrepreneurship. These incredible beauty applications will grow with immense profit in the upcoming years.
Get in touch with your excellent or reputed mobile app development company and build your on-demand beauty service app development!