"From planning to completion, construction software keeps projects on track."
In the ever-evolving world of construction, where projects are vast and timelines are tight, having the right tools at your disposal is non-negotiable. Construction management software is the foundation of modern project management. It streamlines operations, enhances communication, and boosts efficiency. Before you jump into the digital world of construction management, let's answer a burning question. How much does construction management software cost?
This blog post will take you on a journey of unraveling the construction management software cost. We will delve into the complexities of factors like the features of the software, the number users, and deployment methods.
However, it doesn't matter if you are a seasoned construction manager, an owner of a company, or a newbie in the field, knowing the financial side is essential for making informed choices.
So let's begin.
What is Construction Management Software?
Construction management software streamlines and optimizes different aspects of construction projects. Construction professionals can use it to plan, budget, schedule and track construction projects.
Software for project management is usually equipped with tools such as document management, communication and resource allocation. It improves collaboration between project stakeholders, increases efficiency, reduces mistakes, and helps deliver construction projects within budget and on time.
Construction management software cost allows contractors, builders and project managers to manage complex and multifaceted construction projects.
Market Stats of Construction Management Software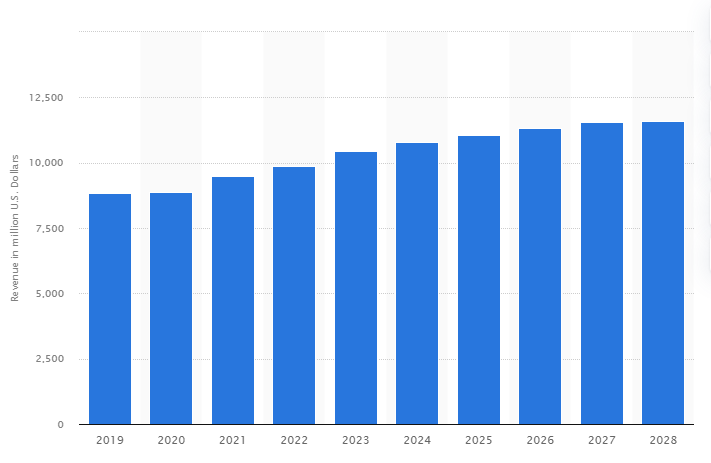 It was predicted that the global revenue of the construction and design segment in the software market would increase continuously between 2023 and 28 by a total of 1,151.7 millions U.S. dollars (+11.02%).
Construction Management Software Market is forecast to grow from USD 8,90 billion in 2018 to USD 13,90 billion by 2028 at a CAGR 9.33% over the forecast period.
The Construction and Design Software Market is expected to generate revenue of US$10.45 billion by 2023.
The market is expected to grow at a rate of 2.11 % per year (CAGR from 2023-2028), resulting in US$11.60bn of revenue by 2028.
In contrast, the majority of the income (5,344.00 million US dollars in 2023) will come from the United States.
Over 50% of the executives in the construction sector who were polled in 2019 said that their companies employed software designed specifically for the construction industry to provide a safe and healthy work environment.
Construction Management Software Cost  
Although construction management software development can be more expensive than the conventional software used by construction firms, the features and benefits of automation that these tools provide can help businesses to save money over time.
It is possible that the point products used by most companies will cost more because more investment may be required due to automation tasks. Construction management software development addresses the most common issues and, with the tools that are included, you can keep your software purchases to a minimum.
Construction management software costs between $10,000 and $25,000, depending on the company size and functionality required. It may seem expensive, but the savings and better bidding that result from using this software can easily make up for it. However, if you want to know the exact cost, then you should consult with a software development company. 
Factors Affecting The Construction Management Software Cost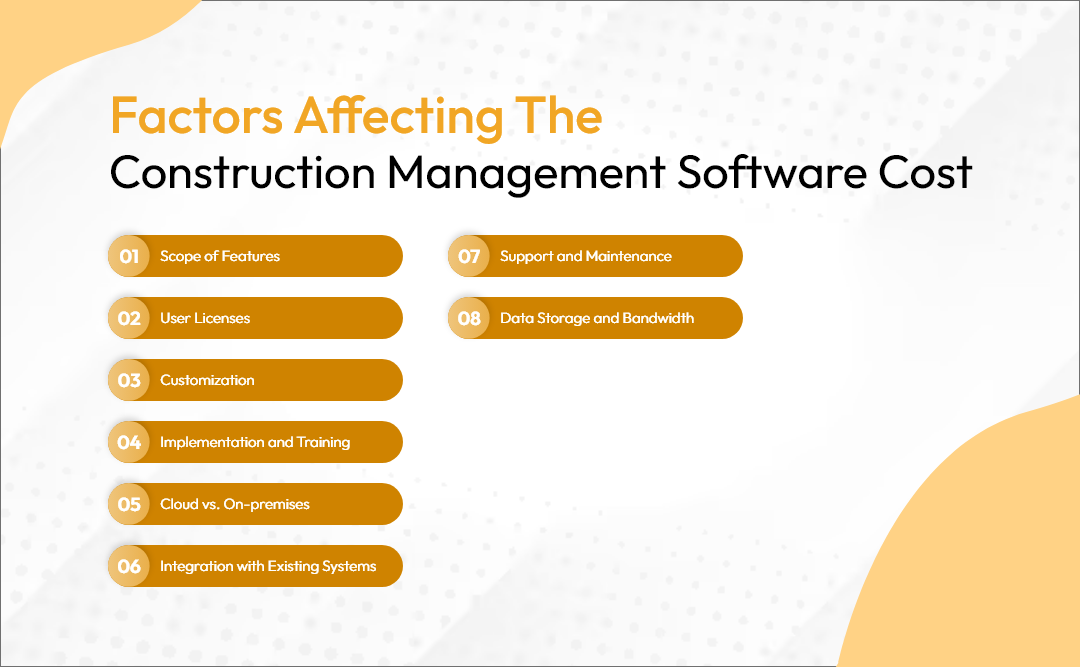 Construction management software has been a vital tool in the industry. It improves communication, streamlines processes and increases project efficiency. The construction management software cost implementation can vary widely depending on a number of factors. This section will examine the factors that determine the cost of software for construction management.
1. Scope of Features:
Construction management software comes in a wide range of features. Basic software may include features such as project scheduling, document management and resource management.
More comprehensive solutions might also include modules like accounting, resource management and reporting. Software packages are more expensive if they have many features.
2. User Licenses:
Construction Management Softwares are usually licensed per user. The higher the cost of licensing, the more users that you will need to accommodate. Software providers may offer tiers of pricing depending on the number of users. Others charge a flat rate regardless of how many users are involved.
3. Customization:
The construction management software cost can increase if you customize the software. Customization can include configuring workflows or creating specialized reports. It may also involve integrating software with your other systems. The cost will depend on the level of customization.
4. Implementation and Training:
Implementing construction Management Software requires expertise and time. You may have to hire IT or consultants to install the software, migrate your data and train your staff. The Construction Management Software Cost for implementation and training will vary depending on how complex the software is and the readiness of your organization.

5. Cloud vs. On-premises:
The construction management software cost of cloud versus on-premises is different. Cloud-based software typically has lower upfront costs because it does not require hardware and offers subscription-based pricing. On-premises solutions, however, may require more initial investment due to the infrastructure and hardware requirements. However, they will have lower subscription fees over time.
6. Integration with Existing Systems:
Costs can be increased if you have to integrate your construction management software into existing systems. Integration often requires additional custom software development and maintenance.
7. Support and Maintenance:
Software companies charge for support and maintenance. This can be as much as a percentage of a software's original cost. You will receive all updates, bug fixes and customer support. The degree of assistance you choose will have an impact on the overall cost of ownership.
8. Data Storage and Bandwidth:
Cloud-based Construction Management Software may incur extra costs for data storage or bandwidth, particularly if your project involves large amounts of data.
Features of Construction Management Software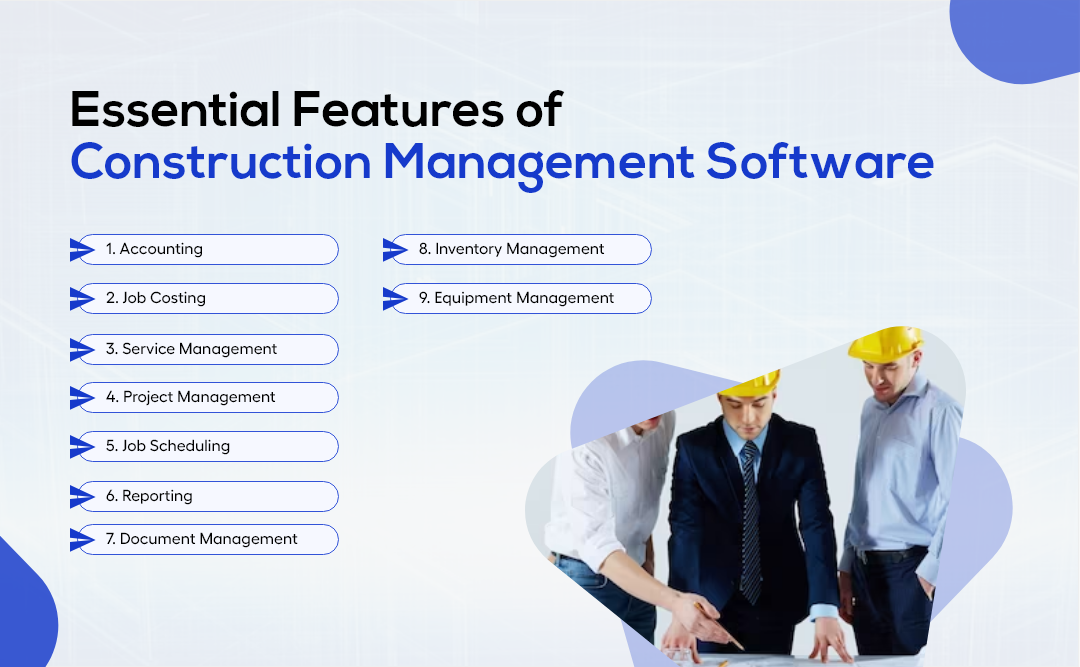 Now that you know the factors that affect the construction management software development cost, we will now discuss the essential features to integrate this software that is given by a web development company.  
1. Accounting:
Since project costs and expenditures need to be closely monitored, project construction software needs to be able to integrate with other accounting tools. Managers may handle numerous projects at once thanks to this functionality.
Automating financial processes such as accounts payable, payroll, and receivables requires additional development effort, which increases the construction management software cost.
2. Job Costing:
The construction management software must have the ability to set standard rates for services provided by the company, define costs and monitor time expenditures. You should hire dedicated developers who can integrate this functionality in the software. The development costs of software may increase to some degree when you integrate this functionality.
3. Service Management:
Ideal construction management software should be able manage and dispatch job orders, create schedules and allocate resources and assets, as well as book jobs. Advanced solutions can assign jobs to technicians who are closest to them, as they have GPS technology. The cost of advanced features such as the assignment of jobs to technicians in the closest area is also increased.
4. Project Management:
This feature automates virtually every aspect of project management in construction. They include resource planning and team collaboration. Project progress tracking is also included. The automation of resource management for a variety of projects, as well as project schedule updates, is achieved.
5. Job Scheduling:
This feature helps with task scheduling, equipment allocation or worker distribution across multiple projects. It should also be capable of balancing workloads and rebalancing them immediately when necessary.
A system of this type should be able to address the allocation of manpower and resources, as well as the planning and laying out of project timelines. The complexity of a feature can increase development costs.
6. Reporting:
Construction software should give managers the ability to control project data. Project analytics reports can also be used to improve decision-making, and create data reports. This transport management software development generates precise, in-the-moment data reports that may be imported into external programs.
They help managers evaluate project status and identify risks. The construction management software cost can be increased by real-time data reporting, export functionality and other features.

7. Document Management:
Construction management software's ability to manage relevant documents is a key feature. These software construction management  programs allow companies to generate workflow data reports on a single platform. This greatly increases productivity, workflows, and security of information. It ought to be combined with other technologies for increasing productivity.
8. Inventory Management:
Inventory Management capability eliminates write offs, performs quick inventories, finds lost inventory quickly, and monitors assets on site. It also assists project managers with resource and equipment allocation. Logistics Software Development requires sophisticated inventory control software. Costs can be increased by this.
9. Equipment Management:
This feature of management software for construction allows managers to allocate equipment to projects, as well as record maintenance requirements and identify what equipment can be deployed. Advanced features are required to manage equipment allocation, schedules, and maintenance. This can increase the development cost.
Top 5 Examples of Construction Management Software
Here are a few construction management software you should use if you're ready to operate a more effective and lucrative firm. Let's have a look at them:
1. Buildertrends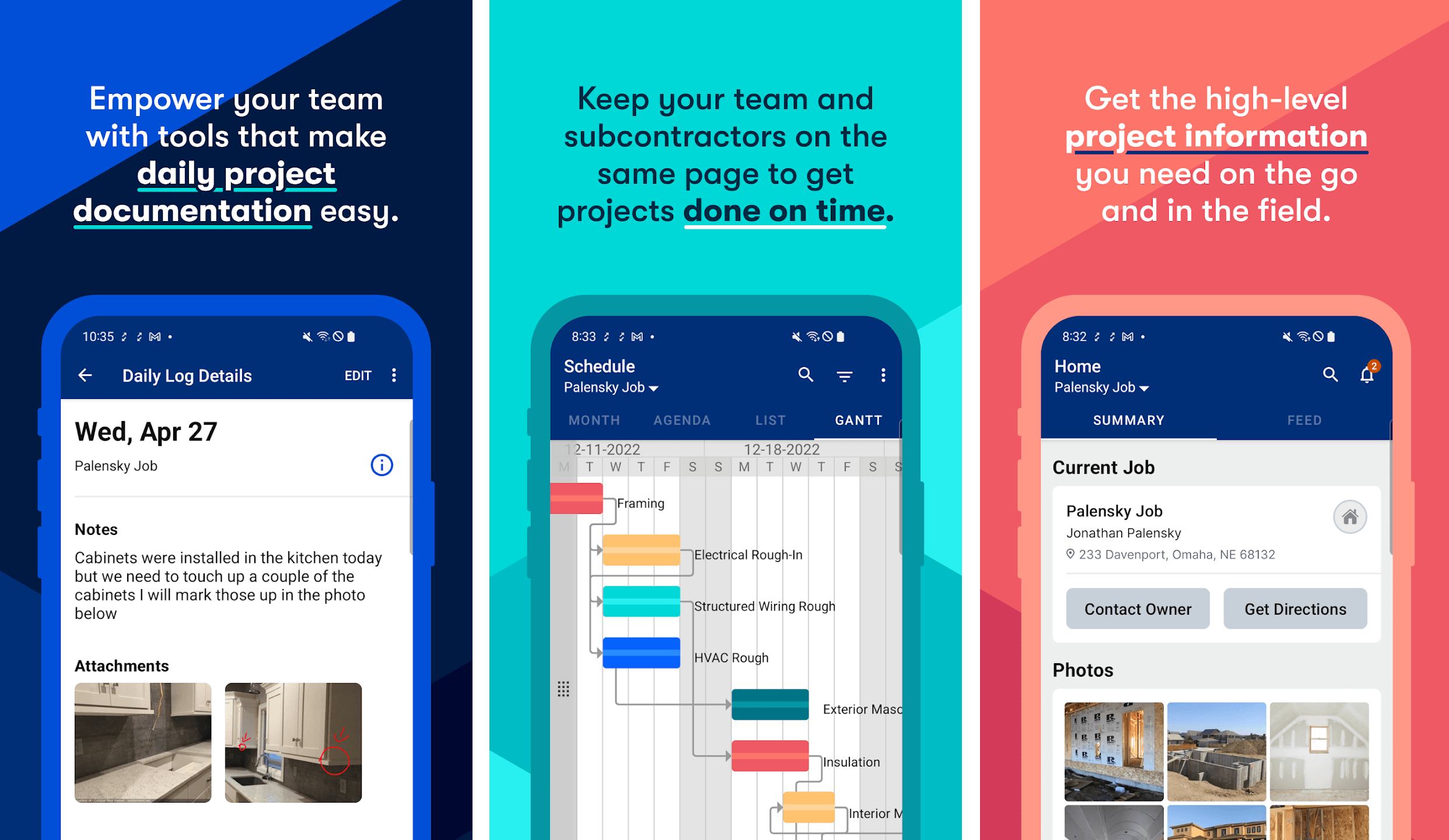 Buildertrend has been a favorite in the construction industry for many years, particularly since it acquired CoConstruct 2021. The platform offers a wide range of features that suit construction enterprises and larger businesses, including client-experience-driven features like proposals, allowances, and selections. Buildertrend's site offers a number of features that are categorized by these roles.
2. Procore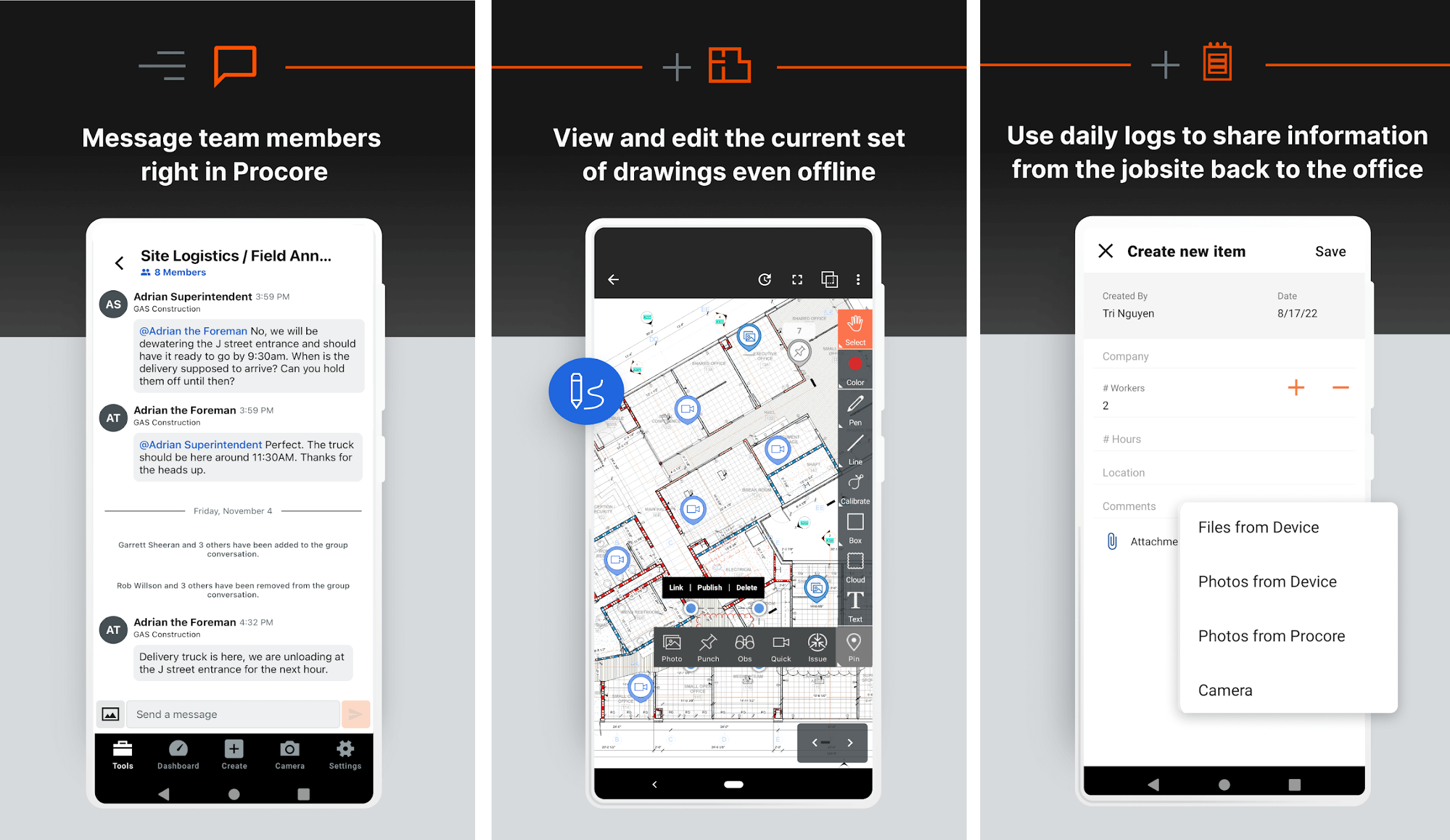 Construction management software, Procore, was created for owners, general contractors, public agencies and subcontractors. It connects offices and worksites for real-time communication and visibility.
Procore also offers features for preconstruction, financial management, resource management and project management. Mobile collaboration tools are included in Procore's construction project management software to help teams stay on track and avoid rework.
3. Houzz Pro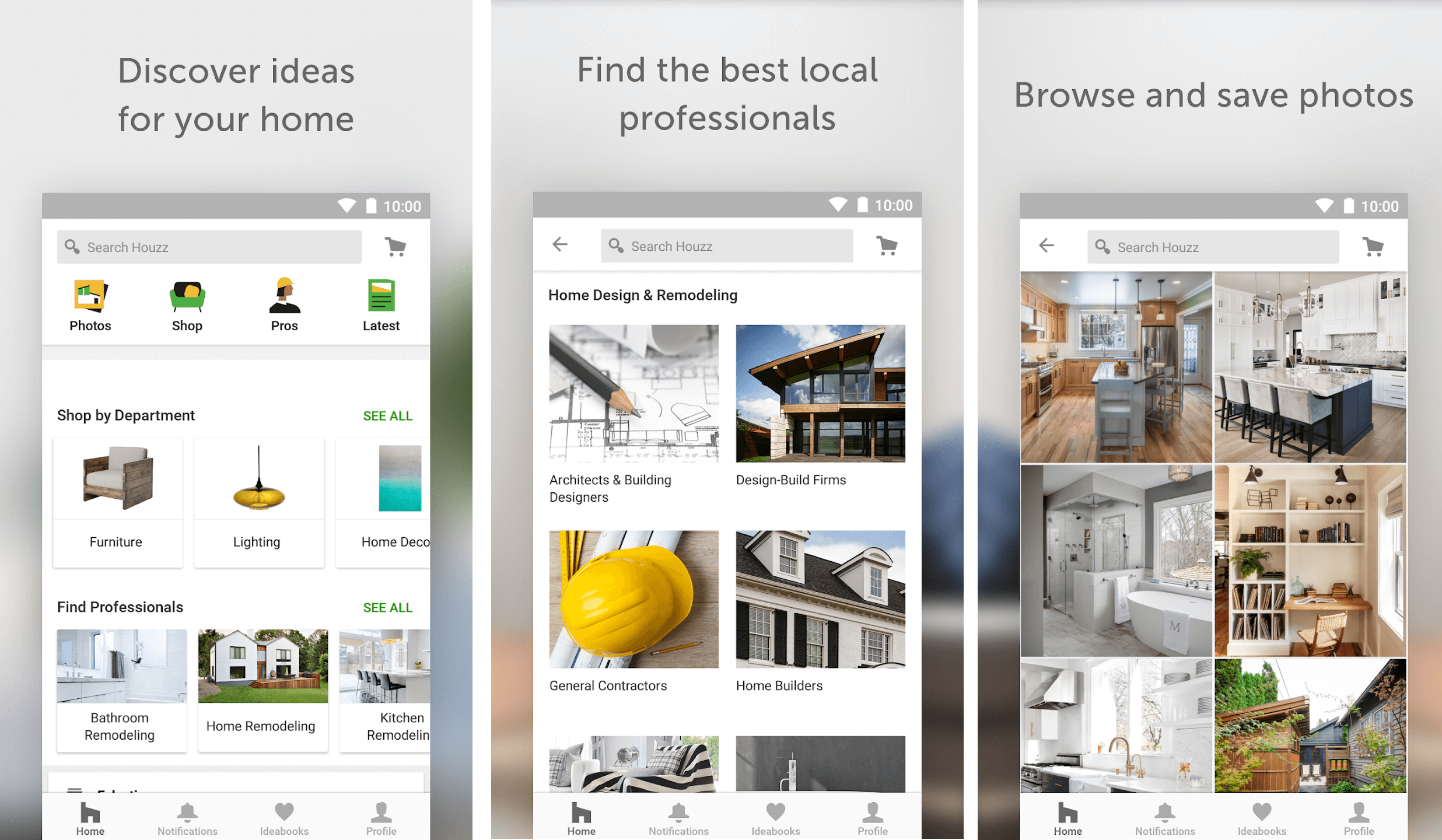 Houzz Prois the top construction management software and can be a powerful tool for a construction company looking to expand its clientele. It's designed to meet the demands of builders, remodelers, architects and specialty contractors.
Houzz Pro includes marketing tools that help to build a business's image, as well as visual modeling tools for sharing ideas and giving clients 3D tours. Users can schedule meetings, manage follow-ups and convert leads into projects.
4. monday.com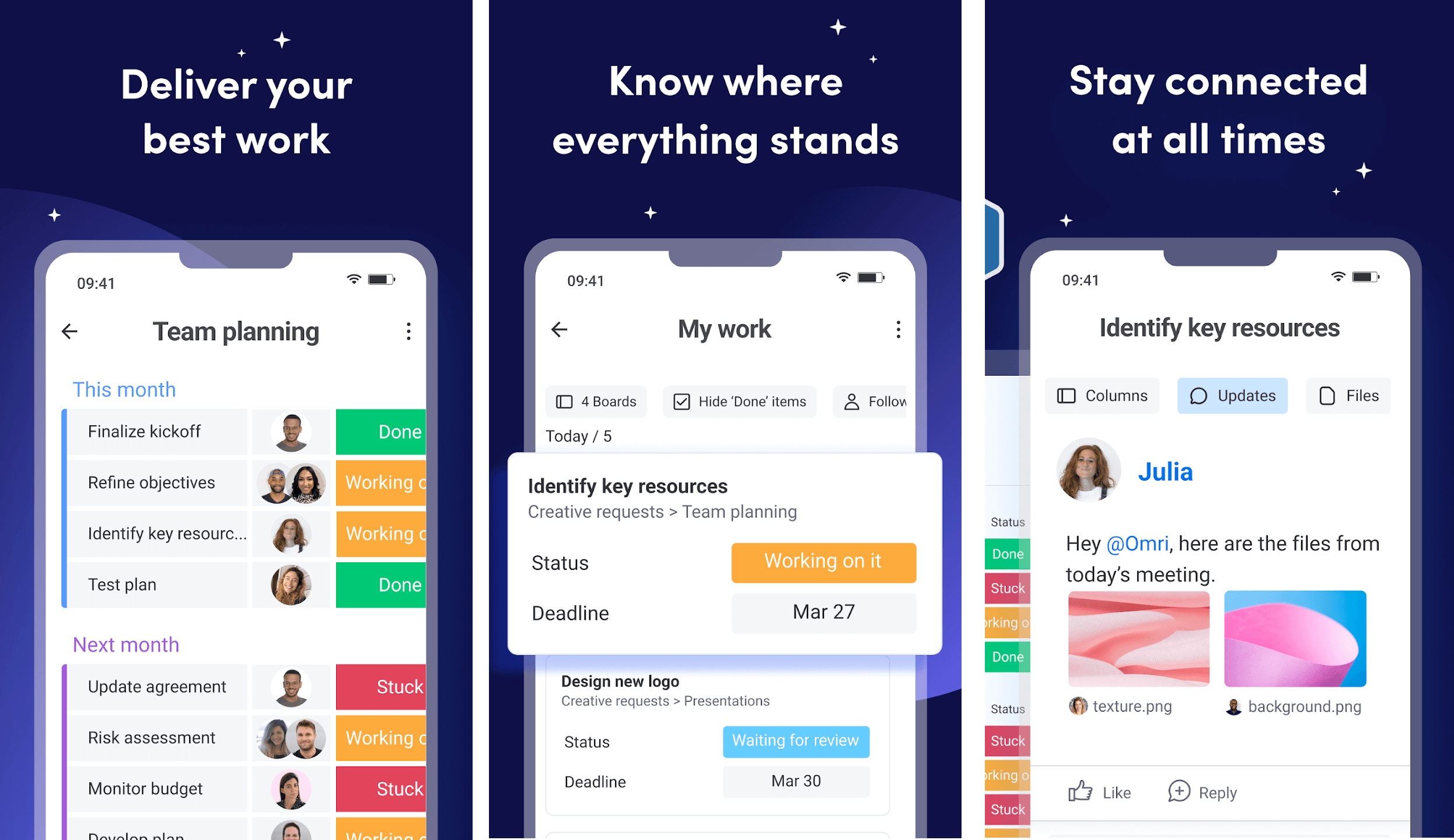 Monday.com is a popular and best-selling project management solution across industries, use cases, and construction. is no different. The construction fleet management software features include a wide range of templates for construction projects, progress tracking and guest access, document management and RFI, as well as real-time updates on project status.
Although monday.com was not designed specifically for construction, this tool is highly customizable and can be formatted to meet your business needs.
5. Autodesk Build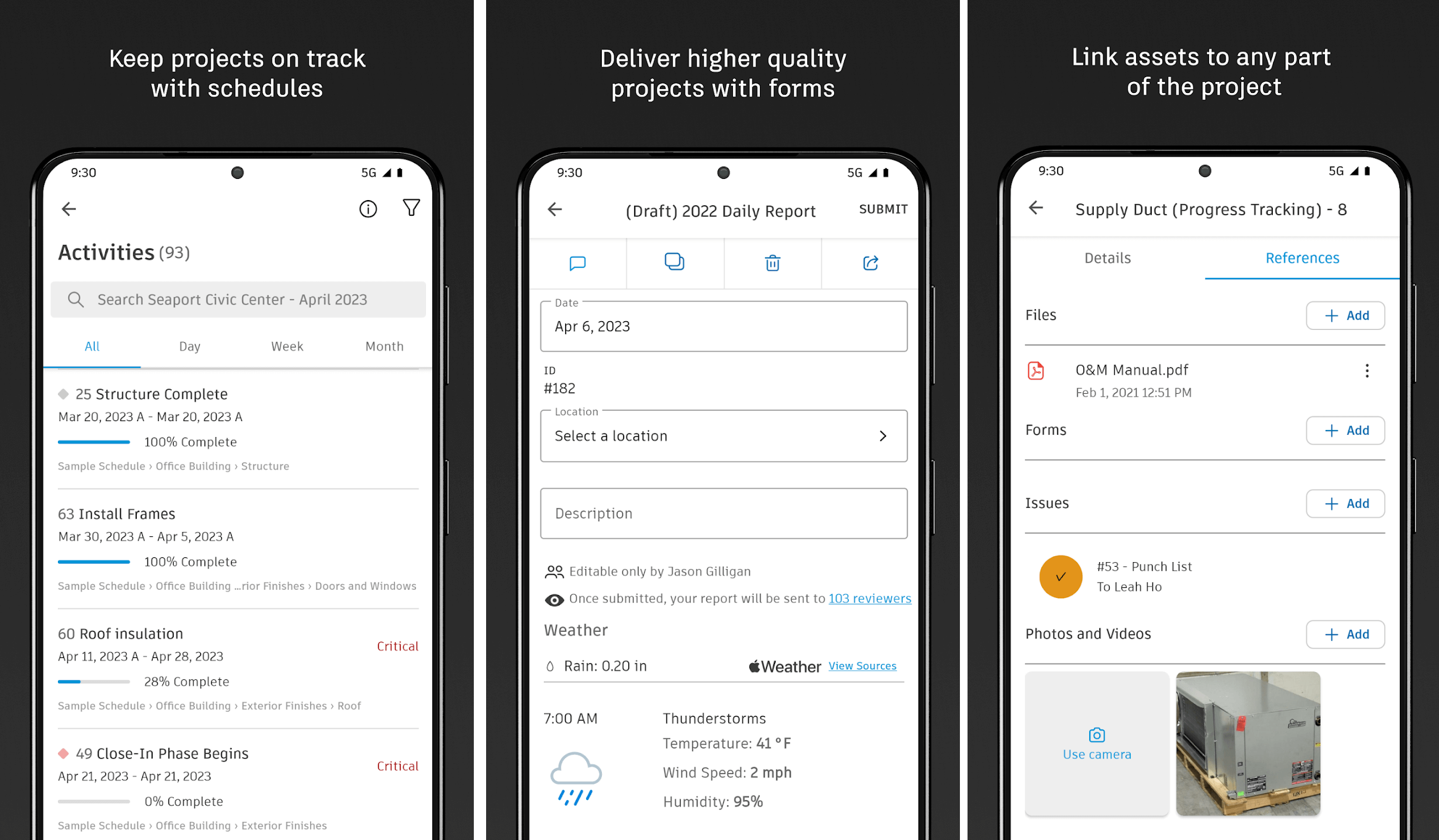 Autodesk Build is the best construction management software and a part of Autodesk Construction Cloud, connects project and field management workflows. It includes tools for project and quality management, cost control, safety management and workflow unification. In the field and office can collaborate, share and manage project schedules, reducing delays and miscommunications during construction projects.
Conclusion
The construction management software cost varies significantly depending on features, scalability, and vendor pricing strategies. Although it could seem like a big expenditure, the advantages in terms of effectiveness, project management, and less mistakes frequently make the cost worthwhile. Finding a solution that fits your unique requirements and financial constraints is essential to getting the most out of your building projects.
FAQ 
1. How to Build Construction Management Software?  
To Build Construction Management Software:
Define your target audience and goals.
Plan features
Choose a tech stack
Create an intuitive user interface.
Focus on security and scalability when developing the software.
Test thoroughly and collect user feedback.
Launch and update continuously based on the user's needs.
2. How Long Does it Take to Develop a Construction Software?
To develop construction management Software, the time can be affected by a number of factors, including complexity, features and team size. Simple solutions can take as little as 3-4 months while complex systems may take up to 9 months. The timeline is also affected by testing, customization, and iteration.
3. What are the Benefits of Construction Management Software? 
The benefits of construction management software includes the following benefits:
Project planning
Scheduling, and communication
Reduces errors, and minimizes delays
Real-time data tracking
Cost control
Risk management.
4. How to Reduce the Construction Management Software Cost? 
Consider these options to reduce the cost of construction management software:
Assess your needs carefully and select a software package which aligns with them.
Hardware and maintenance requirements may not be necessary with cloud-based solutions.
Discounts or custom pricing can be negotiated with vendors.
Train your staff to make the most of software.
Avoid adding unnecessary features or add-ons.
Open-source software is a great alternative.
5. Are there Open-source Construction Management Software Options? 
There are open-source options for construction management software available to those who want a customizable, self-hosted solution. Keep in mind, however, that customizations and support can still be costly.