Digitization has changed everything greatly and has positively impacted businesses of all sizes. Transportation is one such industry that has availed significant benefits after the technical advancement and digital transportation. The invention of logistics management software has changed the scenario and helped even small business owners to keep track of their products and services online. Now, maximum transportation businesses are planning to build logistics software, and maybe you are also among them.
If you are also planning for logistics software development and want to know the entire process, this blog is for you. It is a complete guide to developing logistics or transportation management software from scratch. Not only this, but while scrolling through this blog, you'll get to know the benefits of logistics software, features, cost, and more. So, let's begin.
What Is A Logistic Management Software?
Logistic software is a platform to manage logistics operations, including inventory, warehouse, and transportation. A well-developed logistic management software aids the entire product management, scheduling shipping, and timely tracking of the products.
Logistics management is the planning, implementing, and controlling of the movement and storage of goods & services from pickup to delivery while satisfying consumer needs. With the help of logistics or transportation software development, businesses can control costs while enhancing customer service. An investment made once to build logistics software can benefit you for years. So, all you can do is hire mobile app developers with years of experience who can create a successful app for your business.
Benefits of Logistic Software Development for Businesses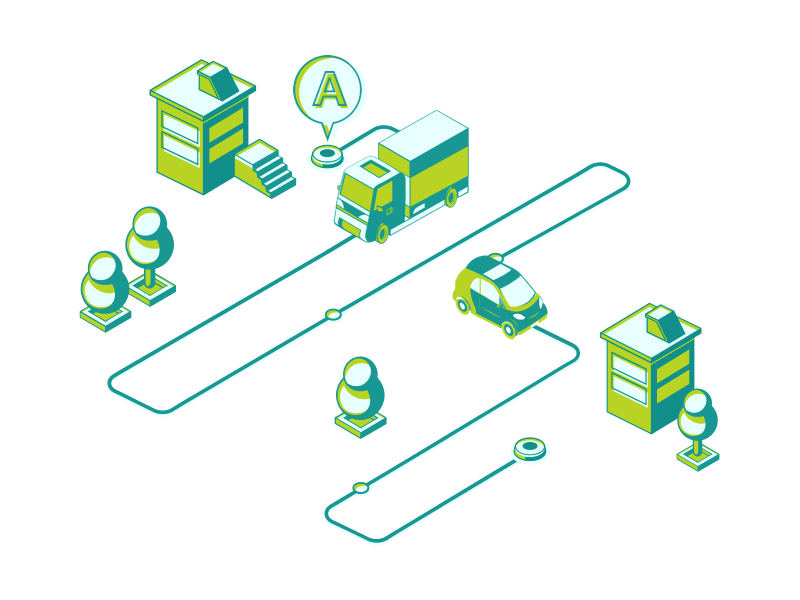 Are you planning to build logistic management software, but too many thoughts are hitting your mind? Don't panic! Refer to the following benefits of logistics software development that will help you get assured of your decision and help your business grow.
1. Cost Reduction
The decrease in cost is one of the major perks of developing logistics management software. Businesses can choose the best shipping services via transportation software and choose a cost-effective mode of transportation by analyzing and contrasting the services.
For better results, a business should develop a cost-effective strategy while using logistics management software. Businesses that find it challenging to create perfect logistics management software can avail the assistance of the best transportation management software development company.
>>> Read More : How to Create a Food Delivery App Like Talabat in Dubai? <<<
2. Transport & Warehouse Management
Logistics software promotes better management of transportation and warehouse. The software help businesses plan, execute, and optimize the movement of goods and services. On the other hand, businesses can easily keep an eye on the products available in the warehouse and schedule things accordingly.
3. Real-time Data Analysis
Businesses running at a large scale cannot keep track of all the data and information in real-time. Agreed? This is where the need to build logistics software comes. It brings data management and freight accounting information to your disposal.
A well-developed and feature-rich transportation software enables easy data analysis access, which is beneficial for businesses. It is one of the major reasons why businesses today look for transportation software development Dubai and other regions.
Features to Include When You Build Logistics Software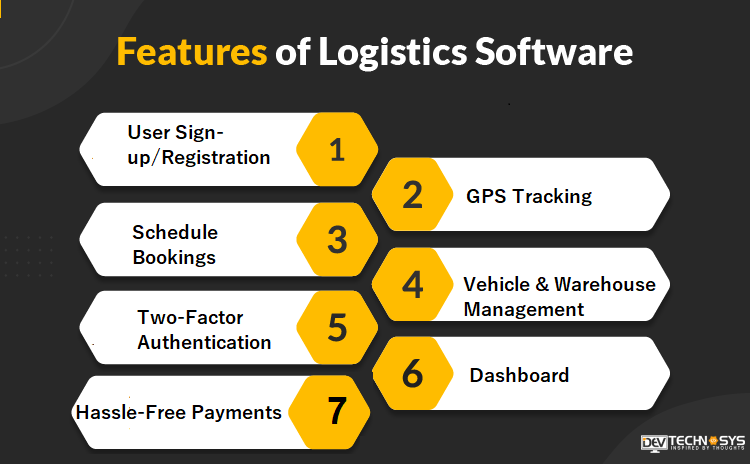 A list of key features matters the most when building successful logistics management software. So, when preparing custom logistics software, including the advanced features besides inserting the basic ones. It will add more worth to your business and keep the transportation app development cost on track.
1. User Sign-up/Registration
It is the foremost yet mandatory feature to include in all business software, applications, and websites. Users can use this feature to create a profile for accessing your logistics software, so keep it simple and straightforward. For quick sign-up, add social media integrations.
2. GPS Tracking
As your business's work is to ship products from one place to the other, adding well-integrated GPS software is necessary for your business. It will help you keep an eye on the vehicle's movement in real-time and assist you in determining when the product will reach the destination.
3. Schedule Bookings
Coming to another essential feature of logistics software development, i.e., scheduling and managing bookings in a go. This amazing feature will let the users schedule their product booking and delivery at their doorstep. For smooth processing, ask the transportation software development services experts to incorporate the latest tech stacks.
4. Vehicle & Warehouse Management
This useful feature help transportation business owners manage vehicles, products, and services at one scale. Tracking all this manually is possible when running a small-scale business, but the software is a must if you are dealing on a large scale. It will greatly save time and management costs while increasing business efficiency.
5. Two-Factor Authentication
Security is a major concern for businesses who has more chances of data breach and confidentiality. That's why two-factor authentication is a must that enables users to conduct double identity verification before accessing the system. It could be possible while inserting modern tech stack during logistic software development.

6. Dashboard
This feature comes in handy for all the panels, be it users, business owners, or the admin. With this amazing feature, users will be able to check various sorts of insights, that too, without checking on the different sections. Make sure to keep the dashboard user-friendly so that users do not find it difficult to access the logistics app.
7. Hassle-Free Payments
Another amazing feature of logistics or transportation management software, i.e., in-app payments. It will help the users pay hassle-free and securely, which increases the credibility of your logistics software. Use secure payment gateways to help users pay without much trouble.
>>> Read More: How To Build TMS Software? <<<
How to Build Logistics Software? Step-By-Step Development Process!
Do you want to develop custom logistic software for your business? Try the following step-step transportation development process to help you get started the right way.
Step 1 – Define Your Business Goals
First of all, before you plan to build logistics software, define your business goals, like why you want to develop the software, who will be your target audience, etc. Defining all your goals on paper will help you during transportation management software development. It will also lessen the complexities of developing an app as you have a clear mindset from the beginning.
Step 2 – Conduct Market Research & Study Competitors
The second most crucial step of logistics software development is conducting extensive market research and competitor analysis. It will help you gain an insight into what is trending in the market, and then you will be able to craft a successful mobile app.
Also, keep studying your competitors and popular logistics software to know the features, functionalities, flaws, and more. Jot down everything on a piece of paper to utilize later at the time of mobile app development. If you do not have a team, hire transportation software development company experts.
Step 3 – Insert Unique Features & Functionalities
As mentioned above, features are the most crucial components of a successful business application. So, research more and insert the best features to make your application interesting and worth using. Make sure your logistic app has all the basic features fulfilling users' needs and demands, and if your budget allows, go for the advanced features.
Depending on the features you insert, this step either increases or decreases the transportation app development cost.
Step 4 – Focus on Tech Stacks
Technologies can either make or break your business app's success. Right? So, focus on inserting the right set of tech stacks that are the best for your logistics software. If you do not have an idea, refer to the popular and top logistics software tech stack. It will give you an idea of technology implementation and help you create a successful business app.
But remember, the more technologies you will include during logistics software development, the higher the cost will be. So, keep your budget in consideration while planning the custom software development approach.
Step 5 – Begin Logistics Software Development
Once you gather all the essential requirements for creating transportation software, begin the mobile app development process. It is a very crucial step of the entire development process, so be careful. If you have mobile app developers, well and good, and if not, avail transportation software development services from professionals.

Step 6 – Test & Launch Your Logistics Software
After successfully developing logistics software, test it carefully to check for all the errors and bugs before launching it on the Google Play Store or App Store. Try to eliminate all the errors and bugs before users encounter them and launch them. Sometimes, the transportation help development experts take additional charges for launch, and some include it in the quotation, so confirm this with them.
>>Read More : Top 10 Web Design Software in 2022 <<
Step 7 – Maintenance Your Software Time
Have you successfully developed & launched your logistic software and thought your job is done? Wait! It is not done yet! Keep maintaining your transportation software timely to ensure its consistency and seamless performance. You can also avail mobile app support and maintenance services for a better outcome.
Summing Up!
Investing in logistics software development can turn your small business into a well-known brand while keeping the users engaged with your business app and increasing brand revenue.
So, we hope that after knowing the development steps mentioned above, you must have understood – 'How to develop logistics software?' along with the features to include. It is now the right time to take a step ahead and develop revenue-generating logistics management software. If you do not have experts, it is advisable to hire a reliable transportation software development company. The experts will help you build logistics software, launch, and maintain it.