Gone are the days when people had to visit the station, airport, or other places to get a ticket in advance for travelling. With the online travel market being backed by e-commerce, the b2c travel portal development has radically transformed. As a result, more businesses are developing travel app like Expedia.
Reports states that there are around 148 million travel bookings made annually which will reach up to 700 million people by 2023. Travel and tourism sector has become a boom today and running a successful B2C travel portal is a challenge in itself. So, to help all-scale businesses develop a result-driven B2C travel app, here is an ultimate guide. Let's dive deep into the travel portal development process.
Current Market Demand for B2C Travel Portal Development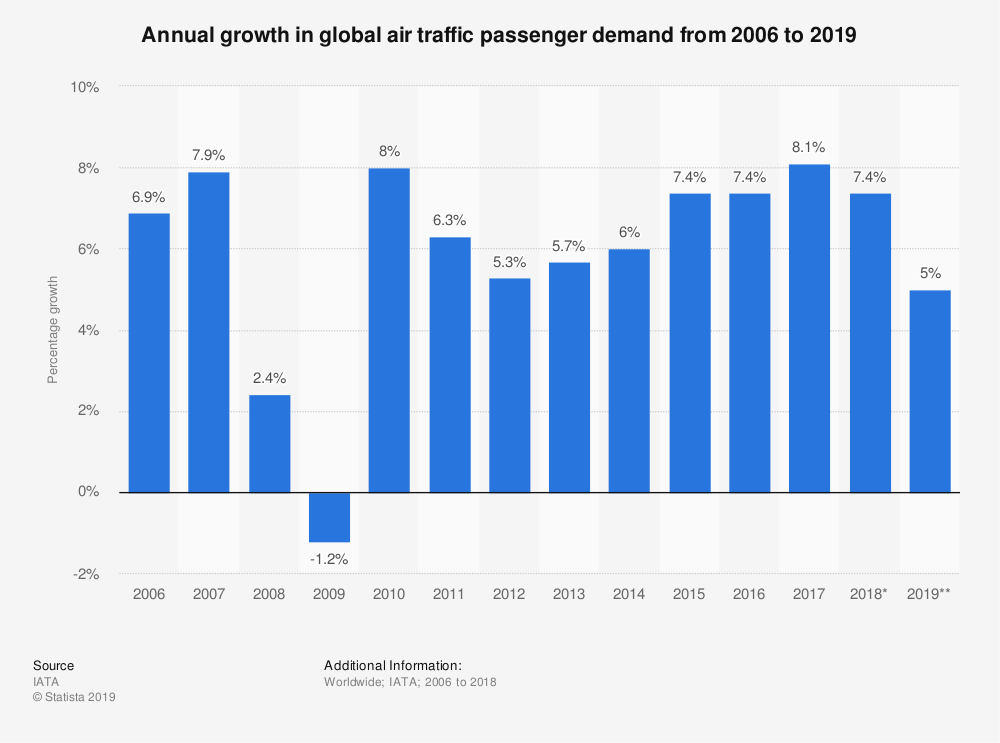 The increased usage of smartphones has made travelers opt for online tours and travel booking with apps like Expedia and more. It has raised the demand for travel applications in the past few years.
In December 2016, the B2C travel applications reached 95.88% of Android users in the US.
As per Statista, the current online travel market size worldwide is $433.2 billion.
The revenue share of online sales in the travel and tourism industry is around 66% and is expected to reach 75% by 2026.
The travel segment's overall revenue is projected to reach $333.40 million in 2022.
Businesses today are taking advantage of this market hype and planning for travel portal development solutions to take their business to heights. By knowing about the benefits and major demand for a B2C travel portal, if you are also planning to develop a travel application, get well-versed with the app development steps.
Overview of B2C Travel Application Expedia
Expedia, a B2C travel portal software, is designed to improve your trip experience from planning to booking. It has become one of the most lucrative travel applications due to all the fantastic features. You may use this app to find hotels, flights, and rental vehicles at the best prices and discounts.
Features Contributing to Expedia App Popularity
Better Flight Recommendations
Itinerary Sharing
Scratchpad
Keep Planning Feature
Step-by-Step Process to Develop B2C Travel App Like Expedia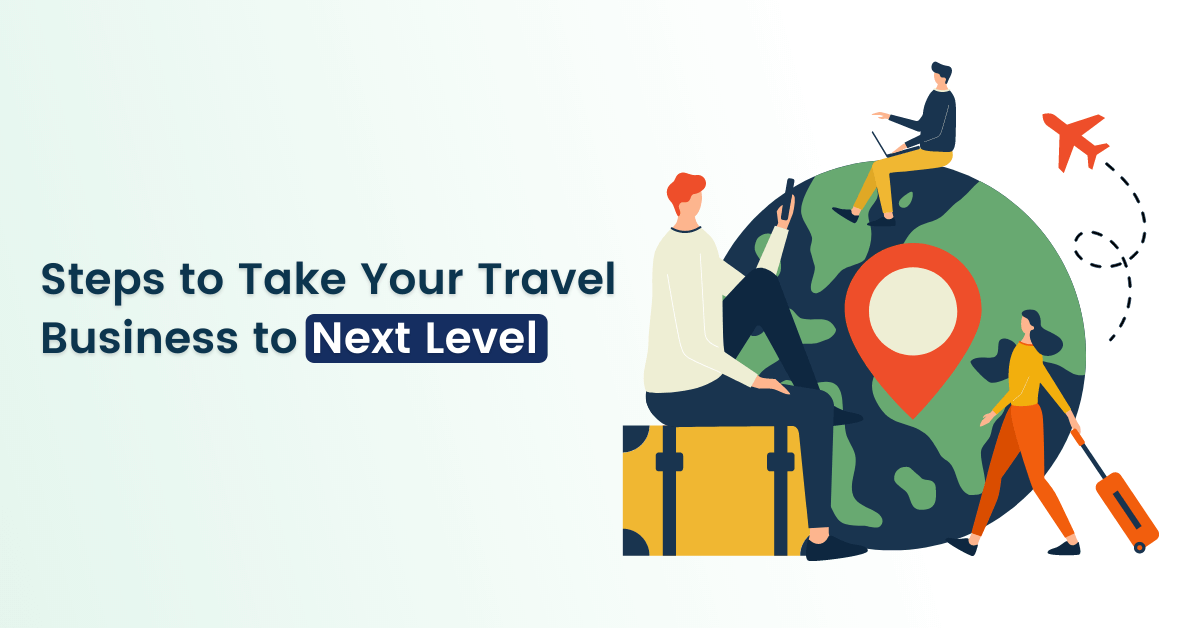 Do you want to develop a successful B2C travel application like Expedia or plan for travel portal website development? Don't know how to begin the development process? We've got a solution for you! Refer to the following step-by-step process and get a perfect app for your travel business.
#1. Make B2C Travel App Plan
Business planning is a very crucial part of travel software development. Moreover, creating a successful travel application demands businesses to have vast knowledge about travel destinations, events, packages, seasonal and off-seasonal discounts, etc.
Gathering all the crucial information before creating a travel app might result in seamless development and save businesses from getting stuck during the process. Even the android app development services experts follow the same process before development.
#2. Conduct Market Analysis
Next, conduct extensive market research to get an in-depth insight into the top competitors in the market. You can research the popular travel apps like Expedia, Priceline, Booking.com, or Kayak to learn about their pros, features, loopholes, and more. It will help you know where the existing travel portal software is lacking and how you can overcome those loopholes in your travel applications.
Read More: Create an App Like Skout In 10 Steps
#3. Find the Right Niche
Today, there are myriad travel applications available for multiple business niches. So first, decide your business niche to take your travel application development process in the right direction. Finalizing the niche will set your mind from the beginning and help you choose the right business app development process to expand your business.
#4. Finalize Travel Portal Features
Inserting unique features is crucial to make your travel application unique and outshine competitors. As ample travel applications are available in the market, making your application is a must to grab the travelers' attention at first glance. The advanced features that you can insert in your b2c travel app are highlighted below –
Advanced Travel App Features
| | |
| --- | --- |
| Local & Global Event Locator | Currency Converter |
| Wi-Fi Hotspot Locator | Language Translator |
| Weather Forecast | Travel Planner |
| Rooms Availability | Add to Cart |
| Instant Booking | Secure Payment Integration |
| Share Reviews & Travel Stories | Creating Personal Albums |
| Money Estimator | Geo Location |
5. Choose Appealing UX/UI
A good design can be a strong asset to take your basic travel application to heights. So, besides focusing on your travel application development process, shed more light on the design as well. If you lack the experience, you can also take the assistance of the B2C travel portal development company professionals.
The team of dedicated designers will help you create an outstanding travel application with perfect design.
6. Select Suitable Tech Stack
The technologies for developing travel portal applications have been advancing rapidly to keep up with the complexity of portal functions. An excellent UX/UI is only one component of a successful travel portal application, and choosing a suitable tech stack is also important.
So, if you don't know which tech stack would be good for your travel app, it is better to consult mobile app development company professionals who will guide you.

7. Begin the Development Process
Finally, start creating the application when you are done with the entire b2c travel portal development process. Here, you can utilize the information/data gathered and then develop an app accordingly. Whether you are planning Magento web development or any other, the same development process will be followed.
This is a simple seven-step b2c portal development process that businesses must follow in drafting a successful software/portal in 2022 and beyond. Now that you are well-versed with the app development process let's move to the basic features you shouldn't miss incorporating while developing travel software.
Essential Features of B2C Travel App Development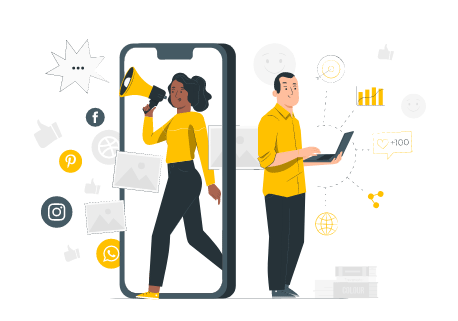 Wondering about the features of b2c travel software? Don't think anymore; instead, refer to the following list of basic features of a successful travel app.
#1 – Trip Planner
Every user prefers to go on a planner trip, right from start to end dates. This is where the trip planner feature comes in handy, as it helps travelers to plan their trip hassle-free. Make sure the feature should be easily accessible and simple to use.
#2 – Ticket Booking 
This feature enables the travel app users to buy tickets wherever they want to travel. While using the ticket booking feature, users can choose the travel date, location, seat, and destination online through the application.
You can insert a good filter and secure payment gateway integrations to create a more focused search and filter. It will result in seamless ticket booking and, in turn, enhance the b2c travel app experience.

#3 – Maps & Geolocation
Once the travelers reach their destination, they start searching for the best spots of their interest. This is where the maps and geolocation feature comes in handy. Including this feature increases the worth of the travel portal development solution and keeps the users satisfied with the app and services.
Read More: Opportunities In Dubai For Non-UAE Residents To Start A Business
#4 – Push Notifications
Timely notifications are one of the strong tools for sharing in-app information and other data with users. Enabling push notifications into your b2c travel app will keep the users engaged with your travel app and, in turn, increase the application's worth to a great extent.
#5 – Hotel Booking
You can also insert a hotel booking feature into the software to keep your travel app unique. It will not only allow the users to ensure a safe and planner traveling but will also provide after-traveling services like booking the nearest hotel, finding the best restaurant, and more.
Undoubtedly, the more features you ask the mobile app developers to include, the higher the cost. So, deciding the features before travel mobile app development is better.
#6 Reviews & Ratings
Users' reviews and ratings are crucial to maintaining business credibility and brand presence in this competitive market. So, do not forget to insert reviews and rating features into your B2c travel software. It will not only allow the users to share their valuable feedback but will also increase the business credibility of travel website development or software development.
#7 – Social Media Integrations
In this modernized era, the majority of people use social media applications. So, to ensure that users can easily share their traveling pictures, fun activities, and more on social media, it is essential to use social media integrations. Enabling this feature will increase your application's reach to a great extent.
Read More : Things to Consider in Travel App Development- Features, Benefits, Cost
This is it! These are some basic travel portal development features businesses can incorporate to develop a growth-driven travel app. Remember, every feature contributes significantly to travel app development costs, so insert the features accordingly.
How Much Does B2C Travel Portal Development Cost?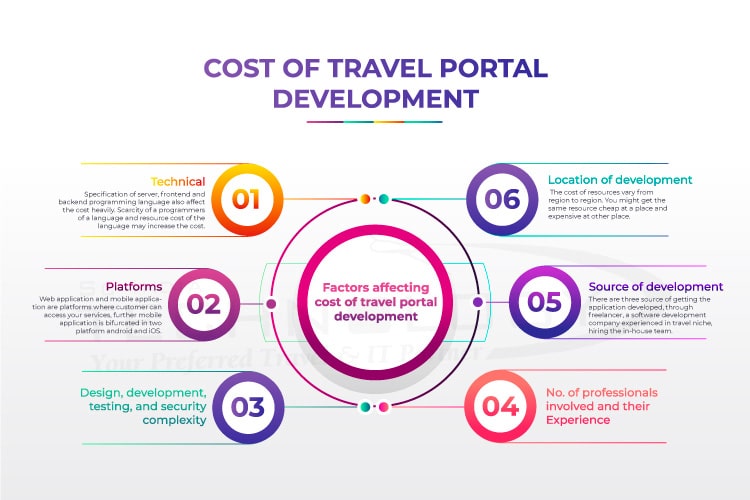 An average travel app development process costs $30,000, but the cost keeps fluctuating from one application to the other and also varies on multiple factors, such as –
Design
Development platform
Complexity
Tech Stack
Development Team
UX/UI
Features
Every element mentioned above contributes significantly to increasing or decreasing the b2c travel portal software development cost. Also, when you hire dedicated developers for your travel application, their location matters and will decide the cost.
Final Thoughts!
A well-crafted travel application allows businesses to centralize their business processes while enabling them to double their profit and sales with lightning speed. With all the information mentioned above, we hope you might have understood the B2C travel portal software development process. Now you can develop a perfect application for your travel business this year. Dev Technosys UAE could be your savior if you need travel portal development assistance at reasonable prices.