The tours and travelling industry are one of the most popular among all the industries present in the market. Everyone needs a vacation from their daily working life once in a while. Which gives a huge boost in the rise of various online travel applications in the market.
Traditionally people use to hire trip advisors and travel agents to conduct a better trip for themselves. But with the advancement in technologies, all those things can be handled through a travelling on-demand app solution. Nowadays the travel app is capable of planning a trip to book all the essential services required for that specific trip. It will also provide you with various alternative solutions according to the budget of your trips.  
So, if you have a unique idea for your travelling business. Then executing that idea with the help of a dynamic, feature-packed travel app can ensure your success. For that, you just have to the best travel app development company available in the market. As they are capable to build the travel app according to the requirements of your business.
To know more about these travel applications, and how much it will cost to create one for your business. Please continue the blog.
What are travel apps?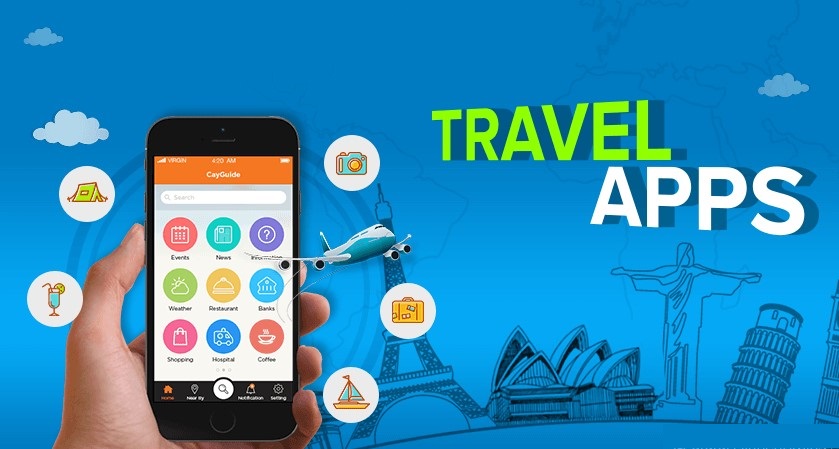 The travel apps are mobile applications that provide you with detailed information for any place you want to visit. This information includes various tourist spots, the cost of every mode of transportations, and hotels to stay. The travel application not only provides information but also provides reservation facilities to its users. So, that the users can explore their favourite destinations and experience wonderful memories without any hassle. The dedicated app developers created applications are capable enough to plan all the itineraries for your travel according to your budget, time of convenience and the specific requirements of their users.
In recent times, due to the outbreak of the Coronavirus, most people stayed in their homes to reduce the spread of the virus. So, as the cases are decreasing people started to take vacations to their favourite place with proper protection. That is why there are various safety protocols implemented on travellers by the respective governments. But you need to worry, all the information will be provided on the travel apps. Because of, the sudden rise of the travel applications got a considerable boost on their revenue.
So, if you have a travelling business then developing a travel app according to the requirements of your business can ensure the success of your organization.
What are the types of Travel management apps available in the market?
Basically, the types of travel app are divided on the basis of the work they fulfil. Although there are some apps that are capable of conducting all the work through is the responsive interface. Here are some of the types of travel management apps available in the market.
1.Transport Apps
The transport apps provide information about any modes of transport including bus, trains and flight.  Along with the information on transport routes, the users are allowed to book tickets and reserve sit on them. All these are possible because of the geolocation feature present in the applications. Some examples of these types of applications are Uber, Ola, MakeMyTrip etc.
2. Hotel Booking Apps
These applications provide accommodation information and reservation facility to the users. As a user, you can customize the check-in date and time along with the check-out date and time according to your convenience. Plus you choose the best budget hotels according to the rate and review of their previous customers. Some examples of this type of app are Booking.com, Oyo rooms, Airbnb etc.
3. Trip Planning Apps
The trip planning applications are those travel business management software, which offers every information for your upcoming trip. You can book any mode of transport and browse hotels according to your budget. Basically, it is an all in one-stop kind of application to plan your trip itinerary with maximum efficiency. Here are some examples Yatra, Clear Trip and Goibibo etc.
4. Flight Booking Apps
The flight booking apps assist the users by providing information on the flights available to their destination. From there they can also book their preferred seats on those flights. The apps also provide the users with better flexibility in payment gateways. Here are some famous flights booking apps such as Kayak, Skyscanner and Kiwi etc.
In order to create an all-in-one responsive travel application, you just need to hire the best transportation app development service in the market. As they can develop a customize app specifically according to the requirements of your business.
What are the benefits of Travel application in the market?
There are many benefits to creating a travel app for your tour and travel business. For instance, you can easily get access to a huge scale of online users, by providing quick services. Here are some of the benefits for developing a travel application for your business
As a travel business owner, developing a travel app you will get instant access to a better scale of users. Plus, for your application, the users don't have to deal with the annoying service of the travel agents. They can just simply browse your app through their phone the book the required tickets.
Advanced customization options
Developing a travel app for your business can provide you with various customization options. That means you can add, change or delete any technological functionalities to keep with the current market trends. All the trends that are implemented in your applications are subjected to achieve the goals and requirements of your organization only.
After the development of travel applications, you can expect hassle-free maintenance for your applications. Basically, all the travel apps are easy to maintain especially when it is compared to traditional offline booking. Because you will be able to track and seek support for every order easily. Plus, you can update all the data for your users at once.
It is one of the basic functionalities that all travel applications provide to their users. The users usually use the travel application to search nearby hotels, transport stations etc. If your app has a geolocation feature implemented in it, it can provide all the required information to its users effective through their smartphones.
With the travel application, you can provide each and every information to the user's destination place instantly. And also provide various services and facilities such as bookings, payments, accommodation searching and much more. So, to maintain all these facilities you have to keep your app updated to provide the latest information to your customers.
If you are developing a trip planning travel app, you are providing an all-in-one solution for your customers. That means they can get information for all the aspects required while travelling. Plus, they will be able to book any kind of service including transport and accommodations for their upcoming trips. In order to create a dynamic and responsive app for your users, hiring the best travel management software service is the only way to go.
What are the key features that your travel app should have?
A travelling app is consisting of many features, which provides a smooth and hassle-free experience to their users. Sometimes travel app developers implement high-end features and functions to attract more users. But ended up slowing down and lagging the app, which affects the scalability of users along with the reputation of the organization. So, try to use only the essential functionalities without compromising the performance of the application.

Here are some of the essential features that your travel app should have,
1. Features for customers
Enhanced search bar functionality
This is one of the widely used features in every travel application. It helps the users to find out information of any place along with the transport to reach their and accommodation available in that location. That is why your app's search bar should be diversified enough to find information about any place effectively.
In order to ensure it, you can hire better mobile app development. As they are capable to create SEO optimized content with varieties of filter options.
This feature helps the users to check the flight available to their destination on their convenient dates. Plus, they can also book seats on the available flights easily through the travel application.
If your users are travelling across the world, then this feature gives them real-time information on currency differences. So that, your customers have a hassle-free experience while exploring their favourite destinations.
Usually, travel applications provide a plethora of payment gateways to their users. So, as a user, you can experience a secure and faster way to pay for your services. Hiring dedicated app developers can help you to ensure the safety and security of the payment gateways.
Exciting deals and offers
Usually, the travel apps provide a large number of exciting deals and offer to their customers. You can also create a unique rewarding system for your travel app. In which you can provide reward points for using your app services. The users can just collect the points and redeem them as a discount on their next purchase.
It helps the users to find the best hotel according to their budget. Plus, all the hotels available in their destination, are displayed along with their price in this feature.
In case of any issue, this feature helps the users to get quick assistance and support. The users just have to choose the issue they are facing for a particular service, and your support employees will communicate through the in-app chat feature. And they will try to solve the issue as quickly and efficiently as possible.
2. Features for Admin
This feature of the travel agency management software will help you to manage all the bookings of the users effectively. So, that you can send confirmation tickets to your users along with the payment invoice. A better functioning booking management feature is the main reason for a responsive service in travel applications.
Property and package management
This feature is responsible for modifying and managing the availability of rooms, on the basis of upcoming bookings. Moreover, also helps to create effective and affordable combo packages for the users.
User and agent management
Usually, in order to manage the users and agents associated with your applications effectively, you are going to need a dynamic and responsive application. You can only ensure that by hiring the best travel mobile app development service available in the market.
It is one of the most important features for every admin of the travel apps. As it helps them how well their app is performing among the users. And how many users are opting for their services while travelling. So that they can fulfil the drawbacks and make the application more successful in the market.
What is the cost of developing a travel app for your business?
The development of transportation management system software cost depends on the features and functionalities implement in it. Usually creating an MVP of an all-in-one travel app can cost you around 75,000 US dollars to 80,000 US dollars. But creating fully customized applications can cost you more than 110,000 US dollars. here are some of the factors on which the cost of developing a travel app depends,

The location of the development agency plays a very important role in the development of travel apps. As the developers usually chargers on an hourly basis. So, developers in countries like the USA and UK charges 80 to 100 US dollars per hour. But in countries like India charges 40 to 60 US dollars per hour.
Using different frameworks for developing the app for different platforms can increase the development cost. So, try to use the latest cross-platform frameworks which are capable enough to design and launch your app on both Android and iOS platforms.
Instead of using high-end functionalities, you can use all the basic necessary functions. And provide better service to your users without compromising the performance of the app.
Conclusion 
The tour and travel industry are one of the profitable industries in the market. And especially in the post-covid period, it got a huge boost in user scalability. So, if you have a travelling business, then creating a unique, dynamic and feature-packed travel app can ensure your success.