The Healthcare Industry is rapidly progressing and practices compared to the last decade have been changed. The role of mobile apps in the healthcare industry is increasing as new healthcare technologies also progress daily.
There is massive involvement of technology in mobile apps and smart hardware using IoT wearables or Robotics. Healthcare brands are now preferring to invest in a healthcare mobile app. 
On the other side, patients also prefer mHealth practices, which stands for an individual who can access medicines and public health services through a mobile device via mobile applications. Healthcare mobile apps are helping to improve healthcare systems, and it is happening in real-time dimensions.  
The mobile apps are helping patients get treatment or second opinion with ease and, on the other hand, assisting healthcare professionals in offering their services.
It includes booking appointments with doctors, ordering medicines, or purchasing healthcare supplements via a mobile app.
From the cost, communication, and enhancing the quality of healthcare point of view, mobile apps are tremendously working.
We have created this blog intending to reveal and understand the role of mobile apps in the healthcare industry. So, let's start reading this blog with some interesting information.
Do You Know?
Until Q3 2022, there are 54,546 medical apps on Google Play Store.
In H1 2022, the most downloaded health and fitness app are Sweatcoin.
The global mobile health market is expected to grow by 189 billion USD by 2025.
Strava, MyFitnessPal, and Calm App are some of the legendary and popular apps among the global user base.
Fitbit- a specialized healthcare devices provider, has a separate fanbase(31 million in 2020 ) all over the globe.
In 2020, global consumer spending on mental wellness apps was 269 million USD.
The mobile medical apps market is estimated to grow by 11 billion dollars by 2025.
It is better to start with a basic understanding of healthcare mobile apps instead of going deeper into the role of mobile apps in the healthcare industry. 
What Do You Mean By Healthcare Mobile Apps?
Now the history of mobile apps is long. In 1997, the arcade game "Snake" launched on Nokia 6110 and stunned the world. It was an initial app, but now these apps are more advanced than this. Over the internet, you can find multiple apps for different industries, and healthcare is one of them.
New-gen healthcare apps are bringing positive changes in an individual's life. Conversely, healthcare professionals are leveraging these apps to improve patients' experiences.
From the definition point of view, healthcare mobile apps are specially developed applications for mobile phones or tabs using operating systems such as Android and iOS. These devices help people get treatment for diseases or healthcare issues. The use cases of healthcare apps are:
Doctor Appointment Booking 

On-demand Medicine Delivery

Booking Diagnostic Tests

Ordering Healthcare Supplements 

Healthcare Wearable Tracking (ex., App Like Fitbit) 
And more. 
The industry segment is called healthcare mobile app development. Healthcare mobile apps are advantageous in improving service quality, healthcare practices, productivity, treatment or cure, and diagnostics. Additionally, this blog will take you to all the aspects of the role of mobile apps in the Healthcare industry. 
From the healthcare app development point of view, the year 2023 is crucial, as there is fear that CoronaVirus is also rising due to the huge spread in China. So, these apps will be a more integral part of any individual's life in the upcoming year. 
Benefits of Healthcare Apps For Patients & Professionals
Whenever it comes to finding out the benefits of healthcare mobile  apps, people ask or search over the internet like:
What are the benefits of mobile devices in healthcare 
 Or 
What are the benefits of mobile apps?
This particular section of this blog is dedicated to the benefits or advantages of healthcare mobile apps. 
healthcare mobile apps for professionals are advantageous, especially when you need to achieve the target of high-quality healthcare services. So, let's start exploring the benefits of mHealth apps for professionals. 
Quality healthcare services have been a top priority since 2020 and will continue in upcoming years. The healthcare app development solutions facilitate the doctors or healthcare professionals to engage the customers best. It also helps in providing personalized care to patients. 
Data plays a crucial role in the healthcare sector as a patient's history is very important. Sometimes due to a huge load of data, it is very strenuous to manage the records but not with healthcare mobile apps. With,h these apps, each record is maintainable and manageable. 
Round The Clock Availability
Due to the involvement of healthcare and mobile apps, doctors can stay in touch with their patients. Suppose they need to send messages to the patients,, then they can do it any time. Even, in any case, they can reschedule the appointments to ease the patients. 
Improved Communication With Patients
Communication is the key to success, and for healthcare, it is a must. The mobile apps help in clearly communicating it to the patients. The doctors can guide their patients effectively via in-app chat or in-app video calls. 
Patient's Health Tracking
There is a huge involvement of new technologies in the healthcare sector now. IoT app development is one of the best examples of it. With the help of IoT-based devices and apps, professionals can track the patient's health with ease. 
Sometimes it is a very daunting task for patients to pay for healthcare services. Mobile apps offer an easy way for it. With the help of healthcare mobile applications, patients can pay accordingly. Some of the advanced health apps are also offering e-wallet to ease the payment process.  
From the benefits of healthcare apps for patients' view, self-health monitoring is very easy with the help of mobile apps. The patients and doctors can both see the history of treatment with a single click. 
It is all about the benefits of mobile health apps for patients and doctors. Now let's move to the next section of this blog, which has relevance to the role of mobile apps in the healthcare industry. 

Key Impacts of Mobile App Development Technology On Healthcare  
Mobile app development has a positive impact on the healthcare industry. Every day something surprising is added to the practices.
Additionally, if you are looking to build a healthcare app, then you also need to keep these in your mind. So, here are some key impacts of mobile app development on the healthcare sector.
#1. Faster Communication Channels
The mobile app has opened multiple communication channels between doctors and patients. Now a remote patient can connect with the doctor with ease. 
#2. Improved Response Time
Building healthcare software development will be helping hospitals, clinics, or individual healthcare professionals to decrease response time. Within a click, a patient can have a prescription on the screen, or a doctor can send it within seconds. 
#3. Streamlined Practices Via Digital Platforms   
The mHealth solutions are improving workflow and healthcare practices. Digital healthcare platforms facilitate doctors to access all information on the go:
Patient's data

Patient's treatment history

Prescription records

Appointment management 
And more. 
#4. Real-time Monitoring Via Wearables    
Wearable devices and related mobile apps play a key role in real-time monitoring. There is a huge involvement of devices & apps like Fitbit, biosensors, smartwatches, and other devices. Even a remotely connected doctor can monitor blood pressure, heart rates, and body temperature. 
#5. Reduced Operational Cost
Now, cloud technology plays a role in reducing operational costs – How? Then it is like managing data records; it requires more hardware, but with the cloud technology, it takes much less cost than the same. 
Top Healthcare Apps to Use in UAE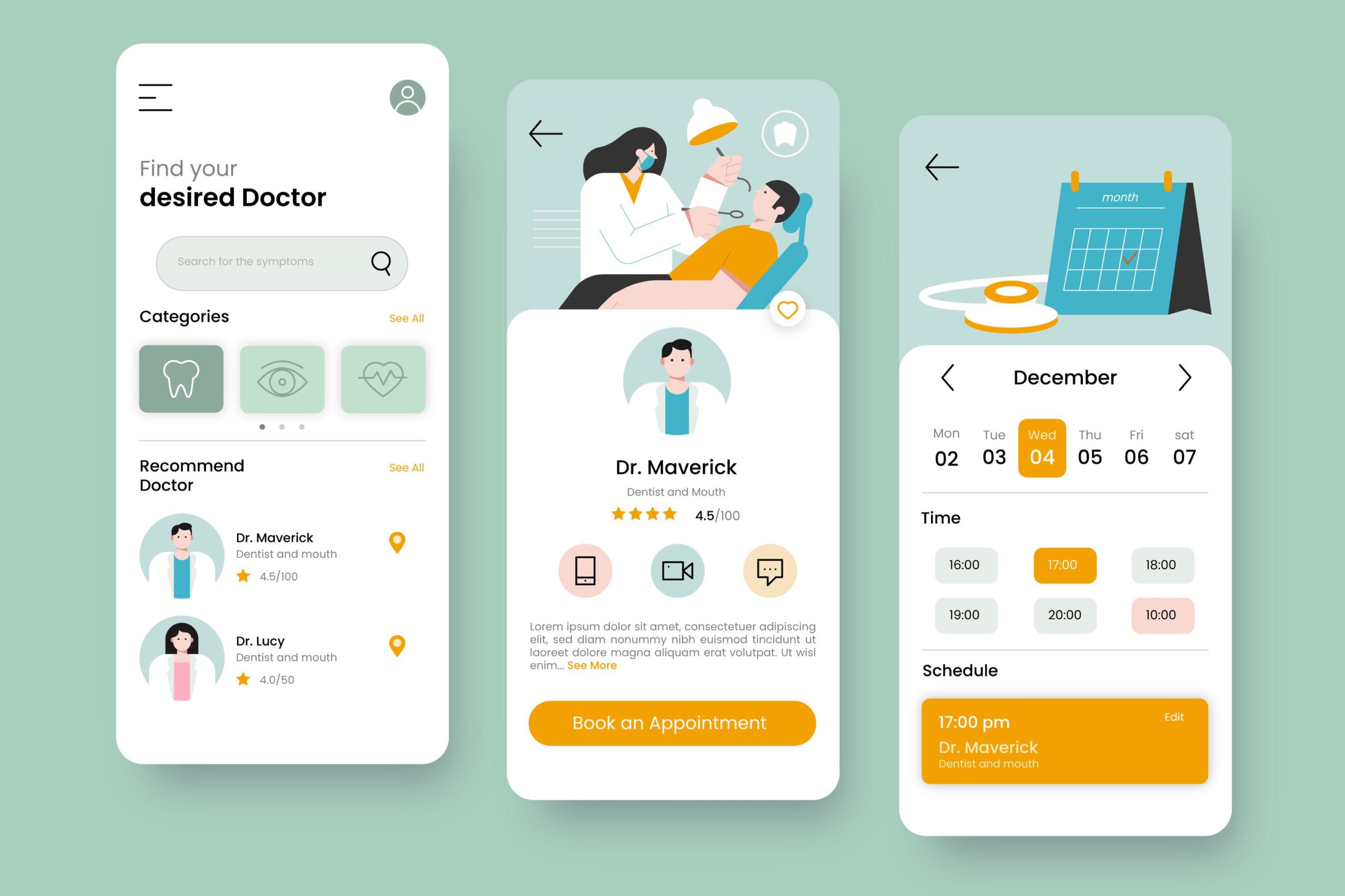 Now, I hope you have gone through all the aspects related to the role of mobile apps in the healthcare industry. To develop an app, you need an idea and a mobile application development company that will help you turn your idea into a reality. This blog will help individuals interested in healthcare mobile app development. 
So here are some of the best examples of top healthcare apps in the UAE. You can refer to these apps to develop your unique app. 
1. Health At Hand
Specialty: on-request social insurance, multiple membership plans. 
2. MyMedicNow
Specialty: services by different specialists, access to emergency clinics.
3. Sehaty 
Specialty: healthcare card, profile sharing, lab results, and more. 
4. DoctorUna
Specialty: appointment booking, area-based search.
5. HeyDoc
Specialty: best for patients with non-dire cases, global clinical advisors. 
Connecting the dots, the people also ask about healthcare app development cost. Although it does not directly relate to the role of mobile apps in the healthcare industry, it is essential to know.
The cost to develop a healthcare mobile app depends on multiple factors such as features, backend, frontend, and UI/UX, but if you want to know the cost of basic healthcare mobile app development, then it ranges between $10,000-$30,000. But with the advanced version, you need to spend more or near around $40k-$50k.


Future of Mobile Apps In The Healthcare Industry 2023
The year 2023 will be a year where you will experience multiple updates in the healthcare industry. As per the experts, there will be more advancements in the wearables as these devices allow professionals to perform real-time monitoring of the patients. So, there will be more mobile apps also compatible with these devices.
Consulting doctors online is the new normal; people find it easy instead of standing in a queue. So, it is visible that the year 2023 will be of healthcare mobile apps as people are more aware of their health now. Last but not least, the role of mobile apps in the healthcare industry is more than we thought.