"Rent a car, rent a story; every mile holds a new adventure." 
Modern Nomad
Are you looking to develop a car rental mobile app? If yes, then you must check out this blog. Many people don't own a vehicle. So, how do you suppose they plan their travels? Or do they not plan at all? We all know how expensive it is to invest in a vehicle. Only a few people have the money to purchase a car and pay for its upkeep.
Renting a car has become more popular, and people no longer have to worry about burning a huge hole in their pockets. Due to the huge popularity of these services, entrepreneurs are working hard on them. 
The industry is booming as well, and competition is fierce. Although you may not be successful in converting all drivers around the world to your customers, it is still possible to build an exceptional business.  
How would that be done? 
Car rental is the perfect example. What do you think of the idea that car rental mobile app development should be done well? Here's a quick guide to help you learn how to build a great car rental app along with other aspects.  
Let's dive deep into it! 
What is a Car Rental App?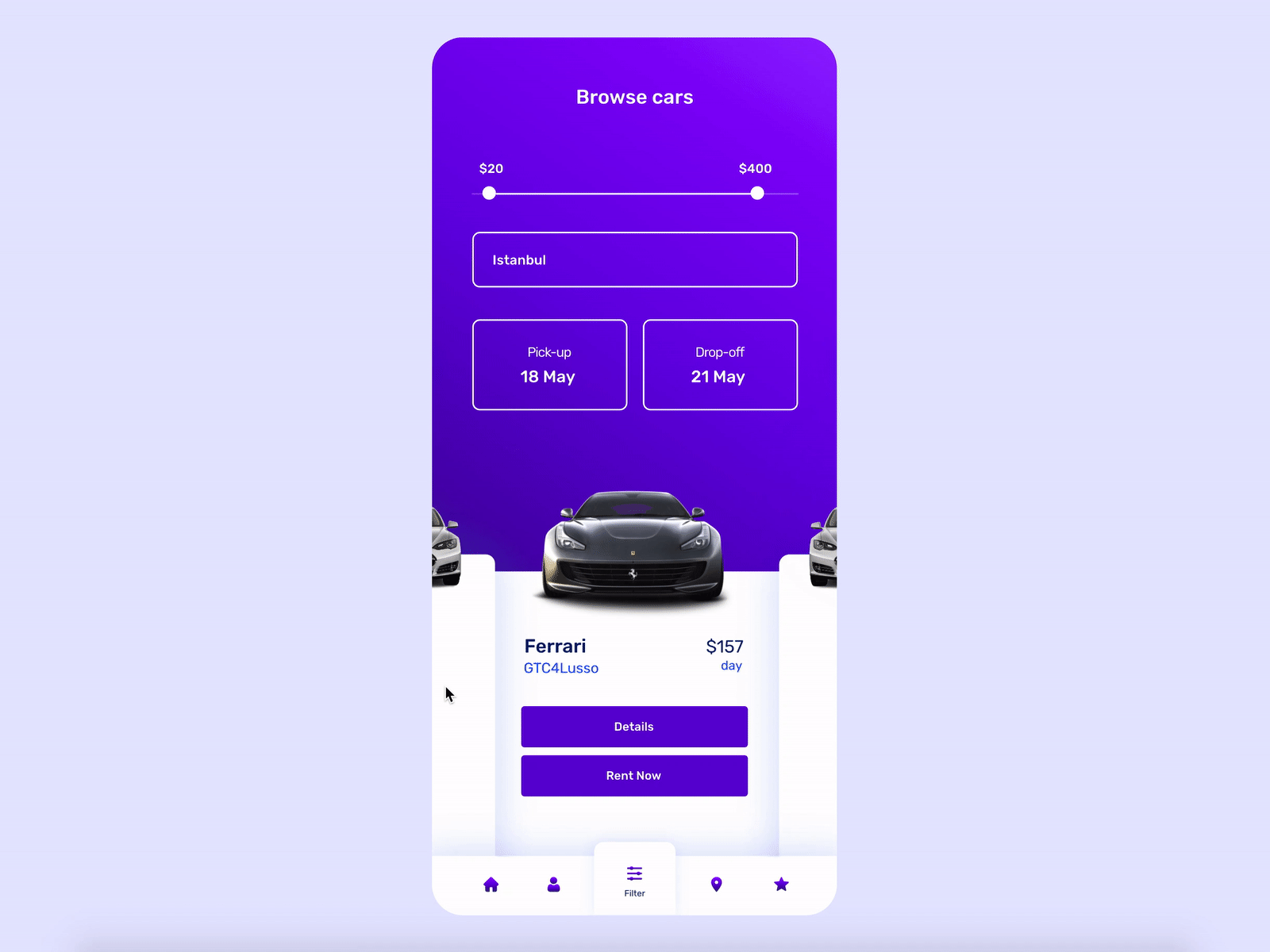 Car rental is a mobile app that provides customers with an easy, convenient, and quick way to rent a vehicle using their mobile device. These apps let users search for a car and reserve it, choose rental options, and pay from their smartphones or tablets. 
The use of car rental apps is an alternative to the traditional methods for renting a vehicle, like visiting a location or calling to make a reservation over the phone. The convenience and flexibility that these on-demand service apps offer both to consumers and to companies has made them increasingly popular. 
Market Stats of Car Rental Industry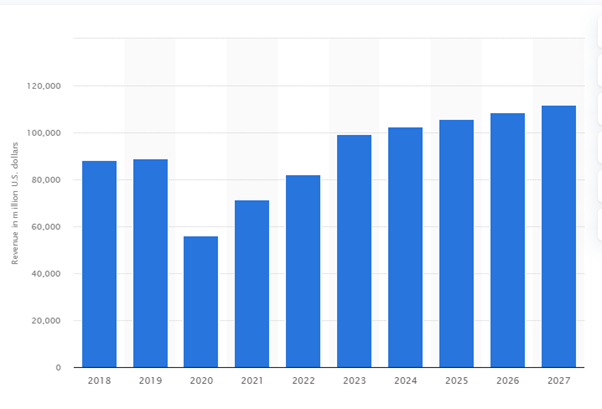 Source: Statista 
The market for car rentals is expected to generate revenues of US$99bn by 2023.

The revenue is projected to grow at a rate of 2.99% per year (CAGR from 2023-2027), resulting in an estimated market volume of US$112bn. 

It was predicted that the global number of users of 'Car Rentals,' the segment of shared mobility in the shared mobility market, would increase by 69.5 million users between 2023-2027.

By 2027, there are expected to be 0.6bn car rental users.

The projected user penetration for 2023 is 7.1% and 7.8% in 2027.

The ARPU (average revenue per user) is expected at US$181.50.

By 2027, online sales will generate 72% of the total revenue in the Car Rentals industry.

Comparatively, the United States will generate most of the revenue (US$29.940m by 2023).   
How Does a Car Rental App Work?
Users can rent cars for a specified period using a car rental app. The first step is to download the app and create an account. The user enters their preferences such as location, dates of pick-up/drop-off, and type of car. The car rental app Dubai displays the available options, including details such as price, model, and features. The user selects a vehicle and makes a booking.
Users must present their licenses and payment details to the agency upon arrival. Some apps allow users to unlock their cars with their phones. The app gives you access to GPS and trip details, as well as support during the rental period.
The on-demand car rental app will give you instructions on how to return the vehicle. The app calculates a final cost based on usage and extra charges. Apps are frequently used to handle payments. Ratings and reviews help other people choose reliable vehicles. A car rental app like Ekar simplifies the rental process from booking to paying and uses smartphones to improve the user's experience.  
Benefits of Develop a Car Rental Mobile App
 
Developing a car rental mobile app can bring numerous benefits to the business itself. Here are some key advantages: 
1. Customer engagement Increased
Car rental companies can utilize mobile apps to engage customers on a more personalized level. Mobile devices allow customers to access information, manage reservations, and make rental arrangements. This makes the rental experience easier and more accessible.
2. Customers Experience Improved
A mobile application that is well-designed can provide a more user-friendly and streamlined experience, improving the loyalty and satisfaction of customers.
3. Increased Visibility and Reach
A mobile app can help car rental companies reach a wider audience and expand their customer base by making it easier for potential customers to find and interact with their business.

4. Brand Recognition – Enhance Your Brand's Reputation
Car rental apps on mobile devices can help you stand out from the crowd in a crowded market. Apps can enhance the company's brand identity, values, and reputation.
5. Data Collection and Analysis
Mobile apps can help companies make informed and optimized decisions for their customers by providing data about customer behavior, usage patterns, and preferences.
6. Competitive Advantage
A mobile app can help car rental businesses gain a competitive advantage in a growing industry. Apps that are more user-friendly and convenient can also help them to attract and retain more customers.
Key Features to Develop a Car Rental Rental Mobile App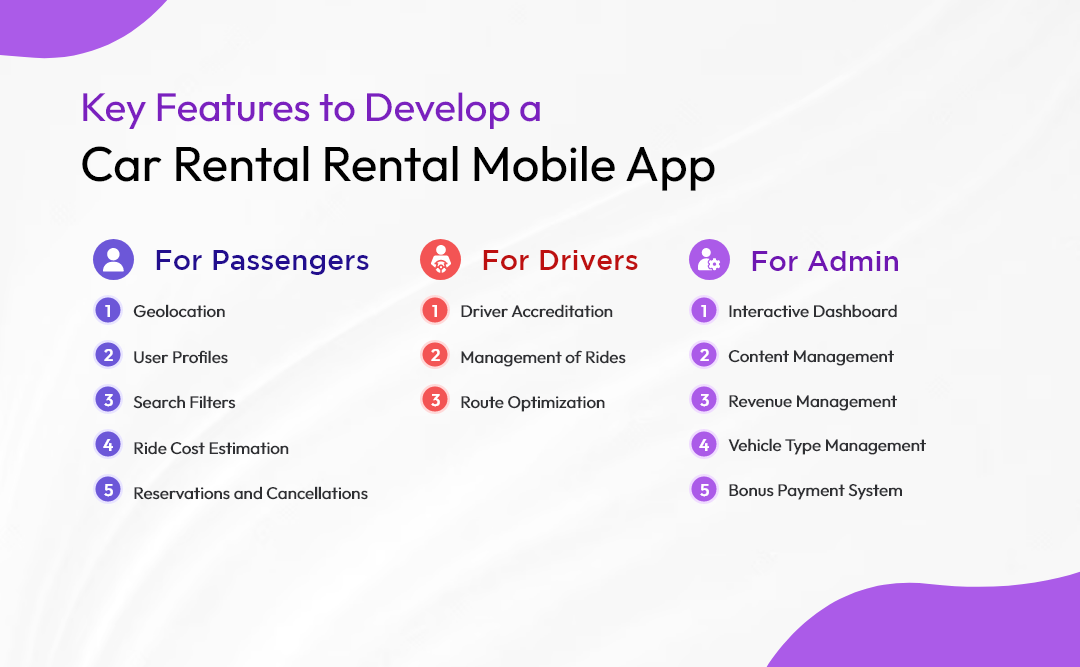 It's necessary to keep in mind the app's target audience while outlining the car rental app features that each application should offer. Drivers, consumers, and app managers are all of the groups that a vehicle rental app's features must cater to. So as per the mobile app development company in Dubai, below are the features that are essential to ensure the success of your car rental app development.  
1. For Passengers
The passenger should be able to register using an email address or contact number and then verify the password. This will ensure that their data is safe and secure to be used in the app.
Passengers should be able to customize the ride settings. The passengers should have the option to select their pick-up and drop-off location, time, language, driver gender, etc. The mobile car rental app uae should put the customer's convenience first.
You should be able to track each ride, from the arrival of the driver to the end of the trip. They should be shareable, as passengers may want to let their families know the status of a trip in real-time for safety reasons.
Don't limit your payment options. Include as many payment options as possible, such as credit cards, UPIs, cash, app coins, etc. Learn how to integrate mobile payment gateways.
Quick Trip Matching Algorithm
The app will match drivers with passengers based on their preferences and then send out requests.
2. For Drivers
When creating a profile, it is important to verify the documents and licenses that chauffeurs hold.
Allow the chauffeurs to accept or decline requests, manage orders, find clients, and search for customers.
Maps can be optimized to show a route that is the shortest and has light traffic, so users can finish a trip quickly. Learn how to include a geolocation into your app.

3. For Admin
You need a dashboard to see all the data from your app in real-time and in an organized way.
The admin decides what appears where and which content is shown to all users of the app.
The manager should be able to view all transactions, including their revenue.
The manager must know the type and rate of vehicles, as well as their make.
The admins are responsible for the bonuses, discounts, and benefits that passengers and drivers receive.\
Advanced Features to Include in Your Car Rental App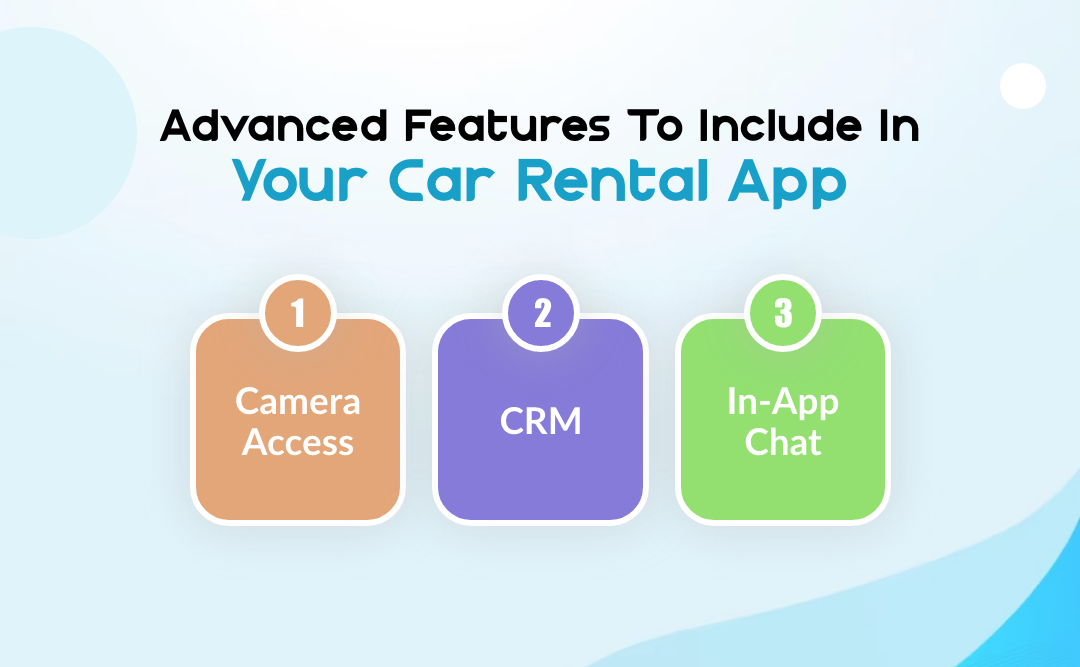 It is important to add advanced and additional features to your app to stay ahead of the competition. These features can be included after the MVP launch to keep the cost down. So let's have a look at them to develop a car rental mobile app as per the car rental app development services provider.   
1. Camera Access
The in-app camera makes it easy for users to upload all the documents required to rent a vehicle. Driving licenses, ID cards, and many more. This will allow you to upload a photo of any vehicle damage at the time the vehicle is picked up. The user can quickly enter card details to make payments.
2. CRM
Your application can be elevated to another level with a good customer service interface. Integrating CRM allows Admins and Managers to easily manage customer relationships while distributing promotional emails, newsletters, etc. Here's a guide on how to implement CRM in your business.
3. In-App Chat
In-app chats are the most convenient way of interacting with vehicle owners. Most users like the fact that they can choose from different chat options, such as text, voice, or video chat. So, hire taxi app developers who can integrate this feature in your app for better user experience.      
Tech Stack Required to Develop a Car Rental Mobile App 
Hiring a team of experienced react native app development teams such as QA, testers and backend and frontend developers will help you to develop a car rental mobile app. By choosing the right technology stack and hiring an experienced team, you can create a powerful and intuitive car rental app. A refined online car rental app with amazing services and features will help you to take your business to new heights.    
Real-time Analytics – Google Analytics or Flurry
Database — Postgres, MongoDB, Cassandra, HBase, MySQL
Verification — Google Sign-in or Facebook SDK
Cloud — Amazon Web Services Data Servers, or Google Cloud services
Google Maps and Apple Maps: Location tracking
How to Develop a Car Rental Mobile App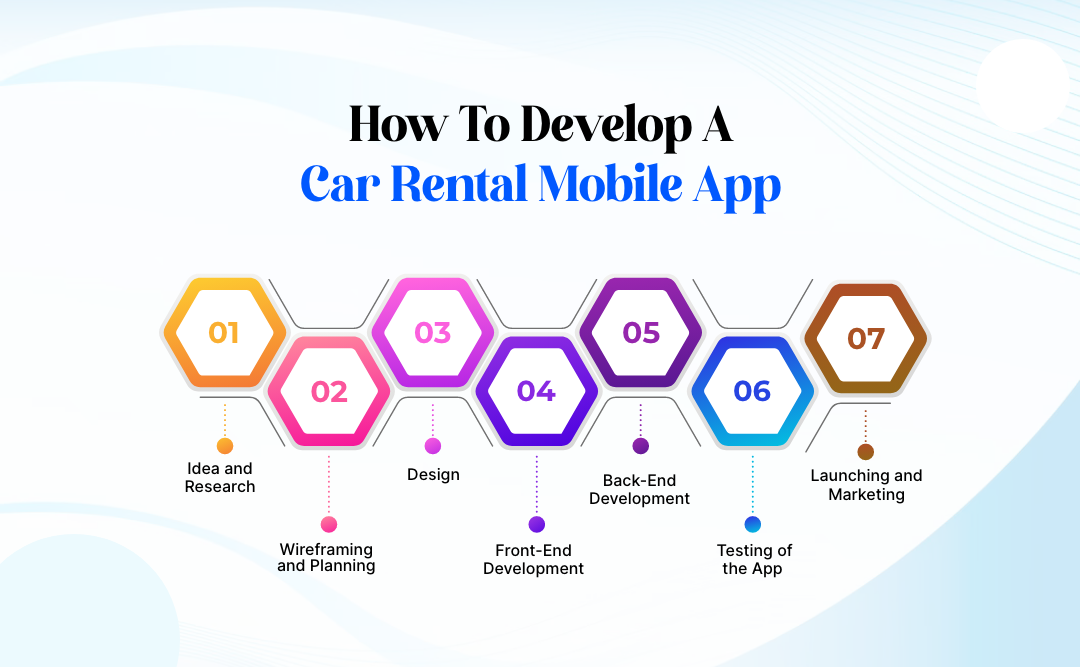 You must be thinking, about how to create a car rental app!! Well, this section will guide you through the car rental app development to manage your business and build one for your customers.   
Step 1: Idea and Research
Start by defining your app's target audience and concept. Do some research on the car rental market, your competitors and trends. This will allow you to understand the user's expectations and create features that are unique.
Step 2: Wireframing and Planning
Create wireframes or prototypes to visualize how users will navigate through the app. Wireframes and prototypes can be used to see how the users will interact with your app. This ensures that you have a clear car rental mobile app development roadmap and can identify any issues as early as possible.
Step 3: Design
Create an attractive and user-friendly design. Select a color scheme and typography that is consistent with your brand. This will enhance the usability. It should be easy for users to view and book options, manage reservations, or book a vehicle.
Step 4: Front-End Development
The user interface is coded. To build the front end of your app, you should hire on-demand app developers who can use programming languages such as Swift for iOS and Kotlin for Android. They would focus on responsive layouts, seamless animations, and seamless navigability.

Step 5: Back-End Development
Build the server, database, and APIs to power the app. Commonly used languages include Node.js and Python. Implement features such as user registration, payment processing, and vehicle inventory management. 
Step 7: Testing of the App 
Test the app thoroughly for bugs, glitches, and usability problems. Test the app's functionality, usability, and performance. Real users or beta-testers can be enlisted to collect feedback and make improvements before the launch.
Step 8: Launching and Marketing
Release the app on app stores like Apple App Store and Google Play Store once it has been polished and tested. Create a marketing plan that includes influencer collaborations and targeted ads, as well as social media to generate buzz and encourage users to download the app. Also, a timely update of the app is vital. So when you employ a maintenance service provider, you should first examine its cost to maintain an app. 
Cost to Develop a Car Rental Mobile App
The car rental app development cost of an app can vary greatly depending on many factors. These include the features of the app, its design, and the expertise of the development team. The average cost to create car rental apps with basic functionality is between $8,000 and $15,000 while more complicated apps that have additional features cost up to $25,000 or even more. 
The cost to develop an app is affected by its size, complexity, experience, and technology stack. The cost of developing an app that has a customized design, and a variety of features such as mobile keyless entry and real-time GPS, for example, is likely to be higher than one with a simple design and limited functionality.
Consider ongoing costs to build a car rental app such as bug fixes, server maintenance, and updates. These can add up to the overall cost of ownership. Consult a professional car wash app development services provider that develops apps to obtain an accurate cost estimate. 
Conclusion 
Car rental, startup or not, at first all businesses seem overwhelming. But once you take the first step you will be motivated to move forward. At the end of the day, you'll have a legal and publicized business venture to which you can contribute and work towards growing.
In order to make a great first step, it is best to work with a car rental mobile app development company that can provide you not only with a car rental application but also assist in resolving any issues post-deployment at no extra cost.  
FAQ
1. How Long Does it Take to Develop a Mobile App for Car Rental?
Depending on the complexity, features, and size of the team, the time required to design a mobile app for auto rentals might vary greatly. While more complex apps could take 6–12 months or longer, simpler ones might just take 2-4 months. A successful app requires careful thought and preparation during the phases of design, development, testing, and deployment. 
2. What is the Revenue Model of Car Rental Apps?
The revenue streams for car rental apps flow through
Passengers-

who pay for the trip

Drivers-

are charged for commission

Surge pricing-

in case of situations of a longer-than-expected ride due to weather conditions, traffic, etc

In-app advertising-

brands get customers from your advertisement, and you gain profits.
3. What Are the Top 5 Most Popular Car Rentals App? 
Here are the most popular car rental apps that you must take into consideration when you develop a car rental mobile app: 
Budget 

Hertz 

Turo 

Alamo 

Enterprise