Along with time, our technologies are also advancing day by day. Nowadays we have app for everything. Most of them are launched in the market to minimize the effort of the users in their daily lives. These demands are also known as on-demand service applications. These apps are famous for various type of service, convenience, and quality they provide to their users.
In today's normal life, the globalization has made life busier. Businesses stay awake for whole day due to ongoing deals from east to west horizon. People do not get time to complete other routine work like shopping, cooking food, housekeeping, and much more. This gives a considerable boast in this kind of on-demand service apps in the market. Moreover, the outbreak of the Coronavirus, trigger the popularity of these on-demand applications to a substantial level.
The main goal of this kind of on-demand service app is to provide better and faster customer service. User prefers these app for being more convenient and time-saving option to complete day to day works. So, if you have a unique idea to provide a reliable service to your customers. Then this is the right time to enter the market, with your new responsive and dynamic on-demand service app.
To know more about these on-demand service applications, their types, and features, we will make along discussion here.
What Is An On-Demand Service App?

On-demand applications are the software that is used to fulfil the needs of the customer when they need it. Basically, it works as a mediator between the users and the service provider organization in the market. The apps are easily customizable so that the users can experience a simple, easily understandable, and responsive user interface while using the app. Applications like Uber, Zomato, Swiggy, UrbanClap, and much more are some of the famous on-demand service apps that exist in the market.
All of these applications have their respective target users according to the location of the users. And their only motive is to attract more and more customers by providing a better service experience to their users. For successful marketplace and impressive service delivery, there are few no code and low code on-demand app development solutions builder available in market. Or you may hire a good resource for such apps.
Nowadays we have on-demand service applications in almost all sectors of our society. We have an app for healthcare, cargo, food, and cloth deliveries along with daily essential or grocery deliveries. All these applications made our daily life so easy by providing doorstep services.
What Are The Different Types of On-Demand Service Apps Present In The Market?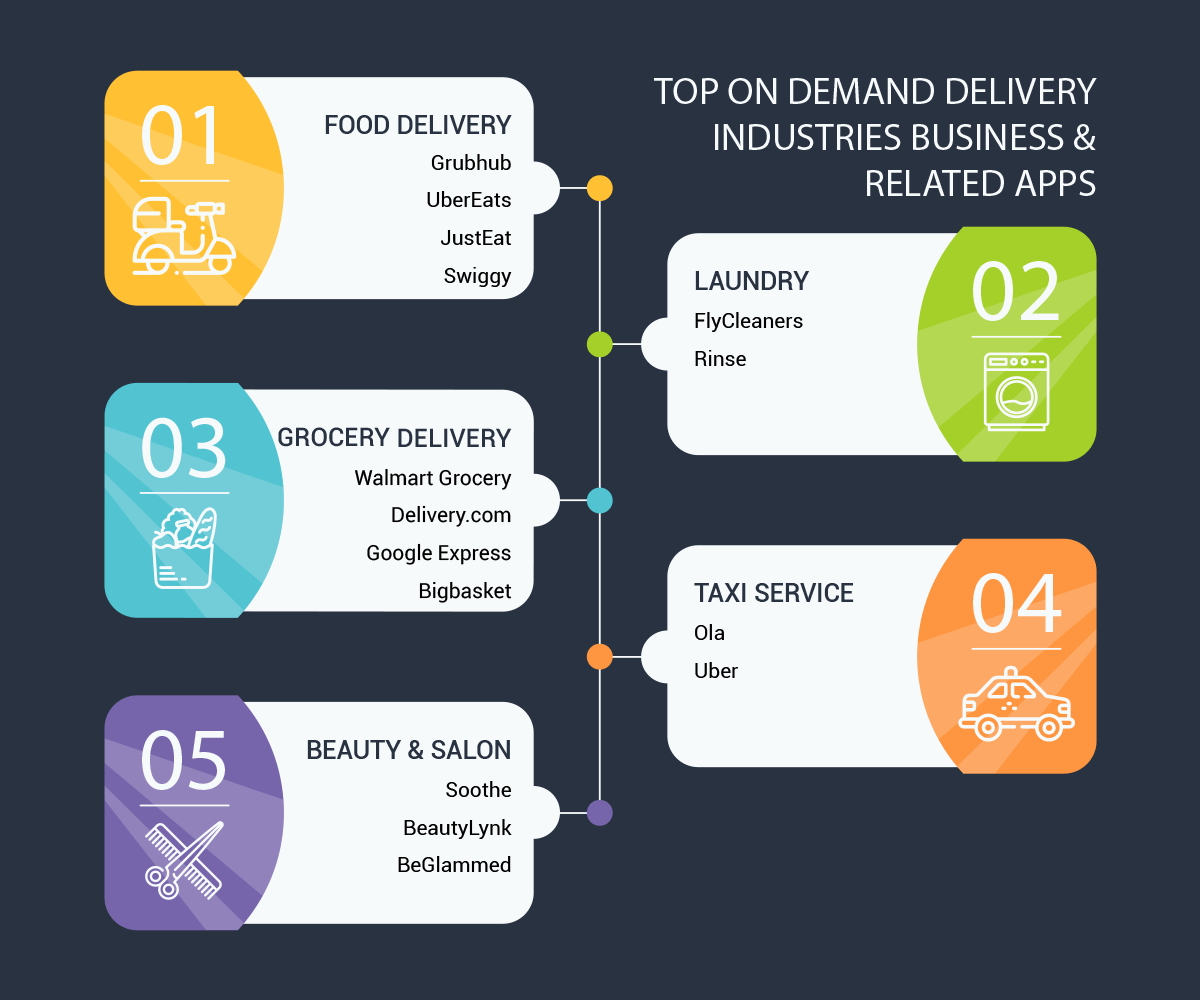 1. On the basis of the business model
Business to Business (B2B)
The applications are created to fulfil the business needs of the two companies. Usually, these types of applications are based on delivering raw materials for production.
Business to Customer (B2C)
The app which fulfil the needs of a user by delivering products from various businesses is called the B2C application. On-demand food delivery services are the biggest example of this type of application.
Customer to Customer (C2C)
The on-demand service app which connects two customers so that one can fulfil the necessary services are called the C2C service apps. Apps like UrbanClap are one of the famous examples of this kind of application.
Hiring the best business app development services available in the market can help you develop a responsive on-demand service app according to the business model of your organization.
2. On the basis of service
This type of on-demand application fulfils the gap between foodies and their favorite restaurants. Here the customers get a list of available restaurants from where they can order their food. Which will be delivered to their doorsteps. After placing the order, the users can also track the live status of the food through the application.  Some famous examples are Zomato, Swiggy, etc.
These on-demand apps help the users to get laundry services at their doorstep. If you have a pile of dirty clothes, you can appoint local laundry services near you through this application. They will send their employees to pick up your dirty clothes, wash and press them and give it back to you with the given time frame.
Home care and repairing services
Homecare applications offer many types of services from cleaning your house to repair electronic gadgets in your house. This provides better convenience to the users, as they don't have to take care of their household works every day.
These apps were developed by various on-demand app development companies as very useful for the patients. During this pandemic situation, getting a doctor's appointment is very difficult. But with these applications, you can consult a doctor while staying inside your home. This is possible through the video calling feature present in the application.
Many people have pets in their homes. But they need proper care and grooming in order to stay fit. These on-demand service apps help the user to book various persons with dog grooming experience. They come to your home and provide the required service.
Car booking and repair application
Want to buy a car? These applications will provide you every information you need for each and every car available in the market. This includes prices, features, EMI options, and much more. Moreover, you can book test rides for your favorite cars through these applications.
The grocery delivery application is one of the most commonly used on-demand service apps in the market. They have a huge user base according to the type of services they provide. Due to these applications, users don't have to drive to their grocery store, search all the required products from various parts of the store and wait in a long queue to pay for the product. They just have to use the application from their smartphones and place the order. And the order will be delivered to their doorstep.
These on-demand service applications got a considerable boost after the outbreak of the Coronavirus. It helps the users to book appointments with various hair stylists near their location. They will come into your house and provide you the beauty services you required.
Hiring a better on-demand app development company in Dubai can help you create an application according to the service you will provide to your users.
What Are The Top Features That Your On-Demand Service App Should Have?

The on-demand service applications are well known for their services and the features they provide to the users. Here are some of the top features that you can implement in your on-demand service apps,
Security of the user's data
If you are the owner of an on-demand service app, then your users, in going to use various payment options to pay for your app services. Now the data which you have received from your users is your responsibility.  That means, its the responsibility of your organization to keep your user's data safe from various hackers and cyber threats. So, make sure your application has a better security system on which your users can rely.
Every user wants to know the exact status of their food, grocery, or item they have ordered. Here the GPS feature implemented in your application can update you on the location of their order automatically. This feature also helps the users to alter their delivery time and place according to their convenience.
Your on-demand service application should have an easy to user and responsive interface. Sometimes developers use high-end features so that your app can attract a larger user base. But usually, they end up lagging the performance of the application. This can affect the reputation of your organization as well as the customer base. So, it is better to use all the basic features in your applications without compromising the performance of your application.
Feedback and Review options
This is one of the most important features for all on-demand service applications present in the market. With the help of this feature, your users can provide valuable feedback and reviews on your provided services. Plus, you can use this feature to fulfill any drawbacks or flaws that exist in your services. Once, you fix all the flaws you can expect a scalable user base for your application. Hiring the best mobile app development services can help you to fix your drawback effectively and efficiently.
It is one of the recent trending features in the market. It allows the users to save any product to buy it later. You can use this feature to know more about the likes and dislikes of your users. According to which you can suggest those products with attractive discounts through your on-demand service applications.
This feature helps the organization to provide various important messages through notifications on their phone. This notification includes delivery location, order status, payment confirmation and much more. This increases the efficiency of your organization and reduces the effort of your users.
Usually, most on-demand app solutions provide a huge number of payment gateway options to their users. Users can use their debit, credit cards, internet banking and UPI, etc., for paying for their required products. The applications also allow various e-wallets as their primary payment options. This increases the convenience among the users and leads your organization towards a better user experience.
Effective customer support
Providing quick and responsive support is also a huge part of the customer experience. Usually, the users expect a quick solution when they face any issue while using your applications and services. So, it is better to ensure customer support by implementing better AI in your in-app chats.
An on-demand service app with a better visual appearance always attracts more users. So, try to implement simple graphical effects for your applications. Using too much high graphical content can slow down your performance.
Hiring a group of dedicated app developers can help you to implement all these features effectively in your application. So that you can provide better service to your users and increase the brand value of your organization in the market. 
How To Build An On-Demand Service App?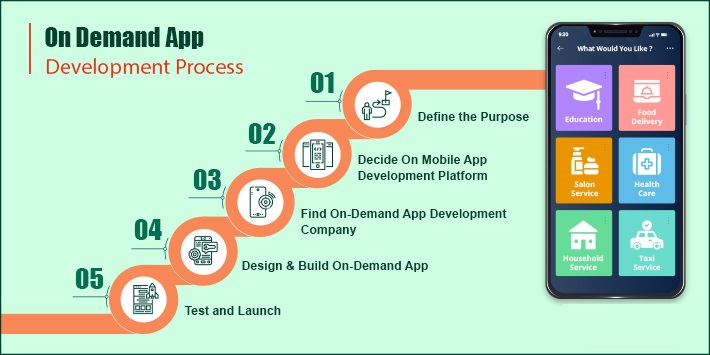 The development of an on-demand service application includes some simple steps. Following these steps, you will be able to create a dynamic and responsive application to provide better customers service to your users. Here those steps
Firstly, you have to decide the priorities and requirements that you will need depending on the type of service you're providing to your customers.
Then you have to conduct a thorough survey on the market condition. That means collecting data on whether the targeted audience is ready to use your application or not. And also, fix the type of users you going to target for providing your services.
After that, you have to create an iron-clad business and a revenue model so that you can gain better profit for your organization from the market. A better revenue model will provide your organization better return of interest.
Then hire the best on-demand service apps development company available in the market. Choosing the perfect company needs immense research and background check with their previous clients.
Now you just have to maintain an efficient development process according to the requirements of your business. Along with proper maintenance of the documentation process of the application. A better app development company will provide their clients 100 percent transparency during the development process of the applications.
After the completion of the development process, it is time to launch the software on various major platforms. And along with that, you have to find an effective marketing strategy to make the users know more about your application. Plus, after the launch try to provide better customer support to your users.
Conclusion:
The On-demand service apps are the software that is launched to fulfill the needs of their users. That is why the aim of this kind of apps is to provide better service to their users. If you have any kind of business, then delivering your valuable service to customer doorstep through a responsive on-demand service app can ensure your success in the market.