As we all know, on-demand services like food delivery, beauty services and taxi mobile app are becoming more common in the app market. The use of smartphone applications for everyday tasks has expanded significantly in recent years as technology has developed, and people's access to the internet has increased. Apps like Uber and comparable taxi booking apps have made travelling more convenient than feasible because of their ubiquitous availability in app stores. Several businesses are making an effort to build taxi app development.
It is essential to know that taxi app development is one of the most popular on demand app development that has immense popularity due to rapid advancement in information, communication technology and the widespread use of on-demand transportation services. Now that you're here, we conclude that you're one of the people looking for taxi app development but don't know its cost and features.
If you are one of them, you'll be thrilled to know that you're in the right place. In this, we have gathered some vital information on taxi app development cost analysis and features which you must go through once before indulging in the development procedure. Let's dive into the blog.
Current Market Stats on Taxi App Development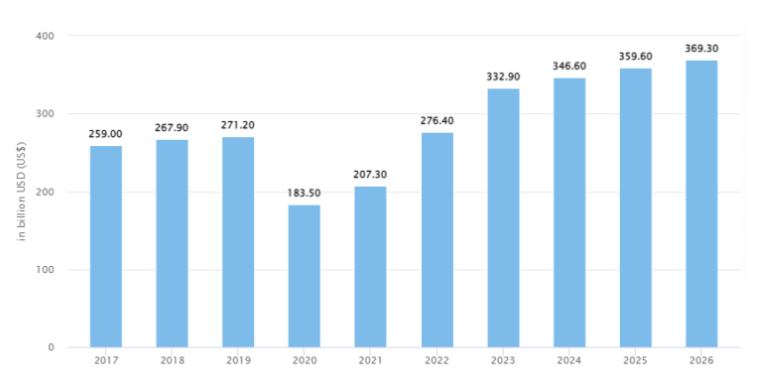 In this section below, we have covered some market stats you must read before developing your taxi app.
The ride-hailing and taxi market are predicted to generate US$0.77 billion in revenue in 2022.
Revenue is anticipated to grow at a compound annual growth rate (CAGR) of 7.51% from 2022 to 2026, with forecasted market size of US$369.30 billion.
Revenue is anticipated to grow at a compound annual growth rate (CAGR) of 5.13% from 2022 to 2026, with a forecasted market value of US$0.94 billion.
By 2026, there are projected to be 3.2 million customers in the ride-hailing and taxi industry.
User penetration is predicted to reach 30.8% by 2026 from a current 29.5% in 2022.
The annual income per user (ARPU) is anticipated to be $258.90 USD.
By 2026, internet sales will account for 24% of all ride-hailing and taxi industry revenue.
Note- We hope these market stats are helpful for you in getting an estimation of taxi app development cost analysis.
What Is a Taxi Booking On-Demand Mobile App?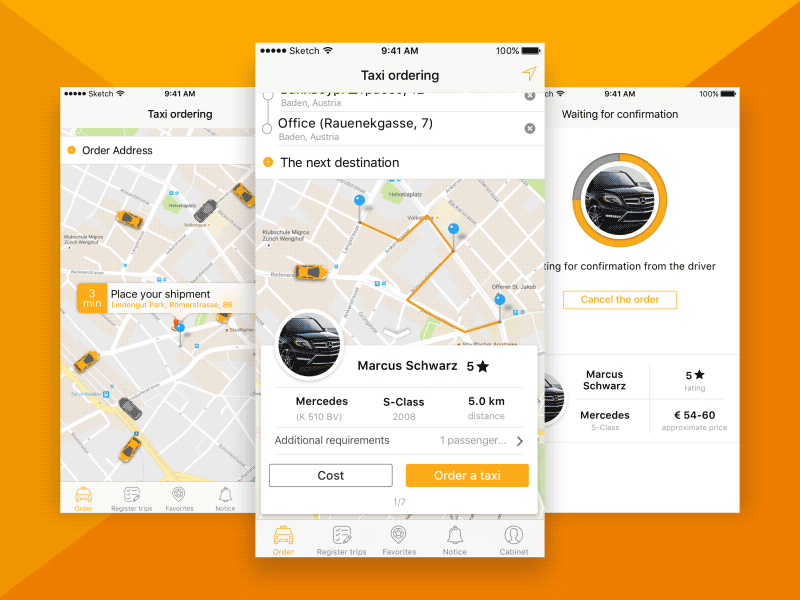 Taxi Booking app is a software that offers online services to its users and ride-hailing companies. It is crucial to know that users are required to book cabs with the help of their smartphones, whereas these drivers may get requests for rides via an app or a panel. The overall business will work online with smartphones.
There is top four taxi mobile app in UAE which you must look at:
RTA Dubai
DTC (Dubai Taxi Corporation)
Uber
Careem
Read More: 10 Successful Ideas for On-demand App Development
Some Incredible Features of a Taxi Booking App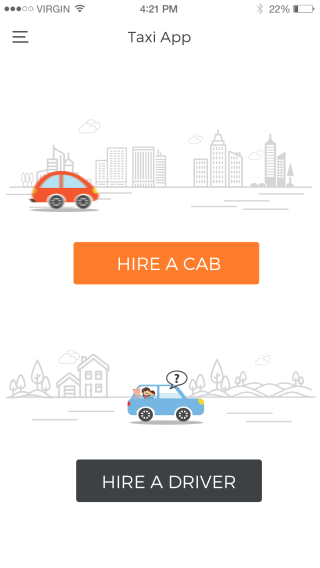 Now the time has come when you must go through the features of taxi booking app development. In this section, we have covered some essential functions you must go through to get a brief estimation of taxi app development cost analysis.
1. User Panel
● Registration or login
Every customer must register through their email address or social networking platform to access the taxi booking app features.
● Reserving a Cab On Demand
Customers must access a booking interface screen to enter the specifics of the pick-up and drop-off locations. Make sure to analyse this feature to estimate Taxi app development cost.
● Calculate Total Estimated Fare
Every customer will review this feature. They can verify the estimated fare before they reserve a cab. This function provides customers with an estimator of the total cost of their trip.

● Real-Time Vehicle Tracking
When a passenger orders a taxi, they prefer to know where their cab is and how long it will take for the taxi to arrive or arrive at the specified location. This feature can thoroughly increase the taxi app development cost analysis as it requires skilled mobile app developers to create tracking software.
● Rating & Review
Every customer can rate their driver or the trip by clicking on the rating and review section. Here they can provide a description on why they are leaving a negative or positive review.
● Customer Support
It is highly recommended to add customer support features in-app for pleasant booking and travelling experience. with 24*7 customers can communicate with the drivers via a communication tab, such as one containing the driver's contact information or a calling option.
● Payment Gateway
Every customer must have multiple payment options to pay for the ride, including cash payment, card payment, and other third-party channels, which must be in your taxi booking app. Customers can also enter their bank account or credit card information to make online payments.
● Booking History
Every customer can simply review their previous taxi booking with the help of this feature. By clicking onto one of the prior booked histories, they can quickly book a cab for the same route.
Read More: Taxi App Development: The Ultimate Guide for 2022
2. Driver Panel
● Update Driver Profile
The driver app must have a profile feature to join up, just like the passenger app. drivers can complete all fields, including those for their updated status and entire profile with their license number.
● Notification 
When a passenger books the cab in the immediate vicinity, this function will immediately notify the driver. The driver must travel the feasible path to the passenger's pickup location.
● GPS Navigation
This feature will help the driver reach the intended destination in the shortest amount of time by taking the optimal route. To access this, feature every driver taxi app must be linked with a navigation system, such as Google Maps.
● Fare Calculator Tab
The fare calculator feature will help drivers estimate the rate and take advantage of passenger-applied discounts. It is essential to say that this feature can prominently increase the Taxi app development cost due to its requirement for dedicated developers.
● Cab Sharing Service
The driver is informed with the help of this feature that the cab has been reserved on a mutual basis. All passengers' pick-up and drop-off locations must be notified via the app.
●  Tab for Income Statements
The income statement feature will help the driver to monitor their income and earnings from trips made over a week or month, you must include a report section. Make sure to add these features to your taxi mobile app development, but it is quite important to know that it will increase the taxi app development cost.
Read More: How to Start a Taxi Booking Business in UAE?
Taxi App Development Cost Analysis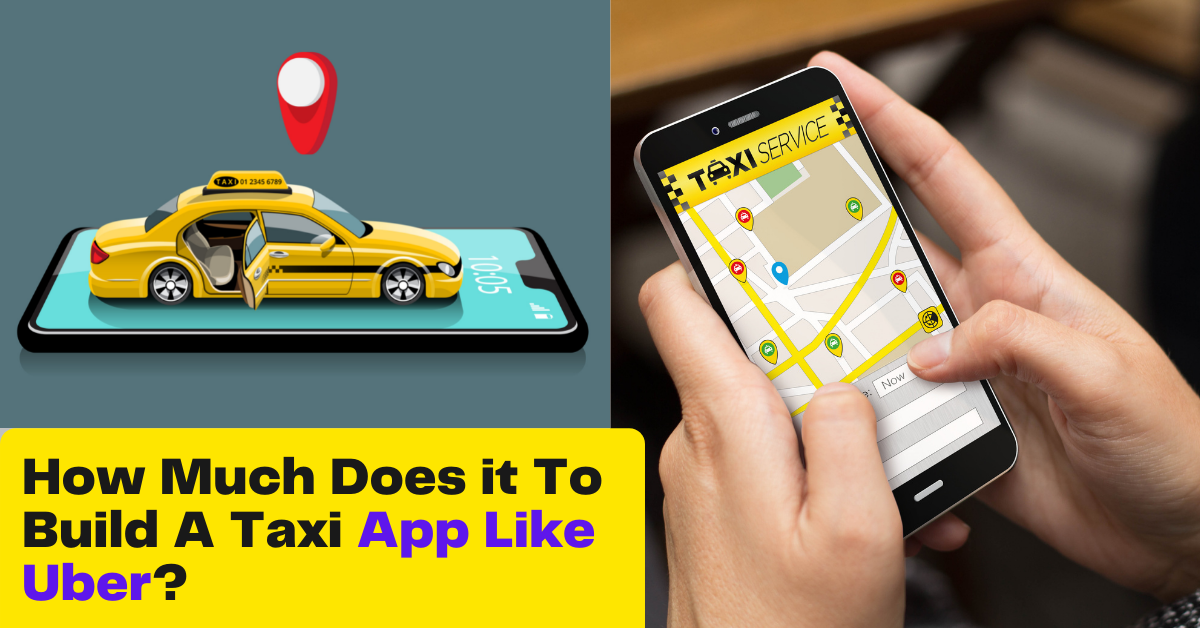 The most awaited moment has come. many of you must be here to know the Taxi app development cost. to comprehend your research, we have something delightful for you. The Taxi app development cost varies from $20,000 to 80,000. The development cost depends on the type of app you want to build. To make you understand the cost estimation thoroughly, we have built a table that include development cost estimation with time and type of mobile app. So read carefully.
| | | |
| --- | --- | --- |
| Type of App | Time | Estimate Cost         |
| Simple Taxi App Development Cost | 2-3 months | $20,000 to $30,000 |
| Basic Taxi App Development Cost | 3-6 months | $30,000 to $50,000 |
| Complex Taxi App Development Cost | More than 10 months | $50,000 to $80,000 |
Hence it is essential to know that not only does the type of app influence the taxi app development cost but several factors influence the cost. In this section, we have covered all of those important factors that influence the cost of taxi app development so read carefully about it.
2. App Size
One aspect that affects the price of building a mobile app is app size. It is critical to understand that costs will be more for you if your taxi business is substantial. Depending on the size of the app, the app development team will increase the cost of developing a taxi mobile app.  The taxi app would need more capabilities and functionalities to provide online services for mid-sized or large-scale taxi app companies. Therefore, the Taxi app development cost will depend on how big of a taxi mobile app you want to build for your company. Therefore, it will cost more the bigger it is.
2. Platforms and Technology
Other important elements that significantly impact the development cost of on-demand app development are the app platform and the technologies of choice. It is crucial to know that designing an app for a specific application will be less affordable than developing it for numerous reasons. The cost will increase if you want to create a mobile application for both the Android and iOS platforms. Choosing both platforms will increase number of tech stack which will result in increasing the cost of taxi mobile app. Many companies who create on-demand apps only choose one network to launch their products on. Another important factor in this area to consider is device generation.
3. Features and Functions
Other factors that affect the Taxi app development cost include features and functionality. It is critical to understand how the complexity of additional features and functions and their number affect development costs. However, to receive a precise estimate of features, you must work with mobile app development companies, who can give you a general concept of price.
4. UI/UX
Every mobile app needs a UI/UX design to draw users in and affect the app's development costs. It's crucial to create the finest and most user-friendly UI/UX possible so it can function immediately. To create a user interface that is more appealing and attractive, you must hire a mobile app developer. Since the user interface and experience incorporate the brand logo, wireframes, and other components of the program, it is crucial to understand them.
5. Development Team
When you need to estimate the whole cost of development, many people find it difficult to comprehend how this taxi app development company may also affect the cost. It is critical to remember that factors like development teams and hourly rates are quite important. The hours of the building app will help estimate the entire development cost. Therefore, if your application is complex, it will take significantly more time and Taxi app development costs a taxi app development company.
Read More: 10 Tips to Consider while Hiring On-demand App Developers in Dubai
Takeaway!
Hopefully, you liked this blog and now know the taxi app development cost & features extensively. However, you must know that taxi app development requires talented, skilled developers switching years of experience. We are all aware of how difficult software development is and how important a skilled development team is. You should be aware that hiring experienced, in-house developers will cost you significantly more. However, the time has come when you must work with a mobile app developer to complete your ideal project. To receive the creation of a high-tech taxi app, contact our team. Since we have the most cutting-edge technology and are the best at using it to deliver high-quality solutions, we must be certain that we can give you the best.
Frequently Asked Questions

Q.1 How To Create a Taxi Mobile App?
You must be familiar with these step-by-step instructions to create a taxi app. This guide will teach you how to make fantastic apps.
Specify Your Business Concept
Perform Market Research
Make a List of The Functions and Features.
Employ a Mobile App Development Company
Make a Choice on The Tech Stack Development Process
Launch and Marketing
Q.2 How Long Does It Take to Build a Taxi App?
It's crucial to be aware that the taxi app's development will take 5 to 10 months. The price of developing a taxi app will depend on several factors, including the period of development, the complexity of the app, its size, and the platform used.
Q.3 What Are the Advantages Of A Taxi Booking App?
You can quickly examine the top benefits of creating a taxi booking application for the taxi business from the list of benefits provided below.
Increasing brand awareness
Efficiency
Financial Benefits
Live location tracking and client comments
How Much Does It Cost To Create On-Demand App Development?
The cost to create an on-demand application can be anywhere from $30,000 to $120,000 or even more. The main cost factors for developing on-demand app are the features' quantity and complexity. These are applications with a fundamental set of features, making it a good strategy for creating MVP products.