Having your own business is a dream of most people to have growth in their life. Big thanks to the evolution of eCommerce all can start their business leveraging technology such as eCommerce website development. The phase of COVID-19 was a turning point for many businesses.
Comparatively, during the global lockdown, businesses realize they must have an online presence so that customers can reach them easily or vice versa. Online retail businesses already existed before COVID-19 generated good revenue. It is one of the direct reasons behind the boom in the eCommerce sector. The best part is that you can easily showcase your products via the website, mobile app, or both. 
The whole game starts with the planning, and it is not an exception to start the eCommerce website and app with a fail-proof plan. Starting a new business is a challenging task that requires full preparation. So with the objective of guiding the readers and answering the question of how to plan to start online retail businesses, we have created this blog.   
Moreover, here are some key stats related to the eCommerce sector that will excite you to move forward. 
Key Stats Related to Ecommerce Industry
Here are some key stats that will help you while planning for an eCommerce web and app.
#1. Ecommerce Stats- UAE 
In 2023, the UAE eCommerce market is projected to reach $13.78 billion. 

The expected CAGR 2022-2027 is 9.53% and the expected market volume is $19.83 billion by 2027. 

By 2027, the number of eCommerce users is expected to reach 6.9 million. 

#2. Ecommerce Stats- Worldwide
E-commerce market revenue is expected to be $4.48 trillion in 2023.

The expectation for 2027 for market volume is $6.39 trillion. 

By 2027, worldwide eCommerce users are expected to be 5263.6 million. 

The average revenue per user is expected to grow by $1019.00. 
Now, let's proceed for a deeper reading of this blog. 

The Ecommerce Business Plan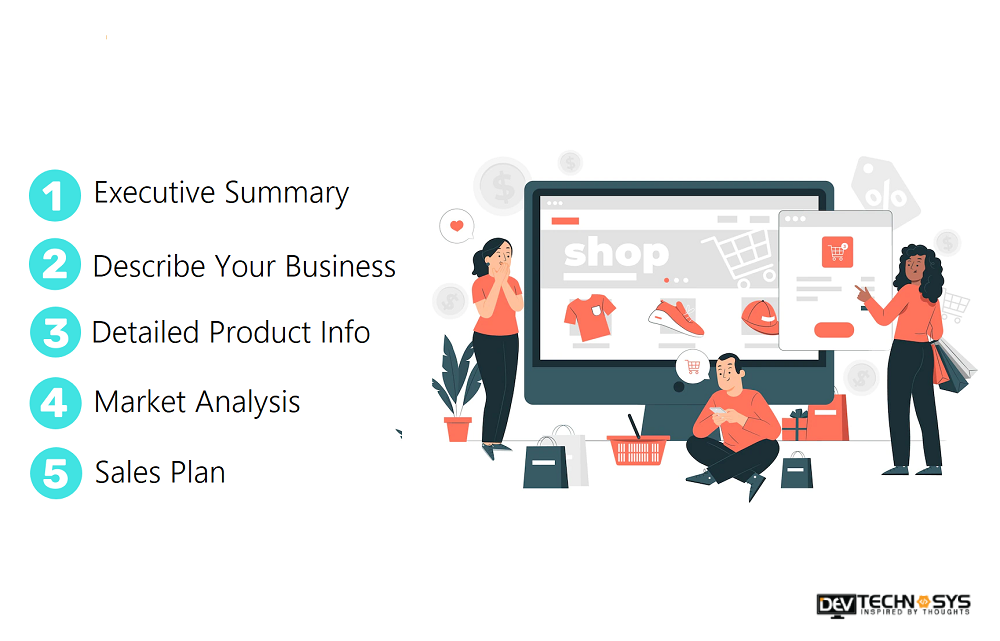 It would help if you had a business plan to start an online retail business instead of jumping directly to build an eCommerce website. The whole thing will revolve around it. So, here are some crucial steps you need to follow for writing a business plan.
The executive summary is an overview document containing the central idea of the business. It is also crucial while planning for eCommerce website development. 
Describing your business refers to defining what purpose you want to establish, what type of products and customers you are focusing on, your mission & vision, and core values. 
Detailed product info contains minute to major details of the products. The same details will help you after the eCommerce website development is finished. The details will help you to engage the customers in the best way. FYI, the product info also includes product cost. 
Market Analysis refers to the detailed study of competitors and market trends. You can leverage direct or indirect data collection for making a business strategy. Try to find comparative strengths, comparative weaknesses, and counterpoints. 
Sales are everything for any business around the globe. The growth of the business and revenue generation will depend on your sales plan.   
All the steps we have read till now will have a great influence on your website. Because whatever your business plan is, the eCommerce website development will take place accordingly.

What Are The Success Factors For An Online Retail Business?
Establishing a business is indeed nothing, but making it successful requires tons of effort. But some factors can help you a lot if you keep them in mind. These can reduce the stress of efforts. 
So, let's explore what these are!
Product Price Optimization
It is okay that you want to start a business for profit, as everybody does, but it would be best to keep competitive prices in mind. Due to the tough competition in the eCommerce market, a customer usually compares the price and then makes a decision. You will have two advantages if you offer them an affordable price and include your profit. One is more customer onboarding, and the other is good revenue generation. 
High-Quality Product Offering
Customers also want quality products as they are spending their money. The fact is that more than 90% of online customers drop purchasing from an eCommerce platform that offers low-quality products. So, maintain a stock of quality products, including a clear refund & return policy.   
Customer support is always crucial for any business, either offline or online. Seamless communication is a must to engage customers and address their queries. If it is available 24/7, then it generates trust among the customers. What you can do is implement a chatbot, including manual customer support. 
Social media appeared as a strong marketing medium for businesses around the globe, and there are other marketing mediums. Here you need to focus on three, i.e., social media marketing, content marketing, and email marketing. 
In the absence of appropriate payment methods,, most of the customers abandon the cart. It also has a bad influence on brand presence. Implementing multiple payment methods is always beneficial. For the best experience, you can hire eCommerce developers having in-depth knowledge of multiple payment systems such as online payment, third-party payment, and offline payment.
One of the success factors for an online retail business is the easy checkout process. Not many customers like a complex checkout process. If you observe closely, most trending shopping sites like Amazon, Souq.com, and others.
Until this section of this blog, you have gone through the information such as key stats related to the eCommerce market, the eCommerce business plan, and the success factors for online retail business. If you are interested in starting your own online retail business, then starting it with custom eCommerce website development is the right idea. Later you can also extend it via mobile and with the help of eCommerce mobile app development services.
Steps To Develop An Ecommerce Website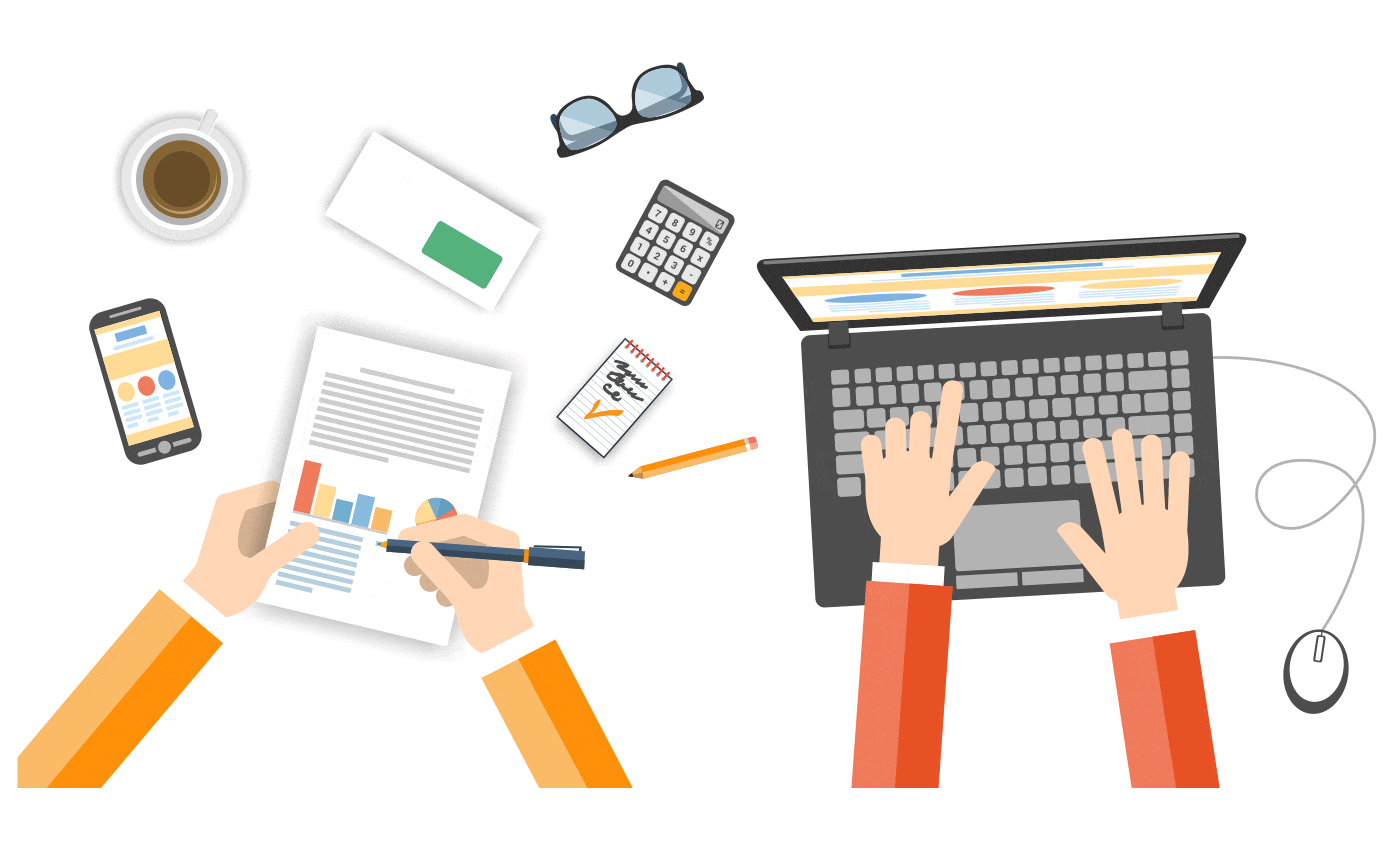 One of the top questions asked over the internet is "how to develop an successful eCommerce website? "
The right answer is to follow key steps that can take you to the desired output: your eCommerce website. So, without any delay, let's explore the steps.
#1. Idea Formulation
The first step for starting an online retail business via an eCommerce website is idea formulation. It works as you can decide about a marketplace or B2B or B2C eCommerce website development for business. Once the idea is finalized, then one-fourth of the battle is done. The next important step is to hire experts to develop eCommerce websites.
#2. Hire Dedicated Web Developers
Hiring experienced developers is always best for developing professional-grade websites or web apps. So, the same is for eCommerce website development. What kind of experts you will hire for the website's success depends on it. To hire dedicated developers, you need to find out the following:
How many years of experience do they have?

What kind of projects have they done?

How many projects are successfully executed?

What skill sets do they have? 
Once you find the answers to all these questions and are satisfied, you have found the right developers. Although before finalizing the decision, they also try to find out which hiring model they work with.    
#3. Content Management System
A content management system works like a foundation. It applies to all types of websites, whether you want to develop informational or online retail eCommerce websites. Based on your requirements, you can choose CMS such as WordPress, Shopify, Wix, or any. 
#4. Choose Web Hosting
Content management systems and web hosting are complete with each other. So, the next step is choosing a web hosting plan. The developers you have hired will help you to choose the right web hosting plan. 
#5. Wireframing
The better idea is first try to develop a wireframe by yourself and then discuss it with your hired experts. They will suggest a better idea. that what could be more done to the wireframing. 
#6. Ecommerce Website Designing
The next important phase is eCommerce web design to give a fantastic appearance to the website. It includes UI/UX development, front-end development, and website graphic design. The experts will assist you in implementing a powerful yet simple interface for the users.
#7. Backend Development
Backend development works like the backbone of the website. While developing an eCommerce website, the developers will connect the website to the database and work on the functionalities to make it seamless for the users. The eCommerce backend development tasks include product listing functionalities, product description, user account creation, check-out & cart, and many more. 
#8. Test & Launch
The final and crucial step of eCommerce website development is testing and launching. The benefits include determining the best design and layout for the website, identifying potential problems or bugs before they become major problems, and testing different versions of a product page, or other pages on the site, to see what works best for customers, and more. 
Advantages of Ecommerce Website Development
E-commerce websites are the new way to sell goods and services online. They offer a great opportunity for retailers to reach a broader audience, increase sales, and get more customers. Ecommerce websites have many advantages over traditional brick-and-mortar stores: – 
Customers can buy products online at any time of day or night. It is incredibly convenient for people who work long hours or live in remote areas with no physical stores nearby.

E-commerce websites offer customers more product information than they would find on a store shelf. For example, they may provide detailed descriptions of the product's features, pictures of it from multiple angles, customer reviews and ratings, etc.

E-commerce websites can help retailers keep up with the latest trends and products, which helps to increase sales. In addition, they can also use it for brand promotion.

Online shopping also offers a broader range of payment options, including cash and debit cards, as well as online banking services such as PayPal, making it easier for shoppers to purchase their items easily and conveniently.

E-commerce websites offer 24/7 service that's not available in stores. It means that if customers need any help or info they can contact support at any time.



The Final Thoughts
In 2023, starting an online retail business is a fantastic idea as there are multiple chances of growth awaiting. You only need to grab them, and the best idea is to take the help of an eCommerce development company to launch your eCommerce website.
With a fine website, you can boost sales and onboard new customers to your platform. In contrast, if you plan to launch your B2C or B2B eCommerce platform or website, then you can refer to this blog as an initial guide. For more details, it would be best to consult with the web development company in Dubai.