Businesses need a strong digital presence in this highly competitive and fast-paced marketplace to grab more business opportunities and attract new customers. For that, having a feature-rich business website is crucial as it informs the users about your business and lets them stick to the services. How to Hire a Custom Web Development Company?
Unfortunately, not every businessman has enough knowledge of website development and, in turn, needs the assistance of the best custom web development agency. With the ever-rising demand, website development services providers have also increased. This has raised confusion among businesses as they keep wondering about the tips to hire a web development company. If you also find yourself in the same situation, you are at the right place.
This blog sheds light on some useful tips on 'How to Hire a Custom Web Development Company?' in the first attempt.
How to Choose A Custom Web Development Company?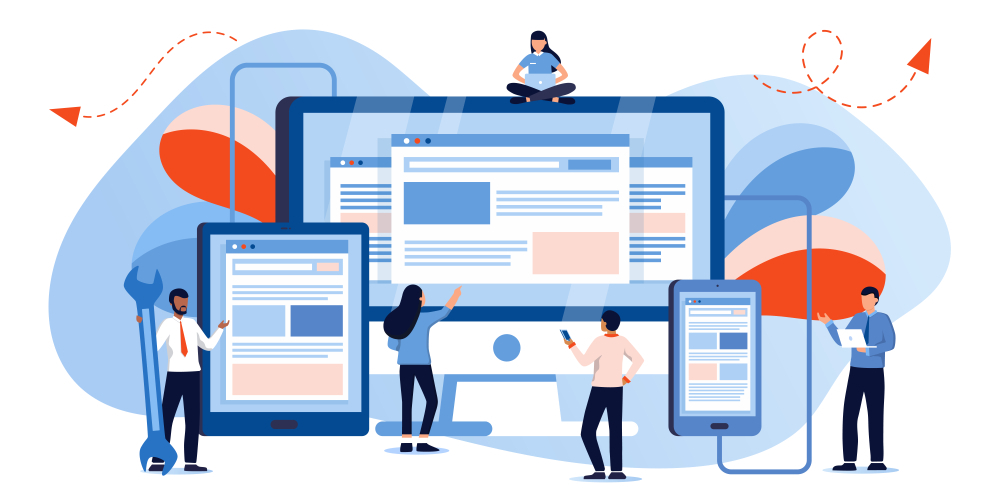 The following is the step-by-step process to choose a custom web development agency that helps businesses reach the right team of professionals who can craft a result-driven business website. 
1. Check Company's Portfolio
Referring to the organization's portfolio is the foremost thing businesses should do while searching for a web development company. Checking portfolios will help businesses understand the different projects created to date and the type of clients they have worked with so far. If possible, try to avail web development services from an organization with enough relevant experience. It will help you remain assured of project success in the future.
2. Evaluate Organization's Services
The next important step is evaluating the type of web development solutions and services the organization offers. Many businesses simply choose the company without even knowing the type of services they offer, and in the end, they fail to get the desired output due to a lack of experience. So, to avoid such a situation, it is better to know everything about a web development company before availing of its services.
3. Read Existing Client Reviews
Existing clients are the only reliable source that helps businesses better understand a particular organization's work scenario, authenticity, and more. So, if you have chosen a custom web development company or are searching and getting confused about whether the organization is trustworthy or not, this is one of the best steps you can take.
Talking to previous clients or reading the company's client reviews would be of great help to you. The reviews may be biased, so do not solely rely on a particular review, instead, refer to more than one review and organization as well.
Read More: Get Started With Web Development Today With These 8 Basic Tips
4. Consult Their Expertise Team
Besides knowing about the web development company, it is essential to talk to their team of experts. Consulting the professionals will clear all your doubts regarding web development and help you become assured of your decision. Ask the web developers whether they are well-versed in front-end, back-end, algorithms, databases, etc.
The best custom web development company has a professional team, so instead of availing services from any local web development company, go for a reputed web agency In Dubai.
5. Ask About the Communication Medium
Communication barrier is one of the major issues that customers face while availing of mobile app development services, web development services, or others. This further leads to miscommunication and poor business output. So, whether you are looking for a web designer in Dubai or any other service, it is advisable to ask about the communication medium they follow. It will help you maintain seamless communication while availing development assistance from any organization, resulting in satisfactory business output.
So, these are some major points that you should always consider while choosing a custom web development agency for any of your projects. Besides this, most businesses make some common mistakes and realize them later. Wondering what mistakes to avoid while choosing a web development company? Well, continue reading the succeeding section.
Most Common Mistakes to Avoid While Hiring A Web Development Company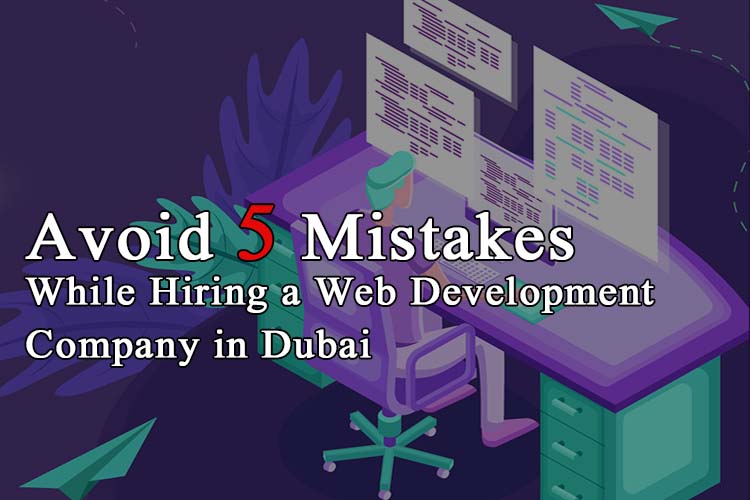 Here is the list of some common mistakes that every businessman should avoid when they hire a web development company, hire a web design company, or any other service provider. 
1. Going Too Cheap
It is an understood fact that not every organization has the desired budget to avail expensive web development services, but that doesn't mean going cheap. Hiring fresher or inexperienced web developers at low prices isn't the right step. It will not only affect your web development project but will cost you in the future. So, instead of going for cheap prices, ask a reputed organization about some discount or offer along with web development.
2. Not Researching About the Agency
Some businesses blindly trust the company without researching about it and, as a result, fall into a trap that further costs them in the future. To avoid such a situation, it is better to conduct extensive research about the web development company to know about its services, pricing, reviews, work process, and more. It will definitely help you hire the best custom web development agency whose professionals will understand your project requirement well and deliver the desired business output.

3. Hiring Only Niche Specialist
Some agencies of web designing Dubai are niche specialists, and even businesses look for specialists rather than hiring an organization with diverse services. One of the major mistakes as you never know when you might need what type of service. It is always advisable to hire a web development company with a team of developers in multiple domains and fields.
It will help you avail of different services besides web development, that too, under one roof. What could be better than getting a well-developed business website in one place? Nothing! So, do not repeat this mistake at any cost.

4. Not Consulting Professionals
Businesses who lack the expertise to outsource their project simply find any of the web development service providers and avail of its service without consulting the professionals. It is one of the major reasons businesses do not get a website as per their demand. So, if you don't want to face this situation, it is better to clear project queries with the web developers or mobile app developers before availing of their assistance. It will save you from facing the consequences later.
5. Not Discussing Project Budget
Coming to the last yet one of the most common mistakes that most businesses make, i.e., they never discuss their project requirements with the developers and, in turn, fall short of the budget during web development.
This is why professionals always suggest determining a budget while planning to develop a website so that businesses can plan accordingly.
So, these are some major mistakes that businesses should avoid while hiring web design agencies or web development company experts. Now that you are well-versed with the mistakes keep them into consideration the next time you hire web developers. As discussed below, there are multiple benefits of hiring a professional and custom web development company.
Read More: Top Web Development Trends to Expect in 2022
Benefits to Hire Custom Web Development Agency

Here is the list of amazing benefits that businesses can experience while seeking professional web development services. 
Strategic Website Development
Businesses won't be able to succeed unless they go for strategic website development planning. To put things into place, proper planning and development are a must, and for that, a business should have a team of experts.
This is where outsourcing project to the best web development company is beneficial as the professionals conduct strategic development planning and offer the best business solutions.
One of the biggest benefits to hire web designers or developers is you can expect to get your project delivered on time. But, this case is only possible when you hire reputed web development company professionals. So, always focus on availing the best services rather than seeking cheap services at low prices.
Professional Support & Assistance
Not every business has a team of professionals who can develop an impeccable business website. This is where seeking the assistance of experienced web developers comes into the picture. They offer professional support and assistance while developing a business website and provide maintenance services when needed. Also, businesses need not worry about website development while outsourcing their project as the professionals will tackle everything themselves.
Who doesn't want a result-driven business website? Don't you? Of course, everyone does! But, not every business successfully develops a website that brings desired business profit and sales without professional assistance. In that case, it is better to hire dedicated developers as they possess years of experience and can help you craft a feature-rich and result-oriented business website.
Conclusion
To develop a successful website, businesses might need the assistance of the best custom web development agency. In that case, the tips mentioned above will be of great help to you. It is understood that choosing the right team of custom web developers isn't a cakewalk. But it can be possible when businesses follow the tips mentioned above.
So, do not wonder, 'How to Hire a Custom Web Development Company?' instead, get started with the process. Just make sure to hire experienced web developers instead of seeking web development services from beginners.