Any given eCommerce web development company is getting a lot of business lately. The main reason behind it is the recent boom in eCommerce stores following the covid lockdown. There are many benefits you get with eCommerce. For instance, businesses can reach out to more audiences than ever without a physical store. Here we are defining Ecommerce Web Development Guide with full explaination.
Consequently, people are building and deploying more eCommerce stores than ever. So, this is high time that you too make your move. Don't know how to develop an eCommerce store? Well, don't worry about that; we have got you covered.
What is eCommerce?
eCommerce, where "e" stands for electronic, is quite a popular term. It refers to selling services to businesses or the general public through a website that acts as a store. In simpler terms, it is a virtual store that can be based on different business models.
Throughout the years, there have been many successful eCommerce stores. Amazon, which is one of the world's largest organizations, is also an eCommerce store. Know that we know what eCommerce is; let's discuss the different business models.
Common Business Model Used by eCommerce Web Development Company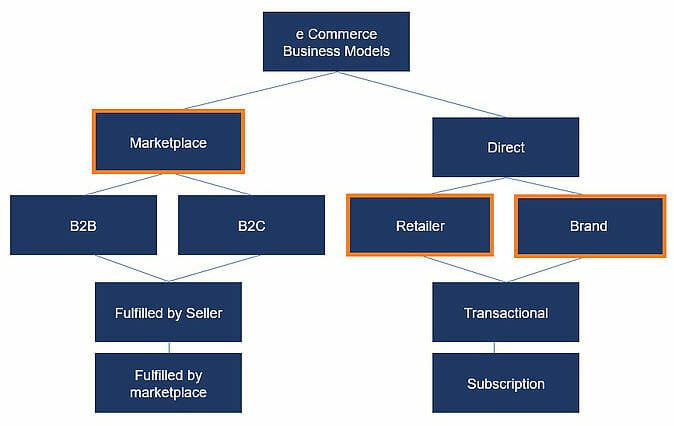 Just like a normal business, even in eCommerce, there are different business models. We shall be discussing them one by one in detail. So, let's start with the B2B eCommerce business model:
B2B refers to Business to Business. Meaning when you want to provide your services to other businesses, you follow the B2B business model. This is quite a popular choice, and there are many examples of this business model. To name a few, Amazon business, Alibaba Wholesale, IndiaMart, among others.
One of the highlighting features of the B2B model is that it doesn't provide individual units of the said item. Rather it usually deals with wholesales and large quantity orders. This business model is quite popular in eCommerce development Dubai Domain. 
B2C translates to Business to Customer. This is the most common and widely used eCommerce business model. Here, a said business sells its services and products to the general public. As compared to B2B this model has much more potential of reaching a wider audience. For that reason, most of the people who go to eCommerce development companies prefer this model.
At the same time, B2C usually deals with individual single unit sales. Some of the most popular eCommerce stores are following this model. For instance, Amazon, Alibaba, etc.
Lastly, C2C is quite a unique one and also the least common of the bunch. C2C stands for Customer to Customer, is a model where a platform is provided. On these platforms, people can become sellers and deal with other people, i.e., "Client."
Despite being as rare as it is, there is some quite famous eCommerce store that follows this model. eBay and Craigslist are some examples of these models.
Now that the different eCommerce business models are clear let's see how to develop an eCommerce website.
Step by Step Ecommerce Web Development Guide For Developing eCommerce Website
eCommerce is an easy way to grow for any business and offers even better opportunities than conventional physical stores. The best part is, you don't need to be an expert in web development to create an eCommerce.
In this blog, we shall discuss a step-by-step Ecommerce Web Development Guide guide for developing an amazing and attractive eCommerce store. However, the first step is deciding what you want to sell.
1. What's Your Service?
Most of the business that gets into eCommerce already have a physical store, and thus, already have something to sell. But beginners who want to get into this market need a service they can sell to others.
Your eCommerce website can only be as good as the service it is offering. Therefore, you need to select a service or item in demand, and people are willing to pay for it. Plus, you also need to see if it is profitable enough for you at the same time. Because you don't want to start selling something and making no profit, we can move to the next step when you have decided what to sell.
2. Who Is Your Target Audience?
Now that you know what you are selling, it's time to know whom you are selling this to. Depending on the service, your target audience can vary greatly. To find out who your target audience is, you can conduct market research.
3. Select eCommerce Development Platforms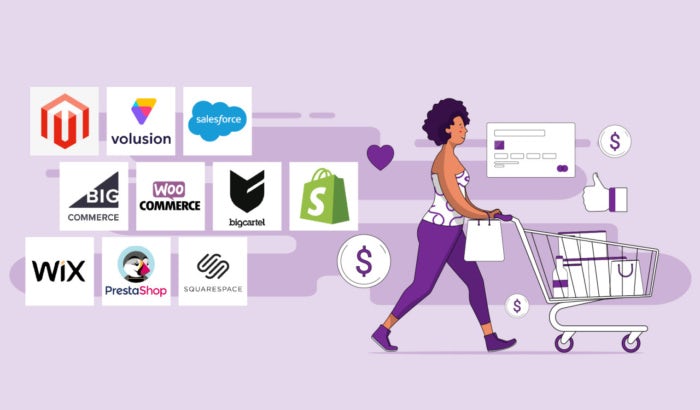 As an eCommerce website development, UAE expert would tell you, there are several different platforms to develop your eCommerce store. While they are all platforms for one purpose, they are quite different. In addition, different platforms can avail you of different benefits, and the cost of development will also worry.
In this section of the blog, we shall discuss the different platforms and how they can aid you in growing.
WordPress is one of the most famous open-source platforms, and the plus side is, it's self-hosted. In addition, it also gives you a great advantage as it let you customize the design of eCommerce, as eCommerce website templates for WordPress are easy to find.
Another big advantage is that WordPress offers the highest option when it comes to themes and plugins. Meaning you can customize your online store to a great extent. While WordPress is popular for being easy to develop, you will need a little help from an eCommerce development company in the case of eCommerce.
There are more than 3.3 million WooCommerce websites across the internet. Several people moved their store online with the help of WordPress. It is also the most cost-effective among the bunch, making it the most affordable eCommerce store.
Shopify is quite easily the most popular and go-to option when it comes to eCommerce stores. In addition, it is also the easiest to create and customize. Shopify is known to provide an amazing and seamless experience to both sides of the table, i.e., the client and the seller.
This is quite evident from the number of Shopify stores, which is 500,000. If you are a beginner, it is recommended for beginners.
An ultimate guide to the online store: OpenCart vs Magento vs Shopify vs WooComemrce
While the first two platforms on our list didn't need much technical knowledge, Magento is not like them. The reason is that it requires technical expertise and skills to build a website. Magento has as many as 250,000 live stores on the internet, which says a lot about the platform. This is the reason why people approach eCommerce development Dubai experts for their eCommerce needs.
This open-source platform is a little difficult to update and manage. But on the flip side, it offers quite a lot of great customization options, making it the best option when it comes to eCommerce website design. So, if you want a tailored website which every bit of design as per your needs, this is the option for you. Being a leading Magento web development company we have a pool of experts.
Lastly, Prestashop is most features as an open-source eCommerce platform. It is known to boast free online eCommerce development. In addition, it also provides complex modules even in its "Freemium" version, which can't be said about other platforms.
As such, there are over 300,000 live stores powered by Prestashop. This is the best option if you want to go live in a short time and low budget.
While there are other e-commerce platforms, the ones we discussed are some of the most famous ones. You can choose the platform that suits your needs and budget. While you can work on WordPress and Shopify on your own, the other two platforms require technical knowledge. So, keep this in mind when you approach an eCommerce web development company.
4. Choosing a Domain Name & Hosting Platform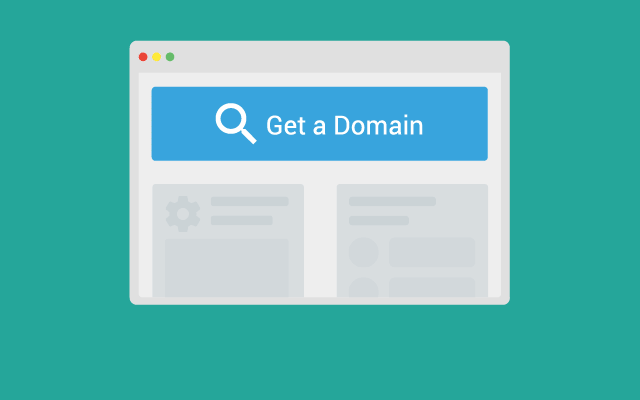 The next thing you need is to select a domain name for your website. A domain name means the address of your website. This name is unique and also the key identity of your website.
So, it is recommended to choose a domain name that reflects the nature of your service and is easy to remember. For example, Amazon, eBay, Facebook, and so on.
There are several different websites where you can buy domain names. Usually, the hosting is sold with the domain itself. But in any case, you also need a hosting platform to house your website.
Again, there are several factors you need to consider while selecting "Hosting". The reason is that it is one of the key elements of your website. And if you have bad hosting that can't handle much traffic, your website will crash when people start to visit it in large numbers.
GoDaddy, Google Domains are some of the popular sites where you can buy domains as well as hosting for your website.
5. Setting Up The Store
Once you have decided on the eCommerce platform, as well as a domain name and hosting, all that is left to do is set up the store. This part is better left in the hands of your eCommerce web development company. Nevertheless, we shall be seeing what goes on in this step. Starting with the design.
The design of the website must be simple and beautiful. You can take the example of Amazon, which has one of the best eCommerce UI. Simple design lets customers navigate with ease while also providing them with all the required knowledge. You should also pay attention to the color scheme and logo, as they are the elements that convey the message to your audience.
eCommerce website design can start from scratch, or you can use the many eCommerce website templates that are available on the internet. Once the designing part is done, you can now-
Add the Service You Want to Sell
Here, you can add the service or product you want to sell. Put the price as you might have decided. eCommerce website development UAE customers mostly prefer there is the one that provides good product listing.
Add Secure Payment Gateway
Many organizations provide payment gateway services. It is recommended that you pay extra attention here, as if you have a faulty payment gateway, it can hamper your brand reputation. It is something that you don't want.
Getting an SSL certificate lets your customers know that your store is safe for them to use. As the connection between the user and the online store is secured. It makes an SSL certificate a must-have for an eCommerce Store.
Choose A Shipping Partner
Now that your customer has selected the product and paid for it, the next step is delivering the product. If your service is not product-based, you don't need to worry about this step. However, if it is, you need to select a shipping partner who will pick up the product from your side and deliver it to the customer.
It is crucial to choose a good shipping partner as people like to receive their products in one piece. Jokes aside, select a partner that provides live tracking and timely delivery. In addition, if the customer has opted for COD (Cash On Delivery), the payment will depend on your shipping partner.
There are much large shipping organizations that you can pair with. For example the FedEx.
6. Testing and Changes 
Once the setup is done, you can ask your eCommerce development company to go into the testing phase. Here, you might come across many issues and errors. Thus, it is also the stage where you fix them. When testing and necessary changes are done, your website is ready to go live.
7. Go live 
Once everything is done, you can make your website live, and with this, everything is done. From here onwards you can start the marketing part too. But for the most part, your eCommerce store is ready for people to use and shop at.

Conclusion
So, this is how you can design an eCommerce store ground up. This blog covered information related to every stage of eCommerce Store development. Following these steps, you can create a store that attracts a wide range of audiences and make your service the next best selling.
While there are a lot of people who are developing their eCommerce store, they don't see much success. If you want to create an eCommerce website that goes up against the eCommerce web development guide market's big players, it would be best to consult an eCommerce website development expert.
This is also the best option considering the highly competitive market of Dubai and UAE in general. With the help of these experts, you can get the most out of your budget and create an online store you have always dreamed of.