Diabetes is one of the most common chronic diseases in the world. It requires daily blood sugar monitoring and proper lifestyle management. This disease is becoming highly common these days, even in smaller kids. In 2021, over 10.5 percent of adults worldwide were diabetic; by 2045, this percentage is predicted to reach over 12 percent.
By looking at this fact, it is clear that there is a huge need for a diabetes tracker app helping people to monitor their glucose levels, set goals, get reminders and receive notifications. Diabetes tracker apps are becoming an increasingly popular health and wellness tool in the market for people suffering from diabetes.
As a result, various businesses are looking to grab this profitable opportunity and want to know the diabetes tracker app development cost. If you are also among them, then you must read this blog. It will help solve all your queries and doubts about development costs and essential features.
So let's begin.
Current Market Stats on Diabetes Management 
Here are current market stats of diabetes management that you must consider while developing a diabetes tracker app. So let's have a look.
The size of the global market for digital diabetes management was estimated at USD 11.15 billion in 2021 and is projected to increase at a CAGR of 8.0% from 2022 to 2030.
Global spending on treating diabetes is projected to increase from 966 billion to well over one trillion dollars between 2021 and 2045.
There are currently 537 million diabetics living in the world, according to estimates.
According to Strategic Market Research, the market for blood glucose monitoring devices will grow at a strong CAGR of 7.9%, from a value of $14.48 billion in 2021 to $28.75 billion by 2030.
With around 141 million diabetes, China has the greatest percentage of diabetics in the entire globe. It is anticipated that 174 million individuals in China will develop diabetes by the year 2045.
What is a Diabetes Tracker App?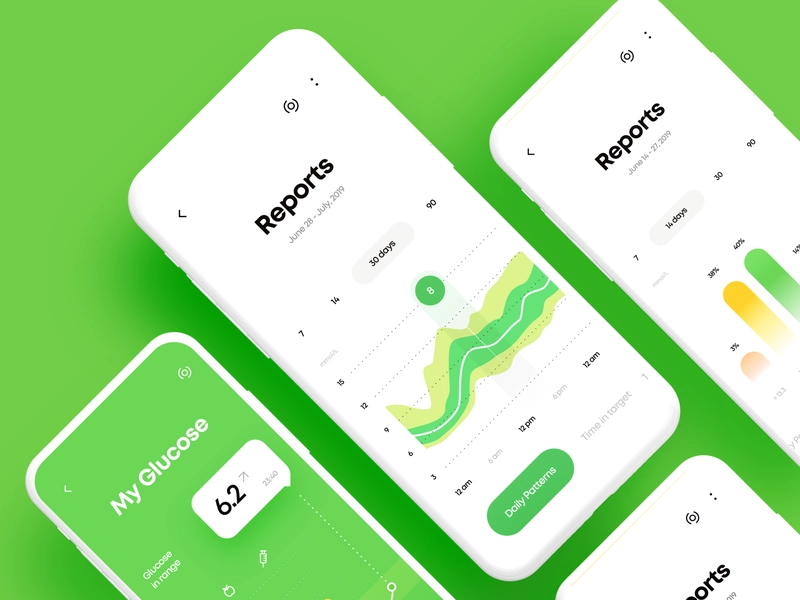 A Diabetes tracker app is a type of mobile application that allows users to track their blood glucose level, insulin intake, medications, workouts, and carbs. It also allows users to track insulin intake, diet sizes, and medication dosages to assist them in knowing how their lifestyle affects their diabetes management. The main aim of this application is to support diabetics people and supervise their overall health conditions and avoid difficulties related to uncontrolled diabetes.
Why Must Businesses Invest in Diabetes Tracker App Development Cost? 
Businesses should invest in diabetes tracker app development because it helps millions of diabetics globally. With a diabetes tracker app, patients can monitor their condition, track their progress, and receive reminders about medication and appointments.
Investing in healthcare software development like a diabetes tracker can provide significant benefits to both patients and businesses, including improved patient engagement, better health outcomes, and increased revenue for businesses that provide healthcare services or products.
Therefore, it is crucial for businesses to invest in diabetes tracker app development to address the growing demand for innovative healthcare solutions and improve patient outcomes.
Top 5 Diabetes Tracker Apps 
Here are the leading on-demand apps for diabetes tracking that you must consider when building a diabetes tracker app.
Essential Features to Consider in Diabetes Tracker App 
Now that you know the top 5 diabetes tracker apps, it is time to check out the essential features of diabetes tracker app development cost. Here are some of the essential features.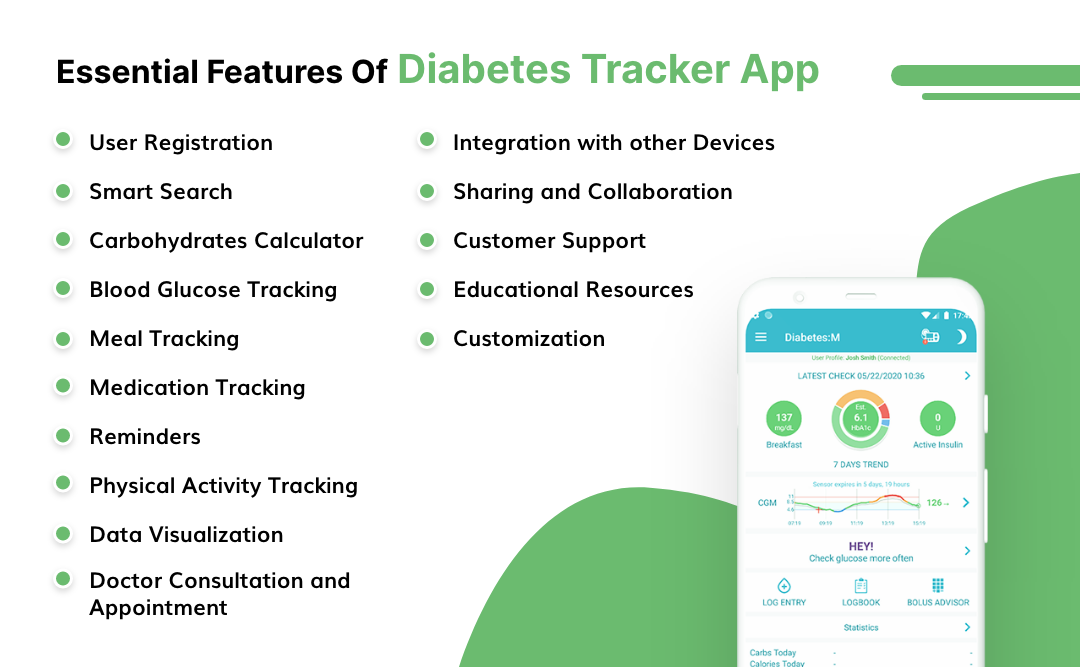 1. User Registration
The registration process must be convenient so that users may not find any difficulty. It must allow users to sign in to multiple accounts with their contact number, social media account, and email ID.
2. Smart Search 
This feature allows users to search for their daily activities, dig for meals, and find patterns. Also, a database of food and other activities to save users time and effort by allowing them to choose from a pre-programmed library.
3. Carbohydrates Calculator 
With this feature, users can calculate the carbs they eat in a whole day. They can easily maintain their daily carb intake and adjust their diet.
4. Doctor Consultation and Appointment 
Using this feature, users can book online appointments with doctors within the app. They can also take online consultations regarding their diabetes.

5. Blood Glucose Tracking
The app should allow users to enter and track their blood glucose levels at different times of the day. However, if you want to integrate this feature in your app, then hiring android app development services providers will cost less than iOS.
6. Meal Tracking
The app should allow users to log what they eat, including the number of carbohydrates and other nutrients consumed.
7. Medication Tracking
The app should allow users to track the medications they take, including the dosage and administration time. Users can track their time for the intake of the medicine.
8. Reminders
The app should allow users to set reminders for things like taking medication, checking blood glucose levels, and logging meals.
9. Physical Activity Tracking
The app should allow users to log their physical activity, including the duration and intensity of their exercise. To integrate this robust feature in your app, you must hire an iPhone application development company.
10. Data Visualization
The app should provide graphs and charts that display blood glucose levels, meal and medication intake, and physical activity over time.
11. Integration with other Devices
The app should be able to sync with other devices, such as a blood glucose meter or fitness tracker, to automatically log data.
12. Sharing and Collaboration
The app should allow users to share their data with healthcare providers and family members to facilitate communication and collaboration.
13. Customer Support 
Chatbot in healthcare apps like diabetes tracker is a must-have feature. This feature allows users to solve any issue related to the app.
14. Educational Resources
The app should provide educational resources such as articles, videos, and tips on diabetes management. Users can read and watch the content related to diabetes within the app.
15. Customization
The app allows users to customize settings to fit their personal preferences and needs, such as setting blood glucose target ranges and adjusting reminders.
When selecting the healthcare software development services to create a diabetes tracker app for your business, you should thoroughly research the portfolio and history of yours.
Diabetes Tracker App Development Cost 
There are some crucial factors that affect diabetes tracker app development cost. In addition to this, some technological upgrades also affect the development cost. Thus, the cost estimation of a simple app with basic feature integration will cost around $25000-$40000. However, if you want a more complex application with advanced features integration will cost around $50000 and it can go beyond.

Below are some crucial factors that affect the mobile app development cost for diabetes tracker. So let's have a glance:
Tech Stack
Application complexity
Location of development team
Platform type
Features and functionalities
UI/UX design
Types of business model
App maintenance and updates
Conclusion 
Developing a diabetes tracker app can provide individuals with diabetes an effective tool to manage their condition. It helps users track their blood sugar levels, monitor their daily activities, and receive personalized health recommendations.
However, investing in mobile apps in healthcare may be a lucrative chance as it allures a huge customer base towards itself in a shorter span. Thus, we have mentioned above the cost and features of the app.
However, if you don't know how to build a diabetes tracker app, it would be best to take help from a mobile app development company that can build robust apps and provide amazing business solutions.
Frequently Asked Questions 
1. How Much Time Does it Take for a Diabetes Tracker App Development Cost? 
The timeframe for custom on demand app development for diabetes tracker can vary depending on the factors. A simple application with basic functionalities could be built in 2-4 months, while a more complex app with advanced functionalities could take 7-8 months to develop and launch.
2. How to Create a Diabetes Tracker App? 
To create a successful diabetes tracker app, you need to hire dedicated developers that provide top-notch development solutions. However, below are the steps to consider for diabetes tracker app development:
Market Research
Select platform
Define features and functionalities
Create UI/UX design
Development
Testing
Final launch
3. How to Monetize Diabetes Tracker Apps? 
You should find the most appropriate monetization strategy that you must consider for your app. For instance, you can easily monetize your app by adopting in-app advertising, sponsorships, in-app purchase, freemium model, etc.
4. What Technologies are used to Develop a Diabetes Tracker App?
You can use a wide range of technologies in diabetes tracker app development cost, including programming languages such as Java, Swift, or Kotlin, mobile app development frameworks such as React Native or Flutter, cloud-based databases such as Firebase or AWS, and APIs for integrating with wearable devices or other health-related apps.