As we all know the insurance industry faces new challenges and opportunities in 2023 as technology evolves. Insurance companies use mobile apps to enhance customer experience and streamline services as the world becomes more interconnected. the demand to build an insurance mobile app is increasing extensively due to which many people are looking forward to knowing how much money will it take to build an insurance mobile app.
In this blog, we will explore the factors affecting the cost of building an insurance mobile app including features, design complexity, and the development team. We will analyze these factors to give you a better understanding of what it costs to build an insurance mobile app in 2023.
So if you are one of the people who want to build an insurance mobile app, then this blog is for you. Let's learn the financial implications of the new fusion between insurance and mobile technologies with Dev Techsnosys.
What is an Insurance Mobile App?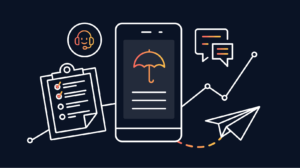 A mobile app for insurance is a digital tool that facilitates various aspects of managing and interacting with insurance through smartphones and other devices. The app allows policyholders access to their insurance policies on the go, including making payments, filing claims, receiving updates, and communicating with their insurers.
Insurance mobile app development is often designed with user-friendly interfaces to simplify tasks like policy renewals and coverage adjustments.
They also allow for the submission of documents. Insurance mobile apps may also include real-time support, policy comparison tools, and educational resources that help users understand their options. These apps leverage mobile technology to improve customer experience, streamline administrative procedures, and give policyholders quick and easy access to insurance services.
Market Stats To Look At!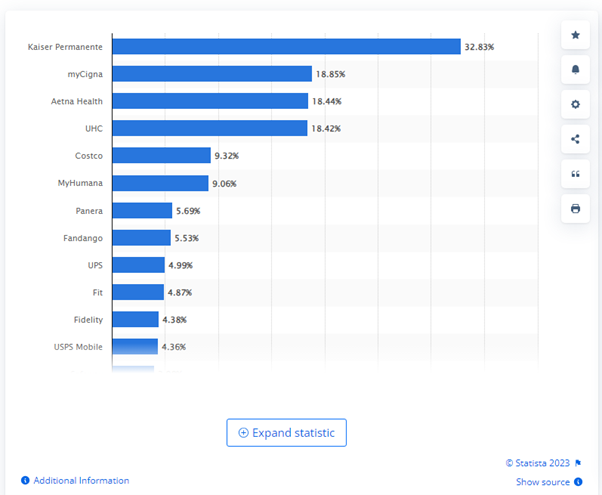 Between January 2020 and January 2021, approximately 5 percent of health insurance app users in the U.S. were also utilizing the UPS app.
This data represents the proportion of health insurance app users in the United States who possessed specific apps during the mentioned time.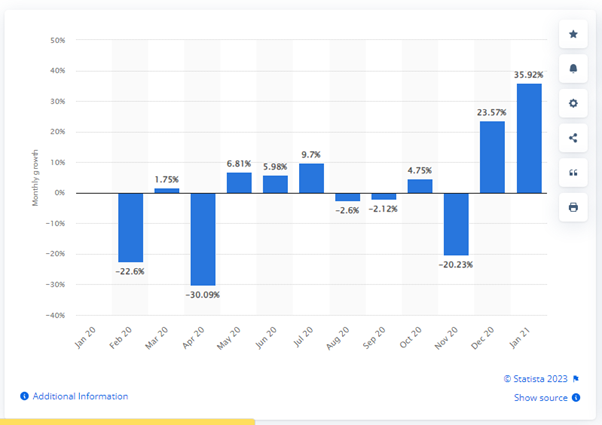 Within a year, from January 2020 to January 2021, the United States experienced its most substantial monthly surge in health insurance app installations.
The increase was remarkable, with almost 36 percent more app installations than the preceding month. This data highlights the monthly expansion in health insurance app installs across the specified timeframe.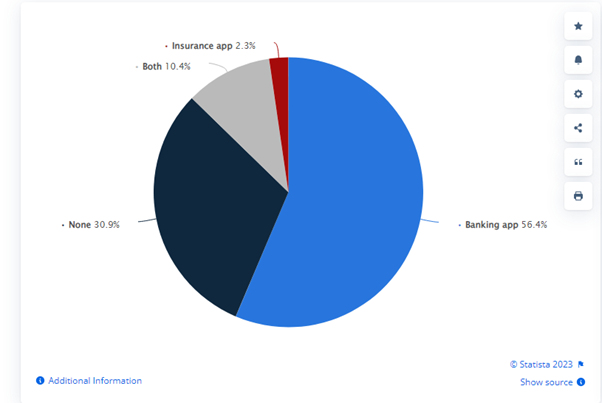 A survey conducted in February 2022 among consumers from Southeast Asia found that 30.9 percent of participants had not installed any banking or insurance apps on their smartphones.
Conversely, 10.4 percent of the Southeast Asian participants had banking and insurance apps installed on their phones in the same year.
Driven by a growing awareness of healthy living and risk prevention, the usage of insurance service apps in China has gradually increased.
In March 2023, the country recorded 57.4 million monthly active users of insurance service apps.
In a 2023 survey involving 10,007 consumers in the United States, 44 percent of respondents indicated "Health insurance" when asked about the types of insurance they had taken out online.
An industry focus survey conducted in Thailand as of February 2022 revealed that more than 70 percent of respondents had banking apps installed on their smartphones.
In contrast, approximately 19.5 percent of Thai participants had not installed banking or insurance apps.
Types of Insurance Apps
If you want to build an insurance mobile app, knowing its type is essential. Do you know that Insurance apps are available in many different types? No right! This section covers all insurance mobile apps, which will help you choose the best version to build an insurance mobile app.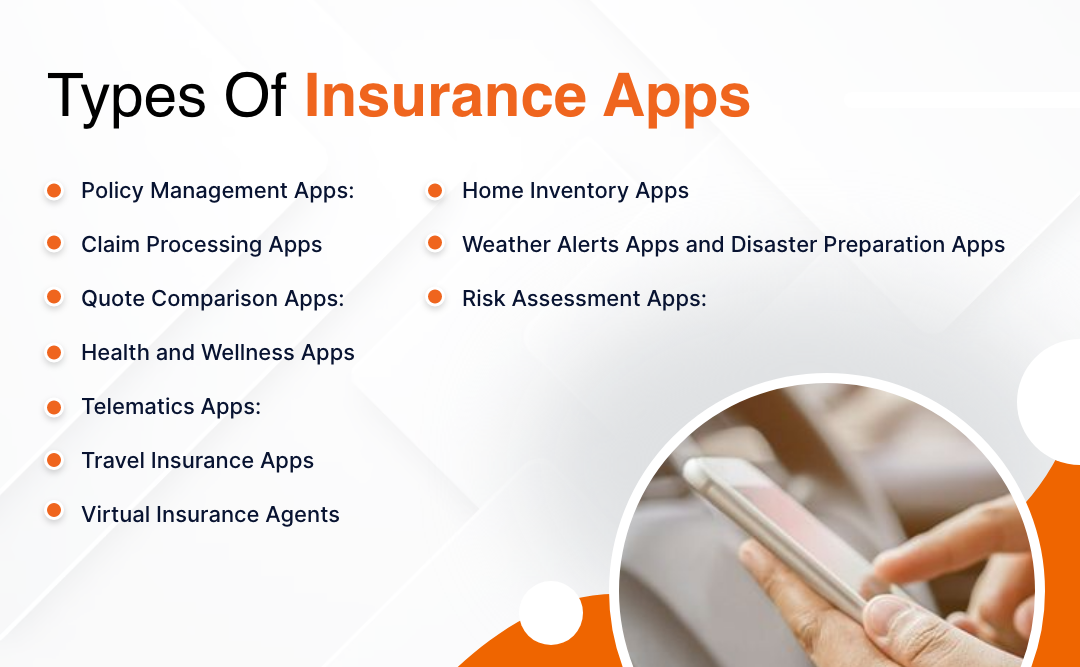 1. Policy Management Apps:
The apps let users view, manage and renew their policies. These apps offer digital access to policy details, payments, and coverage information. Insurance agent's mobile app streamlines policy administration.
2. Claim Processing Apps
These apps simplify claims processing by allowing users to submit claims, upload supporting documentation, and track their claim status in real time. These apps simplify the complex and often lengthy claims settlement process.
3. Quote Comparison Apps:
These mobile apps for insurance allow users to compare insurance quotes from multiple providers and make informed decisions on policies that suit their budget.
4. Health and Wellness Apps
Insurance companies offer apps that encourage policyholders' well-being. These Daman health insurance mobile apps can include features such as fitness tracking, wellness challenges, and access to health resources.
5. Telematics Apps:
Driving behavior is monitored by telematics apps and insurance premiums are determined this way. These best insurance apps reward safe driving and encourage users to adopt good habits.

6. Travel Insurance Apps
Travel insurance mobile apps are geared toward travelers and offer access to information about travel, travel insurance, emergency assistance, and other travel-related topics.
7. Virtual Insurance Agents
AI-powered virtual assistants provide instant customer service, answer questions, and guide users in policy-related processes.
8. Home Inventory Apps
These home insurance apps allow users to create and maintain an inventory of their possessions in case of a claim for home insurance.
9. Weather Alerts Apps and Disaster Preparation Apps
Apps from insurance companies provide disaster preparation tips and weather alerts, increasing user safety.
10. Risk Assessment Apps:
These apps help users understand their coverage needs by evaluating and assessing potential risks, making selecting the right vehicle insurance app more accessible and informed.
How Much Does It Cost To Build An Insurance Mobile App In 2023?
The cost to build an insurance mobile app can be significant, depending on the factors influencing its design, functionality, and security. Depending on the app's features and complexity, the cost of building an insurance mobile app can range from $8,000 to $25,000. This section will explore the main factors that influence the cost to build an insurance mobile app.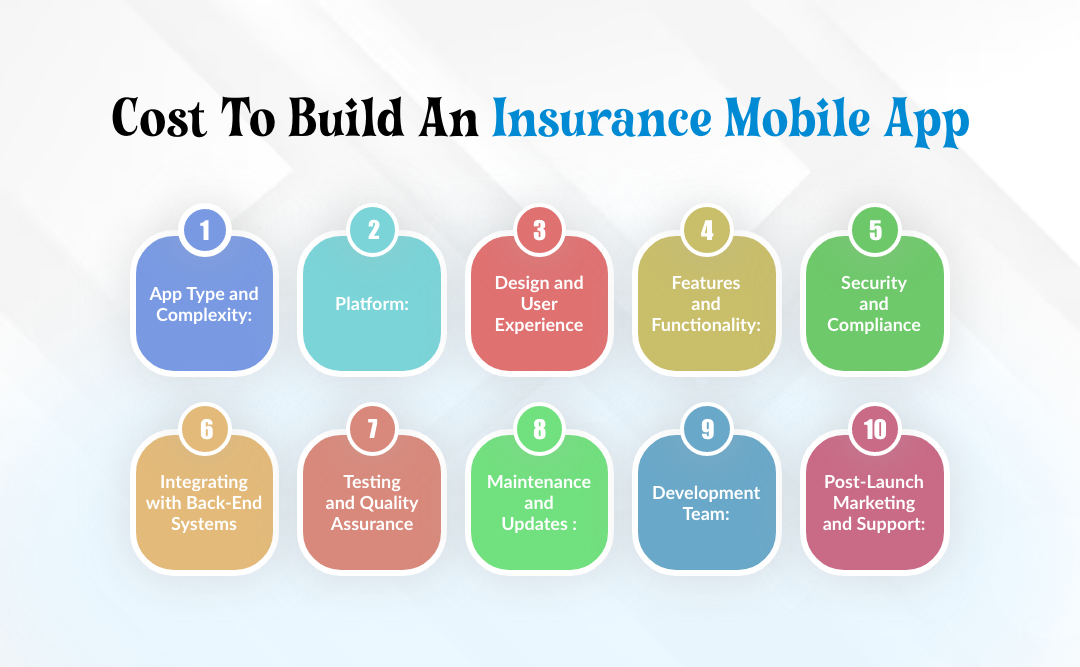 Hiring one of the best mobile app development companies to get a quote tailored to build an insurance mobile app is crucial. We have provided you a rough estimate of costs based on past trends through this table which will help you learn more.
| | |
| --- | --- |
| Development Phase | Estimated Cost Range |
| Concept & Planning | $2,000 – $4,000 |
| Design & User Interface (UI) | $3,000 – $5,000 |
| App Development (per platform) | $6,000 – $9,000 |
| Backend Development | $7,000 – $13,000 |
| Testing & Quality Assurance | $5,000 – $15,000 |
| Deployment & Launch | $8,000 – $9,000 |
| Maintenance & Updates | Ongoing costs |
1. App Type and Complexity:
The cost to build an insurance mobile app is primarily determined by the type you wish to create. What type of app do you want to build? A basic policy management app or a claims-processing app? Or a complete insurance marketplace app? The higher the costs to build an insurance mobile app, the more complex the app. It is crucial to know that apps with limited functionality will cost less than those with more advanced features.
2. Platform:
Mobile app development platform choice has a significant impact on costs. It is cheaper to build an insurance mobile app that works on a single platform, such as iOS or Android, than to build for both. Cross-platform tools allow you to reduce costs because they let you create a codebase that can be used on multiple platforms. However, these tools may not provide the same performance or user experience as native software development.
3. Design and User Experience:
The best insurance mobile apps that are well-designed, easy to use, and attractive will attract and retain users. Customer satisfaction and engagement may increase as a result of a user-centered approach, but costs may increase as well. Design considerations include user interfaces (UI), user experiences (UX), usability testing, and more.
4. Features and Functionality:
The features you choose to include will significantly impact the cost to build an insurance mobile app. Some of the most common features include policy management and claims submission. Other features may include premium calculators, real-time quotes or quotes, secure payment gateways, chatbots to provide customer service, and integrations with third-party apps. It is crucial to know that each new feature increases the cost and time of insurance app development.
5. Security and Compliance:
Security is a priority for insurance apps, which deal with user data that can be sensitive. It is vital to know that costs to build an insurance mobile app can be increased by implementing robust security measures and adhering to relevant data protection laws. Security features include encryption, data privacy controls, and compliance with standards such as GDPR or HIPAA.

6. Integrating with Back-End Systems:
Integration of the app with back-end databases, systems, and APIs, facilitated by an experienced insurance mobile app development company, may impact the costs to build an insurance mobile app. The seamless integration between your app and internal systems will ensure data flow smoothly. This provides users with accurate, up-to-date information.
7. Testing and Quality Assurance:
It is essential to thoroughly test the insurance mobile app development solutions to ensure it functions properly and offers a smooth user experience. Functional testing, performance tests, compatibility tests, and security tests are all part of testing. You should know that testing can be expensive, but it is vital to prevent problems after launch.
8. Maintenance and Updates :
It is essential to keep in mind that the process to build an insurance mobile app continues extensively. However, you'll also need to budget for maintenance, bug fixes, and updates. You must know that regular updates will keep the app up-to-date, secure, and relevant.
9. Development Team:
Costs are affected by the size, location, and expertise of your banking & finance software development services. You must hire a mobile app developer at best cost; testers will result in a high-quality application, but it may cost more. Outsourcing to countries with lower labor costs may help you reduce expenses but could also create communication problems.
10. Post-Launch Marketing and Support:
You'll also need to spend money on marketing and promoting the app to your target audience. The cost to build an insurance mobile app is also affected by ongoing customer service and user feedback, making it essential to hire dedicated react native app developers.
Features That Affect The Cost to Build An Insurance Mobile App
If you want to build an insurance mobile app, you must also learn about its functions. In this section, we have compiled a list of some features you must know about.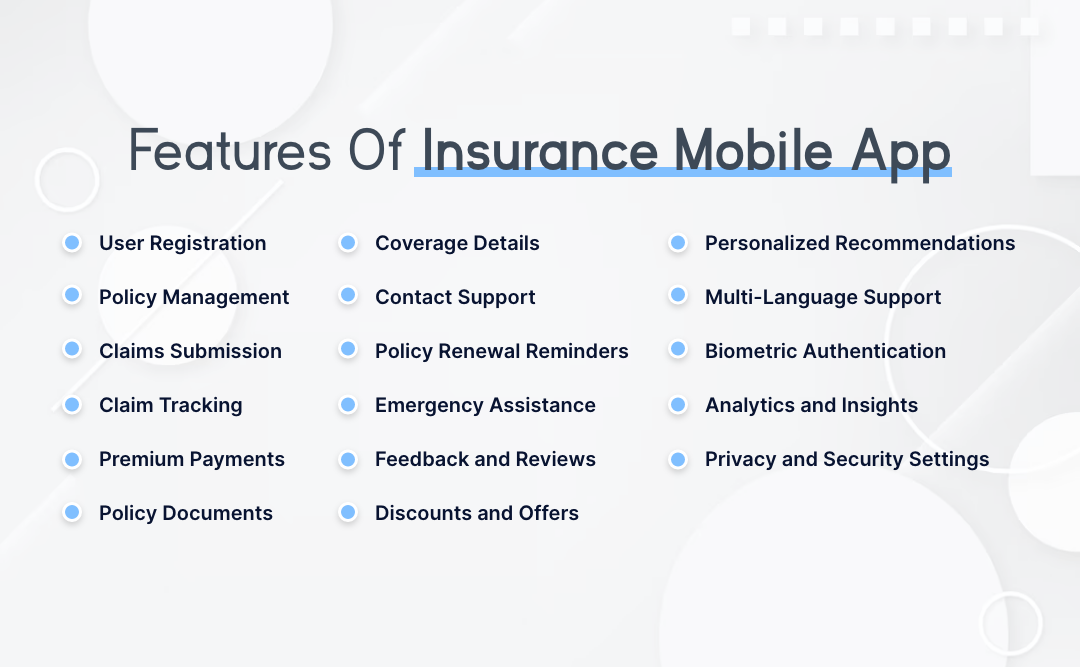 | | |
| --- | --- |
| Feature | Description |
| User Registration | Allows users to create accounts or log in using email, social media, or other authentication methods. |
| Policy Management | View, update, and manage insurance policies, including coverage details and renewal dates. |
| Claims Submission | This app allows users to submit documents and details for filing insurance claims. |
| Claim Tracking | Tracking and receiving updates on submitted claims is available to users. |
| Premium Payments | Providing various payment methods, including credit/debit cards and digital wallets, for premium payments. |
| Policy Documents | Provide access to digital copies of insurance policy documents, contracts, and certificates. |
| Coverage Details | Display comprehensive information about coverage types, limits, deductibles, and exclusions. |
| Contact Support | Providing customers with chat, email, and phone support is important. |
| Policy Renewal Reminders | Send notifications to users reminding them of upcoming policy renewals to avoid coverage lapses. |
| Emergency Assistance | Offer quick access to emergency services or roadside assistance in case of accidents or breakdowns. |
| Feedback and Reviews | Allow users to leave reviews, ratings, and feedback on the app. |
| Discounts and Offers | Showcase available discounts, promotions, and loyalty rewards for policyholders. |
| FAQs and Knowledge Base | An insurance FAQ section provides answers to frequently asked questions. |
| Personalized Recommendations | Use user data and preferences to suggest suitable coverage options and enhancements. |
| Multi-Language Support | Multiple languages are supported to cater to a wide range of users. |
| Biometric Authentication | Give consumers the option to protect your app using biometric identification techniques like face or fingerprint recognition. |
| Analytics and Insights | Give users information about their past with insurance claims, insurance usage, and potential savings. |
| Privacy and Security Settings | Allow users to manage their privacy preferences and account security settings. |
How To Build an Insurance Mobile App?
To ensure seamless functionality and a great user experience, you must plan, design, develop, and test your insurance mobile app. Here is a six-step guide to build an insurance mobile app.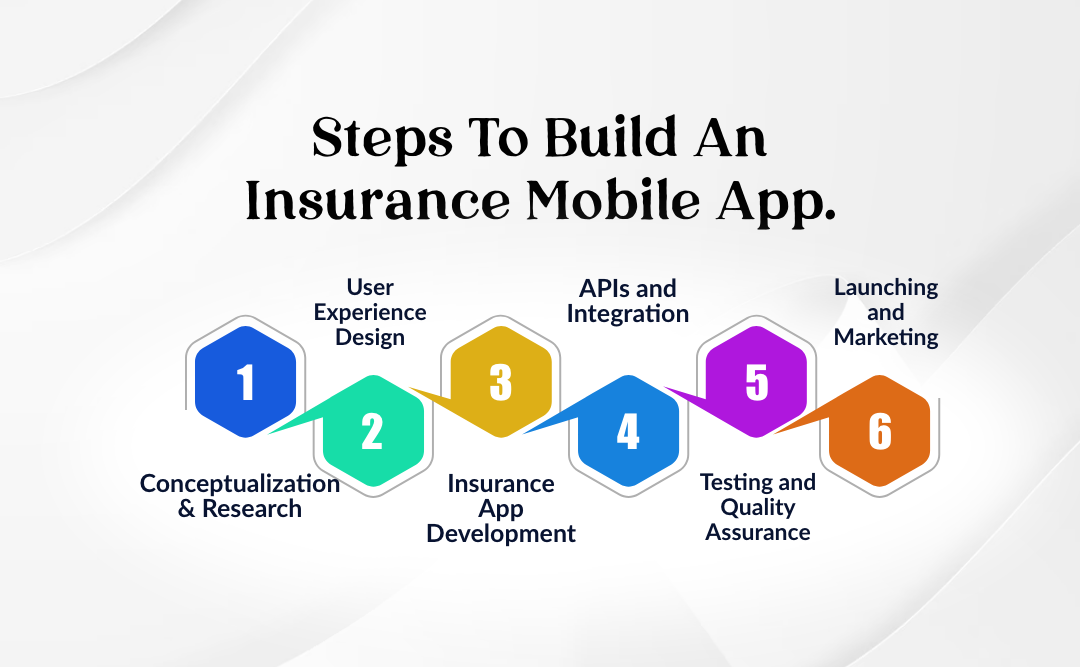 Step 1: Conceptualization & Research:
Define the scope and purpose of your mobile insurance app which is the foremost step in development. Research your target market, competitors, and the insurance industry landscape, and also incorporate customer needs and trends into your app. Decide what types of insurance you will offer (auto, health, or home) and which features you will provide.
Step 2: User Experience Design:
Create a user-centric design to ensure intuitive navigation and ease of use if you want to make an insurance mobile app. It is crucial to create wireframes or mockups to visualize your app's flow and layout. Also, focus on a modern, clean design that keeps a consistent brand image. You must prioritize the user journeys regarding purchasing insurance, filing claims, and managing policies and design responsively to accommodate different screen sizes and devices.
Step 3: App Development:
When determining the cost to hire an app developer, consider factors like the platform (iOS or Android), programming language (Swift or Kotlin), and backend frameworks. Select your technology stack wisely, if it seems confusing then ensure to hire dedicated developers. Develop core features such as user registration, policy selection, premium calculation, and secure payment processing. Additionally, establish a robust authentication system to safeguard user data.
Step 4: APIs and Integration:
APIs allow you to integrate your app with third-party services, such as CRM systems, insurance databases, payment gateways, and CRM systems. This makes it possible for your app to seamlessly exchange data with outside services. Implement geolocation APIs to enable location-based services like accident reporting and service center locators.
Step 5: Testing and Quality Assurance:
Test your app thoroughly across different devices, operating systems, and scenarios involving a reputable mobile app development company in Dubai to identify bugs, glitches, and performance problems. User acceptance testing is a way to make sure the app meets users' expectations. Perform security tests to protect data and avoid vulnerabilities. Also, ensure to take feedback from beta testers to make improvements.
Step 6: Launching and Marketing:
To increase visibility in app marketplaces, create a launch strategy that includes App Store Optimization (ASO). Create engaging promotional materials, such as app screenshots, videos, and an app description. Use social media, influencers, and targeted ads to reach your target audience. Monitor user feedback after the launch and update your app continuously based on user suggestions and industry trends.
In A Nutshell!
The cost to develop an insurance mobile app in 2023 will vary based on the features, platform, and complexity. Basic apps can start at $8,000, while more complex ones could cost over $20,000. Expenses are affected by factors such as design, development, and testing.
While costs may fluctuate, it is crucial to hire insurance mobile app developers who can bring innovative features, enhance user experience, and ensure top-notch security for an insurance mobile app that will be competitive in today's dynamic marketplace.
FAQs
1. What Are The Factors That Influence Costs to Create Insurance Mobile Apps?
The price varies depending on the features, complexity, and platforms required by a mobile app developer's insurance.
2. Is There An Average Price Range For Building An Insurance App?
In 2023, the average insurance mobile app development cost on a mobile device could range between $8,000 and $25,000, depending on the specifications provided by the app developer insurance.
3. How Do App Features Impact The Overall Cost?
Custom software development services can charge more for advanced features like real-time quotes and claims processing. They also require extensive integration and development efforts.
4. Are Ongoing Maintenance Expenses Included In The Initial Cost?
Generally, the cost of ongoing maintenance and updating is separate from that of initial development. The chosen hybrid app development company should be able to provide you with post-launch maintenance and support.
5. Can Choosing A Specific Platform Affect The Cost Of App Development?
The choice of iOS, Android, or both platforms may influence the cost. The cost of developing multiple platforms can be higher for an Android or iOS app development services provider.