"Shopping is a bit of therapy, and if you live for fashion, then a live shopping app is your ultimate session."
-Diane von Furstenberg
The eCommerce industry is expanding constantly. Live video shopping app development is one of the eCommerce trends that is moving in the same direction. However, the first question that comes to every business's mind before starting an app development is — How much does it cost to build an app like Whatnot?
The cost of Whatnot live video shopping app development starts from $8,000 and can go up to $25,000. It involves a simple application with basic functionalities. However, making an app like Whatnot from scratch may rely on the app's complexity and user interface.
According to a study from Coresight Research and Bambuser, it is expected that the market for live shopping will reach $68 billion by 2026. As you can see, the demand for live video shopping apps is gaining immense popularity, and various businesses are looking to grab this chance. However, if you are also among them and do not want to miss this opportunity, then you are at the appropriate place.
Thus, in this blog, we will uncover the live video shopping app development cost and features along with other aspects.
So, let's begin.
What is a Whatnot App?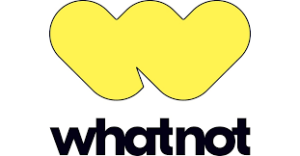 Whatnot is a live video shopping app where users may purchase and sell items such as apparel, artwork, beauty products, accessories, and even more. You must know that the app offers several live streams in which sellers show their products to potential customers. One who bids the highest wins and the seller sends the items to their respective location.
Livestream Shopping Market Stats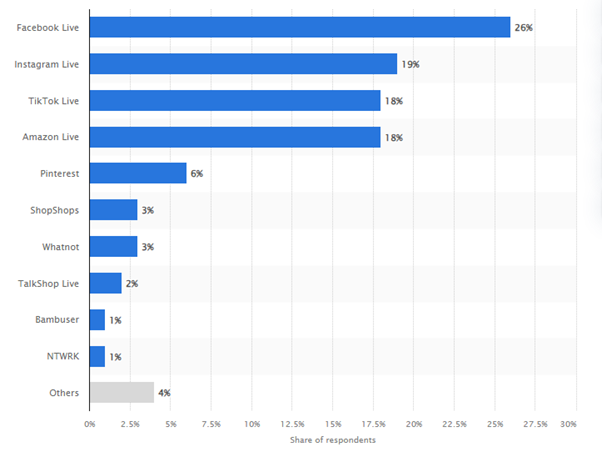 Source:Statista 
A U.S. community marketplace called Whatnot that offers live shopping services had collected venture capital investments totaling around 485 million dollars as of November 2022.
More than a quarter of American people choose Facebook Live as their live shopping platform, according to a 2022 poll. With 18% of individuals polled claiming they prefer this medium for this activity, Instagram Live came in second. Following closely behind with 18% of responses each were TikTok Live and Amazon Live.
By 2026, it is predicted that the US livestream retail industry would be worth $68 billion.
In the first half of 2022, the installation of livestream shopping apps increased by 77%.
WARC estimates that more than 30% of purchases made through live streaming occur.
How Does Whatnot App Work?
You must be wondering how the Whatnot app can be operated by users. Firstly, a user conveniently login through the app either with an email ID or contact number. After that, they can easily browse the live streams to discover the products they are interested in. The seller discusses the item he's trying to sell as everyone else also talks about it to sell.
Once the user purchases the desired item, they can then tap on the Bid button and enter the bid amount. Additionally, they can even buy the product immediately without bidding. One of the amazing things about this app is that the user may see the items that are sold out to check what they missed.
At last, the seller will ship the product that users have bought to them in return users have to pay for the shipping costs. Now that you know how the Whatnot app works, you should now hire an iOS app development services provider and get your app developed.       
Factors Affecting the Cost to Build an App Like Whatnot
Factors are responsible for the overall cost of live video shopping app development. Thus, we have listed below the most crucial factors that can affect the cost to build an app like Whatnot given by an eCommerce software development services provider. So let's check them out: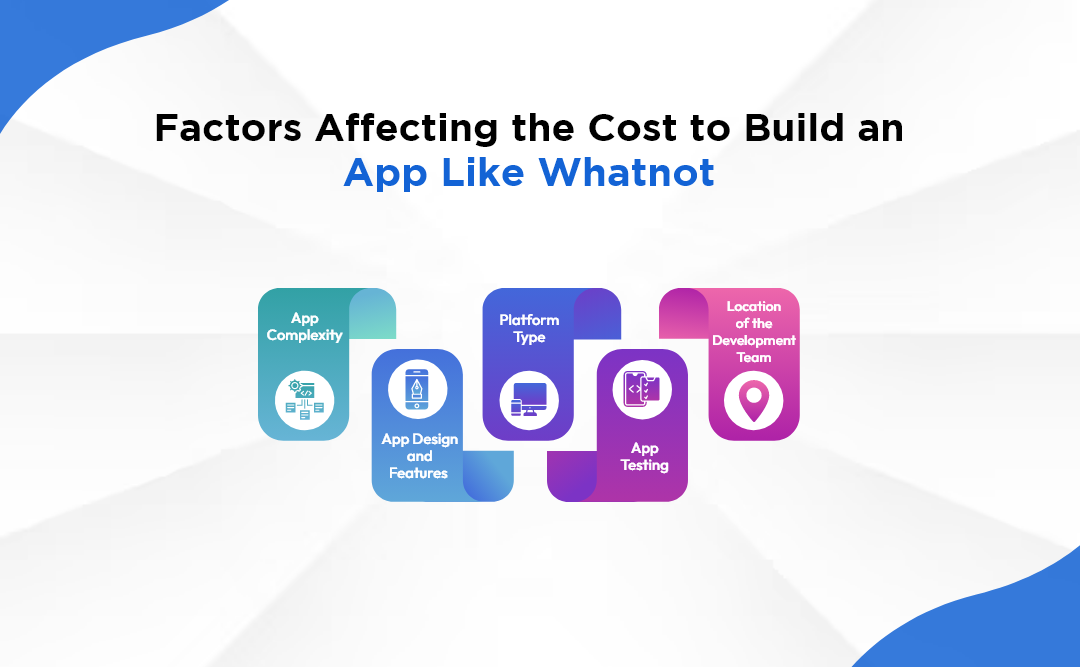 1. App Complexity 
| | | |
| --- | --- | --- |
| Complexity of the App | Estimated Costs | Time Duration(Approx.) |
| Simple App | $8,000-$13,000 | 3-4 Months |
| Intermediate App | $15,000-$20,000 | 6-8 Months |
| Complex App | $20,000-$25,000 | 10 Months or More |
The app complexity is the first factor that affects the cost to build an app like Whatnot. For instance, if you want to create Live Video Shopping Iraq app with basic functionality and design, then the development cost will be less. However, the more complex Whatnot app with advanced functionality and design will comparatively increase your app development cost.
2. App Design and Features
The UI/UX and feature list are other factors that are responsible for the cost to build an app like Whatnot Abu Dhabi. Complex features like CRM integration, data analytics, etc increase the development cost of your app.
Additionally, you must know that users get attracted to those apps which have the most alluring and eye-catching interface. So, it is essential to know that you should select a user interface that goes with your requirements. In this way, you can reduce the development cost up to some extent.
3. Platform Type
The type of platform you choose for Whatnot app development will influence the cost of live video shopping apps Dubai. iOS and Android are both amazing choices for shopping apps like Noon. It is essential to know that the cross-platform app development cost is more than a native app development.
So, it is recommended you must go with the single platform if your budget is limited. However, if you have a huge budget and your preference is Android and iOS users, then you should choose cross-platform development.

4. App Testing
Testing is a vital step in the whole development process as it detects errors and bugs. The range and level of difficulty of the tests that are performed, from analyses of performance and safety to inspections of usability and functioning.
All of these can affect how much testing will cost of the Whatnot app. Also, the cost to maintain an app is also another factor that you must take into consideration.
5. Location of the Development Team
The live-stream video shopping app development cost depends on the location of the developers. For example, if you hire developers from the USA or Europe, they might cost you more in comparison to developers from the UAE.
How Much Does It Cost To Build an App Like Whatnot?
We have reached the most anticipated stage of the blog: the cost to create an app similar to Whatnot UAE.
The live video shopping app UAE cost is not fixed and it keeps on fluctuating. The main reason behind cost fluctuation is multiple factors that we have discussed above.
However, if you are looking for a live video shopping app development UAE that works around the features of the above listed. Also, when you build a live video shopping app like Whatnot, you must first ascertain your budget.
Generally, the cost of developing a Whatnot application with minimal features will be around $8,000-$15,000. Whereas, the cost can go up to $24,000 or even more if you incorporate advanced features in the app.
Here is the formula through which the cost of developing a live video shopping app can be calculated.
App Development * Hourly Rate = Total Cost of App Development
So, if you want to know the exact cost to make live video shopping apps like Whatnot, it is advisable to consult with an eCommerce app development company in UAE.  

Key Features to Add in Live Shopping Apps Like Whatnot
As per an Android app development company, below are the key features of the live stream video shopping app Sharjah that you should integrate when you build an app like Whatnot. So let's find out what are they: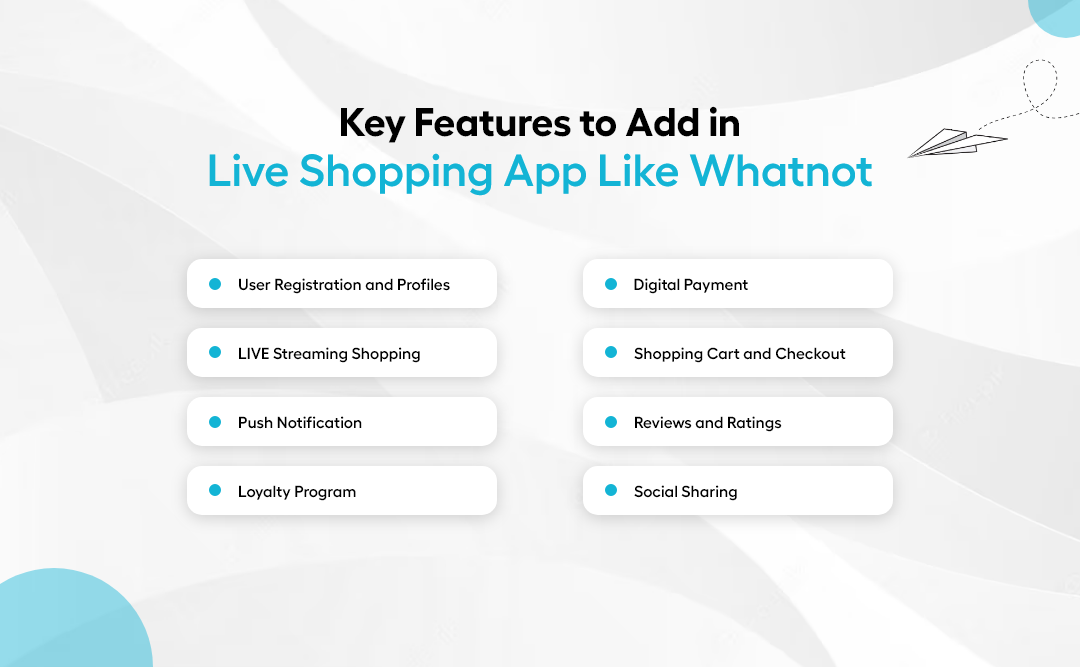 1. User Registration and Profiles
With this feature, users can easily register through the app with multiple social media platforms. They can even use an email ID or phone number to register.
2. LIVE Streaming Shopping
The live-streaming shopping app allows sellers to do live-streaming to show the items, they can even show the demo. This feature is actually for the seller panel.
3. Push Notification
With the push notification feature, users can get regular alerts regarding the live video stream. They can also get updates about the offers and discounts.
4. Loyalty Program
The loyalty program feature enables users to get discounts, offers, and coupons to attract users. It helps in increasing the retention rate of the users. When you add this attribute to your Whatnot app, you should know that it will have an impact on the development cost.
5. Digital Payment
Digital payment is the most crucial feature of the app. You should provide multiple payment methods like debit/credit card, net banking, COD, etc. When the user purchases the item, they can pay for the item hassle-free with this feature.
6. Shopping Cart and Checkout
When the customer navigates the Whatnot app, they may gather and save products they want with the help of this feature. Also, they can explore the item list, choose what they would like to purchase, and then add it to their shopping basket. Additionally, if you want to incorporate the feature in an app like Whatnot, it would be best to hire dedicated developers.  
7. Reviews and Ratings
Allow customers to rate and evaluate the things they have ordered. User-generated reviews give other potential customers information about a good's appropriateness and quality, which helps establish confidence.  
8. Social Sharing
This feature enables users to conveniently share the live stream shopping video link or particular item with their social media accounts. For example, Whatsapp, Facebook, etc.
Advanced Features to Build Video Shopping App Like Whatnot  
Now that you know the key features of a Whatnot live video shopping platforms in Dubai, we will now check out the advanced features that can enhance the app's performance and user interface. It is vital to know that when you integrate these features into your app, it can affect the Live video shopping app development cost.

1. In-App Voice Assistance
In a live video shopping app, it is the essential feature that needs an in-app voice assistant since it greatly enhances its overall usefulness. When interacting with the seller over the Livestream period, users would enjoy the chance to utilize a voice assistant. However, it is crucial to know that incorporating in-app voice assistance would highly affect the cost.
2. CRM Integration
CRM management is very crucial for an app like Whatnot. This feature enables users to improve CRM by taking into account their unique needs and providing them with tailored advice and services. When you integrate this feature into you, the cost will automatically go up.
3. Chatbot
Chatbot is the most vital feature for any mobile app as it helps the user's queries. With this feature, if users have any query related to their product, they can contact customer support through chat or call.
4. Data Analytics
With the feature, the admin may access real-time data analytics, products, or dashboards on the admin panel. Also, they may get notifications on live videos that have specific timing and retention numbers. They can even track the order of the users.
5. Smart Recommendation 
Integrating smart recommendation features in the app can assist users with specialized shopping recommendations. With the help of this feature, you can boost the conversion rate. It can automatically enhance the sales of e-commerce stores. However, integration of this feature can also increase the development cost. So, it is up to you whether you want to add or not.
Final Thoughts 
In this blog, we have mentioned the live video shopping app development cost of the Whatnot app. We have also discussed the factors that can affect the overall cost.
However, when you integrate the features from minimal to complex, it may also increase the Whatnot app development cost. As we have already seen the cost of creating a Whatnot app, you can now implement your ideas into reality.
All you have to do is hire an experienced mobile app development services provider and they will assist in catering a robust app and take your business to greater heights.
FAQ
1. How Much Time Does it Take to Build an App Like Whatnot?
Usually, the development time for the Whatnot app relies on several factors. For a simple live video shopping app, it can take up to 2-5 months whereas it can be increased when developing a complex app with more functionality. So, it is suggested to contact an ecommerce development company in Dubai for an exact time duration.
2. How to Reduce the Live Video Shopping App Development Cost?
You can reduce the live video shopping app development cost by maintaining a simple user interface, developing an MVP, outsourcing the development, timely updating the app, etc.
3. How to Build an App Like Whatnot?
To build an online video shopping app like Whatnot, you need to consider the below steps:
Market Research
Design UI/UX
Create wireframe
Build the Whatnot app
Testing of the app
Final release
Maintenance and updates
4. How to Make Money From Live Video Shopping App Development?
There are various monetization strategies by which you can earn money from live video shopping apps. Let's have a look:
In-app Purchase
Freemium Model
One-time Subscription
In-app Advertisement
Affiliate Marketing
5. What Are the Tech Stacks Required to Build an App Like Whatnot?  
The tech stack needed to build an app like Whatnot is given below:
Push Notifications — Twilio, io.
Payments – PayPal, Stripe, Braintree.
Voice and Phone Verification – Nexmo, Twilio.
Cloud Environment – AWS