Today alcohol has become the go-to option for events and gatherings. Any celebration is incomplete without a glass of wine and some Champaign. With the rise of e-commerce channels and digitization, people prefer to buy alcohol online. Therefore, the demand for alcohol delivery app development is increasing with 2x speed. Now, people can simply place their favourite drink online and deliver it to their doorstep. So, it is high time businesses infuse the latest technologies into their alcohol delivery app and achieve better business growth within less time.
Are you also planning to develop an application and wondering about the alcohol delivery app development cost? If yes, then you should read this blog. It will guide you to everything about liquor delivery app features, benefits, costs, and more. So, let's discover everything one by one.
What Are Alcohol Delivery Apps?
Alcohol delivery mobile applications enable users to order liquor online, track their order in real time, and deliver it to the doorstep. The invention of on-demand liquor delivery app development has unleashed the door of amazing opportunity and convenience for users to order alcohol in bulk.
How Does Alcohol Delivery App Works?
Liquor or alcohol delivery app offers a streamlined technological infrastructure allowing retailers to get an on-demand alcohol delivery service. The users can simply surf a wide range of alcohol online, including wine, beer, whisky, gin, & more and place an order hassle-free. The retailer (admin) or a third-party delivery executive further manages the application. Besides this, the customers or users can also manage their application profile while earning profit and exclusive in-app offers.
Today, ample liquor delivery applications are available online that are grabbing the market's attention. The top alcohol delivery apps winning the 2022 market are discussed below.
Top 10 Alcohol Delivery Apps Winning 2022 Market
Before you discover – 'How to develop an alcohol delivery app or how much it costs to develop an alcohol delivery app?' discover the popular alcohol applications. Knowing about these apps will help you develop a better application.
Minibar Alcohol Delivery App
Saucey Alcohol Delivery App
Swill Alcohol Delivery App
Instacart Grocery and Alcohol Delivery App
FreshDirect Alcohol Delivery App
Boxed Wholesale and Alcohol Delivery App
The Flaviar Liquor App
Instacart Delivery App
DoorDash Food & Liquor Delivery App

Alcohol Delivery App Development | Current Market Stats & Growth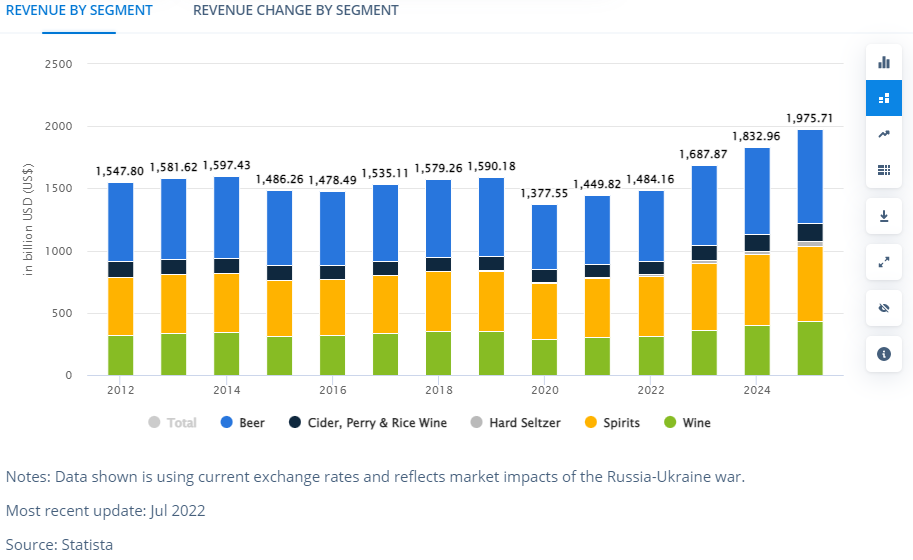 As per Statista, in 2021, the online alcohol delivery market reached $1441 billion with a CAGR of 8.9%.
Reports state that the e-commerce liquor sales in the US saw an increase of around 387% by the end of 2020, and the number is expected to increase 2x times faster by the end of 2022.
One of the popular alcohol delivery apps Drizly has seen a boost of 400% in its sales, Post-COVID.
With a market volume of US$563.90 billion in 2022, beer has the market's largest segment.
By 2022, internet sales in the market for alcoholic beverages will account for 6.6% of total revenue.
The market for alcoholic beverages is projected to have an average volume per person of 35.75 L in 2022.
These are the latest market stats highlighting the importance of alcohol delivery app development in today's time. Now that you are satisfied with the stats and planning to invest in alcohol delivery app development services look at the essential features to include.
Key Features of Alcohol Delivery App Development
When it comes to inserting the essential liquor delivery app development features, they are divided into three different panels, as discussed below.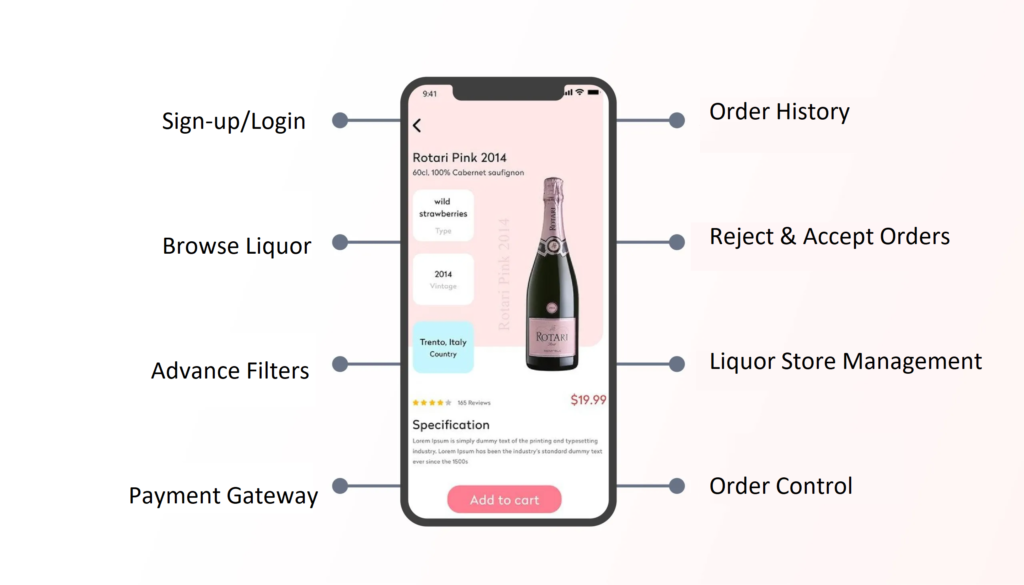 User Panel
The features of the user panel make communication much easier by facilitating seamless communication between the app and users. Every feature you include will impact the alcohol delivery app development cost, so you must be careful.
Users of the app must register by providing their contact information, including a phone number, email address, and social media accounts. They can use their credentials to log in to the alcohol delivery app and experience the benefit of getting liquor at their doorstep.
Users of on-demand liquor delivery apps can utilize this feature to view the listed products' details, including their prices and ingredients.
Users can use this advanced filter option to narrow product searches they cannot find. Incorporating this filter will make your alcohol delivery app more sorted.
Every user prefers to use an application with a secure payment gateway. So, to make sure that your customers get a hassle-free payment experience, incorporate the best integrations during liquor delivery app development.
Delivery Boy Panel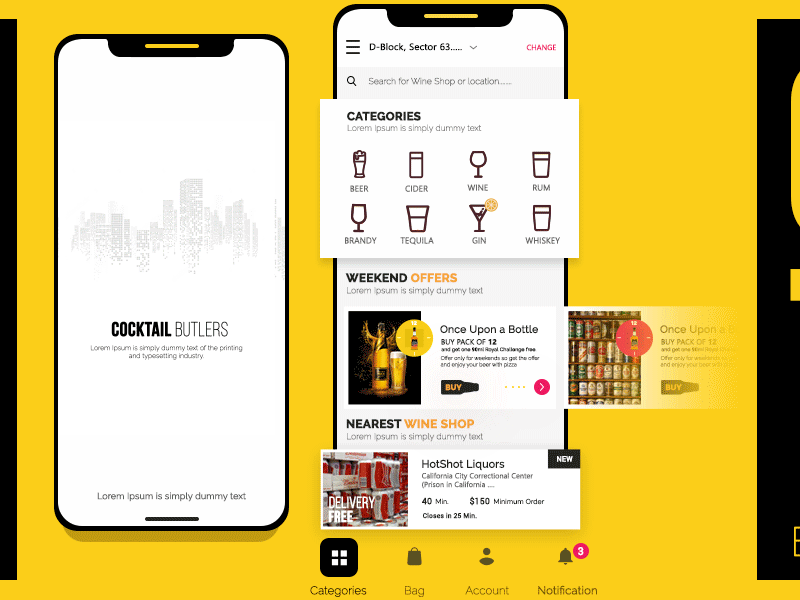 The delivery boy panel for the alcohol delivery app includes responding quickly to user requests for order delivery & conveniently maintaining coordination between all the services offered. If you include the latest features, it will charge more liquor delivery app development costs than an app with basic features.
Delivery boys can mark available or unavailable goods or services using this amazing liquor delivery app development feature.
This feature allows the delivery boy to accept or reject order delivery requests at their discretion. It will further notify customers on their panel.
For seamless alcohol delivery, the service provider or driver can view the customer's location & other information, including contact information, after accepting an order request.
Delivery partners get access to the history of every order delivered. It proves helpful if there are any problems or misunderstandings with order delivery.
Admin Panel
Finally, coming to the last yet the most important panel of liquor delivery app development, i.e., the admin panel. It helps the management to tackle all the in-app activities, from user management to real-time reporting.
Admin first registers on the app before using it for the first time. During the process, the admin has to add an email address, store information, phone number, and other details for better accessibility.
By adding, deleting, or modifying the products, the administrator of the liquor store can manage the product online via the dashboard.
Here, the administrator oversees all orders placed by users as well as their previous orders, current statuses, and updates.
The administrator can view all user-made payments with this feature. Using this alcohol delivery app development feature, the admin can monitor all administrative end payment procedures.
The administrator can access all the information on the orders from different regions, including the most popular delivery times and the region from which most orders are placed.
Only the admin manages each service's price & product specifications, including marketing, advertising, email templates, and banners. So, this feature will enable the admin to manage the cost accordingly.
All the alcohol delivery app features discussed above will contribute to your business growth and success, so don't miss including them. These are the basic features, so you will not have to pay additional alcohol delivery app development costs. Besides this, if you have enough budget, you can use advanced features and functionalities while creating an alcohol delivery app. Along with this, make sure to include modern technologies.
Read More: How To Build TMS Software: Key Features, Key Challenges And Cost Analysis
Modern Tech Stack of Alcohol Delivery App Development
Do you want to develop a liquor delivery app that is unique and growth-driven? Try the following set of the modern-age tech stack that you can incorporate during alcohol delivery app development.
| | |
| --- | --- |
| Functions | Tech Stack |
| Cloud Environment | AWS and Google |
| Front-end Development | CSS3 and Bootstrap |
| Back-end Development | Python, Angular JS, or JavaScript |
| Database | MongoDB, MySQL Cassandra, Postgres, |
| Data Management | Datastax |
| SMS, Voice & Phone Verification | Twilio, Nexmo, Sinch |
| Real-time Analytics | Spark, IBM, Hadoop, Cisco, BigData |
| Data Storage & Security | Amazon data servers or Google Cloud Storage |
| Payment Methods | Braintree, Stripe, & PayPal |
| Real-time Notifications | APNS |
| Programming | Google Web Toolkit |
Read More: How Much Does It Cost to Develop Farm Management Software?
How Much Does It Cost to Develop An Alcohol Delivery App?
The average cost to build an alcohol delivery app ranges from $20,000 to $50,000 and more, depending on the type of app developed. Depending on your project requirements, the total cost depends on multiple factors and keeps increasing or decreasing. Some of the major factors that can impact your cost to develop a liquor delivery app are –
UX/UI Design
Frontend Development
Backend Development
Project Management
Developer's Location
Features & Functionalities
Tech Stack
Quality Assurance
Application Support & Maintenance

Among all, one of the major factors affecting the cost to develop an alcohol delivery app is the location of the mobile app developer. Here, we have mentioned the cost in a tabular format to provide you with an estimate of the developers' hourly rate. Have a look!
| | |
| --- | --- |
| Developer's Location | Average Hourly Rate |
| USA | $80 to $100 per hour |
| UK | $50 to $75 per hour |
| Europe | $40 to $60 per hour |
| India | $25 to $40 per hour |
| Australia | $50 to $70 per hour |

Conclusion!
Undoubtedly, the alcohol industry is expanding quickly and is seen as a potential one for investors. If you want to profit from a booming industry, nothing is better than the liquor sector. We have covered every important detail you need to know regarding the construction of a liquor delivery app above.
Take into account every element that impacts the overall cost and caliber of mobile app development. You may also engage mobile app developers from a reputable super delivery app development company to get a high-quality product for much less money than in other nations.