No business nowadays can run at its full potential without having a website and a mobile application. This is the reason why every website and mobile app development company in the market is enjoying a golden period.
It is great to have an application for a business that deals with sales of products or services as it provides a better conversion rate to them. App development services have changed and are now much more affordable and provide great features and functions at a very budget price to the enterprises.
The best thing about enterprise or eCommerce applications is that they don't require high-end animation or graphics.
They work more on the UI/UX design and the simplicity by which it has been made and can be used. Also, there are new programming languages that have made it the easiest of all types of on-demand app development.
In this article, readers will get to know about the process of development of a flower delivery application like 1800Flowers. 1800Flowers is a florist business that has already made it big in the market and that is why we are taking it as a benchmark here.
Another reason is that it has used its mobile application to do so. It is important to understand why and how applications can be used to increase the sales and reach of a brand and its products.
Why Florist Businesses Need A Mobile App?
If we take the example of 1800Flowers, they used the application to list their products and take orders that they delivered to the doors of the buyer.
This increased the number of the order they were getting. Earlier they were restricted to people who saw their shop/showroom or its board but with a mobile application, they could just market it on various social media platforms and they got a lot of customers.
Another benefit of having a mobile app is that it cuts down on the time that the customer and the buyer have to invest in discussing the price of different flowers. Because of this, the business owner can focus on managing the products and delivering them on time.
Having an application has many more benefits like giving special offers to customers who have registered on the app and announcing anything special in advance so people know about it. It enhances all the business operations and improves the quality of the products and management.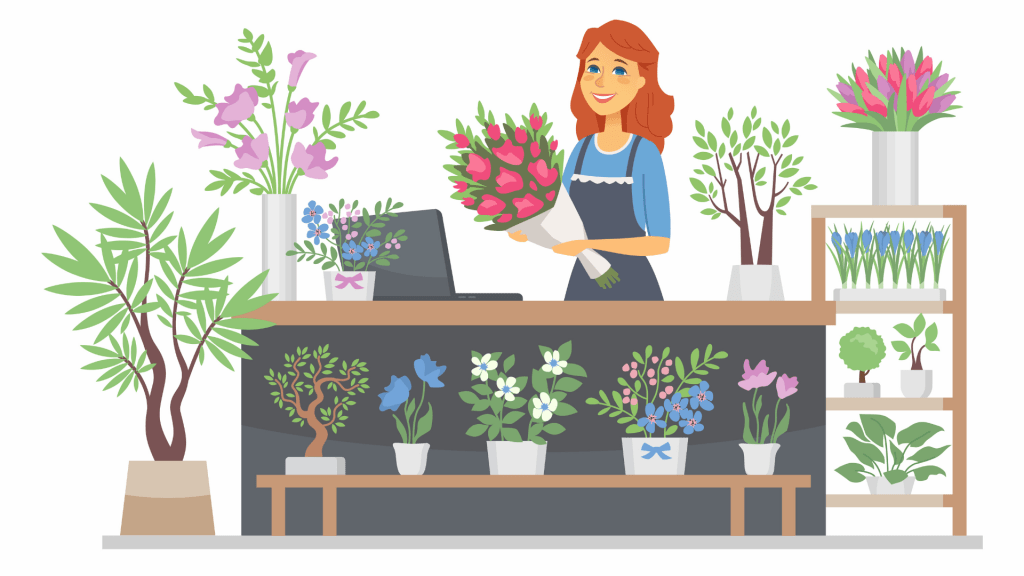 In this article, the readers will know about flower app development. There are different parts of such applications and they are developed and then integrated and sometimes they also have different standalone apps.
Delivery applications basically have two modules: one is for buyers and the other is for sellers, and then there is another application, which for delivery people.
There are various features that are to be integrated into these modules and that has to be done very carefully. The modules and different features that should be there in them are mentioned below. Also, there is something that will help the floral businesses to find the best android or iPhone app development company for their project.
Flower Delivery Applications In The Market
It is important to understand who are other big players in the market for competition. There are many platforms that allow various florist businesses to get their names in their listings.
This works like Zomato or UberEats but for the delivery of flowers. Some of the names that have been listed below are some of the biggest in the world and some might be new for some people.
They all took the help of mobile app development companies or hire dedicated developers to work on their respective apps. Let's have a look at the list of apps from where people can buy flowers online:
1. Amazon
With the help of a prime subscription at Amazon, users can send fresh flowers from various brands to anyone of their contact. Amazon also diminishes the shipping cost and thus it becomes convenient and cost-efficient to deliver quality flowers.
It is to be noted that all these perks cannot be availed if the user is not a prime member. Amazon hire dedicated developers to work on its application, that is the reason why they have one of the best mobile apps.
2. FTD (Florist's Transworld Delivery)
Florist's Transworld Delivery, popularly known as FTD, is one of the oldest florist companies in the world. It has been more than 100 years since it first came into existence.
When a user places an order, FTD works to search the network of local florists and check whether any of them are available to take that order. Later, FTD gives the respective order to that flower shop that is available and nearest to the delivery point.
3. ProFlowers
ProFlowers is one of the most reputed companies in this industry. ProFlowers claim to provide flowers that are directly brought from the field. Additionally, they also have an option of same-day delivery which is a boon when it comes to instant gifting.
4. Farmgirl Flowers
This flower delivery company has a special place in the flower delivery industry due to its uniqueness. This company decorates flowers in beautiful and unique arrangements. Two bouquets can never look the same if both of them have been created by Farmgirl Flowers.
Types of  flower delivery Apps
Aggregator App
Dedicated Apps
1. Aggregator App
These are the ones that provide a listing to these businesses and also give the option to upload their menu from which people can order flowers. They act as a middle interface and also take care of delivering the flowers from the florist to the customer.
This saves cost and time to the florist business and also they don't need to pay for the on-demand app development. This in all ways is in benefit of small and medium-sized florist businesses.
For the ones who are still making their brand reputation and still want to increase their customer base to regulate their sales, this is the best option. As mentioned above, people can understand this as the Zomato or UberEats that deals with flower delivery instead of food.
2. Dedicated Apps
These are the applications that are made specifically for a florist business. The application contains the listing of the products from that one specific brand only and customers can buy it from the app. Everything from android app development until the operation of the application and delivery is the responsibility of the business owner.
They can hire a web development company for the project but they will have to learn how to use the application on their own. The cost of this is higher than listing the business on an aggregator app. These applications are better for the brands that have made it big in the market or are growing at a great pace.
The reason being having a proper brand image, cutting down the hassle of contacting the supervisors of the aggregator app in the case of an issue. The business owner has all control over the dedicated application. Also, the business owner will have to get the flowers delivered to the customers themselves.
Because there will be a lot of costs, small and medium-sized florists might not be able to afford the expenses that come with having dedicated applications.
The Features That Are Important For A Dedicated Mobile App
These are some of the basic features that flower app developers need to keep in mind when they are developing the app. There might be more depending upon the requirements of the businesses.
It is important to understand that there should be a balance between the basic and the modern features. This is what decides the cost and the size of the application. The more features it has the more space it will take up and also will require high-end smartphones to work on.
Below push notification is written outside both the user and admin panel as it is not specific to any module. All applications, no matter what they deal in and who they deal with, all of them need to have these features. The users need to know what are some of the important things that the application has for them.
1. Push Notifications
There are many notifications that the business owners want to provide to their customers or their employees. For this purpose, this feature was developed. This is the most important feature and this should be in all the applications that are developed.
It is also the reason why this is written out of the two modules of the florist business application. This is all that prompts people to open the application. There are many application notifications like offer notification, discount notification, awareness notification.
All of these things are important if the business owner wants to convert people who have installed the application into users but have not used it as they should have. This can increase sales and keep the people engaged and make sure it never goes out of their minds.
One other type of notification that can be sent is the description or demo for the product and some tips related to it that takes the user to a dedicated page This will increase people who will use the application in the future. As Dev Technosys there are several mobile app development companies that are providing such services.
There are many applications that have got a great result because of this thing. All other applications that are not using this properly are struggling to make a mark in the market. Flower app development also needs this as much as any other application.
2. User-Panel
This window will help the user to register himself/herself and make an account to keep a record of all orders placed, address details, and other necessary things.
Users should also be given the option of login so that they can open their account whenever required using the login credentials. No mobile app development company forgets to put this in any eCommerce application.
There are plenty of payment options available nowadays. An android or iPhone app development company must include maximum ways of payments possible. It should be noted that only authentic and trustable payment modes should be included to avoid any kind of financial or legal issues later.
The history of orders of registered users can be viewed with the help of this option. This will not only help the android app development company's client, the florist business to keep a log about what areas are most active but also help the user to reorder the flowers when needed without much effort.
It is used to track the delivery person and the route from which he/she is coming. It gives several other important information like the name and contact of the delivery person, estimated time of arrival, the total time taken to deliver, and so on.
Not every user wants to search each and every option available on the application. It becomes frustrating to search through every option and then select the desired ones. The filtering or sorting options helps to search only the products which suit the given parameters by the user. It becomes time-saving and saves the cost in some cases too.
Browsing Through Flower Listings:
This is also a necessary option in the user panel as it helps them to browse through all the available flower listings to choose the best-suited one and get them delivered as soon as possible.


3. Admin Panel
Used for authoritative and security purposes. Persons who will be having login credentials of the admin panel will only be able to get into it.
For managing requests coming irrespective of time. Also keeps a track of all requests coming in at regular intervals.
This consists of receipt number, time, place, mode of payment, and all other information related to payment done by the user.
This will manage how much amount of flowers and other necessary items are left in shops. Shops that do not have enough stock will automatically don't get the request.
Management of applications, customization settings, and other possible modifications can be done in this window.
Management of marketing strategies and how are they benefitting in terms of number and popularity.
Delivery Person Management:
Log of delivery persons with all authentic information, payment status, work status, and so on.
Conclusion:
With the above features and proper research, businesses will be able to have a great application ready for their use. There might be some things that become challenges for them but that is what the market is all about – overcoming them.