Let's explore the world of app development to see what it costs to build a laundry app like Washmen, which is available in the UAE. On-demand laundry services are becoming more popular in today's digital world, as they offer convenience for busy families and individuals. It's important to consider the financial aspect of developing a laundry app if you are considering entering this growing market.
This blog will break down key factors that affect the cost to build a laundry app like Washmen, such as app design, development and features, maintenance costs, etc.
You'll be able to see the cost to build a laundry app like the Washmen platform. We'll take you on a journey of discovery to learn about the financial aspects involved in creating a laundry application that could revolutionize the experience of doing laundry in the UAE.
What is Washmen Laundry App Development?
Washmen Laundry App Development is the process of developing a mobile app designed to streamline and improve laundry and dry-cleaning services. The app lets users schedule pickups for their laundry, track their orders and pay through their smartphone.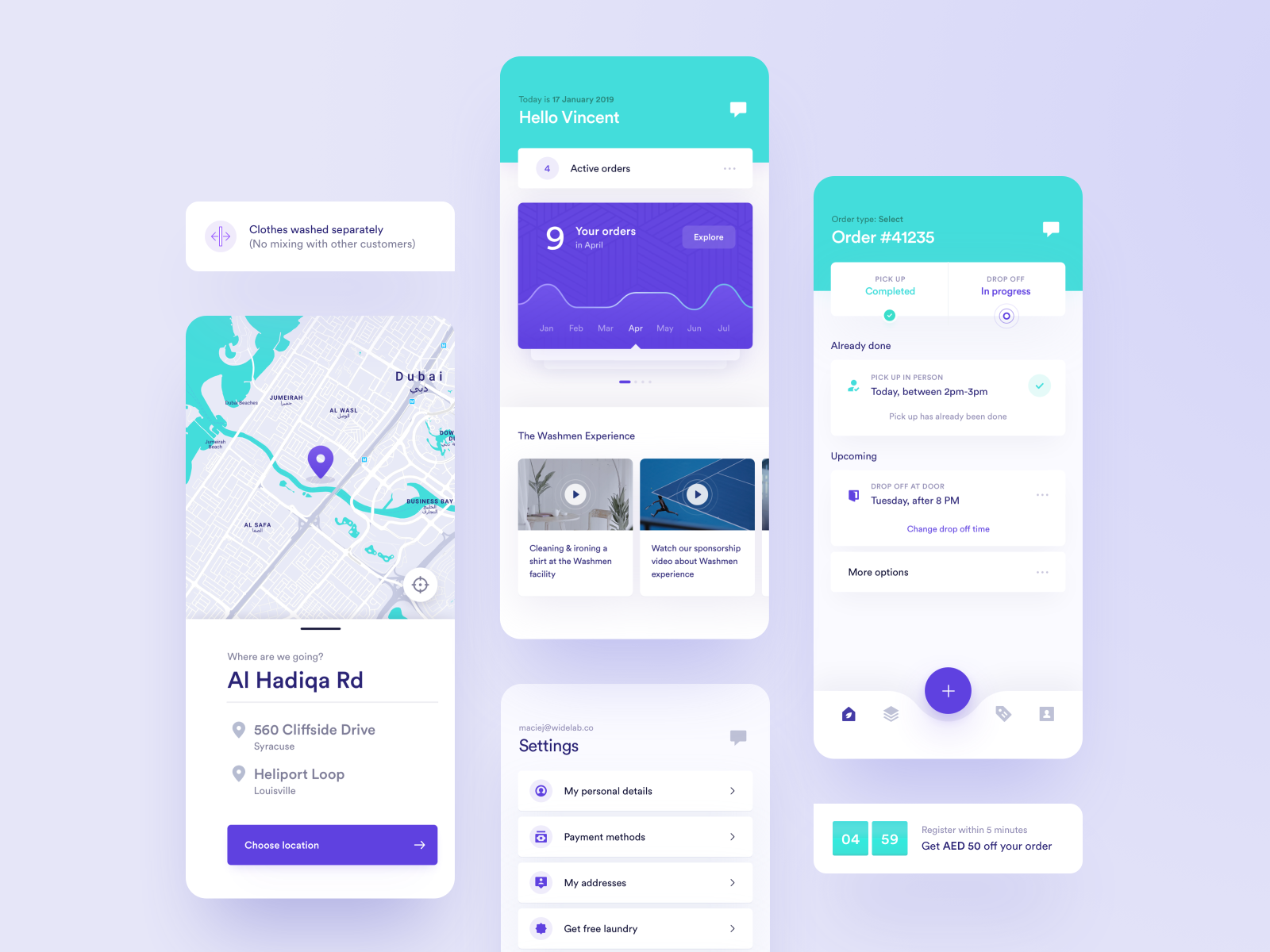 Washmen Laundry Apps are typically user-friendly, with GPS tracking of pickups and deliveries, secure payment gateways and the option to customize laundry preferences. Both customers and laundry services benefit from these apps.
Customers enjoy the convenience, and laundry providers can manage their operations efficiently and reach a larger customer base. These apps require coding, design and integration of different features to create an efficient and seamless laundry service platform.
What is The Accurate Laundry App Development Cost?
Cost to build a laundry app like Washmen can be affected by factors such as features, complexity, the platform (iOS or Android) and the location of your laundry app development company.
The basic cost to build a laundry app like washmen ranges between $8,000 and $20,000, while more advanced ones with features such as GPS tracking, payment integration and user profiles may range from $20,000 up to $30,000.
| | |
| --- | --- |
| Category | Cost Range |
| Planning and Design | $2,000 – $5,000 |
| Development | $10,000 – $30,000 |
| Testing and QA | $5,000 – $8,000 |
| Deployment | $3,000 – $7,000 |
| Security and Compliance | $5,000 – $8,000 |
| Maintenance and Support | $5,000 – $10,000 |
| Marketing and Launch | $10,000 – $15,000 |
The cost of hiring mobile app development services providers  may be higher in areas with high labor costs. Additional costs to build a laundry app like Washmen will be incurred for ongoing maintenance and updates. It's important to specify your requirements and get quotes from freelancers or development agencies in order to obtain an accurate estimate.

Major Factors Determining Cost To Develop Laundry App Like Washmen
The cost to build a laundry app like Washmen can be affected by a number of factors. This section will explore the eight main factors that affect the cost to build a laundry app like Washmen.
1. App Features and Complexity
Features and complexity are the most important factors that influence the cost to build a laundry app like Washmen. The higher the cost to build a laundry app like Washmen, the more features you desire. A laundry app includes features such as user registration, payment processing and order tracking.
Notifications, customer support, and notifications are also included. Additional features, such as real-time GPS tracking, scheduling and in-app chat, or integration with laundry machines, can add complexity and laundry app development cost.
Design and user experience are also factors that contribute to complexity. A visually appealing, user-friendly interface will require more design and development work.
2. Platform Selection
The platform you choose for your laundry application is also a key factor when determining the cost to build a laundry app like Washmen Dubai. The app can be developed for one platform (iOS, Android), or you can opt for cross-platform to target both.
Native app development costs more but provides better performance and allows access to platform-specific functions. Cross-platform development with frameworks such as React Native and Flutter can be cost-effective but requires extra effort to optimize for each platform. When deciding which platforms to support, consider your target audience and the market share.
3. Backend Development
The backend of your app supports all business and user operations. Costs of backend software development depend on factors such as server infrastructure, database design and security requirements.
The cost of developing a secure and robust backend to handle an increasing user base can be high. You may also need to integrate services from third parties, such as payment gateways and SMS gateways. These can add costs of the washmen laundry app.
4. User Authentication & Security
Laundry apps are sensitive and deal with payment data as well as user information. While it is important to implement robust authentication, encryption of data, and secure payments, this can raise the cost to build a laundry app like Washmen.
Additional development work may be required to comply with data protection laws like HIPAA or GDPR. Ongoing maintenance costs are a result of security audits, regular updates and addressing vulnerabilities.
5. Integration with Laundry Partners
Integration with the systems of local laundries is required if your app partners with them. Integration complexity can vary based on the technology infrastructure of the laundry. Others may need custom solutions, whereas others offer APIs to make integration easy.
The integration of laundry machines to automate order tracking and processing adds a layer of complexity. These integrations are time-consuming and will affect laundry app development costs in dubai.
6. Geolocation and Mapping
Geolocation and mapping are used by many laundry apps to locate nearby service providers and to track the status of orders. Implementing features such as real-time tracking, geofencing, and route optimization is expensive, especially if it requires you to use Google Maps APIs or license mapping data.
The cost to build a laundry app like Washmen depends on the amount of map functionality needed and the number of users who access these features at the same time.
7. Payment Processing
Any laundry app must have a secure and seamless payment system. Payment gateways may charge monthly subscriptions or transaction fees. Payment gateways and supported payment methods, such as credit cards, digital wallets, etc., can affect the cost to build a laundry app.
The complexity of processing payments, the choice of payment gateways and supported payment methods (credit cards, digital wallets, etc.) can all influence the cost to build a laundry app like Washmen. You'll also need to take into account compliance with the Payment Card Industry (PCI), which may require extra effort in development and security measures.
8. Testing, Quality Assurance and Maintenance
To ensure that your laundry app runs smoothly and securely, testing and quality assurance is essential. Testing can include functional testing as well as usability, performance, and security tests. Testing costs can vary depending on how complex the app is and how much testing it requires.
It is important to maintain the app after launch in order to fix bugs, upgrade it for new OS versions and add new features. Maintenance costs are high, especially if you plan to provide continuous updates and support.

How Can You Reduce The Cost Of Developing A Laundry App Like Washmen?
The on-demand industry can benefit from a laundry application like Washmen. To ensure profitability, it is important to keep costs in check. This section will cover eight strategies that can help you to reduce the cost to build a laundry app like Washmen without compromising quality or functionality.
1. Thorough Market Research
Do thorough market research before you develop your laundry app in Dubai. Understanding your target audience and their preferences is key to creating a laundry app. Prioritize the features that you feel are most important for your app. Focusing on the most essential elements will help you avoid unnecessary development costs.
2. Hybrid or Cross-platform Development
The right technology stack will have a significant impact on development costs. A cost-effective solution is to use cross-platform or hybrid development frameworks such as React Native, Flutter or Xamarin. These frameworks let you write code only once and deploy it on both iOS platforms and Android platforms. It reduces the cost to build a laundry app like Washmen & time.
3. Minimum Viable Product (MVP) Development
Consider developing a Minimum-Viable Product (MVP) instead of a laundry app with all the features you need. A Minimum Viable Product (MVP) is a limited version of your app that includes the essential features you need to test it and launch it. You can reduce your initial development costs by starting with an MVP and gaining valuable feedback from users to improve your app.
4. Outsourcing Development
It can be expensive to hire a dedicated developer, especially if your company needs a mobile app development team. Outsourcing development to laundry app development services providers or freelancers can be a good option. Outsourcing reduces labour costs and allows you to benefit from the experience of experienced developers.
5. APIs and Pre-built Solutions
Use pre-built solutions (Application Programming Interfaces) to reduce development costs and time. APIs are available from third-party providers for geolocation, payment processing, push notifications and much more. By integrating these APIs, you can save time and effort by not having to create these features yourself.
6. Agile Development Methodology
Agile development can streamline your development process and lower costs. Agile is based on iterative, incremental development. It allows you to prioritize and focus on the most important features first. The on-demand app development company works closely with stakeholders to ensure that the project is on schedule and within budget.
7. UX Design: Optimize the User Experience
A well-designed UX can be crucial to user satisfaction. However, it is important to strike the right balance between cost and functionality. Avoid unnecessary complexity that could increase development costs. Invest in an intuitive and clean design. Usability testing can help identify usability problems early on in the development cycle, which will reduce the need for expensive design revisions.
8. Cloud Computing and Scalability
Scalability should be considered from the very beginning of app development. Cloud hosting providers such as AWS (Amazon Web Services) or Google Cloud offer scalable infrastructure. It will allow your app to handle an increase in user load without having to invest heavily in infrastructure. It can save you money, especially in the early stages of developing your app.
How To Save Cost When Developing Laundry Apps Like Washmen 9 Monetization Techniques
In recent years, laundry apps have become very popular. They offer convenient solutions to busy people and families. It can be expensive to develop a laundry application. Implementing effective monetization techniques is crucial for ensuring profitability and keeping costs down. This section will examine eight monetization strategies to reduce the cost to build a laundry app like Washmen.
1. Freemium Model
Freemium is a popular model for laundry apps. Freemium models are popular for laundry apps. It allows you to reach a wider audience without having to make significant investments. If users find the app useful, they can pay extra for services such as same-day deliveries, stain removal or priority scheduling.
2. Subscription Plans
Subscription plans are a great way to generate recurring income and offset the cost to build a laundry app like Washmen. You can offer different levels of subscriptions, such as monthly and annual plans, with varying benefits. Subscribers may receive benefits such as discounted laundry services, priority customer service, and exclusive access to promotional offers. Make sure that subscription fees are affordable and offer clear value for users.
3. In-App Advertising
Use in-app ads as a way to monetize your app. Local businesses or detergent brands can target ads within your app. Use user data to deliver relevant ads, increasing user engagement and ad revenues. Be careful not to overwhelm your users with too many ads. It can lead to poor user experiences and even uninstallations.
4. Referral programs
Referral programs can be implemented to increase user numbers without having to spend a lot of money on marketing. Users who refer their friends and family can receive incentives such as free laundry credits or discounts. This strategy not only promotes new user acquisition but also encourages the retention of existing users.
5. Laundry Service Providers: Partnering with them
Collaboration with local laundry services can help you expand the offerings of your app without having to invest in significant infrastructure. These partnerships allow you to provide a wider variety of services, such as shoe repair, dry cleaning and alterations, without incurring the costs of in-house operations. The laundry service providers will benefit from greater visibility and increased access to a wider customer base.
6. Commission on Orders
Charge laundry services a commission for every order placed via your app. This model of monetization based on commissions can benefit both parties. Your app can generate revenue while allowing laundry businesses to access new customers and only pay when orders are received. Make sure that commission rates are attractive to encourage more service providers.

7. Upgrades and Premium Features
Add-ons and premium features that users can buy to enhance their experience with laundry. It can include features such as real-time tracking of orders, customized laundry preferences or special detergent options. These premium options will allow you to cater to customers who are willing and able to pay more for a tailored and convenient service.
8. Data Monetization
Use the data from interactions and preferences of users to generate new revenue streams. It can be anonymized data analytics to help businesses in the laundry sector make informed decisions. Data monetization is a great way to generate income without incurring significant ongoing costs to build a laundry app like Washmen.
Takeaway!
The cost to build a laundry app like Washmen can be significantly different depending on features, technology stack and development method. The cost to develop a mobile app can range between $8,000 and $20,000.
A more feature-rich version may cost $20,000 to $30,000. It's important to consult an Android App Development Company and conduct a thorough project analysis to get an accurate estimate tailored to your requirements.
FAQs
1. What Are The Main Features Of An App For Laundry Like Washmen?
The app should have features such as user registration, order placing, real-time tracking and payment integration.
2. What Is The Cost to Build A Laundry App In UAE?
Costs can vary from $20,000-$50,000 depending on the features, complexity and rates of mobile app development company UAE.
3. What Are The Factors That Influence The Price Of An App Such As Washmen In UAE?
App complexity, design and platform (iOS/Android), as well as location-based features and payment gateway integration, are all factors to consider.
4. Do Laundry Apps In The UAE Have Any Ongoing Costs?
The cost of server hosting includes maintenance, updates, customer service, and marketing.
5. How Long Does The Development Of A Laundry Application Like Washmen Take In The UAE?
The development process typically takes between 4-6 months. However, the time frame can vary depending on customization and features.