For a strong business, presentation is everything, as there are multiple competitors and engaging customers is a big task. The customers' demands are dynamically changing and increasing. Here custom web development can help you meet your business objective easily; the biggest advantage is better customer engagement. 
The other advantage of a website is that it can help you with brand promotion via SEO techniques.
A perfectly built website can connect you with millions of customers. When it comes to starting the business via a custom website there are certain questions arise in everyone's mind, such as:
How to create a website for your business?

How does custom web development help grow business?

What are the benefits of custom website development? 

Why is web development important for the success of your business?
And more. 
In this blog, you will find answers and related information. The intention of creating this blog is to showcase all the aspects of custom web development, including its advantages for business. 
Before we jump onto the other points of the blog related to how custom web development can help business growth. It is applicable to understand what type of web development? Or what is custom web development? 
What Are The Types Of Web Development?
When users access any website and click any section of the website then, they only interact with GUI; they do not know what code is running in the background and how developers have developed it or more. Even an end user does not know what backend or frontend, or full stack website development is. But it is okay with them. As a business owner, you need to know what are the types of web development that you can consider for your business website.  
#1. Front-end Web Development
Front-end Web Development refers to the look and feel of the website. The front-end developers are responsible for implementing appearance, theme, colors, icons, images, and more. Front-end developers use technologies are HTML, JavaScript, CSS, etc. 
#2. Back-end Web Development 
Back-end development refers to developing the backend functionality of the website, such as database connectivity and functional coding that enables the site to run. Here coding is done like it connects a website with a database and server for seamless execution.  
#3. Full-Stack Development
When a single developer works on the front end and backend simultaneously, it is called full-stack development. The full-stack developers dedicatedly work on the front end first and then complete the backend development. 
Note:- The above three types are technical types of website development. But if you want to go deeper, then from the development point of view there are two types one is custom web development and template web development.  
#4. Custom Web Development
Custom web development refers to developing a website from scratch. There is no bondage of design and functionality. You can implement the code and design as per your business needs. It is known for 360-degree freedom where designers and developers can showcase their skill maximum. Additionally, scalability is one of the biggest advantages. 
#5. Template-Based Web Development
Template-based web development is best for you whenever there is a need for faster web development and you need to work on a fixed design. While developing template-based websites, developers use built-in themes where it comes with most the content management system, i.e., WordPress, Wix, and more.
So these are the types of web development. The next question that comes to mind is about the need for custom web development. Let's read about it in the next section of this blog.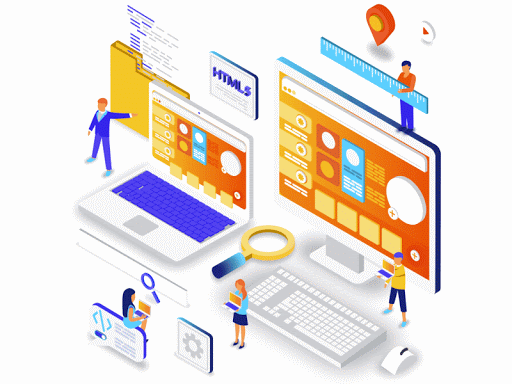 Why Do You Need Custom Web Development To Grow Your Business?
Boosting online presence is the prime objective of any business now. The reason behind it is the rising number of internet users. There are 5.038 billion internet users, and the total number of websites to date may be more than 1.8 billion. In addition, there are 3.5 billion Google searches every day. It indicates that a business can boost its presence with a good website. The only condition is that your website must be up to the mark and as per the expectations of users. 
Following are some reasons why you need custom web development for business. 
Custom web development helps transform your existing website into a professional one that can attract customers.


 

It will help with online brand promotions using SEO techniques.

A custom-developed website can help you address all your customers' queries.

You can engage your customers in the best way.

You can implement the design and other components as you want or as per your business needs. 
For the best experience and to develop an engaging website, a custom web development company in Dubai can help you more. Suppose you want to start your own online retail business; then they will assist you in turning your idea into a reality. 

What Are The Benefits of Custom Website Development?
There are several benefits of custom website development for a business. The key benefit is a strong online presence that helps compete with others. So, without any delay, let's move to the list of benefits. 
#1. Tailored Website For Branding
Having a brick & mortar presence is okay, but as a business owner, you need to look for all possible ways where you can represent yourself the best. The best way is to have a strong web presence, and the same, custom web development can help you. It will assist you in creating a personalized experience of online shopping. 
#2. Solid Brand Identity
Most successful brands have established themselves based on customer satisfaction, and by providing it, they have created their branding identity. No matter how good you are at your products, if nobody knows, then you know the results. So, including high-quality products, it would be best to work on the brand identity. A customized website is the best way for it.
#3. Scalability
If all business activities are going fine then it is sure that the business will expand in the future. It is one of the biggest advantages with custom website design and development that you can expand anytime. It allows you to implement new features and functionalities on the go. The custom designing refers to the flexibility directly or indirectly. 
#4. Security & Execution
For a business website, it is crucial that the website must provide a seamless experience to the users.  It must be executed flawlessly and also provide security to the user's data.  Regarding it, custom website development is always the best.  Through custom web development, we can implement a fine security mechanism which is the reason that most businesses prefer custom web design and development. 
#5. SEO Compatibility
Search engine optimization is crucial in this competitive world, as multiple brands are operating in the market. They are providing similar products to you. SEO can help you to overcome the competition. To apply the same, you need a custom website that you can develop with the help of an experienced PHP development company. 

Till this section, you have gone through the info like:
What Are The Types Of Web Development?

Why Do You Need Custom Web Development To Grow Your Business?

What Are The Benefits of Custom Website Development?
Now, it's time to learn something more interesting that can help you launch your website: custom website development steps. So, let's proceed. 
What Are The Steps Of Custom Web Development?
There are certain steps associated with developing or creating anything in this world. It includes anything from making cars to building a skyscraper or developing a mobile app to create any desktop software. Here we are talking about creating a custom website. Here are some steps to help you transform your idea into a customized website. 
#1. Info Collection
The first ever step for custom web development is collecting relevant information. You can collect information based on product components, competitor features, industry demands, and future trends. Another better idea is to make a goal list. It will help you to lay the foundation for the website. 
#2. Make A Plan  
The next step is to create a plan based on the collected information. Here the key role will be of SDLC (software development lifecycle) and what kind of software development model you follow, such as Waterfall. While planning, you can decide the phases for designing, and developing front-end components & backend components, icons, themes, and more. 
#3. Custom Website Development   
The website development phase divides into three: Design, Programming, and Content Creation. Following these three steps will make your website complete. To implement all these steps in sync, you need to plan effectively. A perfect plan will help the team that you've formed from web developers for hire. 
The first step is wireframing and designing. Wireframing is for the graphical representation of components placement and also the blueprint of the website that how it will look after finishing. Once wireframing is completed, the designers will proceed with the website's final design, such as graphics, icons, buttons, images or more.
Whether the backend or front end, coding is like the soul of any software, mobile app, and website. Coding requires in-depth understanding and logic implementation. The developers will code accordingly in this phase. 
Content development refers to the information you want to showcase on the website. It contains basic information about the brand, services or product description, and more. Moreover, content creation will also help you later in applying SEO techniques. 
#4. Testing
Testing ensures the functionality of the website and the elimination of bugs usually left by the developers while developing the website. The website is being tested realistically to know how it behaves at its peak. The testing splits into two one is design testing and another is functional testing. Design testing is for removing design flaws, and functional testing is for testing the behavior of the overall component in real-time conditions. 
#5. Launch
Launching is the final stage of development. The developers will help you to launch your website by setting up a suitable hosting environment. Although the role of developers is limited after launching, if you think anything needs to be added or fixed, they will also help with it. Once the website is launched then, it will be time when you start branding and promotion. 

The Final Thoughts
Till September 2022, 12 there were 1.98 billion active websites, and a major percentage is of business websites. Almost all businesses have their website, so as a startup if you are looking to launch your website in Dubai, you are on the right path. Before hiring developers, you need to work on your goal list, competition research, and plan. The better idea is to hire a web design company in Dubai who has proven work experience. It will save you lots of effort.