As we all know, 2023 is an excellent time for entrepreneurs to enter the world of money-lending apps. Due to this, money-lending apps are in high demand as the need for accessible and convenient financial services grows. A successful money-lending app is a combination of expertise and innovation. So if you are one of the entrepreneurs looking for a great opportunity as a startup in financial applications and wondering how to create a money lending app Dubai? This blog is for you.
In this blog, we will reveal 10 expert tips to help you create a money-lending app. We explore the key factors that make a successful app, from navigating regulatory complexities to harnessing cutting-edge technologies such as blockchain and AI algorithms. We will include some user experience, security protocols, and risk assessment to give you the insights necessary to survive in this competitive environment.
So let's come along with Dev Technosys experts on a journey to learn how to create a money-lending app that will transform the market in 2023.
Market Stats To Look At!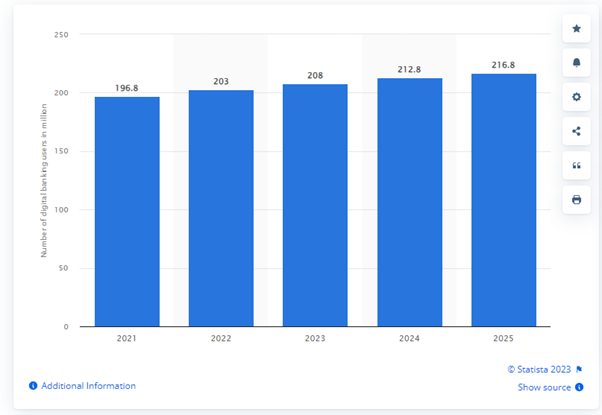 Anticipated growth in digital banking users in the United States is set to continue from 2021 through 2025.
The user count, which stood at approximately 197 million in March 2021, is predicted to surge to nearly 217 million by 2025.
Among the prominent U.S.-based banks, JPMorgan Chase led the pack in active mobile customers during 2022, boasting almost 50 million users.
Following closely, Bank of America claimed the second spot with around 35.5 million active mobile customers.
The count of mobile banking app downloads in the U.S. experienced a decline in late 2022.
During the final quarter of that year, the downloads dropped to 34.6 million, down from the previous year's peak of 40.1 million.
The projected transaction value in the Consumer Marketplace Lending sector for 2023 is expected to hit US$32.1 billion.
An annual growth rate of 1.97% (CAGR 2023-2027) is anticipated, leading to a projected total of US$34.7 billion by 2027. This sector's average transaction value per user will reach US$1 million in 2023.
A global comparison reveals that the United States commands the highest transaction value, projected to reach US$26.18 billion in 2023.
What is Money Lending App?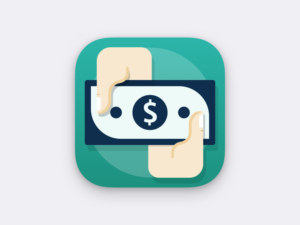 Money Lending apps are digital platforms facilitating borrowing and lending between individuals or businesses. Knowing that money lending apps are available online and on smartphones is critical. These best money-lending apps make it easy to obtain loans. These apps are often easier to use, have faster approvals, and are more convenient. The borrowers provide all the required documentation and submit their loan request, after which the funds are deposited into the account.
Knowing that the money lenders squad can also select borrowers based on their risk assessment and investment preferences is crucial. Money lending apps have features such as interest rate calculations, repayment schedules, and secure transactions. When using financial services, users should exercise caution to ensure that borrowing and lending are done responsibly.
10 Expert Tips To Create a Money Lending App in 2023

Now the time has come when you must know how to create a money-lending app. The demand for user-friendly and efficient money lending apps is at an all-time peak in the rapidly changing landscape of financial technologies. We are a leading company that will guide you toward how to create a money-lending app.
As such, we know how important it is to understand how to make a loan app that is seamless and secure and meets the needs of both modern lenders and borrowers. This blog will provide you with 10 expert tips that will guide you to create a money-lending app in 2023.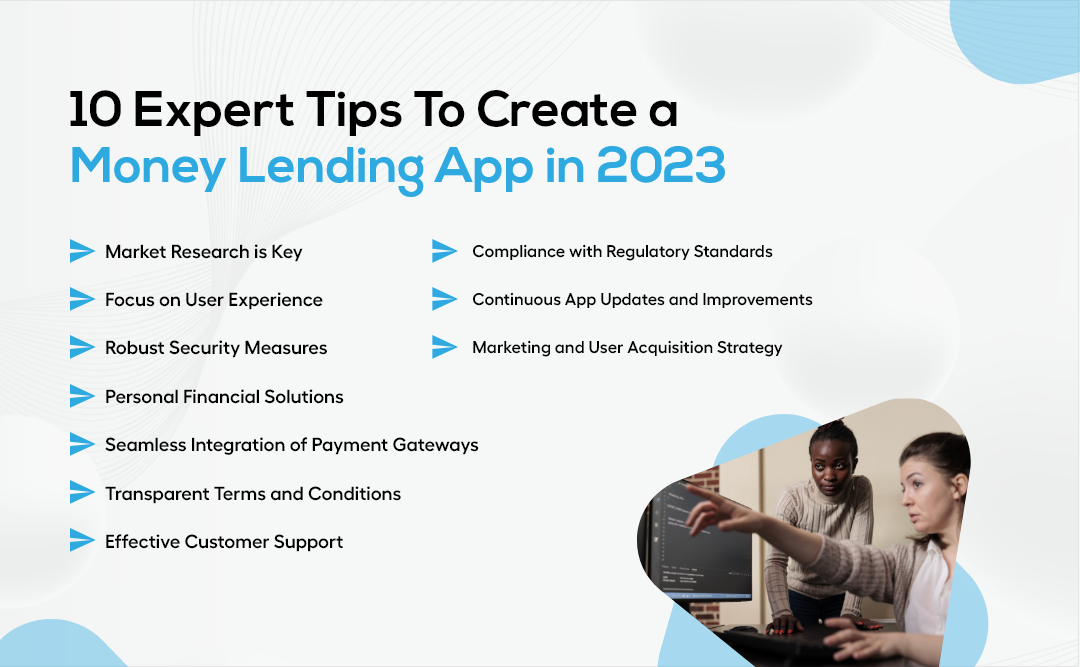 1. Market Research is Key:
It is the first tip to create a money lending app where you must understand your target audience's preferences and competitive landscape. It is the foundation to create a money-lending app. Through thorough market research, identify user needs, pain points, and emerging trends.
This information will help you create unique features for your online money-lending apps that resonate with users. By analyzing your competitors, you can create a value proposition appealing to modern lenders and borrowers. This will help you differentiate yourself and create a money-lending app for 2023.
2. Focus on User Experience:
Prioritizing the User Experience (UX) in the competitive world of money-lending applications is essential. Develop a money lending app with an intuitive and seamless interface to simplify the lending and borrowing processes. Assure easy navigation, clear call-to-action buttons, and an attractive layout. Simplify the user journey, from registration to application and repayment.
It is the second but most important step to creating a money-lending app with a unique user experience. A thoughtful UX design encourages engagement and brand loyalty and builds and promotes trust. Gather user feedback regularly to identify problems and improve the lending money app Yemen design and hire dedicated developers for efficiency.
3. Robust Security Measures:
It is essential to ensure the highest level of security for user data and transactions in the constantly evolving landscape of financial technologies. If you want to create a money lending app with decisive leadership in the market, it is critical to focus on this step.
Implement multi-layered authentication methods like biometrics, two-factor verification, and state-of-the-art encryption protocols to protect sensitive information. You can build trust and confidence in your users by strengthening the security of your money-lending application. In 2023, a competitive fintech industry, a robust security strategy is essential to establishing the credibility of your app.
4. Personal Financial Solutions
Personalized Financial Solutions will be helpful to create a money lending app that tailors borrowing and lending options based on individual profiles and financial circumstances. The instant lending app Israel uses advanced AI algorithms to analyze data and assess the user's income, credit history, and preferences to determine suitable loan amounts, rates, and repayment terms.
The customization improves the user's experience by offering relevant and attractive loans, which makes borrowing more appealing. This creates a feeling of personal attention, increasing user satisfaction and engagement.
5. Seamless Integration of Payment Gateways:
The seamless integration of different payment gateways is a crucial part of the success of your money-lending application. You can increase the convenience of your app for money loans Syria by integrating other payment methods.
The user should be able to quickly initiate, process, and complete payments, whether borrowing funds or getting repayments. It is essential to learn and integrate a seamless payment gateway while you start to create a money-lending app procedure. This integration will provide a seamless user experience and broaden your app's appeal by catering to an audience with different preferences and financial backgrounds.

6. Transparent Terms and Conditions
It is essential to create clear and easy-to-understand terms for borrowing and lending in your money-lending mobile apps. Include comprehensive information about interest rates and repayment schedules. Also, include any relevant financial terms. Transparency lets users make well-informed decisions, feel confident in your app's credibility, and engage in financial transactions. Transparent terms and conditions promote a sense of integrity and reliability. This will increase user loyalty and confidence in your app to loan money Iraq.
7. Effective Customer Support
Customer satisfaction is dependent on a responsive customer service system that is user-centric. Use features such as live chat, email assistance, and a FAQ section that is easily accessible within your loan lending app development Saudi Arabia. Answer user questions and concerns quickly, and provide clear and concise help. You can build trust and enhance the user experience by providing reliable customer service channels.
8. Compliance with Regulatory Standards
Ensure your money lending app development Oman follows the latest industry and financial guidelines. Keep current with legal requirements such as anti-money laundering regulations, data protection, and Know Your Customer (KYC). You can demonstrate your commitment to ethical practice, reduce legal risks and build user trust by aligning your application with these standards. Compliance creates a safe and transparent environment that fosters credibility and attracts lenders and borrowers who value regulatory compliance.
9. Continuous App Updates and Improvements:
Constant App Improvements and Updates are regularly updating your money lending application to keep up with the changing industry trends and expectations. This dynamic approach will ensure that your easy cash loan app is always secure, efficient, and user-friendly. You can demonstrate your commitment by introducing new features regularly, optimizing performance, and responding to user feedback. This iterative approach maintains your app's competitiveness, user engagement, and trust. It ultimately contributes to the success of your money-lending platform in 2023.
10. Marketing and User Acquisition Strategy:
Last, but not least, it is a crucial and impactful tip you must follow to make a money-lending app. This involves developing a plan to promote your On demand app development solutions and attract users. Use social media, influencer partnerships, and targeted content to reach your target audience. Use data-driven techniques for optimizing app store visibility using relevant keywords and attractive visuals.
Referral programs and partnerships can be used to encourage user referrals. Monitor and analyze engagement metrics of users to fine-tune your strategy. You can drive user acquisition and brand awareness by marketing your app effectively. This will also ensure a steady flow of borrowers and lending institutions, contributing to your overall success in 2023.
Features of Money Lending App 
Now that you know how to create a loan app UAE and the crucial tips to create a money lending app, it is vital to know the functions of a money lending app. These apps' accessibility, convenience, and user-friendly interfaces have helped them become incredibly popular.
A money lending app's features are made to make borrowing and lending easier, increase security, and give consumers a smooth experience. Therefore, you must read the table we created below, filled with admin and user panel functions, if you want to create a money lending app.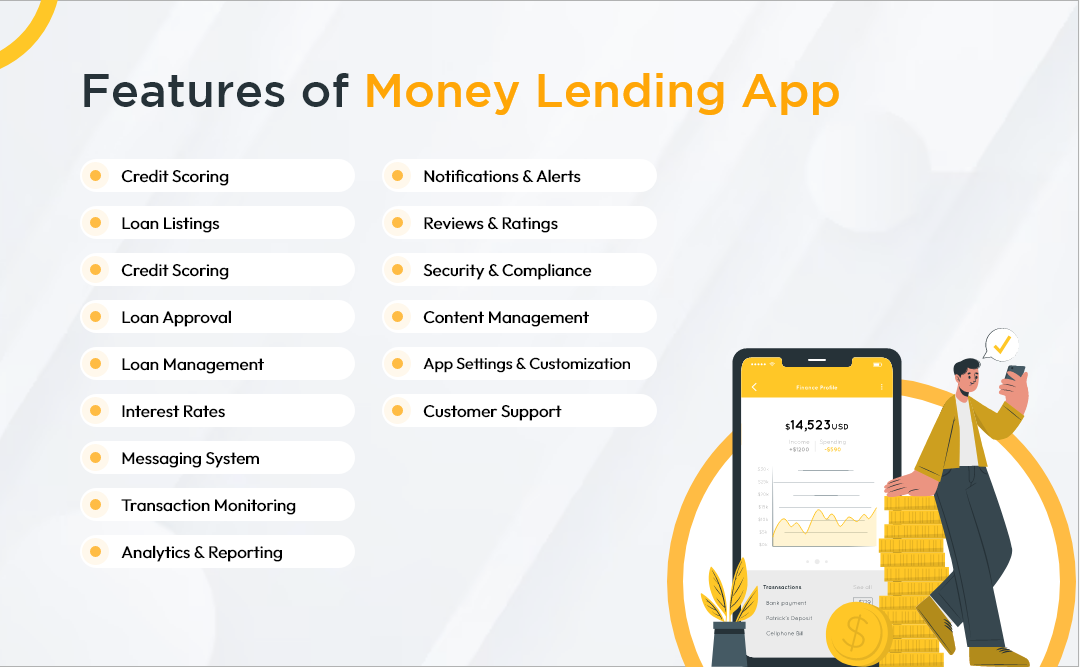 | | | |
| --- | --- | --- |
| Feature | Admin Panel | User Panel |
| User Management | Manage user accounts, profiles, and permissions. | Register, log in, update profile, and manage account settings. |
| Loan Listings | View and manage loan listings. | Create loan requests, browse, and apply for loans. |
| Credit Scoring | Assess borrowers' creditworthiness. | View credit scores and reports (if applicable). |
| Loan Approval | Approve or reject loan applications. | Receive loan approvals and notifications. |
| Loan Management | Monitor active loans and repayment schedules. | Track loan status, repayments, and due dates. |
| Interest Rates | Set and adjust interest rates. | Review interest rates for loan offers. |
| Messaging System | Communicate with users, and address queries. | Contact lenders/borrowers, and negotiate terms. |
| Transaction Monitoring | Monitor financial transactions for security. | Review transaction history and statements. |
| Analytics & Reporting | Generate reports on loan data and trends. | Access loan history, repayment analytics, and statements. |
| Notifications & Alerts | Send alerts, updates, and reminders. | Receive notifications for loan status changes. |
| Reviews & Ratings | View and manage user feedback and ratings. | Provide and view feedback and ratings. |
| Security & Compliance | Implement security measures and compliance. | Secure data handling, and comply with regulations. |
| Content Management | Manage app content, FAQs, etc. | Access support resources and FAQs. |
| App Settings & Customization | Configure app settings and branding. | Customize settings and preferences. |
| Customer Support | Provide user support and assistance. | Access customer support channels and resources. |
How Much Does It Cost To Create A Money Lending App?
Now the time has come when you must look into the cost to build a money-lending app. It is crucial to know that based on elements such as app complexity, features, design, platform (iOS, Android, or both), MVP development services providers, and other services needed, the create a money-lending app can vary greatly. The money lending app development cost breakdown is as follows:
| | |
| --- | --- |
| Development Phase | Estimated Cost |
| Concept & Design | $1,000 – $4,000 |
| Front-End Development | $3,000 – $9,000 |
| Back-End Development | $2,000 – $8,000 |
| App Testing | $1,000 – $2,000 |
| Launch & Deployment | $2,000 – $3,000 |
| Total Estimated Cost | $9,000 – $25,000 |
It is essential to know that cost to develop a mobile app may change depending on the unique needs and market circumstances. Ongoing upkeep, upgrades, security improvements, and marketing could incur further costs. Hire a money lending app developer to learn the entire cost estimation. To obtain a more precise cost estimate depending on the mobile app development platform and details of your project, it is advised to contact the best money-lending app development company.

In A Nutshell!
In conclusion, it is essential to remember that creating a money-lending app like Cready in 2023 requires a strategic blend of innovation and prudence. Building a money-lending app demands meticulous planning, cutting-edge technology, and adherence to legal frameworks in the dynamic app development landscape. By integrating AI-driven credit assessment, robust security protocols, user-centric features, and proactive customer support, you can craft a successful and trustworthy app for lending money in 2023. So if you are one of the enterprises looking to create a money-lending app, you must contact a leading Android or iOS App Development Company.
.
Frequently Asked Questions
1. What Are The Key Steps To Creating A Money Lending App In 2023?
The steps include planning your best instant personal loan app concept, designing the user interface, developing the front-end and back-end, testing thoroughly, and launching on app stores.
2. How Can I Ensure My App's Security Of Financial Transactions?
Implement strong encryption, two-factor authentication, and secure payment gateways to safeguard user data and transactions.
3. How Much Does It Cost to Hire an App Developer To Develop Money Lending App Dubai?
 The cost to hire an app developer to develop a money-lending app varies from $8,000 to $25,000. However, it is crucial to know that the cost may be affected by several factors including functions, platform, full stack development company location, and many more.
4. What Features Should I Prioritize For A User-Friendly Experience?
Focus on user profiles, loan listings, accessible communication, transparent terms, and automated repayment reminders.
5. How Do I Navigate Legal Regulations When Creating A Lending App?
Consult legal experts to ensure compliance with financial regulations, data privacy laws, and consumer protection measures.