Travel apps are a new trend in the global hospitality industry. Top market leaders in the hospitality sector, such as Airbnb and Expedia, are investing resources into building robust, feature-rich travel apps.
Business leaders who are planning to create a travel application for their clients aspire to be as successful as these applications. How can we build transformative solutions like this?
Travel app ideas can be implemented more efficiently with proper brainstorming, an organized product development plan, and a budget. The cost of transforming a rough app idea into a reality is a question that all aspiring business leaders want to know the answer to.
This blog will help you understand the cost of developing a travel app based on its features, product types, and phases of development. You will also learn how to create a budget plan that is focused on your primary vision.
What is a Travel App? 
Travel applications are web-based or mobile apps that help users plan their trips and coordinate them. In addition to booking flights, hotels, and other travel-related activities, maintaining reservations, creating flight itineraries, comparing rates of other travel alternatives, communicating with others who are traveling to the same destination, and evaluating prior journeys are all features that can be found in travel apps.
Travel apps are very similar to other apps which require the user to interact with a mapping interface, like navigation apps, tracking location apps and real estate applications. Airbnb, Uber and Lyft are some of the most popular apps for travel. So, investing in travel app development with the help of an android app development company can be fruitful for your business.
Market Stats About the Travel Industry
Let's look at some statistics before we discuss the different mobile apps that are boosting the tourism industry. This year, the total revenue for the travel industry and segment is expected to reach USD 333.4 millions. Travel apps make it easier to plan a trip. By 2026, the sector is expected to increase at a CAGR of 11.05% and be worth USD 507 million.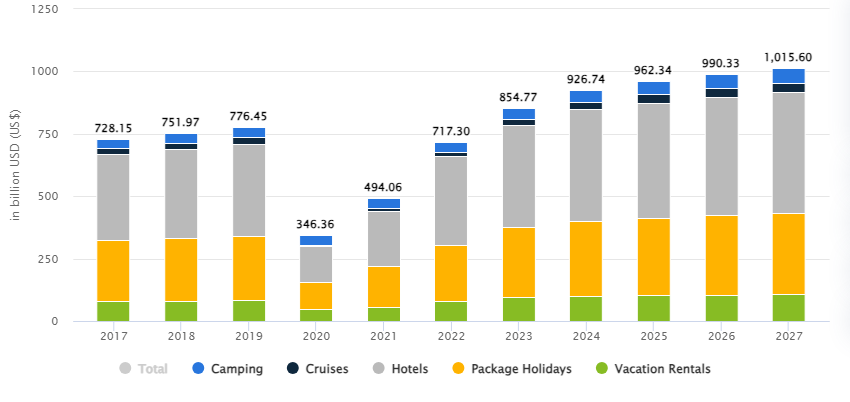 Travel & Tourism revenue is expected to reach $854.70bn by 2023.
The market is projected to reach US$ 1,016.00bn in 2027, with a growth rate of 4.42 %.
The Travel & Tourism Market is dominated by the Hotel market, with a projected volume of $410.00bn for 2023.
By 2027, 133 million people are expected to be using the hotel market.
In 2027, the predicted user penetration rate is 27.2%.
Expected average revenue per customer is $46,000.
By 2027, online sales will generate 74% of the total revenue in the Travel & Tourism sector.
Comparing global revenue, the United States will generate most of it.
How Much Does It Cost to Develop a Travel App?  
Many travel and tourism companies want to develop travel apps due to the growing demand for travel-related software. You immediately ask yourself, "How much will it cost me?"
The average cost of developing a travel app is between $15,000 and $25,000, depending on the complexity and location of the app, as well as its type.
Consult a travel app development company in uae that develops travel applications if you want a more precise quotation. You can get a better idea of the development costs by consulting a travel app company.
In the next section, we'll look at the features that can have a significant impact on the cost to develop a travel app.
Factors Affecting the Cost to Develop a Travel App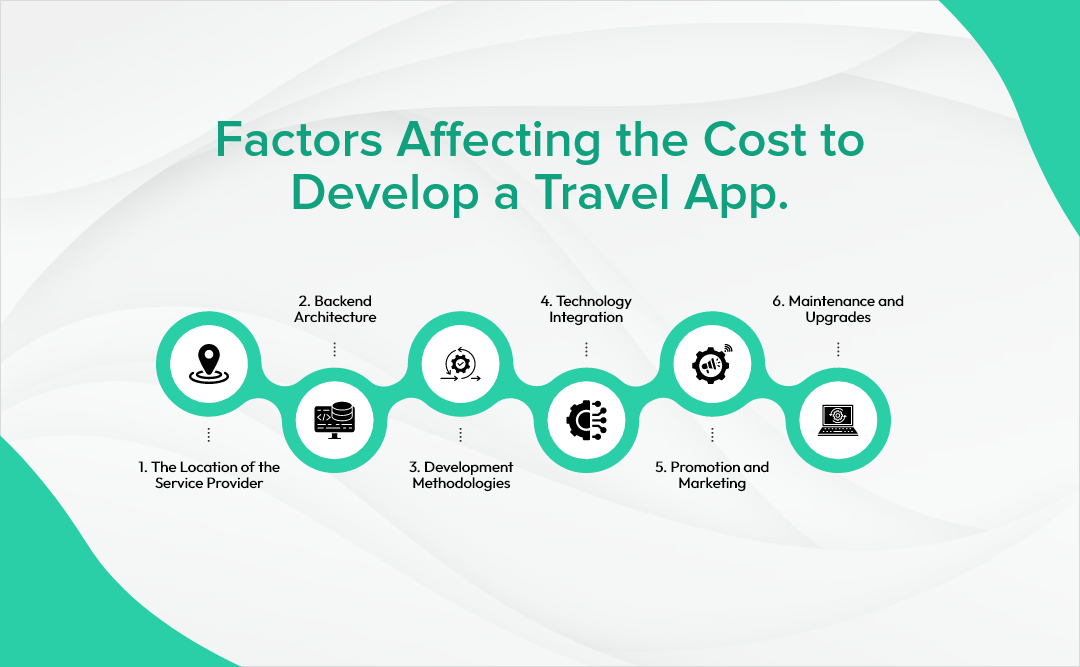 As a travel agency, you'll need to determine a budget for the travel app development. A travel app's cost goes up as its features get more sophisticated. We've put together a list that includes the top criteria for determining the cost to build travel apps.
1. The Location of the Service Provider:
If you are looking to outsource the development of your travel app, it is important to consider the geographic location of developers. The cost to develop a travel app varies significantly by region. The total cost of the development can vary from 40% to 70%, even if you consider the different hiring methods.
2. Backend Architecture:
Backend architecture for a travel app focuses on the core features of your product, as well as their specific functionality. A strong backend makes it possible to create a working model that is quick, flawless, and adaptable.
As per the hybrid app development company, implementing the right backend architecture will allow you to ensure that your database and application components are able to communicate with each other. The backend infrastructure can account for 30-40% or more of the total cost of creating a travel application.
3. Development Methodologies:
The adoption of SaaS products and internet-based service has led to a greater agility in app development and a clearer vision. By selecting the right development tools, methods, and techniques, you can reduce the time and cost of development. The cost to develop a travel application can vary between 20-50%, depending on how it is developed.
4. Technology Integration:
If you want to make your travel app stand out, use cutting-edge technology to attract customers. You can do the same, but be aware that costs will rise as more technologies are added, such as AR/VR, IoT and Blockchain solutions. Additions are made.
5. Promotion and Marketing:
Marketing initiatives, such as advertising and promotions, SEO optimization and other strategies to attract clients require investment.
6. Maintenance and Upgrades:
According to a general rule, updating and supporting an application may require 20% of its initial development costs.
Read More: Things to Consider in Travel App Development- Benefits, Cost, Features
Key Features to Develop a Travel App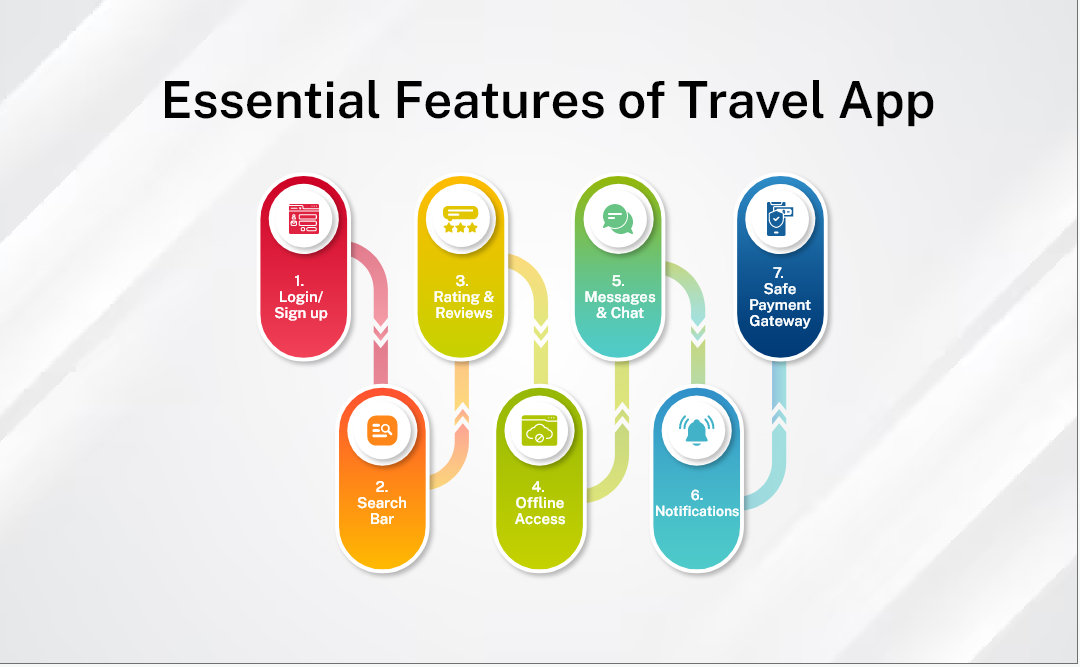 As per the Travel App Development Company, below are the key features of travel app development that you must integrate in your app. So let's have a look:
1. Login/Sign up:
Every app should have a feature to create a profile. Making a profile allows the app to cater for different customer interests. It will also help maintain the identity of each user on the platform.
2. Search Bar:
It makes no difference if it's a navigation app, a hotel booking app, or a travel app. A search box must be present. The user experience can be significantly enhanced by this functionality.
3. Rating & Reviews:
Users have the right to talk about their interactions with products and services. It is also a helpful approach to let potential customers know how good the service is. The rating and review option must be available in every kind of app.
4. Offline Access:
It may not be possible to use an app without connectivity or internet, but it should still be able to function in some capacity. A navigation app, for example, should show users the route back home if they have searched it frequently.

5. Messages & Chat:
Apps should include messaging and chat as a way to communicate. If it's a transport app, the user can speak to the driver. If it's a hotel booking application, users can also contact the reception in case they have a question or a request.
6. Notifications:
The user may not be using the app at all times, so the application should have the feature to notify users about hot deals via push notification. The application should be able to notify users of hot deals by push notification.
7. Safe Payment Gateway:
To allow users to make payments, apps should include a secure payment gateway. The payment partner ought to be trustworthy and well-known among the users.
Top 5 Most Popular Travel Apps 
As per mobile app development services provider, below are the most popular travel apps that you must take into consideration.
1. Hopper:

Hopper is a great app to use when you are planning your trip and buying tickets. The application tracks flight fares and is only accessible via mobile devices. It gives clear advice about the best time to purchase, including notifications of price drops.
This travel app is valuable because of its level of detail. This app doesn't simply tell you to delay buying your ticket. It also gives you an estimated date that the price is likely to increase. If you want to build an app like Hopper, then you must consult with a iOS app development services provider.
2. Roadtrippers:

Roadtrippers are a great way to find interesting places to visit during a road trip. This app and website allows you to explore a map that includes unusual roadside attractions and other interesting places, such as museums, amusement parks, campgrounds, restaurants and more.
3. TripCase:

TripCase, a free travel app, helps you plan your trip. It creates an itinerary. The itinerary can contain arrangements for a flight, lodging, a rental vehicle, and a meal.. You can create an itinerary by sending your travel confirmation emails to TripCase. The app will do the rest. When you open the app or log in to the website the next time, you will see a chronological list of your entire trip.
Read More: An Ultimate Guide to Launch An On-demand App
4. TripIt: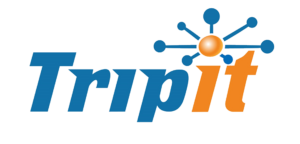 TripIt creates an itinerary similar to TripCase, but it pulls out the most relevant information from your confirmation emails. You can still use the app if you do not want to allow TripIt to access your email. Instead, you can forward emails to the app or manually enter details.
5. Airbnb:

Airbnb can help you find an affordable place to stay, whether it is a room in a home or a luxury beachfront property. It also allows travelers to book other types of services, including tours, workshops, and classes.
How Can Business Reduce Travel App Development? 
In this section, we will discuss the tips to reduce the cost of travel app development.
1. Build an MVP
The Minimum Viable product (or MVP) is built at a low cost and with fewer features than the original. An MVP can be built and released publicly. The MVP will allow you to avoid spending time and money building your original Travel app on the first try and instead raise funds for it. You will then gain feedback and profits to use for your original product.
2. Maintain UI/UX Simplicity
Simple and elegant designs are a great way to cut down on the cost of developing Travel apps. Simple UI designs are important, especially for new users because they make it easier to adapt. The majority of apps and websites opt for a minimalistic style, which is very cheap to design. Too many features and complex designs will confuse users, but will also add extra costs to your project.
3. Hire Testers With Expertise
The best way to reduce costs and save time is by hiring a Travel Mobile App Development Services provider of expert testers. Agile testing to reduce the time and cost spent on testing. Investing in this area will enhance the overall app experience.
4. Don't Hurry the Process
Most developers rush the client to complete the project quickly, but this may not be the best way. You can't rush the development process unless you have a team of professionals. It is because if you make a mistake, it will cost more. Slowly and patiently tackling each stage of development is the best choice.
5. Outsource App Development
Outsourcing is a great way to reduce the cost of Travel Agency App Development. When you have an app developed in eastern countries like the US or Australia the cost per hour is between $100 and $120. In eastern nations, it's $15 to $25. The difference is huge.
6. Regular Troubleshooting
Even after it has been launched, the app will need constant updates and improvements. It would be wise to hire dedicated developers who can offer tips on how to reduce mobile app development costs. If you hire freelancers from afar, you may have to spend lots of money to redo the app if things don't go well.

How to Make Money on Your Travel App?
There are usually three main monetization methods that top app developers in the market use. Here's how travel apps earn money.
1. Merchant Model
Expedia's model is based on the fact that it buys hotel rooms in bulk and then sells the discounted prices to customers. This model is also used for car rentals, flights, etc.
2. Commission Fees
Booking.com popularized the concept of commission fees, which allows you to charge hotels and planners a fee for listing on your application. You will receive a portion of every hotel booking that is made on your platform.
3. Advertisement Model
The advertisement model is another model to consider when discussing how you can make money with your travel app. This model is popular with small OTA agents. The cost-per-click advertising approach can be used to charge lodging establishments and airlines to use your app.
Final Thoughts
A mobile app is an excellent investment for any business in the travel industry today. You'll want to have a clear idea of your business goals and desired app functionalities in order to rationalize the investment.
Costs are also affected by the location and qualification of the team. It is important to choose a Mobile application development company who has a good reputation, relevant experience and a track record of successful projects.
FAQ
1. How to develop a travel app?
To develop a travel app, follow these steps:
Define your app's purpose
Plan features
Design a user-friendly interface
Choose a development platform
Develop the app
Test the app
Launch on app stores.
2. How long does it take to build a travel app?
The time to build a travel app varies based on complexity. Simple apps may take 2-4 months, while more advanced ones can require a year or more, considering design, development, testing, and deployment phases.
3. How to reduce the cost of a travel app? 
Here are the tips that you must follow to reduce the cost of travel app:
Optimize server and database usage.
Use cloud services for scalability.
Minimize unnecessary features.
Prioritize essential user functionality.
Leverage open-source libraries.
Outsource development to cost-effective teams.