Today, astrology app development, also known as fortune-telling, has surged in popularity, offering personalized insights into the cosmos for millions. It's the art of predicting the future based on the zodiac signs and planetary positions. In all this, astrology apps like Astrotalk have taken the world by storm.
Technical advancements have made everything possible, so more and more businesses want to build an astrology app like Astrotalk. Are you too among them? This blog will navigate you through the multifaceted journey of astrology app development from scratch.
With a well-developed and feature-rich astrology app, users can simply ask the astrologer for different predictions, including health, dating, future, and more. So, we can say that the future of astrology is bright in various domains, and businesses can think to develop astrology apps.
Astrology App Development Market Statistics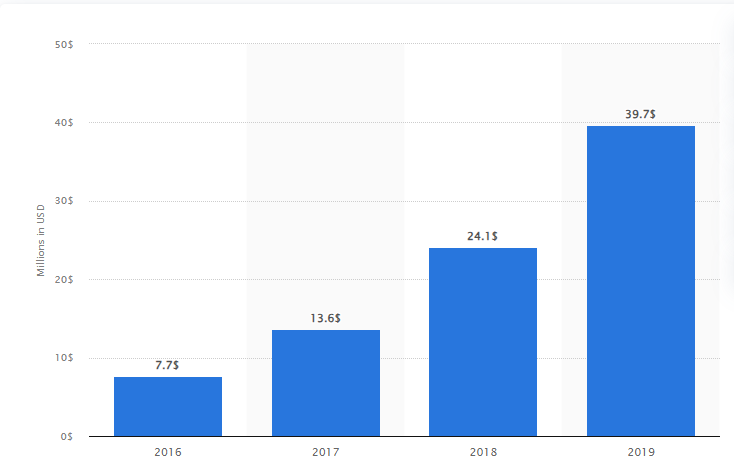 Currently, astrology app development is becoming the hot topic of the astrology business in 2023 and beyond. Here are the latest market statistics showcasing the demand to build an astrology app like Astrology as mentioned by our mobile app development services experts.
The global astrology app market size was valued at $2576.09 million in 2022 and is expected to reach $9715.98 million by 2028, with a CAGR of 24.76% during the forecast period.
Other popular types of astrology apps include tarot card reading apps, astrology dating apps Middle East, and crystal ball reading apps.
The Asia Pacific region is the largest market for astrology apps, accounting for 34.2% of the global market share in 2022.
North America is the second-largest astrology mobile app development market, followed by Europe.
The most popular type of astrology app is the horoscope app. Such apps generate daily, weekly, and monthly horoscopes for users.
The US online astrology market is valued at $200 million, while the telecom astrology consultation market in the US and UK is worth $1 billion.
What is Astrology App Like Astrotalk?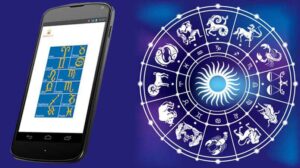 Astrology apps like Astrotalk enable users with different astrological services and insights like predicting the future, dating, education, and more. Astrology connects planetary motion to both the natural world and human concerns. The top astrology apps leverage astrological principles and data to offer personalized horoscopes, compatibility analyses, birth chart interpretations, etc.
Astrology app development caters to a wide range of users. Hence, there is a huge scope for businesses to create astrology apps Oman. The Astrotalk app development process combines the latest technologies to deliver the best astrological guidance and interpretations. So, this is all about 'What is an astrology app?' you can proceed to the development step.
Step-by-Step Process to Build An Astrology App Like Astrotalk
Before you build an astrology app like Astrotalk Dubai, getting well-versed in the astrology app development process is essential. So, here our astrology app development services provider UAE has highlighted the step-by-step process to make an astrology app.
Step 1 – Conduct Market Research & Competitor Analysis
First of all, begin your Astrotalk app development process by conducting in-depth market research and analysis. You can look for the top 10 astrology apps like Astrotalk in the market, research them, and then create your own application. After doing a strong competitor analysis, you can move to the next step.
Always remember that strong research is the key to success. So, spend more time researching everything required to create the most accurate astrology app Dubai.
Step 2 – Define Astrology App Features & Functionalities
Determine your astrology app's core features like horoscopes, compatibility analysis, birth chart generation, and live consultations. The features you include during astrology mobile app development will decide the cost to build an astrology app like Astrotalk.
Besides this, the functionality of your astrology application will help you make your Astrotalk app stand out within the desired budget.
Step 3 – Choose A Suitable Development Platform
Now, decide the best suitable tech stack platform to build an astrology app like Astrotalk (i.e., Android, iOS, or both). Choose required astrology development tools, programming languages, and frameworks, including, Swift, Kotlin, and React Native.
Connect with a leading android app development company or iOS app development company that can help you choose the best platform for your Astrotalk app. Different platforms require different Astrology app development costs Dubai, so choose as per your budget.
Step 4 – Select A User-Friendly UX/UI Design
A design is a strong element to drag the users' attention toward your Astrotalk app development process. Do not make the astrology app UX/UI overly complicated, as it will confuse the readers and impact the cost of developing an astrology app.
You can also ask the professionals to create wireframes and mockups for app screens. Design an intuitive and visually appealing interface aligning with your astrological themes.

Step 5 – Begin Astrology App Development 
Finally, you can begin the astrology app development process. It is a major step to building an astrology app like Astrotalk UAE. This step requires professionalism and expertise in developing a successful business application. So, if you don't have a team of experts, hire dedicated developers from a leading firm like Dev Technosys UAE.
For the past few years, we have been assisting businesses to achieve their business dreams and helping them turn their business idea into reality.
Step 6 – Test & Launch Your Astrology App
After the successful development of an Astrology app like Astrotalk, carefully test and launch your application. Make sure to conduct thorough testing to ensure all features work smoothly. Before launching the application on the desired platform, test it on multiple devices, screen sizes, and operating systems.
Step 7 – Astrology App Maintenance
Lastly, seek mobile app support and maintenance services to keep your app like Astrotalk updated as per the latest trends. Include all the latest features, enhancements, and content. Also, respond to user feedback and market trends to keep the app relevant as per the ongoing trends.
This is a simple step-by-step process to develop an Astrology app. Now that you are well-versed in the development process do not delay further and start working on your project right away.
Essential Features Required to Build An Astrology App Like Astrotalk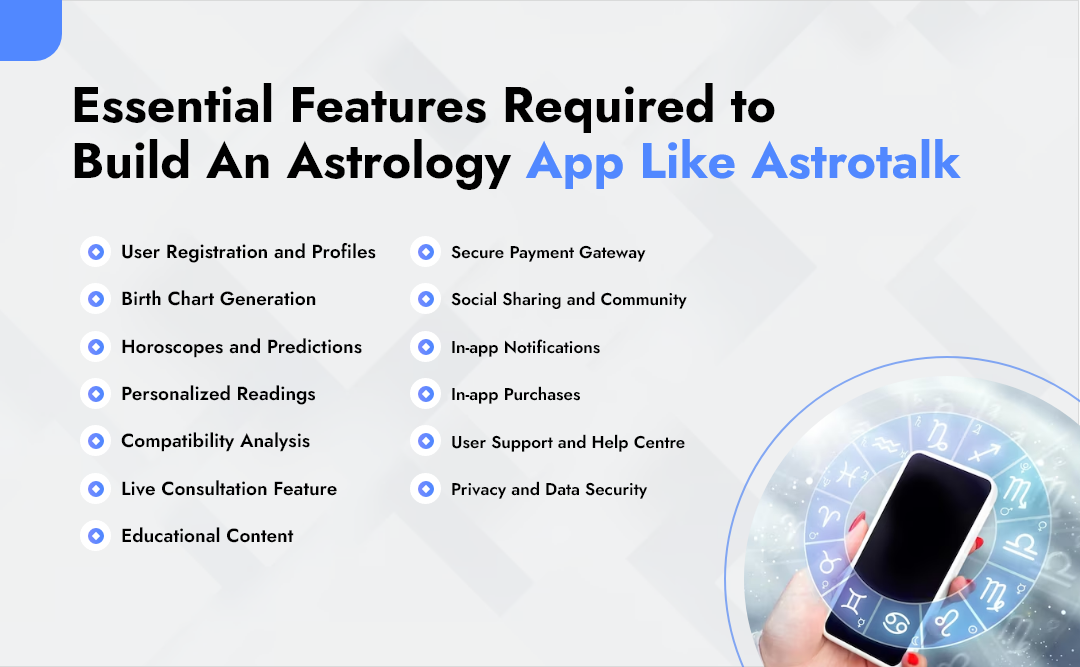 It is essential to consider all elements that offer customers accurate and meaningful astrological insights while developing an astrology app like Astrotalk. If you plan to develop a successful astrology app like Astrotalk, the following features should be there.
1. User Registration and Profiles
It is a must-have feature of any business application. Here, users can register their accounts via personal data.
2. Birth Chart Generation
This feature develops an algorithm to accurately generate birth charts based on birth date, time, and location offered by the users.
3. Horoscopes and Predictions
Provide daily, weekly, and monthly horoscopes based on users' zodiac signs. With this feature of the Astrology app, astrologers can make predictions and insights for different aspects of life, such as love, career, health, and more.
4. Personalized Readings
Such features of astrology apps like Astrotalk Sharjah develop algorithms to generate personalized astrological readings and insights based on users' birth charts.
5. Compatibility Analysis
Analyze compatibility between users' birth charts and provide detailed compatibility reports for different types of relationships with this useful Astrology app feature.
6. Live Consultation Feature
Implement a feature that allows users to schedule and conduct live consultations with professional astrologers for personalized guidance.

7. Educational Content
Include articles, blogs, and resources that educate users about astrology, zodiac signs, planetary influences, and related topics. If you are hiring an Android app development company or any other, you can ask the experts to customize the app accordingly.
8. Secure Payment Gateway
Integrate a secure payment gateway to handle subscription fees, in-app purchases, and payments for live consultations.
9. Social Sharing and Community
Enable users to share their horoscopes, birth charts, and insights on social media platforms. Foster a sense of community by allowing users to follow and interact with each other's profiles.
10. In-app Notifications
Implement push notifications to inform users about new horoscopes, astrological events, and personalized readings.
11. In-app Purchases
Allow users to purchase additional content, premium features, or virtual items related to astrology.
12. User Support and Help Centre
Provide a help center or support system where users can get assistance with technical issues, account management, and inquiries.
13. Privacy and Data Security
Ensure that user data, birth chart information, and communication with astrologers are secure and compliant with privacy regulations.
These are some of the top features required to build an astrology app like Astrotalk to help you create a successful business application. Remember that each feature you include will impact the cost of building an astrology app like Astrotalk. So, whether you hire an iOS app developer or any other, ask them to insert the features as per your budget.
How Much Does It Cost to Build An Astrology App Like Astrotalk?
The average cost to build an astrology app like Astrotalk begins at $8,000 and might go beyond $30,000 and more, depending on the requirements given. Multiple factors determine the Astrology mobile app development cost, including the app features, tech stacks, functionalities, developer's location, and more. To get an exact cost estimation, you must connect with the best Astrology app development company like Dev Technosys UAE. The developers will analyze the given requirements and offer you a quote accordingly.
Conclusion!
Today, Astrology has become a hot and trending topic among all. As a result, businesses dealing in astrology are reaping tremendous benefits via astrology app development. Mobile applications have already eased the job greatly and made it easier for businesses and users to connect digitally. So, this guide has already highlighted everything about developing an astrology app like Astrology; businesses can use it as a strong asset to build on-demand mobile apps.
For better professional assistance, connect with Dev Technosys UAE, as we are the top mobile app development company and website development services provider in Dubai and other regions of the Middle East. Feel free to drop your business requirements for astrology app development UAE and let our experts tackle the rest.